There are a considerable number of video editing applications out there, and it's not always easy skimming through endless video editing software reviews and deciding which is right for your content, skill level, and price range.
Adobe Premiere Pro offers an appealing choice at a reasonable price. Users have access to professional-level features ideal for creating social media content, business videos, feature-length films, and everything in between. The best part is that you don't have to be a seasoned editor to get started in the software.
---
Who is Adobe Premiere Pro for?
Adobe Premiere video editing software is popular because it is designed to suit a wide audience. After watching a few short tutorials, even an absolute beginner can begin editing. On the other end, Premiere has the functionality and tools to edit at the highest level. Everything from TV commercials, music videos, and Hollywood films have been edited on Premiere.
---
Adobe Premiere Pro's features
Adobe Premiere Pro includes many features that make it an ideal choice for the wide audience mentioned above. Some features are similar to other video editing software, which make it an easy starting point for beginners or an easy switch for experienced editors. Other complicated features are native to Premiere and give it the edge for high-end editing.
Intuitive and organized interface
Adobe Premiere Pro has a straightforward, intuitive interface layout — it's one of the reasons those with limited video editing experience can hop right in. There are six main workspaces editors spend most of their time in:
Assembly: Use this workspace to easily import and organize all your projects assets like footage, graphics, and audio.
Editing: The main workspace, ideal for creating and editing videos from start to finish.
Color: The color correction and color grading workspace.
Effects: Hop into this workspace to drag and drop effects and presets.
Audio: Shows individual controls over audio channels and other advanced audio-mixing options.
Graphics: Create and tweak motion graphics from scratch or from templates.
The above workspaces can be easily customized, or users can create their own. Within each workspace, there are four main panels that are consistent:
Project Panel: You'll find all those imported assets organized here.
Source Monitor: Assets from the project panel can be reviewed here.
Preview Monitor: This panel shows what is playing on your timeline.
Timeline: All footage, audio, and graphics are pieced together to create videos here.
The organization of workspaces and panels in Premiere make the video editing workflow simple and intuitive.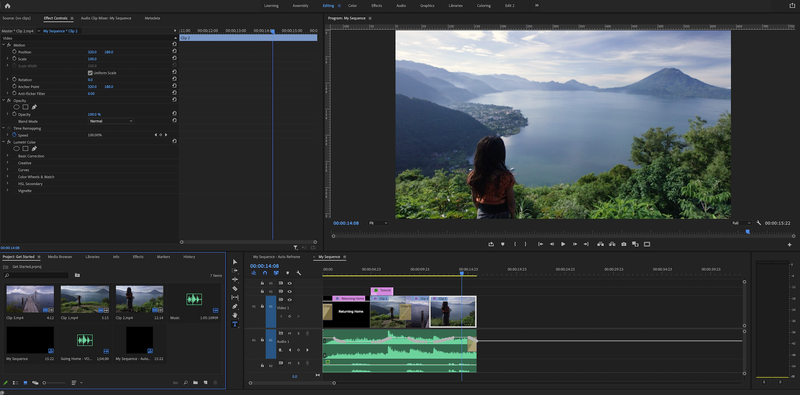 Motion graphics
The latest update from Adobe makes adding motion graphics to videos a whole lot simpler. The Graphics workspace allows users to choose a motion graphic template and drop it right into the timeline. Users can change the text, move the position, change timing, and more.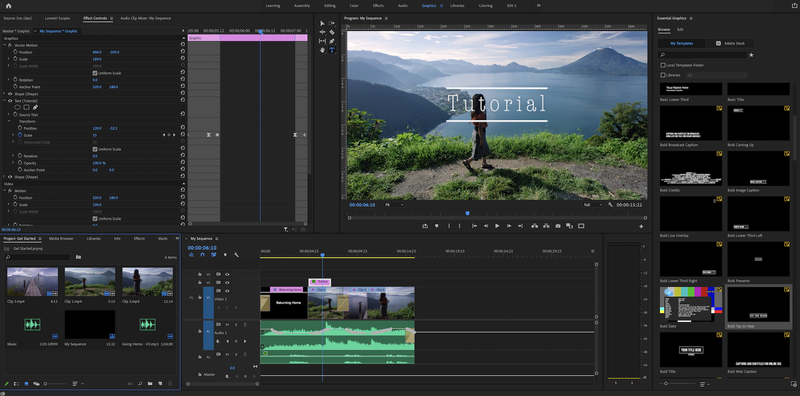 If you prefer the full control of After Effects, Adobe Dynamic Link is still the way to go. Designers can enjoy real-time updates between After Effects and Premiere Pro using this popular Adobe feature.
Effects and the adjustment layer
Premiere Pro comes with a decent amount of preset effects to drag and drop onto video clips. The effects range from simple video and audio transitions to more complicated visual effects.
If you're a beginner, some of the effects are basic enough to be quickly added to videos without much, or any, tweaking. If you have some experience, a majority of the effects allow for complex edits and fine-tuning.
If you've ever used Photoshop, you'll be familiar with adjustment layers. Premiere's adjustment layers work the same way and can be used to hold effects or color adjustments. The perk is the effects are nondestructive and can apply to many video clips.
Lumetri Color
I know I said Premiere's color grading tools "could be better." But, that doesn't take away from the efficiency and accessibility of Lumetri Color — Premiere's color grading suite. Although Lumetri isn't as robust as DaVinci Resolve or the Colorista plug-in, it is perfectly capable of handling the needs of everyone besides a professional colorist.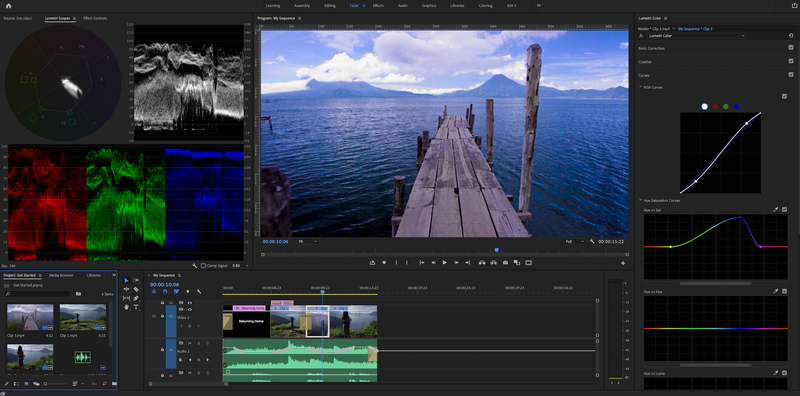 Lumetri's basic color correction panel is straightforward enough that beginners can properly correct their footage. Other panels, such as curves and color wheels, aren't too difficult to learn and can add real creativity to your footage.
Premiere is also optimal for LUTs, or look-up tables. These act as filters and can be dropped right onto footage, no experience required. Premiere comes with a good amount of LUTs by default, and plenty more are available for download.
Audio editing and mixing
Premiere has some excellent audio editing tools such as the automation modes in the track mixer or the ability to assign audio types in the Audio workspace. Users with midrange audio mixing experience will appreciate the audio strengths Premiere Pro has to offer.
But, beginners may have a tough time sound designing. Basic audio settings like volume and panning are easy enough to figure out — and that may be all your edit needs. The more advanced features used to really fine-tune the audio edit will have a steeper learning curve. This deficiency may be less about the Premiere video software and more about the overall difficulty of audio editing.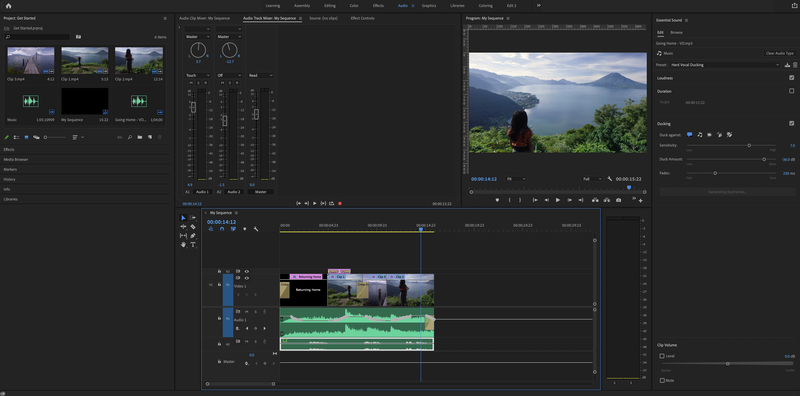 Multicam editing
You've just shot a corporate interview with multiple cameras and now you're tasked with clipping the footage together. It's a lot of footage with many takes and different camera angles. Premiere Pro's multi-cam editing tool is the way to go.
Users can select all applicable footage and audio and convert them into a multi-cam sequence. The content will automatically be synced up and timed properly. All that's left for you to do is scrub through the sequence and select which camera you want and when.
Auto reframe
It's a small feature, but it's immensely useful. It's tailored toward those editing and exporting videos to platforms with different frame sizes. For example, Facebook works primarily in a 16:9 (landscape) aspect ratio, Instagram typically uses 1:1 (square), and TikTok usually works in 9:16 (portrait).
In order to keep the focal point in the shot across different aspect ratios, footage needs to be reframed. Auto reframe will track the subject and move the framing to fit all the essentials into the shot. It's not always perfect, so users can fine-tune the motion as needed.
---
Adobe Premiere Pro's ease of use
Adobe Premiere Pro has a low floor to get started but a high ceiling for professionals working at the top level. Premiere Pro is set up so intuitively that even minor experience in software such as iMovie and MovieMaker will translate over. To get started, users just need to drop footage into the timeline and get editing.
In terms of multi-year professionals, Premiere Pro offers the tools and dynamic effects to create polished TV commercials and feature-length films.
---
Adobe Premiere Pro's pricing
Video editing software pricing fluctuates, and Premiere's pricing sits in the middle of the pack. Below is a comparison to similar editing software:
Adobe Premiere: $20.99/month
Avid Media Composer: $23.99/month
Final Cut Pro: $299.99 one-time
Blackmagic's DaVinci Resolve: Free
Adobe Premiere's most popular plan is $20.99/month for an annual plan. Users can also prepay annually for $239.88/year or month-to-month for $31.49/month. On any plan, editors get access to updates for no additional cost.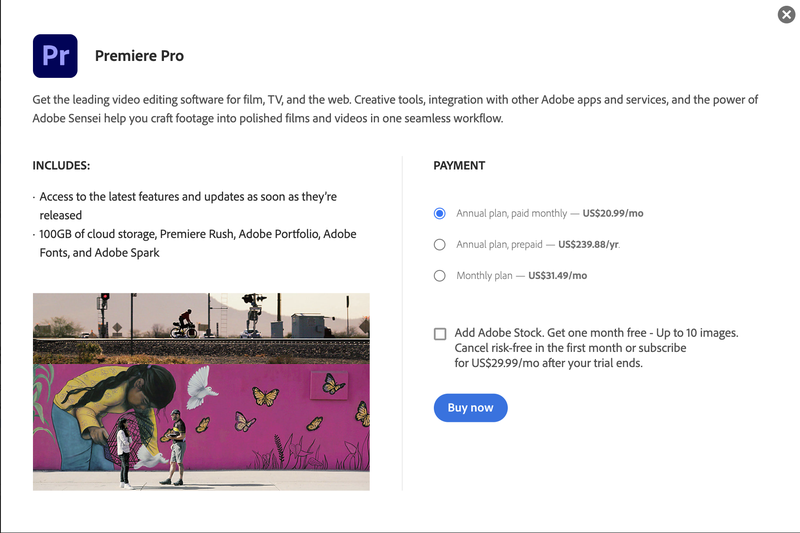 The pricier Avid Media Composer is popular for TV editing, while Final Cut Pro is popular among Mac users. DaVinci Resolve is used for top-tier color grading and compositing, so it's surprising it's free.
But Adobe begins to get expensive if you need access to more applications. For example, if you design assets in After Effects or Photoshop, you'll need to purchase those, too. There is not a "video editing" bundle from Adobe so you'll either have to pay for apps individually or pay for all of Creative Cloud's apps. The price for all creative apps is a reasonable $52.99/month, Adobe's most cost-effective plan.
The Adobe Premiere Pro free trial is a great way to go if you're not ready to commit to the software.
---
Adobe Premiere Pro's support
Adobe offers a reasonable amount of guidance and support for all Adobe product users. Adobe's User Guide website is chock-full of Adobe Premiere Pro tips in the form of both written and video tutorials. Beginners and experts can learn everything from installing Premiere Pro to multichannel audio mixing from the website.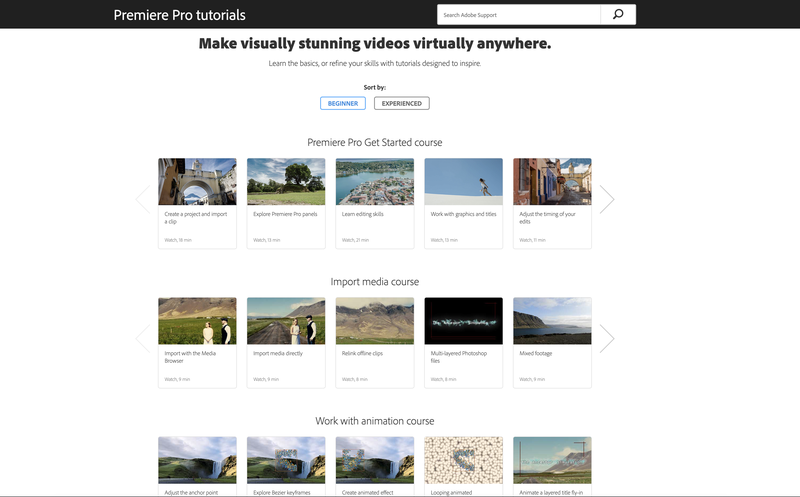 Additionally, when you open Premiere Pro, tutorials for popular skills are available to get you going. Adobe currently hosts live webinars with experts covering topics in Photoshop and Illustrator, and it would be helpful if they tied in some Premiere tools too!
If you still can't find any answers, YouTube hosts a ton of helpful user content. It's not always the easiest to find, or the most instructional content, but it can be used as a last resort.
All of these resources are free, so if you're a small business you can limit training and development costs!
---
Benefits of Adobe Premiere Pro
The benefits of Premiere come down to usability, capability, and pricing. As mentioned in this Adobe Premiere Pro CC review, the software is designed in a way that almost anyone can jump in and get to editing videos.
With that said, just because the interface is user-friendly, doesn't mean it isn't capable. Premiere Pro is becoming more and more of a staple among professional video editors in the commercial and feature-film spaces.
Lastly, when compared to software with similar functionality, Premiere Pro comes in reasonably priced. The fact that Premiere Pro is constantly being updated — and users get these updates for free — shouldn't be overlooked.
---
All of the above, and more
Clearly, Premiere Pro is a hefty video editing program. With just the features mentioned, creators are able to craft flawless content for their videographer portfolio, and small businesses can design eye-catching videos for their websites.
But, these are just a portion of the awesome tools Premiere offers. Editors working with a green screen can utilize the Ultra Key effect, compositors working with multiple layers have top-notch motion tracking and masking options available, and on and on.
Overall, Premiere Pro is a reasonably priced, one-stop video editing application that can produce any type of video.
---
Frequently Asked Questions for Adobe Premiere Pro
Is Premiere Pro for beginners?
Absolutely. New users can get editing with minimal guidance.
Yes. Adobe Premiere's price is cheaper than some competitors and includes consistent upgrades from Adobe.
Is Premiere ideal for social media content?
Of course. Premiere has the tools needed to create short- or long-form social media content across all platforms.
Is it easy to make cool videos?
Premiere Pro includes effects, transitions, color options, and motion graphic templates to take your content to the next level.

If you need capable, easy-to-use video editing software for projects big and small, give Adobe's Premiere Pro free trial a download.
If you need capable, easy-to-use video editing software for projects big and small, give Adobe's Premiere Pro free trial a download.
The Motley Fool has a Disclosure Policy. The Author and/or The Motley Fool may have an interest in companies mentioned.