Adobe Systems is a Silicon Valley icon renowned for its ubiquitous PDF (portable document format) software file type. Given the company's roots in digital documents, it's no surprise Adobe owns electronic signature service Adobe Sign.
E-signature software allows companies to streamline the document signing process and complete business transactions faster than the traditional wet signature practice. Adobe Sign delivers these benefits with an expansive and powerful toolset.
Adobe Sign is backed by Adobe's multi-billion dollar market cap and long history in documentation products stretching back to its founding in 1982. Let's dig into the software's features to help you determine if it's the right solution for your business.
---
Who is Adobe Sign for?
Adobe Sign's features are comprehensive and support the requirements of any size and type of business. Whether you're collecting digital signatures from individual clients or sending documents to a large group, Adobe Sign provides plenty of options.
Its deep feature set is ideal for companies with exacting standards for electronic signature collection. It works for any industry, including those with stringent legal and regulatory data requirements. Government, healthcare, and financial institutions are among Adobe Sign's users.
While any business can benefit from Adobe Sign's abilities, it is targeted toward larger organizations. Adobe Sign is built for businesses with teams or multiple departments and for large companies regularly executing digital signatures.
The software is ideal for groups such as sales, given the frequent need to collect client signatures on proposals, contracts, and other forms.
What if you're a solo entrepreneur or smaller company? Adobe Sign can meet your needs, but Adobe points you to a different, lower-cost product containing e-signing capabilities with fewer features.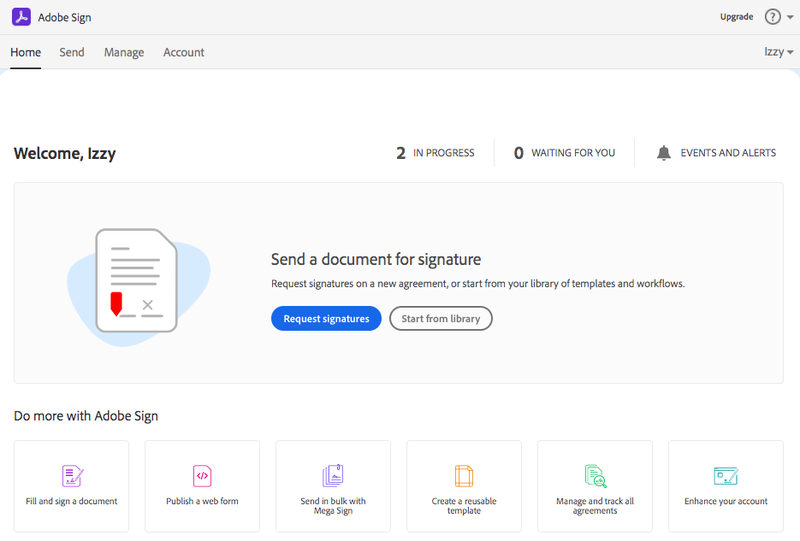 ---
Adobe Sign's features
Adobe Sign is packed with functionality, although the amount of available features depends on your subscription plan. Since it's not possible to cover all its vast capabilities, we'll look at Adobe Sign's most impactful features to shed light on its strengths and challenges.
Document setup
Preparing a document to collect digital signatures is a simple process, but Adobe Sign presents some baffling functionality. This means the software isn't always intuitive.
Adobe Sign consolidates the steps in preparing and sending documents to a single page, which keeps the process simple and quick to implement. The app refers to documents set up for signature requests as agreements.
You initiate the process by adding agreement recipients. You input email addresses to define these recipients, but you can't include their names. This makes it challenging to recall which clients were sent documents until the recipients complete the document.
At that point, Adobe Sign automatically replaces the emails with their names.
If you must exit Adobe Sign before completing your agreement, you can save the document as a draft. But if you didn't finish including the recipients, Adobe Sign doesn't let you add more later despite being in a draft state. Your only recourse is to start over.
After defining recipients, choose your document to prepare it for sending. You can add signature fields and other required information, such as the date of signing, for multiple signers.
Adobe Sign color-codes these fields to identify those assigned to specific signers. However, this field mapping is subtle and easy to miss since a small corner of each field denotes the color coding.
Adobe Sign offers a time-saving feature for documents requiring many fields to fill out. The software can detect such areas and, with a click of a button, automatically add the appropriate field types, including checkboxes and fields for entering text such as a client's title.
Every field possesses adjustable settings. Modify font sizes, change the assigned recipient, or define conditions for when to hide the field. These settings provide a high degree of control over how you want to present your document.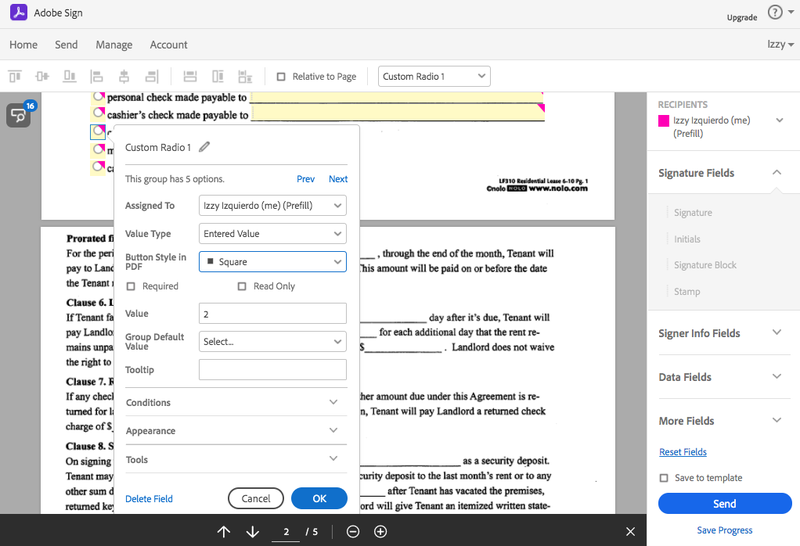 Templates
It can take time to set up a document for e-signature collection. For frequently used documents, such as a sales contract, Adobe Sign lets you save these forms as templates.
Using templates is a must for any organization. Once you've configured a document to capture signatures and painstakingly modified settings for every field, you don't want to repeat that work.
Templates save you from this and allow your company to consistently capture the same information with every signature request. You can share templates with others in your organization as well.
During the document setup process, Adobe Sign allows you to save your agreement as a template. Once you add templates to your account, you can choose these to avoid creating an agreement from scratch. Adobe Sign even provides a few common templates to get you started, such as a W-4 form.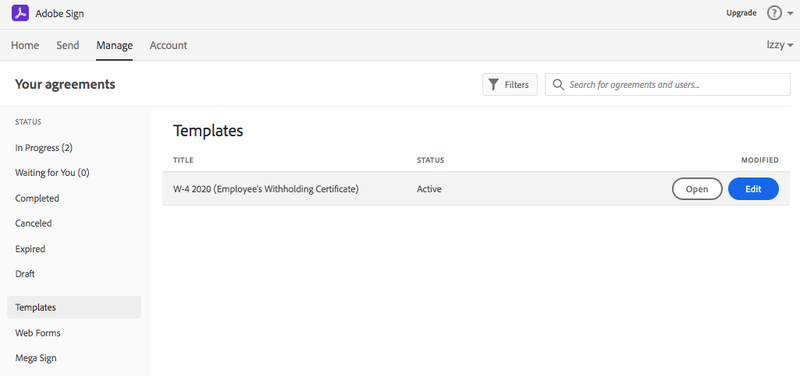 Collecting signatures
Signing documents with Adobe Sign is effective and efficient. An email informs recipients of your request and links them to agreements.
Within the document, recipients have several options, such as viewing your message and delegating the signing responsibility to others. Recipients are shown the number and location of fields requiring completion.
The Adobe Sign interface tracks agreement status for every document, and you receive email alerts when recipients take action. Adobe Sign also automatically sends a PDF copy of completed agreements to all parties.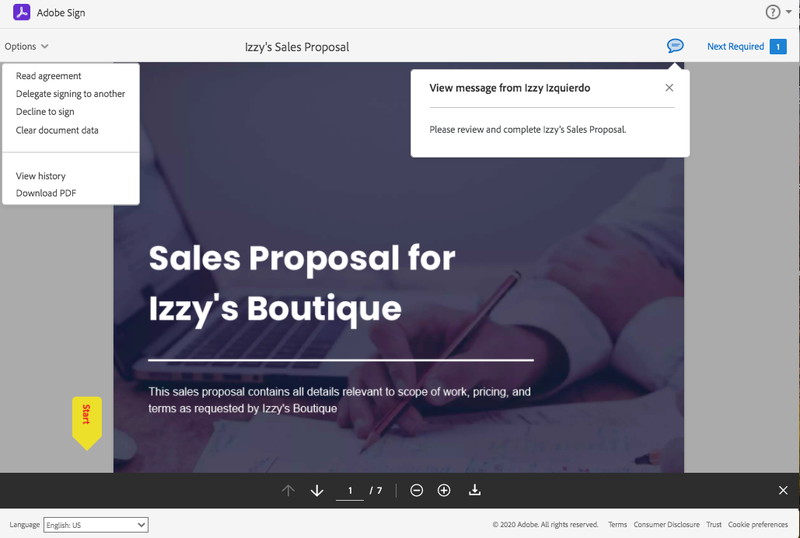 Mobile app
A standalone Adobe Sign mobile app exists. While it offers much of the functionality available in the desktop version, it doesn't have everything. For example, it's not possible to view documents in a draft state.
The mobile Adobe signature app fulfills key electronic signature needs, such as preparing documents and collecting signatures in person. It's well-suited for tracking status.
Most mobile apps are simple, but this one is not as streamlined as the desktop experience. The functionality can prove clunky and involves multiple steps depending on the task, particularly document preparation. But it's an acceptable option to track and complete your e-signature tasks on the go.
The biggest challenge is with a touchscreen. You can easily move or add fields in a document unintentionally, so editing agreements on a mobile device isn't recommended.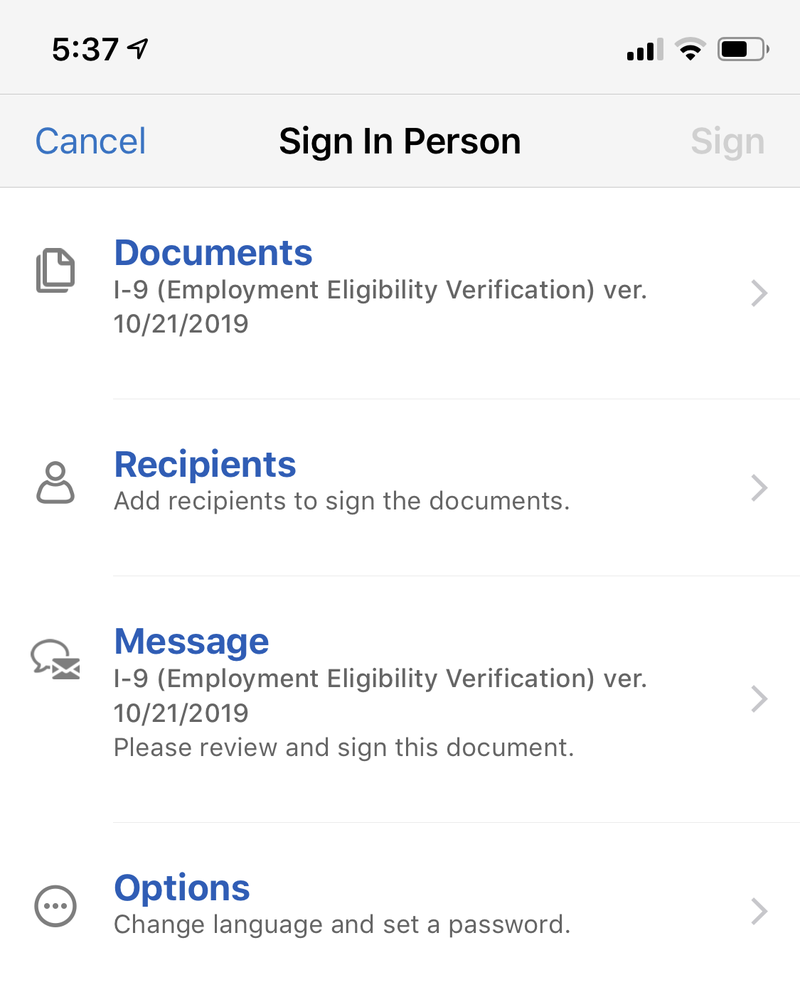 Third-party integrations
E-signature software becomes more powerful when integrated with third-party apps such as CRM software. Adobe Sign provides integrations with many popular third parties, including Salesforce and Google Drive.
These Adobe e-sign integrations allow you to bring in documents stored on third-party services, along with other benefits. For instance, Adobe Sign's integration with Microsoft 365 lets you send documents for signatures directly from Microsoft Word, Outlook, or PowerPoint.
---
Adobe Sign's ease of use
Some e-signature software is easy to use, while others are overly complex. Adobe Sign lies in the middle. Its interface is clean and uncluttered but not always intuitive, making the learning curve steeper than it needs to be.
In addition, some functionality is confusing or overly complex. When you go into the account settings, you're faced with a barrage of options, including whether you allow your team to send document updates to Twitter. (Why a company would want to announce document signings on Twitter is beyond me.)
Preparing a document for e-signature collection includes unintuitive options such as a participation stamp. If you accidentally add a signature field for the wrong signer, you must go through multiple steps to fix it.
If you must exit Adobe Sign before finishing your document preparation, you have to manually save your progress.
When you add a field, Adobe Sign gives you a plethora of editing options, including under what conditions to show it. This adds flexibility, but it's overkill.
You want documents prepared quickly rather than spending time tweaking settings for each field. But if you're going to set up a document with exacting settings, leverage Adobe Sign's templates to avoid repeating this work.
It's not the simplest or most straightforward e-signature solution on the market, but Adobe Sign offers some streamlined functionality such as the desktop version consolidating the steps in the document setup process to one page. Adobe Sign's strength lies in its extensive capabilities more than with its ease of use.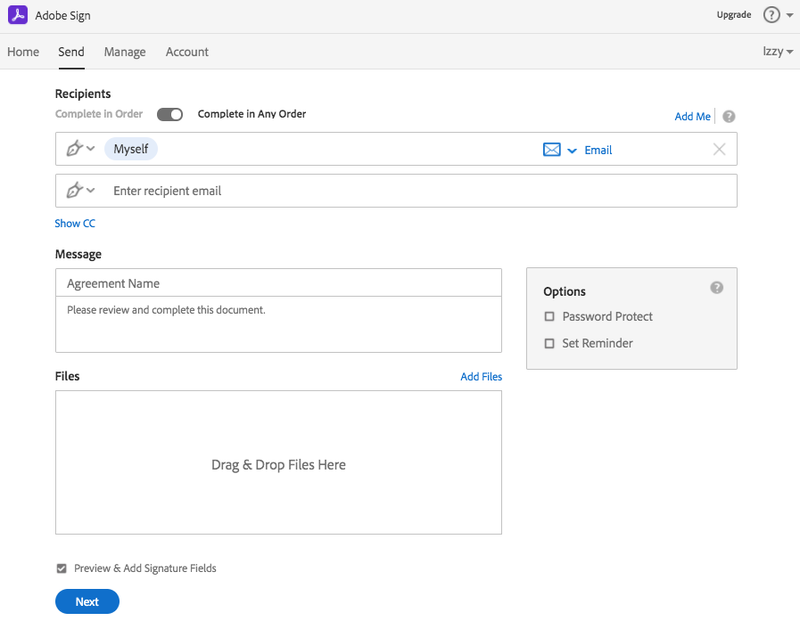 ---
Adobe Sign's pricing
Adobe Sign offers two subscription types. There's its Small Business subscription plan for $29.99 per month for each software license purchased when billed annually. You can buy up to nine licenses.
Companies wanting more licenses or advanced features can choose the Business and Enterprise subscription. The price varies depending on your business needs, so call for a quote.
Adobe Sign's pricing is toward the higher end compared to rivals. The software generally offers more functionality, such as access to its API (application programming interface) at no additional cost, while competitors typically charge separate API fees.
Weigh the capabilities that matter most to your organization to determine whether Adobe Sign pricing makes sense for you.
Another consideration is Adobe Sign's limit to the number of e-signature transactions allowed per year. Small Business plans have a cap of 150 annual transactions per user license.
Its Business and Enterprise subscriptions are capped based on what's purchased with the plan. If you anticipate a high volume of transactions per year, Adobe Sign offers pricing on a per- transaction basis.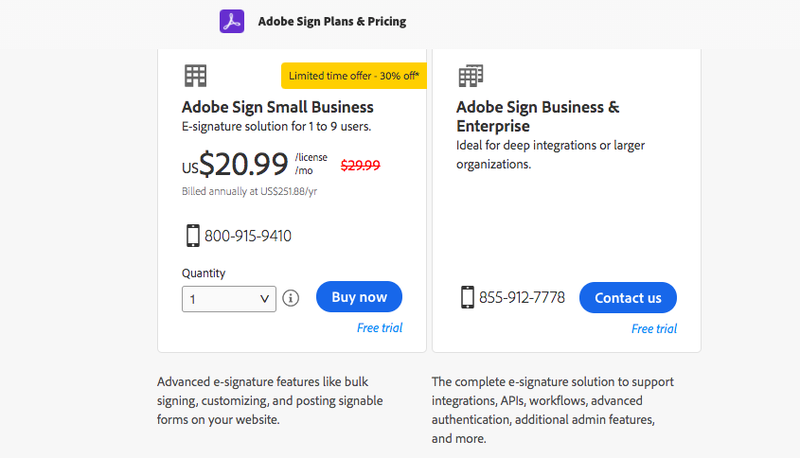 ---
Adobe Sign's support
Support for Adobe Sign primarily consists of an online self-serve help center, which is packed with content. Instructions, articles, videos, and a community forum provide answers to many questions. There's so much content that it can prove challenging to find the information you're looking for.
A chat option allows you to get answers at any time from Adobe Sign's automated chatbot. Phone support is not available unless you opt for the Business and Enterprise subscription plan.
---
Benefits of Adobe Sign
Adobe Sign provides a rich feature set. It covers the e-signature basics and beyond. Send documents for signatures to a large group of signers with its Mega Sign capability. Insert a form on your website to capture signatures online.
Adobe Sign provides plenty of flexibility to implement electronic signature processes based on your organization's specific needs.
You can use Adobe Sign to meet industry-specific compliance and legal requirements, such as the HIPPA (Health Insurance Portability and Accountability Act) federal law for medical organizations. Adobe Sign complies with government and industry regulations around the world.
As a leader in digital documentation since the 1980s, Adobe delivers a suite of services that complement Adobe Sign. Adobe's document cloud enables businesses to store documents directly with Adobe, streamlining your use of Adobe Sign by allowing you to quickly access and send documents for e-signatures.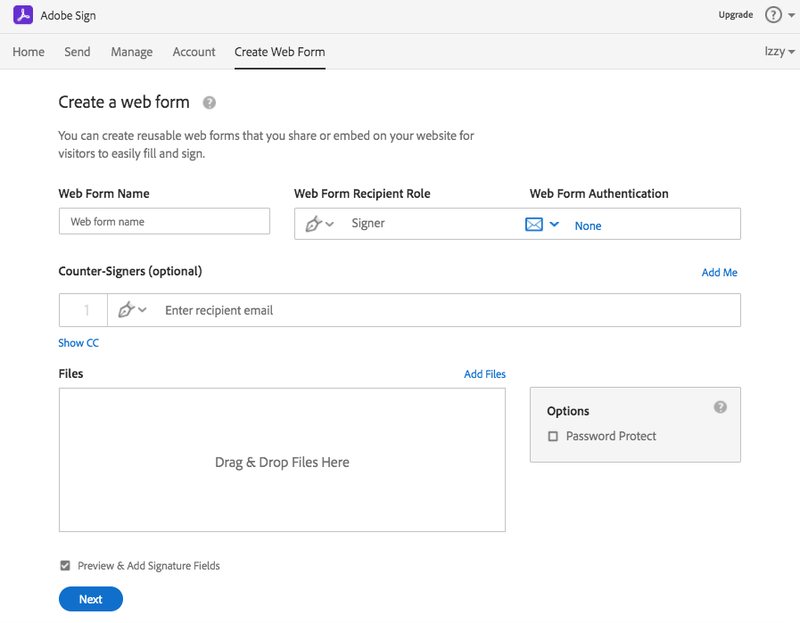 ---
Is Adobe Sign right for your business?
Adobe Sign is a powerful e-signature tool, but to get the most from the product, an enterprise account tailored to your individual business needs is best. For example, reports are only available to enterprise customers.
The Small Business subscription cap on the number of annual electronic signature transactions and the user limit of nine means a company with a sales team will likely require the Business and Enterprise subscription option.
For companies using a CRM solution such as Salesforce, these larger third-party integrations are only available to Business and Enterprise accounts.
For small businesses possessing simple e-signature needs, or without industry regulatory considerations, it's worth exploring other e-signature software. Free versions and lower-priced alternatives are available, depending on the feature set you require.
---
Adobe Sign Frequently Asked Questions
Does Adobe Sign offer a free version?
No free version is available, but Adobe Sign allows a 14-day free trial of its software. Not all functionality is available during the trial period, making it difficult to truly assess the product.
Yes. Adobe Sign is certified as compliant with industry standard security practices to protect your documents, data, and personal information. The company provides a resource library with extensive details of its security and compliance controls for your review.
How many documents can I send?
Adobe Sign caps the number of document transactions based on your subscription plan. Its Small Business subscribers are limited to 150 transactions per year per user. No more than nine users are permitted before you must move up to a Business and Enterprise account.
Business and Enterprise subscriptions are customized to the needs of your business, so those transactions are capped based on the specifics of your purchase. You can opt for a per-user limit or, if you need more flexibility, choose a per-transaction pricing option.

Use Adobe Sign's free trial to assess if it's the right e-signature solution for your business.
Use Adobe Sign's free trial to assess if it's the right e-signature solution for your business.