---
An overview: Agile CRM
Agile shines in its value, especially with the free version for small businesses. If you've tried it and liked the software, the vendor provides a pretty notable discount for purchasing two years of Agile in advance (only $8.99 a month for two years of the starter level). Compared to other CRM software, this is quite affordable.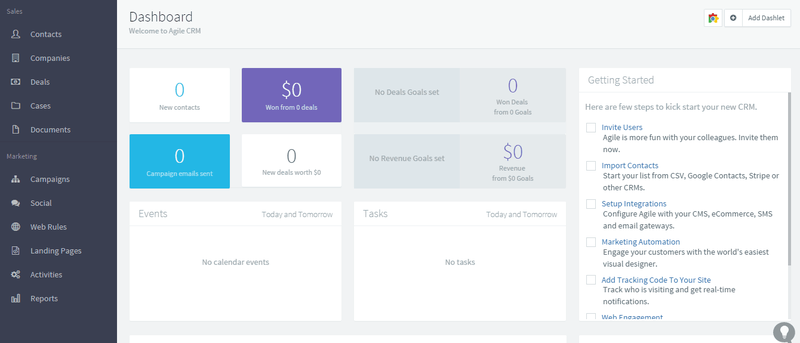 Agile has not been around as long as some of its competitors, such as HubSpot and Zoho, both of which started in 2006. So, it has some catching up to do and a few kinks to work out as a company. Agile seems to have its eye on the modern way companies do business, though. With that in mind, we think Agile has a lot of potential in the coming years to maximize the ways companies relate to their customers and market to them.
Agile is also tapping into the way employees work most efficiently. The software offers gamification, which is a relatively new trend in workflow management that mimics the addictive elements in gaming to reward, motivate, and improve employee efficiency. Better labor output usually means better business, and for this, we like Agile's approach.
What is Agile CRM?
Agile's founder, Manohar Chapalamadugu, initially started the company ClickDesk but found that their customer needs grew so rapidly they had trouble keeping up with automating tasks and organizing information. They tried an existing CRM but found it lacking within the first six months.
The competition also failed to provide the specific features Chapalamadugu's team needed for their business, so they built Agile CRM, a modern take on these platforms designed for the way companies operate today.
Agile is a customer relationship management platform with all-in-one automation that's focused on tracking, marketing, sales, and service. It offers web analytics, Helpdesk, two-way emails, gamification, telephony, and many other features on an easy-to-use software platform.
---
Who is Agile for?
Freelancers and small to mid-sized companies will do best with Agile CRM. The free version is especially helpful for tiny businesses and startups. Some of the necessary features for large enterprises are lacking with Agile, but it works quite well for many on a smaller scale.
Some medium-sized companies that are less than satisfied with more prominent CRM companies may find Agile to be a refreshing player in the CRM game. Agile's Enterprise level has e-commerce sync with sites such as Shopify and Stripe. The Helpdesk and canned responses that come with the Regular level allow immediate engagement with customers, which can be ideal for companies struggling with customer support.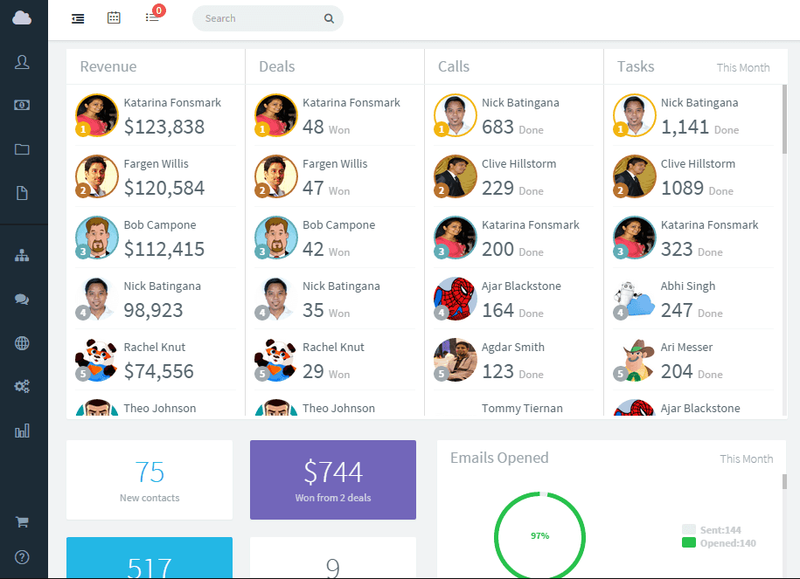 ---
Features of Agile
Agile CRM is designed to consolidate the sales and marketing process, so it only makes sense that the features are categorized under either sales or marketing.
Contact management
Every business owner knows managing contacts is a must. Not only does Agile keep your contacts organized, but it goes one step further and allows you to get to know your customers better. You can store the basics about your customer base and customize your contacts with information about their interests and how they interact with your brand.
Managing your contacts with this feature helps you create lasting relationships with your customer base.
Project management
A business can't succeed without its marketing and sales teams working together. Make sure your teams are in sync and avoid any confusion about tasks or project status with Agile's project management tools, which prevent miscommunication.
Schedule appointments
Communicating with contacts and colleagues is essential, and Agile's online scheduling feature makes finding a date for appointments and meetings a breeze — and you don't have to worry about anyone saying they missed the invite.
Deals
Your sales department works hard to make a deal, and in order to stay motivated and successful, salespeople need some insight into future sales. With the deals feature, you can predict future revenue, create milestones, or automate follow-ups. You don't need a huge sales team to benefit from this feature, and it scales well as the department grows.
Telephony
Telephony sounds a little funny, but this feature is convenient and easy to use. Not only can you make and receive calls using Agile CRM, but you can record calls and take notes afterward.
Other features of Telephony include enhanced caller ID, call forwarding, and call scripts. Telephony is designed to make every call you make and receive valuable to your business.
Social CRM
Your marketing team relies on social media to reach out to your existing and potential customers. The social CRM feature is multifaceted as it integrates with social media channels like Twitter and uses a variety of techniques to connect with your customer base.
Landing page builder
Want to take care of all your marketing needs and create a show-stopping landing page? The landing page builder is one of the newer features in Agile and has a lot of eye-catching designs.
---
Benefits of Agile
The primary benefits of Agile CRM are streamlining your customer data and making dealing with reports, marketing, and sales and service tasks more efficient.
Agile is effective at speeding up sales and marketing protocols, which can make for more satisfying customer experiences. Agile also makes it simpler to see your transactions in various stages.
Agile also provides a drag-and-drop designer as a feature in some of its plans to improve efficiency in your marketing department. The integration with social media also makes using various platforms more straightforward and efficient, enhancing your reach to a broader audience.
Potential downsides of Agile CRM
While many business owners love having seemingly countless options when it comes to CRM software, the features can be overwhelming. Agile is ideal for small or mid-sized businesses, but it's not necessarily the perfect choice for users with limited tech experience. Agile has a substantial resource section and blog, but it might not be for you unless you're willing to learn some features via trial and error.
---
Agile CRM pricing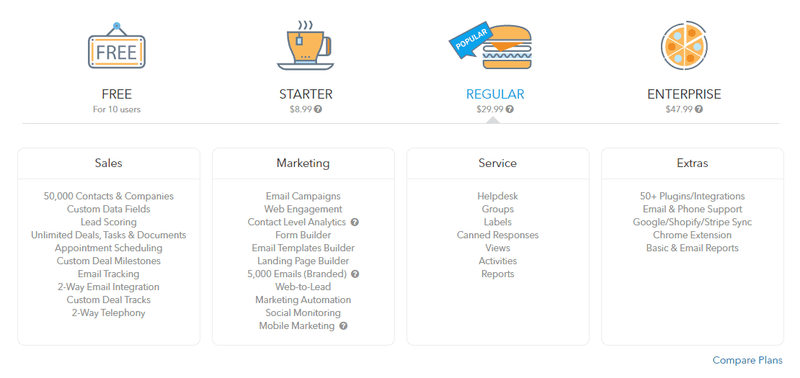 Agile CRM is a bit more expensive than some competitors, but it offers a discount for each level if you pay for one or two years in advance. There's a free version for up to 10 users, which is ideal for small businesses or solo entrepreneurs.
Since you can set up a free account, there's no free trial period available for higher tiers.
The Starter tier boosts marketing capabilities for $14.99/month per user (reduced to $9.99/month per user if you pay for the year up front, or $8.99 if you pay for two years).
Next is the Regular tier, which adds in some service-oriented options for $49.99/month per user (or $39.99/month per user if billed yearly, or $29.99 for two years).
Finally, the Enterprise tier comes in with some cool extras at $79.99/month per user ($64.99/month per user billed annually, and $47.99 for two years).
---
How easy is it to use?
Agile CRM is one of the best in its class when it comes to usability. The developers have gone through many iterations and prototypes to find a layout that's quick and intuitive to use.
Every major feature of the CRM is visible with just a single click, and when using those features, it's an altogether snappy and satisfying experience, even when using a large database.
What really helps Agile CRM stand out is the user experience. Not only are there lots of integrations with outside platforms, such as Skype and Facebook, but connecting and using them is easy, with no lag.
Getting started
Setting up an account with Agile CRM is simple. You do have to use Google Chrome, so if you don't have it, you'll need to install it. Once in the setup area for Agile, simply work through the tabs and sync your applications. You can connect your email and sync your calendar, too.
If you're a startup or a small business, it's worth trying Agile CRM. You don't even have to provide your credit card number, so there's nothing to lose if your CRM needs are rudimentary. You can look into the pricing plans and compare features, or just click the "Get Started" button in the upper right corner to jump in. If you're not quite ready to set up an account, the demo gives you a great visual of what you can expect when using Agile CRM.
What people are saying
Napoleon Ozuna tweeted: "Recently, I've started using @agilecrm instead. The interface and workflow is closer to the larger CRMs. Agile is free for up to 10 users. The starter package is very affordable too and adds some great marketing features."
"I've seen and used dozens of CRMs. This one may change the market upside down. Absolutely great, easy-to-use and powerful." — Nicolas Woirhaye, Co-Founder IKO System
---
Frequently Asked Questions
Is Agile CRM really free?
The free version is, indeed, actually free. No credit card is required to install the free level for up to 10 users. Some CRM products, such as Zoho, only allow their free option for up to three users, so this option from Agile is a big plus for smaller businesses.
We rate Agile CRM quite highly, scoring it particularly high in terms of ease of use and features. The pricing is good, and while the support doesn't quite match up with other offerings, we consider it a top CRM option.
What kind of businesses is it best suited for?
Agile CRM's extensive features list is great for businesses looking for a CRM with all the bells and whistles, but it may be a little overwhelming for small or mid-sized businesses that just want a simple, straightforward CRM platform.
While the basics of Agile CRM are easy to pick up on right out of the gate, understanding all of its features and what they can do takes time. So if your needs are simple, you should at least explore other options.

Agile's modern approach to CRM and robust feature set might be a perfect fit for your business, so click the button to get started or learn more today!
Agile's modern approach to CRM and robust feature set might be a perfect fit for your business, so click the button to get started or learn more today!
The Motley Fool has a Disclosure Policy. The Author and/or The Motley Fool may have an interest in companies mentioned.