Choosing the right applicant tracking system (ATS) is crucial because it affects all areas of your business. If you implement a system that doesn't focus on candidate experience, then you won't be able to hire the best people, as they will drop out during the process.
If you pick a system that is way too complex for your needs, you'll slow down your hiring process and fail to meet the recruitment needs of your company.
If you pick a system that doesn't let you effectively source candidates, you'll end up hiring someone who isn't right for the role or company just so you can close the job requirement.
We've put together a list of our top ATS to help you narrow down your options and make the right decision.
Here are the top picks for the best applicant tracking systems:
Our top 8 picks for the best applicant tracking systems (ATS)
Not applicant tracking systems are right for your business. Some are designed for staffing agencies, some are aimed at startups, while some are complex and take time to get up and running. Here are our picks of the top applicant tracking systems. If you like the look of any of them, we suggest you read the full review.
1. Zoho Recruit
Zoho Recruit is an affordable ATS that doesn't skimp on features. It's one of the only applicant management systems on the market that provides both a free trial and a free version.
This application tracking system is also unique in that it provides functionality for both staffing agencies that hire candidates for external companies and corporate HR departments that source applicants for within their own organization.
Zoho Recruit helps you acquire the best talent by creating recruitment marketing functionality to attract passive candidates on social media. You can create targeted campaigns based on location and audience. With the Facebook Job Postings functionality, candidates can apply to a job without leaving Facebook.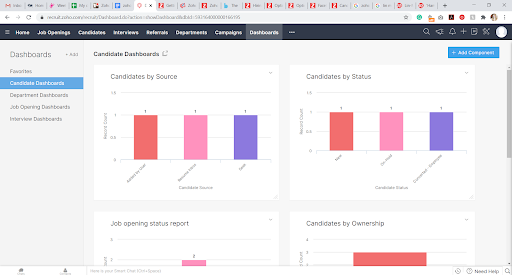 This candidate tracking software provides a ton of built-in reports and analytics to track the performance of your recruiting efforts and identify areas where you can improve. These reports include:
Time to fill
Offer acceptance rate
Job openings due this month
Candidate pipeline
Candidates by status
Time in stage
2. Workable
Workable's ease of use makes it an ideal choice for small businesses and inexperienced recruiters, and it's one of the main reasons we choose this as our top-rated ATS. Even if you've never laid eyes on ATS software before, you'll be up and running with Workable in no time.
Take creating a job ad: It's hard to know what to include to attract the ideal candidate. Workable includes excellent template job descriptions for a wide range of roles. We tried out a range of templates and found them to be compelling, accurate, and useful.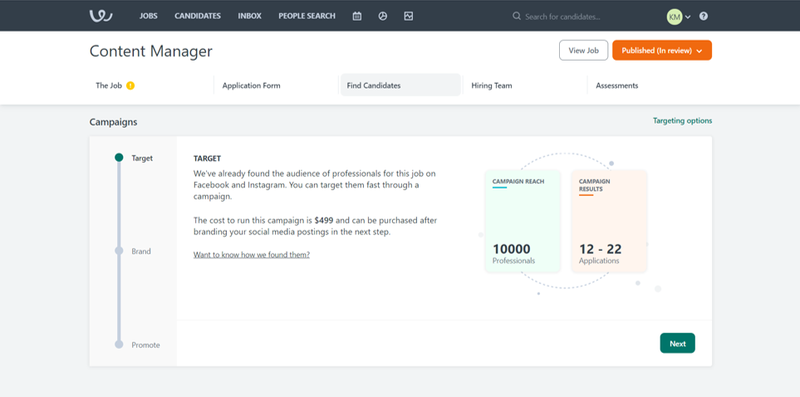 Workable's job-sourcing capabilities make it stand out from the crowd. Its artificial intelligence-powered Auto-Suggest feature searches public online profiles to find candidates who match the skills and requirements you have specified in your job description.
If you want to source candidates on social media, you can create highly targeted campaigns on channels such as Facebook to attract the right people to apply to your job.
3. Breezy HR
Breezy HR speeds up the process of creating job applications by providing a host of editable and customizable templates for common job roles. To ensure the ad displays properly on your careers page and on mobile devices, you can preview the layout at any time.
You can add custom questions for each position, as well as choose which fields the candidate is required to fill out, which to make optional, and which won't be displayed at all.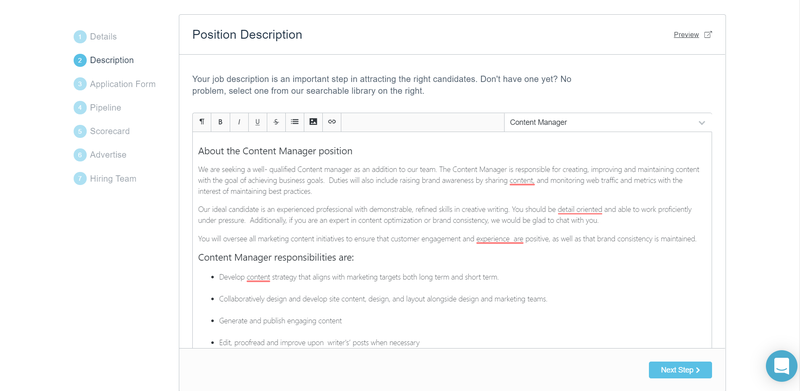 Breezy HR lets you automate your recruitment pipeline. You can set up the actions the system should take when it reaches a certain stage. For example, when a candidate submits an applicant, you can customize your pipeline so that Breezy HR automatically sends them an email or SMS.
If you move them onto the next step, Breezy HR can automatically assign them a hiring manager.
Breezy HR's scorecard feature lets you evaluate candidates based on a predefined set of criteria. You can more quickly rule out candidates who don't score highly enough while advancing ones who meet the criteria.
4. Greenhouse
Greenhouse job applicant tracking system is strong on candidate experience. The back and forth of communicating with candidates to arrange screening calls, schedule interviews, and conduct skills tests can test the patience of any applicant.
Greenhouse lets candidates schedule interviews and assessments themselves.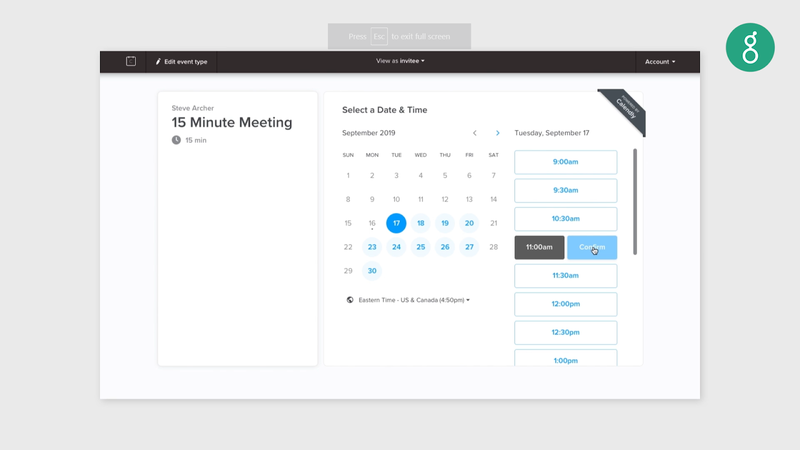 Greenhouse's CRM-style database functionality lets you create a pool of applicants that you can use to more quickly source talented candidates for future job roles.
The Greenhouse LinkedIn browser plugin helps you find candidates to add to this database by allowing you to save their LinkedIn profile directly in the software.
Greenhouse analytics functionality uses past data to predict the future performance of your job openings and allows you to create custom reports.
You can use this data to streamline your workforce planning efforts as you better understand how long it takes you to recruit for certain positions or skill sets and figure out what candidate sources work best.
5. Bullhorn ATS
Bullhorn ATS is aimed at staffing agencies and third-party recruiters who hire candidates for external companies. Its email integration lets you view candidate and company information directly from within your email client.
It automatically tracks all the emails you send and receive from candidates and customers so you can keep track of your communication.
Its relationship analytics functionality is another standout feature. As building relationships is an important part of working for a staffing agency, you can perform health checks to ensure your communication with clients is flowing properly. This suite of analytics lets you track:
Most responsive contact
Best time to email contacts
Email and phone conversation activity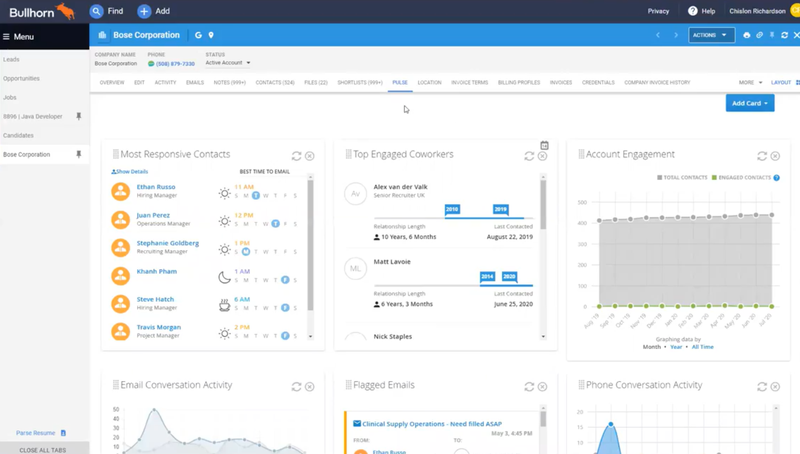 You can also track keywords that appear in emails, even if the messages aren't sent directly to your account. For example, if you track the word "invoice," you'll be able to see any messages that deal with invoicing and can decide not to contact any clients with these issues.
6. ApplicantPro
ApplicantPro is a good option for businesses with irregular hiring needs, as it lets you pay per job rather than having to take out a monthly or yearly subscription. It's one of the only candidate tracking systems that is priced this way.
ApplicanPro's user interface can be overwhelming, and it doesn't have the same intuitive user experience as other ATSes, such as Workable and Breezy HR. It takes time to find your way around the system, and some of the dashboards feel very crowded.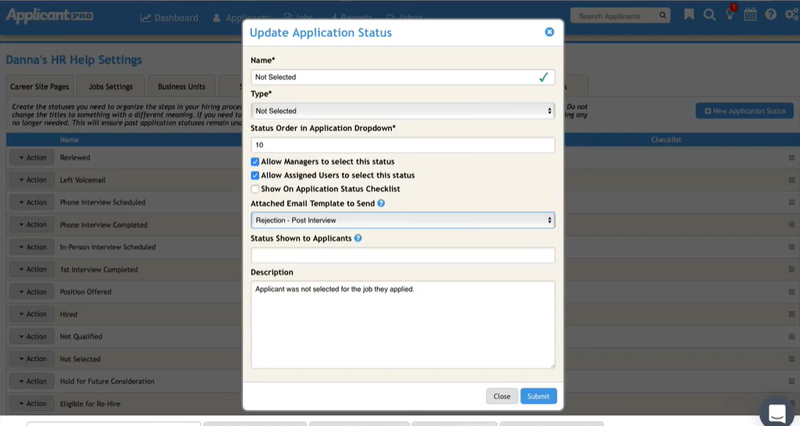 That said, ApplicantPro can help you streamline your hiring process through its talent database, applicant tracking dashboard, and customizable pipeline management functionality. It also has an internal careers portal to encourage more job applicants from within your own company.
7. ApplicantStack
ApplicantStack can't compete with the other ATS in this list when it comes to features, but it makes up for it when it comes to ease of use. Its limited feature set allows you to create job ads, customize your recruitment pipeline, and track hiring metrics.
Its sourcing capabilities are more basic than other ATS software such as Workable and Bullhorn. For example, you can't search third-party job boards for candidates or create targeted social media campaigns to attract applicants.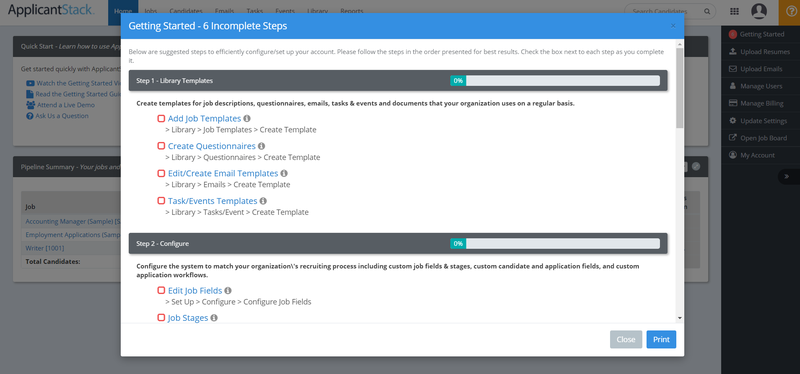 ApplicantStack has an add-on that onboards new employees without having to manually enter data into a different system. You can create new-hire checklists and assign tasks to different members of the team, while new hires can fill out their details and electronically sign forms.
ApplicantStack has a ton of options to help you get up and running. Its Getting Started wizard suggests tasks to complete and the order to complete them in to get the best results from the software. There are also in-app tips and feature explanation videos.
8. The Applicant Manager
The Applicant Manager is designed for small to medium-sized businesses with limited resources. It lets you customize every aspect of the recruiting cycle so you can adapt it to the needs of your business, not the other way around.
The Applicant Manager careers page functionality lets you build both an external and internal portal for candidates to submit their resumes and apply for jobs. Candidates can subscribe to email alerts if there are no open positions in their field.
As candidates start applying for your jobs, The Applicant Manager automatically creates an intelligent dashboard of applicants. This includes the following fields:
Name
Source
Referred by
Status
Notice period
It also includes candidates' ratings data. To submit ratings, your recruitment team only has to click the thumbs-up or thumbs-down button, or they can provide a rating on a scale of one to five.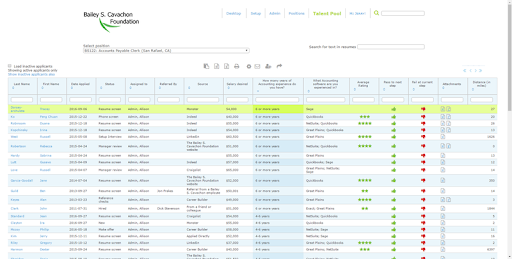 What The Blueprint looks for in a great applicant tracking system
There are basic features that you need to look for when choosing an applicant tracking system if you want to be able to make a real difference in the way you recruit.
Intelligent sourcing capabilities
When recruiting, you shouldn't be taking what is unpleasantly known as the spray-and-pray approach — reaching out to as many candidates as you can and hoping that at least one of them is a good fit. Instead, you need to choose your channels wisely and filter your candidates before they even reach your inbox.
With an ATS, you can choose where to post your job — whether that be on social media or jobs boards such as Indeed and Monster — and specify key criteria such as years of experience or location. That way you'll get a smaller volume of more relevant candidates.
Customizable pipeline management
Companies recruit in different ways for different roles. For example, if you're hiring a developer, you'll need a stage in the hiring process for a skills-based assessment. If you're hiring a senior-level manager, you might require more in-person interviews. Or maybe you'd like to always have a screening call as a first step in the process.
You need an applicant tracking system that you can adapt to your way of working rather than you having to adapt to a set workflow.
Recruitment analytics
It's important to measure the performance of your recruitment efforts, but doing this manually is time-consuming and leaves you prone to errors. You need applicant tracking software that can centralize all the data from the hiring process and produce reports on key metrics. Some of the reports you will want to look for include:
Time to hire
Candidates by source
Offer acceptance rate
Time in each stage
How your business can benefit from using applicant tracking systems
Applicant tracking systems can automate many manual processes and help you implement a more coherent recruitment strategy. Here are the benefits that will bring for your business.
Attract better candidates
Quality is key. That means attracting people who have the right skills for the role and would be a good fit for your company. An applicant tracking tool helps you attract those candidates by placing your job ad in the right place with the right language and design.
Some ATSs also let you create marketing campaigns to target the kind of people you are trying to hire either through social media or Google Ads.
Improve the candidate experience
Creating a good first impression of your business is key. If you forget to reply to a candidate, keep rescheduling interviews, or add unnecessary hoops to jump through, that person is more likely to drop out during the recruitment process.
An ATS ensures you keep on top of communication, move candidates through the pipeline quickly, and present a good image of your company.
Hire candidates more quickly
Sifting through all the candidates who have applied for your job takes a lot of time, as does trying to manually keep track of where they are in the pipeline. An ATS can take care of all of that, letting you automatically disqualify candidates who don't have the right skill set and keep track of where all candidates are in the hiring process.
Applicant Tracking System Frequently Asked Questions
How much does an applicant tracking system cost?
There are a few applicant tracking systems — such as Zoho Recruit — that are free, but most start at around $90 per user, per month. Some ATSes provide a pay-per-job plan, but most require monthly subscriptions, while some software includes onboarding functionality.
Who uses applicant tracking systems?
Corporate recruiters and third-party recruiters for staffing agencies both use applicant tracking software, but they sometimes require different functionality.
For example, third-party recruiters often need functionality that lets them manage client relationships and create external portals with limited features for their clients to access.
What are the best applicant tracking systems?
We've put together a list of our picks of the top applicant tracking systems above, but the answer depends on your circumstances, the features you need, and your budget. If you've never used applicant tracking software before, you'll want to prioritize ease of use.
If you're on a limited budget, you'll want to look for free software or solutions that provide fewer features but are less expensive.