Making sure appointments are scheduled, tracked, and efficiently parsed out can be one of the biggest struggles for a service-based business. And since meetings are truly the lifeblood of the service industry, having the best appointment scheduling software is all but a necessity.
As an online scheduler, AppointmentPlus is a perennial favorite. With ease of use in mind, this appointment app hits all the key competencies consumers crave and addresses users' underlying challenges.
From an intuitive interface to color-coded tracking for ease of use to a fleet of helpful customer service representatives, AppointmentPlus makes a strong case for being a game-changing software.
---
Who is AppointmentPlus for?
What's great about AppointmentPlus is that it's got the customization ability to work for a variety of industries.
For the medical field, there's care taken in AppointmentPlus for HIPAA compliance.
For the hospitality industry, you can choose to turn on AppointmentPlus for overnight bookings.
Spa owners, on the other hand, find its separate appointment-type bookings extremely useful for things like AppointmentPlus massage or pedicure reservations.
---
AppointmentPlus' features
Part of what makes AppointmentPlus such an attractive option is its well-tailored features that address common scheduling concerns in easy, meaningful ways.
Every feature that it offers is well thought out, meaning it's not just extra flash but a tool that genuinely solves problems of either efficiency, customization, usability, or resource maximization.
Integrations
AppointmentPlus plays well with others. Its developers recognize that it will need to synchronize with your daily work routine and current software fleet, so it handles third-party integrations like a champ.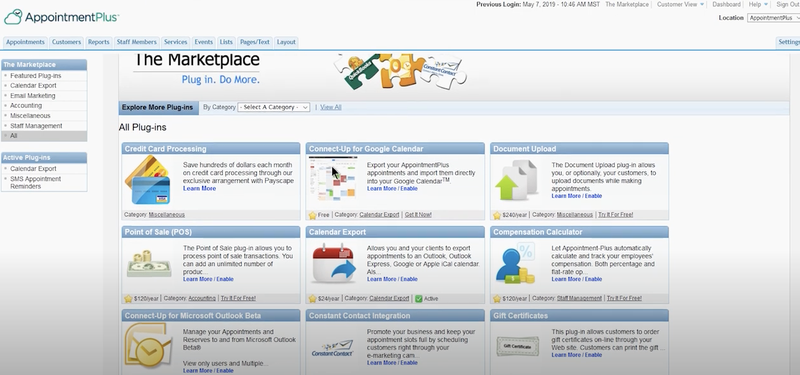 It has an API (application programming interface) built to handle complex synchronization of data between its scheduling backend and your existing software such as MailChimp, Google, Constant Contact, and much more.
Customer self-booking and reminders
AppointmentPlus lets you give a little more control to your customers — in a good way. By empowering them with the freedom to book appointments at any time and from any place, they are that much more likely to actually book them.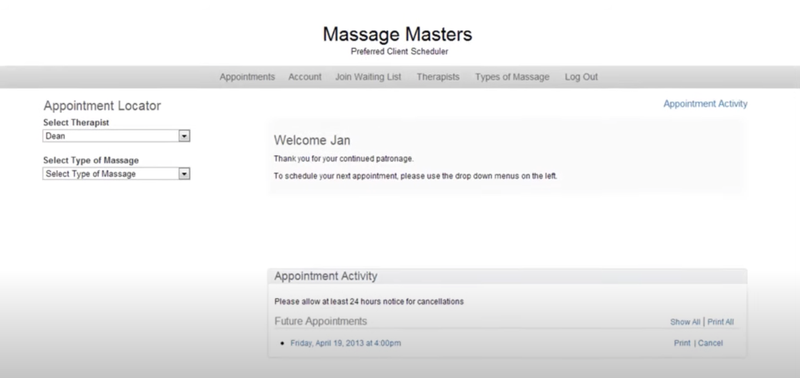 Plus, with automated text, email, and phone reminders, appointments are less likely to slip their mind — and with no extra effort on your part.
Social media syncing
You can further build brand awareness and maximize efficiency by syncing your booking process with posts on social media.
Dynamic reporting
Knowledge is power. The more specialized and detailed reporting you can dive into (and the easier it is to pull up), the better prepared you are to manage your business.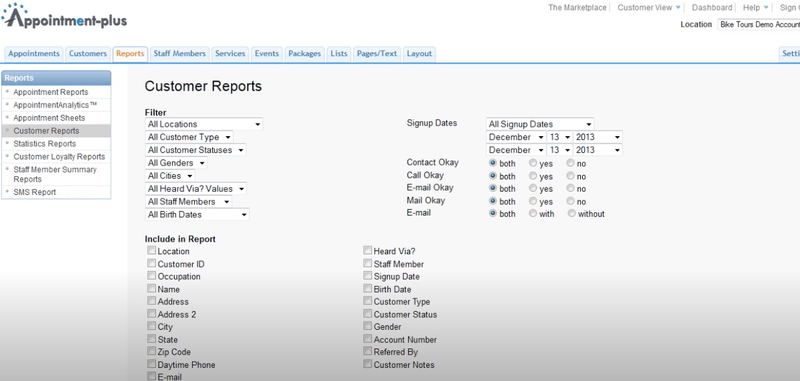 You can track various data points such as customer history, missed appointments, most commonly booked services, and more. From that reporting, you can also use AppointmentPlus' premade templates for data-driven marketing.
Multiple user administration
A business with multiple staff members knows how easy it is for lines to get crossed and recognizes the importance of analyzing single-user views.
As an admin, you can view all users from a dashboard or focus on a singular view. You can determine multiple user permission levels and access while setting customized parameters around scheduling for individuals.
Scalable technology
Since AppointmentPlus is cloud-based, its infrastructure is built to grow. As your business expands to multiple locations, or you add more third-party applications, AppointmentPlus adapts and grows, too.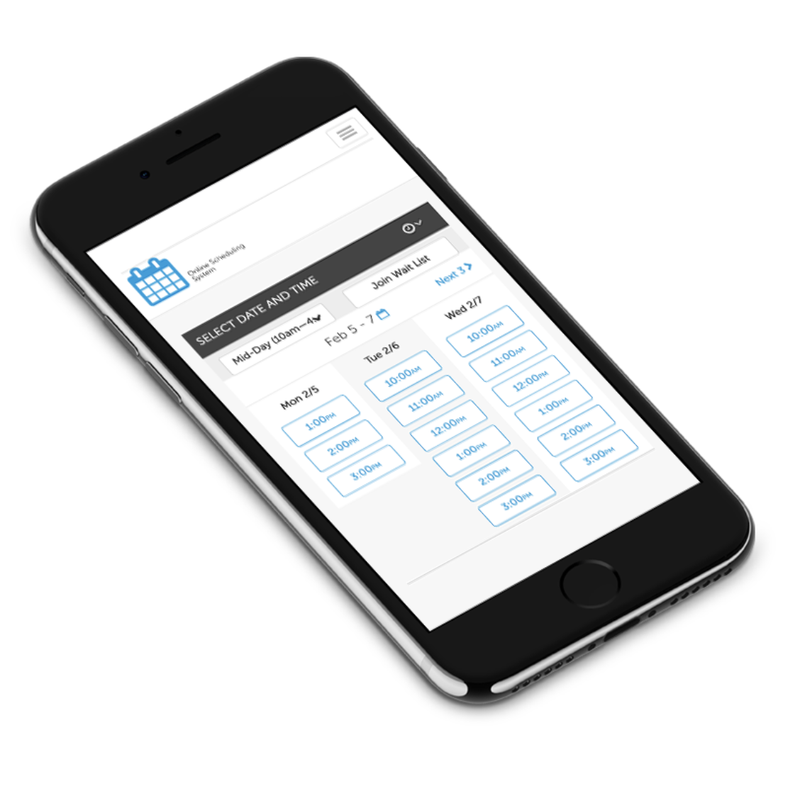 For ease of use on the go, AppointmentPlus offers a mobile-optimized version for booking as well.
Appointment confirmation tracking
Missed appointments are not only a headache and frustrating, but they are also missed revenue. Customers receive automated reminders and a tracked history of confirmations for both accountability and a better ability to notice trends and adjust as needed.

---
AppointmentPlus' ease of use
From managing room bookings on the backend to customers seeing their appointment details on the frontend, AppointmentPlus is designed with precision to be intuitive and easy to use.
It is built to solve customer problems by making scheduling efficiency and management much easier. It has captivated a customer base that is too often dealing with crossed wires, dropped appointments, double bookings, etc.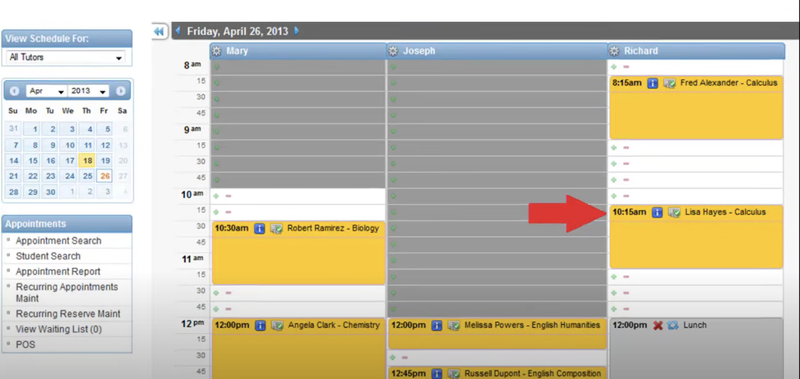 The admin dashboard is clutter-free, and scheduling rules are easy to set up, follow, and use. Appointment setting is a simple process. Viewing appointments can be done by looking at a single day, week, or month without confusion, thanks to color-coding.
---
AppointmentPlus' pricing
To be blunt, AppointmentPlus' pricing is a bit costly. The cheapest package is $49/month but can go all the way up to $199/month (or possibly more for customized enterprise solutions). While the sticker shock may be real, the benefits and quality you get for your money make it well worth it.
The $49/month Bronze package is best suited for solo enterprises or small teams, but it still helps streamline and maximize scheduling efficiency. As you increase in plan tier, you unlock more useful features.
For example, at just the next level (Silver, for $69/month), you have access to interactive appointment notifications, various staff filters, profile sharing between locations, and more.
---
AppointmentPlus' support
One consistent rave about AppointmentPlus is its stellar customer support. The company not only offers phone support but a systematic ticketing system that allows you to detail and log your issues.
From there, a representative gets back in touch in usually less than one day to help work through your problem.
Customer service representatives for AppointmentPlus are pretty much always extremely knowledgeable and friendly, making sure they walk you through a solution as well as working through more complicated issues on their side.
---
Benefits of AppointmentPlus
AppointmentPlus is designed to keep your customers returning and make your life simpler. Automated reminders sent out to your clients without you needing to lift a finger are available at all plan levels, increasing revenue without adding any working time. It also can manage automated time adjustments to maximize working efficiency.
By letting clients self-book and giving you insight into those appointments, reschedules, and adjustments, you can increase the number of appointments made without heavy lifting. Integrated "book now" buttons give you additional chances to capture sign-ups.
You can revel in as much or as little customization as you need, so the interface is always exactly as easy to use or personalized as you need it to be — never more and never less.
It optimizes according to your account requirements, so you don't have to worry about scheduling conflicts or hiccups. With more than 500 different configuration options, you're assured of having it the way you like.
AppointmentPlus makes it easy to be a one-stop efficiency shop from settings around operating hours to creating waitlists and payment processing features in-house and customizing additional offerings.
Plus, the customer support at AppointmentPlus is exceptional, responding quickly to issues and taking great care to work through problems.
---
AppointmentPlus is a winning scheduling solution
If you have it in your budget, AppointmentPlus is going to be a business maximizer.
Not only does it fulfill the "appointments" part of its name to great results, but it goes above and beyond in maximizing data-driven efficiency, customer retention, scheduling customization, and more.
Once it's installed and integrated, you'll wonder how you managed so long without it.
---
Frequently Asked Questions for AppointmentPlus
How does AppointmentPlus' pricing compare to other software?
AppointmentPlus is definitely on the high end of pricing compared to other software solutions. Still, you get a lot of bang for your buck. You will find cheaper alternatives, but be prepared to sacrifice on intuitiveness and features.
Is AppointmentPlus easy to use?
One of AppointmentPlus' most significant selling points is how easy it is to use. You don't need to have super tech-savvy staff or customers to figure out how to use it.
Does AppointmentPlus offer a free trial?
Rather than a free trial, AppointmentPlus offers the ability to book a free demo with a knowledgeable account rep.

If you could use some help in smoothing out your scheduling process, book a free demo of AppointmentPlus to see its features for yourself.
If you could use some help in smoothing out your scheduling process, book a free demo of AppointmentPlus to see its features for yourself.
---
How AppointmentPlus Compares
The Motley Fool has a Disclosure Policy. The Author and/or The Motley Fool may have an interest in companies mentioned.