Successfully managing a large or complex project requires tools to meet project timelines, budgets, and goals. In the past, that meant a spreadsheet where you cobbled together an onerous, clunky Gantt chart, then spent hours manually updating it.
Fortunately, today's project managers enjoy a wealth of project management apps. These apps feature rich functionality, enabling project managers to focus on execution, not spreadsheet updates.
Asana is one such popular project management tool. Hundreds of companies use it, including Google and NASA. It's a favorite for its approach to solving common project management challenges. Use it effectively and you'll make project execution a breeze.
Use Asana for project management in your small business with our 5 steps:
Set up a project
Create tasks
Organize your plan
Manage the project
Close out the project
---
Overview: What is Asana?
Asana is online project management software for team work. It's a versatile platform that supports a variety of business needs, including oversight of deadline-driven projects, outlining ongoing processes, and as an information repository, such as for meeting notes and project documents.
Asana solves several key pain points related to managing projects.
Maintaining and updating project work plans as they evolve and change.
Facilitating team management and communication and keeping stakeholders updated on project progress.
Identifying dependencies and risks to achieving project goals.
How does Asana work?
Since it's web-based, you operate Asana through an internet browser. The company also offers a mobile app to help you stay updated on the go.
Project team members share a collaborative workspace to access project information. Tasks represent distinct pieces of work, and appear in Asana as digital cards, containing details about to-do's, approvals, milestones, or other project information.
All project data is stored in the cloud, so regardless of what device you use or who changes any part of the project, you'll see the latest version in real time, making it an effective project tracker.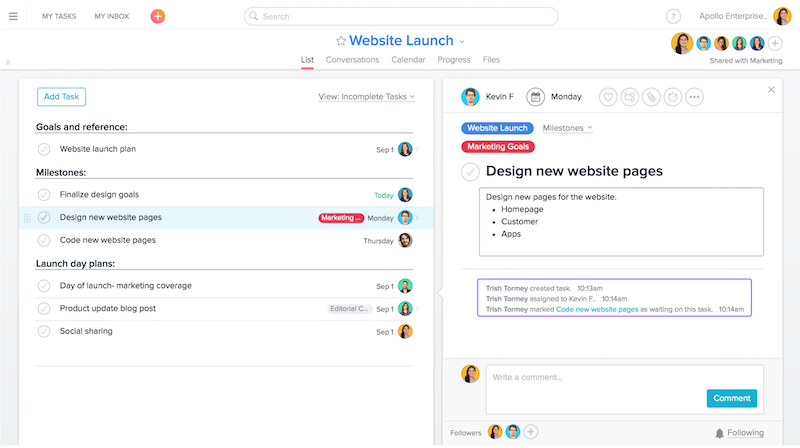 ---
How to use Asana for project management
Asana works perfectly with lean project management. In the following steps, we'll focus on using Asana to execute the project management basics.
Step 1: Set up a project
Even before setting up your project in Asana, consider how you want to view it. Asana provides various methods for visualizing your project to support the project management framework you're using. It lets you create projects based on a list view of tasks, project boards, a calendar, or a timeline.
The list view is a simple list of tasks for a project.
The board view is akin to a whiteboard that you customize to your project needs. It's a popular approach if you use an agile methodology such as kanban or scrum. With this method, you set up your project view to represent a kanban or scrum board.
The calendar view allows you to view tasks in a calendar format.
The timeline view is similar to a Gantt chart where you see all project tasks along a timeline that shows the timing and interdependencies across tasks.
You can also use one of Asana's templates to jump start your project setup. Templates encompass common project types such as a marketing project plan or a product launch. Choose a template to get your project set up with minimal effort.
Step 2: Create tasks
Populate your project with tasks. You can determine relevant tasks for your project using a work breakdown structure. From there, creating tasks in Asana is just a matter of clicking the "add task" button.
Tasks in Asana perform functions depending on your needs. They can serve as a simple label reminding you of an item requiring attention, such as calling a vendor, or tasks can represent your project deliverables.
For more complex items, use Asana's task card to house the relevant information. Within the task, you can designate a deadline or a start date, assign it to a teammate, upload documents, and even create sub-tasks to break up larger work.
Step 3: Organize your plan
You've defined a list of tasks, but to achieve a project's goals, organize them into a plan of action that maximizes your opportunity for success. Asana offers several tools and features to help with project planning.
Group related tasks into sections or columns, such as all pending tasks. Arrange tasks within these sections by deadline, stages in a workflow, timeframes, or use custom fields to define priority.
A great work hack is Asana's automation capabilities. The platform lets you automatically execute repetitive work, such as assigning tasks. To use this functionality, you must set up the rules dictating the automation.
Also set up any important custom fields such as task priority. You can color code these fields and highlight key information like red for tasks on hold.
Designate dependencies across tasks so Asana knows tasks cannot start unless others are completed first. This aids Asana in building your project schedule as the system brings together all information about your tasks to build your calendar and timeline views, and to assess if the project is on track.
As you delegate work, Asana's workload feature helps you gauge and track each team member's capacity. You'll know if a teammate has too much work or if you can assign more to them.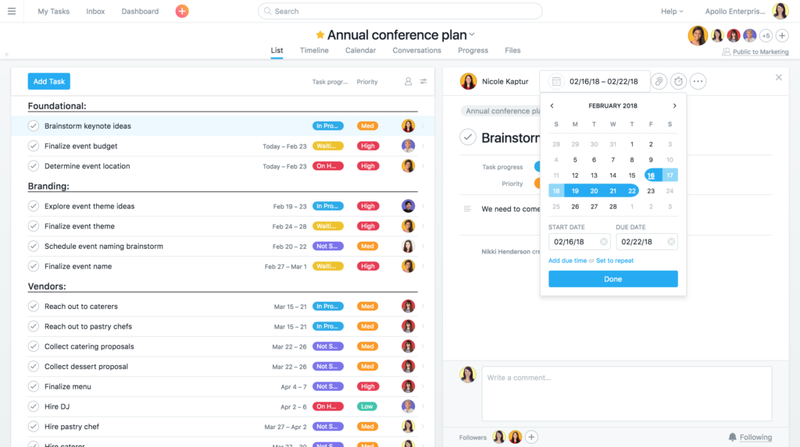 Step 4: Manage the project
Asana offers several capabilities that help the project team stay on top of their work.
Every team member can access tasks assigned to them and their due dates.
An inbox feature delivers a news feed of updates to tasks you're following. It allows you to respond or navigate to these tasks directly, helping you stay on top of key tasks.
Asana's search capability lets you quickly locate any item in the system.
Asana's sort and filter options enable a view of tasks by priority, status, and other views that quickly allow you to see progress across tasks.
Leverage Asana's Progress section throughout project execution. It provides a snapshot of your project's overall status.
You can review milestones, view recent status updates, check custom fields such as approval status, and create updates that communicate information to the entire team without the need to schedule a meeting while also facilitating communication with remotely managed staff working online.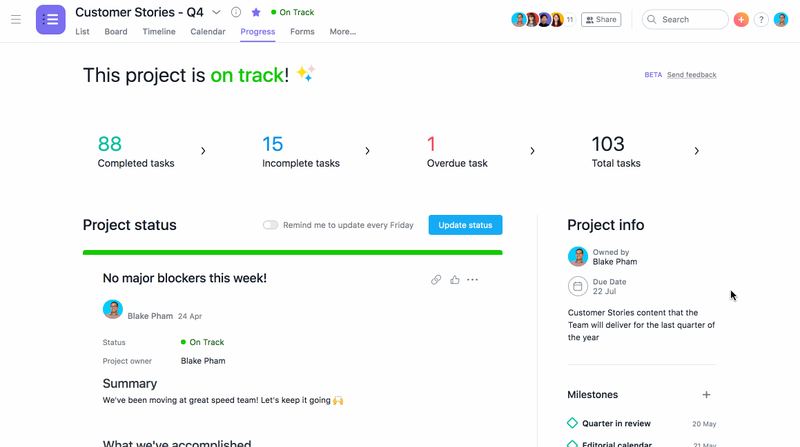 Step 5: Close out the project
Wrap up a project by collecting key learnings to incorporate into the next project. Accomplish this by setting up a custom template.
The template houses notes, steps, and other information to ensure your processes improve. For instance, if your last product rollout missed informing a key group in the organization, update your product launch template to ensure these teams are looped in for the next launch.
Archive your completed project for reference later. It's stored in Asana so you can go back to it, and Asana lets you reactivate archived projects.
---
A last word about Asana for project management
Asana's features encompass many project management needs, but if something's lacking, it offers a number of seamless third party integrations to extend functionality, including Google Drive, Microsoft Outlook, and Salesforce.
The platform is a powerful task manager, and with Asana pricing starting at a free tier for individuals and small teams, you can give it a try before you buy.
Armed with the knowledge of how to use Asana for project management, you can increase team productivity and collaboration, improve visibility, and streamline project oversight.