As healthcare moves online, electronic health records are a vital part of a medical practice. It is essential to have an Electronic Health Record (EHR) that integrates with mobile devices, provides practice management, and offers a patient portal in order to provide the best customer experience possible.
athenaOne is athenahealth's EHR, practice management, and patient engagement software. It combines network intelligence with back-office support to ensure great patient care and revenue management.
The software allows you to access your daily schedule, manage your clinical inbox, document exams, and place orders. It can also be used for documentation during an exam. The athenaOne mobile app syncs in real time with the athenahealth EHR.
The athenaOne suite of services includes the athenaCollector, which provides tools for practice management and financial reporting. The athenaClinicals is the EHR component of the practice software, which allows you to manage documents and access patient history. The athenaCommunicator patient portal provides patients with the ability to schedule appointments, pay bills, and view lab results.
---
Who is athenaOne for?
The athenaOne software and practice management tools are suitable for federally qualified health centers, specialty practices, lab and imaging centers, primary care physicians, and startups.
It is ideal for the following practices:
Internal and family medicine
Pediatrics
Hospitals and healthcare systems
Cardiology
Obstetrics and gynecology
Orthopedics
Gastroenterology
---
athenaOne features
athenaOne's EHR provides charting, electronic health records, medical billing, patient engagement, telehealth, mobile capabilities, and medical order transmission. This athenaOne suite of tools enables a medical practice to run smoothly.
EHRs
The athenaOne tools include the company's medical records software known as athenaClinicals. It allows physicians to record their SOAP notes (for subjective, objective, assessment, and plan) and write prescriptions during their visit. Doctors can also use the athenaOne app to take a picture of a wound or infection for visual documentation of the visit.

Medical billing and coding
The athenaOne's revenue cycle management solution is known as athenaCollector. The athenaCollector provides the financial reporting and practice management component for medical practices.
The athena billing system offers fast, accurate medical coding support from HIPAA-compliant coding specialists. The claims are scrubbed to reduce errors prior to submission to the insurance company.
Patient portal
The athenaOne app integrates with the athenaCommunicator, which is the patient portal and engagement set of tools for medical practices. It includes group call campaigns and delivery of lab results. Patients can schedule their visits and pay their bills through the patient portal.
The portal enables you to stay connected with patients through each stage of their visit. It will check the patient in, notify the physician of their status, and when they are ready to be seen. Patients can also log into the portal to view their lab results after the visit.
Patient summary
Physicians can use the patient summary to review the patient's current situation and prior history. The patient snapshot gives the physician a quick glance at when the patient was last seen and what has happened since then. It also provides vitals and any problems.
The summary can be tailored to the specific needs of the physician. Sections that aren't as relevant can be deactivated.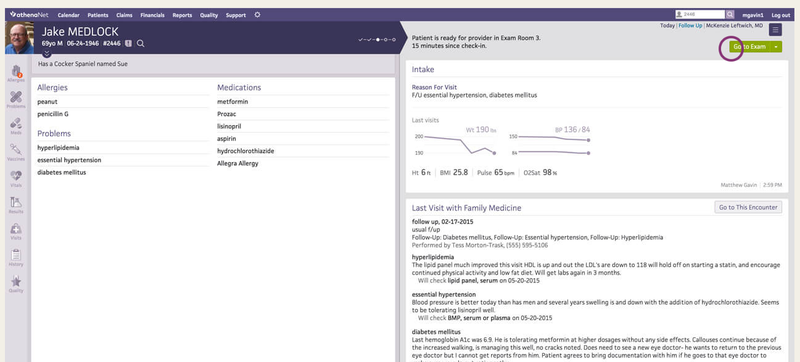 Care coordination
The athenaOne tools make coordinating care with multiple practitioners easier. The athenaCommunicator offers secure messaging between HIPAA-compliant providers. Lab results are easily accessed and automatically added to the patient charts.
The athenaOne app allows physicians to send prescriptions directly to the patient's pharmacy and provides secure order transmission. It also makes referring patients to another provider easy with a drop-down menu of recommended physicians.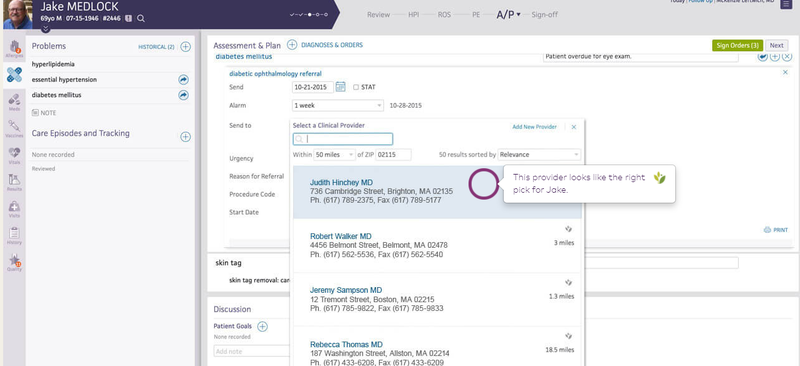 Mobile access
The athenaOne app allows practitioners to access information from iOS mobile devices including tablets and smartphones. This lets providers document their patient information on the go and access it wherever they are.
The athenaOne app provides the following convenient services:
On-the-go access for providers who may be on-call.
Drug dosing information and contraindication information with the Epocrates app.
Mobile e-prescribing capabilities for physicians.
Telemedicine capabilities
The athenaOne mobile app allows you to start a FaceTime call with your patient. Providers can use video conferencing for telehealth calls with the patient's permission. Note that during the Covid-19 pandemic, the U.S. Department of Health and Human Services is exercising discretion over video conferencing rules.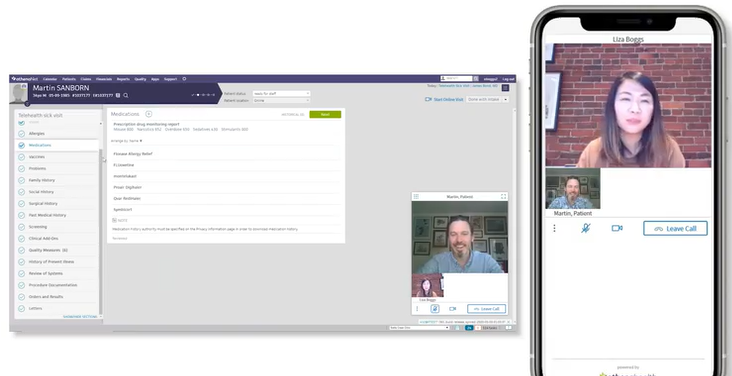 ---
athenaOne's ease of use
The athenaOne app offers a simple and easy-to-use interface. It allows providers to create customized templates and text shortcuts. Drop-down menus and text boxes are helpful for quick documentation. The athenaOne app allows you to look up labs and refill medicine fast. You can cue up orders and easily communicate with your staff.
The athenaOne Epocrates software allows for easy drug interaction checks. This prevents providers from accidentally prescribing a medication that may interact with something the patient is already taking.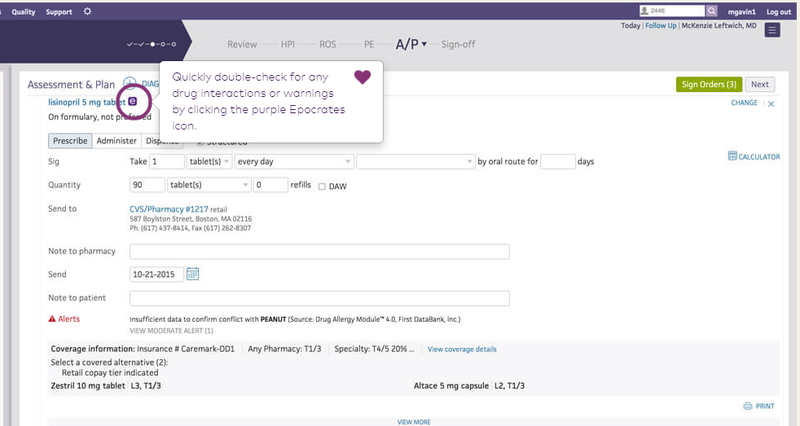 ---
athenaOne pricing
The athena EMR cost is based on the revenue that you bring into your practice and which tools you decide you need. Some practices may decide they only want to use the athenaClinicals EHR tool, while others may use the full set.
The athenahealth pricing is based on a percent of the revenue you bring in, along with the services you use, so the company makes money if you make money. athena does not publish pricing online since it's individualized according to the services you use in your practice and the success you have with the product.
---
athenaOne support
The athenahealth network provides both online and in-person support for the athenaOne app, as well as for the accompanying software. The company offers updated online training on the best ways to use the software to increase revenue. Practices are assigned a customer success management representative to make sure they're properly using the software.
---
Benefits of athenaOne
The main benefit of using athenaOne app is a more efficient and effective practice. The athenaOne tools include accounting integration, appointment scheduling, medical billing, patient records management, and physician management.
The athenaOne app increases the communication between the staff, physician, and the patient to ensure better treatment. Since the records are all in one place, you have the ability to enter information as needed. The documentation can be done while talking to the patient, which can reduce the chance of errors.
The cloud-based solution eliminates the risk of losing vital patient records and important documentation. Since the health records are cloud-based, you can access them from your mobile device. Providers can better coordinate care with increased access to patient records from other specialists. They can get lab results faster and have them automatically uploaded to patient charts.
---
Getting started
The athenaOne app is relatively intuitive. If you're coming from another platform, it will take a bit of time to adjust to the new layout. The athenahealth team is constantly monitoring the changing healthcare environment and making adjustments as needed to stay on top of trends and compliance.
If you manage a small to medium-sized medical practice, athenaOne may be the right choice for you. Since the company is invested in your success, it's more likely to assist your practice to increase revenue.
---
Frequently Asked Questions for athenaOne
How does athenaOne help make a practice more efficient?
athenaOne reduces the chance of lost paperwork, which creates a smoother workflow. It means there is better documentation since the tool gives a provider the ability to enter information on the spot.
athenaOne provides cloud-based software with networked knowledge and comprehensive back-office services. This enables increased efficiency and less administrative hassle.
What can a practice expect from athenaOne?
The athenahealthCoordinator provides insight into financial and clinical performance. It improves cash flow as more payments are approved from health insurance companies. There are fewer rejections, a great first-pass rate, and quicker payments when using athenaOne. Providers get paid for the care they deliver faster and with more clean claims. According to the company, more than 94% of athenahealth claims are paid the first time.
What kind of improvements can a practice expect?
The athenaOne app allows for a more organized practice and smoother flow. Providers can look forward to easier data and information sharing with other specialists, which allows for the ability to track quality measures.
The athenahealth team provides regular reviews and coaching practice performance. They regularly make updates to their cloud-based software. They also take on the most burdensome task of medical coding and billing.
The company reports that average improvements for clients using its cloud-based network are a 6% increase in collections, 32% reduction in days in accounts receivable, and 8% fewer no-shows.

Athenahealth gives your practice all the tools you need for patient documentation, revenue cycle management, and flexible billing. Visit athenaOne and schedule a free demo for your practice.
Athenahealth gives your practice all the tools you need for patient documentation, revenue cycle management, and flexible billing. Visit athenaOne and schedule a free demo for your practice.
---
How athenaOne Compares
| Product | Mobile | Flexible Billing | Onboarding | Phone Support |
| --- | --- | --- | --- | --- |
| AthenaOne | | | | |
| Kareo Clinical | | | | |
| Simple Practice | | | | |
| NextGen Healthcare | | | | |
| ChartLogic | | | | |