One purpose of an applicant tracking system (ATS) is to quickly filter candidates according to the criteria you have set for an open post. This may be location, years/type of experience, or particular skills.
Instead of having to manually sift through a stack of resumes, the system does it for you. This also ensures that you have time to focus on the candidates who do fit the bill.
But this approach has downsides. You may miss out on candidates who would be a great fit but don't quite meet the criteria. Some candidates leave information out of their resume, either by accident or by design, and may be rejected even though they meet the requirements.
It's common knowledge that recruiters use this process to screen candidates. This has led some people to tailor their resumes to get through the first test, or even try to beat the system by creating an ATS-friendly resume.
---
Overview: What is an ATS resume?
An ATS-friendly resume is formatted and optimized to give it the best chances of getting through the first screening process. Some people might use this to game the system when they know they don't have the required skills, while others will ATS-optimize their resume to increase their chances of making it through. Some companies even specialize in ATS optimization.
If a candidate wants the job, they want to give themselves the best chance of making it through to the next round. It shows they've made the effort to find out the requirements and taken the time to do the necessary work to not be rejected by the ATS.
---
How does an ATS resume differ from a standard resume?
People use many types of resumes. If you're in a creative industry, you might spend a long time creating a beautiful design. Or you might try to make your resume stand out when it reaches a human by taking a different approach.
An ATS can't understand and parse the information from unusually formatted and designed resumes. For example, most ATS don't recognize tables and images.
An ATS-compliant resume takes these factors into account and is designed simply so the system can easily parse the information.
---
4 benefits of using an ATS within your business
It can be hard to decide whether you need an applicant tracking system. Look over these four reasons why you should invest in a new solution to help make the decision easier.
1. Screen resumes faster
While we mentioned a few downsides above of using an ATS to screen resumes, the upsides are that it makes your recruiting process much more efficient, saves you time and money, and improves the candidate experience.
When you respond slowly to candidates because you're busy manually sorting through a pile of resumes, they might form a bad opinion of your company or have found a position elsewhere. You don't want to keep talented candidates waiting.
An ATS also ensures you only look at resumes from people who match the requirements. If you're recruiting for a sought-after position, you might get a lot of irrelevant resumes. For example, if you're recruiting for a social media manager at a fashion brand, you'll likely get a ton of resumes from people who don't have experience but just really want to work at your company.
It can also help eliminate unconscious bias through blind hiring, as the system decides solely based on the set criteria and no other factors.
2. Speed up time to hire
When you automate manual tasks, you'll move candidates through the recruiting process faster.
With an applicant tracking system, you can automate recruitment tasks, such as
Screening resumes
Scheduling interviews
Sending out rejection letters
Moving a candidate to the next stage based on specific criteria
This also helps with pipeline recruitment, as you can ensure candidates move through each hiring step quickly.
3. Recruit for hard-to-fill positions
Some skills are in high demand. Think technical skills, such as artificial intelligence. Applicant tracking systems can help you recruit for these positions by tapping into a wider, deeper talent pool.
These systems automatically post new roles to free and paid job boards, and other channels such as social media. They can also source candidates by searching job boards.
Workable has an artificial intelligence-powered Auto-Suggest feature that searches public online profiles to find candidates who match the skills and requirements you have specified in your job description.
It then helps you create highly targeted campaigns on channels such as Facebook to make these people aware of the job and encourage them to apply.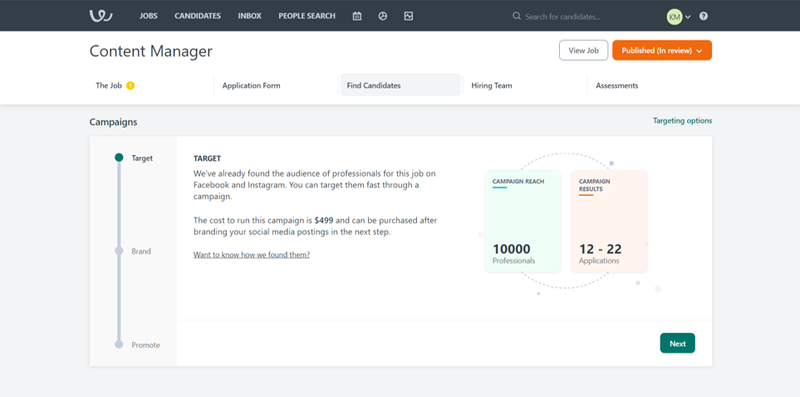 4. Make better decisions
An ATS tracks the performance of all areas of your recruitment process so you can make better decisions and resolve issues.
These systems collect and centralize data, which they then use to provide reports and actionable insight.
Zoho Recruit can help you track:
Time to fill
Offer acceptance rate
Job openings due this month
Candidate pipeline
Candidates by status
Time in stage
It provides customizable reporting templates and lets you build your own dashboards with these metrics to help optimize performance.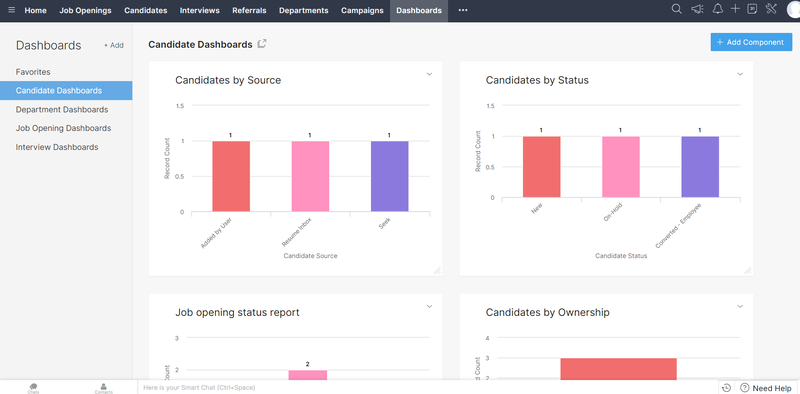 ---
Should your business use an ATS?
The answer is almost always yes, but we've detailed times when an applicant tracking system makes sense and times when it doesn't help you decide.
When an applicant tracking system makes sense
If you're not sure your business is ready for an applicant tracking system, here are some key signs you need to take the plunge.
When you lack resources: If you're struggling to manage all your open positions and provide an optimal candidate experience, then you need to automate manual tasks to free up time.
When you struggle to find talented candidates: If you can't attract or find high-quality applicants for your role, then you need an applicant tracking system's sourcing capabilities.
When you're not meeting your goals: It's easy to blame your skills as a recruiter when it comes to job performance, but you're not competing on a level playing field if you can't tap into the extra capabilities an ATS provides.
When an applicant tracking system may not be right for you
Recruiters and small businesses might convince themselves they don't need an ATS, but they're surprised how much easier their job becomes when they finally invest in a solution. However, consider these exceptional circumstances when it might not be the best time to get new software.
When the future of your business is uncertain: While most modern applicant tracking systems let you pay for your software monthly, sometimes the time and money it takes to select and implement a new solution can't be justified.
When your HR software has recruiting functionality: Before investing in an ATS, check if your human resource solution has applicant tracking features. Instead of implementing a new system, you could simply add a module.
---
Not a silver bullet
Yes, an applicant tracking system can work wonders for saving time and money, speeding up the process, and finding better candidates, but it's not the answer to all your prayers. You still need a solid recruiting strategy and an efficient hiring process to reap the benefits.