Brad Casebier isn't the type to be up on the latest developments via Twitter or even cable news. His business occupies most of his waking hours.
While fears of COVID were spreading across the country by late February, Casebier was more focused on continuing to grow his family-owned company, Radiant Plumbing & Air Conditioning in Austin, Texas.
"I had no awareness of it [COVID] until the first week of March or so," Brad says. But after an employee urged him to start looking into the mysterious virus, he began researching it on a plane ride in early March. Things moved quickly after that.
On Friday, March 13, Brad and his wife, Sarah, who is his partner in the business, held an emergency management meeting. They told most of their 140 employees that they would work from home starting on Monday. Technicians would still visit homes and warehouse staff, who worked in shifts, would maintain social distance.
While Radiant employees headed home, the work was only beginning for the company, which provides air conditioning, heating, drain cleaning, and plumbing services. HVAC was designated as an essential service in Austin, where summer temperatures reach the upper 90's. To continue to provide that service, the Casebiers needed to take some dramatic steps.
Over the next few months, the Casebiers charted a path to protect their technicians while assuaging fears of a wary public concerned about letting people in their homes. In the process, the company expanded its business when many other companies were fighting for survival.
---
Using television and radio to communicate with customers
Once everything went into lockdown in March, the Casebiers took to the airwaves. While digital advertising has grown tremendously, traditional radio and television spots can still be useful for local businesses like Radiant. The couple, known for their silly ads, had been radio stalwarts in Austin for more than a decade and television regulars for almost two years.
When COVID hit, they immediately cut new ads, which was an abrupt departure from their usual style. "They were not good ads," Sarah says. "They were just quick. It almost felt like a public service announcement. When we stopped joking and started talking about face masks and keeping people safe, it was sobering. It was a 180 from our typical approach."
Along with urging people to take COVID seriously, the Casebiers told them that Radiant was open for business in the new environment.
"If they needed service or if they had an emergency, we wanted them to know that we were the right company to call," Brad says. "We walked through all the PPE we would use. Nobody else was saying these things."
The ads worked. Brad said a "ton" of customers called for their services because they had seen the ads. "I think we picked up more [business] because of the safety protocols," he says.
---
Safety through video, ozone generators, and PPE
In an effort to keep their teams connected during the COVID crisis, many companies adopted video conferencing technologies. Radiant also found that those platforms were effective for reaching customers who did not want face-to-face conversations with its technicians.
"We did a lot of FaceTime or Zoom calls during the diagnostic process of walking a customer through the problem and giving them their options," Brad says. "So it was really about creating that social distancing, and making sure that we were adjusting to the times."
Socially distant communication was only part of the safety equation.
The Casebiers started scouring the internet for personal protective equipment (PPE), even going on eBay. "It was all hands on deck to find and get PPE," Sarah says. "We also had a local seamstress make us masks right away. Getting sufficient supplies was an intensive process for about 30 days."
But just buying the equipment wasn't enough. The technicians needed training on how to wear the PPE correctly, so the company hired a former paramedic to teach them.
To protect their technicians and customers, the Casebiers looked beyond mere PPE. The couple started doing a lot of research on tools that can clean the air, such as ultraviolet (UV) light, ionizers, and ozone generators.
"We looked at how to sterilize our tools and equipment in between customer visits," Sarah says.
Radiant ended up getting an ozone generator for every single truck. "They can run that in the back of the truck for 10 minutes, and they just sterilize everything in that truck," Sarah says. "We had a UV light in the cab where they could sterilize masks. We also put an ionizer in the truck's cab."
Once the costs for the PPE, ozone generators, ionizers, and everything else were figured in, Radiant spent somewhere between $30,000 to $40,000. But Brad insists that it was money well spent.
"Everybody felt like they were properly equipped to handle the situation," Brad says. "To date, we still don't have a single COVID-positive employee."
---
Cloud-based tools empower remote work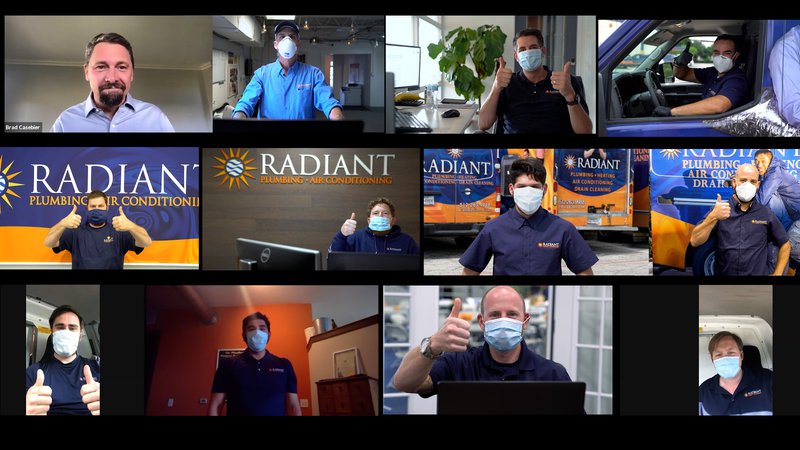 In March, many employers sent their employees home to work, as did the Casebiers. In previous generations, that might not have been possible. To access important documents and collaborate remotely, businesses like Radiant rely on cloud-based tools.
"We use a ton of cloud-based platforms, so we transitioned to working from home well," Brad says. "It was seamless."
To accurately manage its finances, Radiant relied on QuickBooks as its cloud-based accounting software. It used Google Drive to share documents.
There were some hurdles to overcome as workers settled in at home, though. Some employees initially had trouble logging into the system, and some didn't use laptops. So the company had to either move their desktop to their home or buy them laptops.
A few employees needed even more help.
"Some people didn't have an office to work in, so we had to help them get situated with chairs and stuff," Sarah says. "Those were easy issues to solve and painless."
---
Doubling sales
Radiant had been on a consistent growth track when the pandemic hit. It had made the right investments to grow its business. For instance, to efficiently manage its technicians and keep up with customers, it invested in ServiceTitan as its field service management software.
Despite doing all the right things, the Casebiers were concerned that year-over-year volume would go down or even decline when COVID hit in March. Those fears quickly subsided.
By pivoting quickly to make safety an operational priority, Radiant didn't just stay afloat during the pandemic. It has thrived.
Radiant has achieved over 50% year-over-year growth and has hired 36 new employees since mid-March to keep up with demand.
"The calls just kept coming in, and we just kept hiring," Brad says. "We're swamped."
---
Investments in safety can pay off
The Casebiers weathered the pandemic by relying on technology, changing their advertising, and investing in safety.
Takeaway #1: Cloud-based services make remote work possible
Ensuring that its employees were properly set up for remote work presented challenges for the Casebiers. But they didn't have to worry about their associates accessing software applications because they had already incorporated cloud-based services into their operations.
Takeaway #2: Be thoughtful about how you pivot when advertising
The Casebiers were known for silly radio and television spots. When COVID hit, they adopted a serious tone and focused on safety. This messaging resonated with customers, and reassured them that Radiant was taking safety seriously.
Takeaway #3: Don't skimp on safety
Like many businesses across the county, Radiant invested heavily in PPE. But the Casebiers took safety precautions a step further by buying ozone generators and ionizers. These purchases protected their technicians and customers, which drove sales.
When COVID-19 began to spread, some businesses pivoted to other services. As an essential service provider, Radiant didn't need to add new offerings. But it did change its advertisements to communicate the seriousness of the COVID situation. That, along with the investments it made in safety, helped it double its revenue.