We rated BambooHR as the top HR software for SMBs, and we fully stand behind how great we think this HR platform is.
In a previous role, I had to use two HR platforms at the same time after an acquisition. One was BambooHR and the other was a traditional HR software designed for enterprises. BambooHR was better in almost every single way.
It offers core HR functionality, which will be enough for many small and medium businesses (SMBs). But then you can layer on additional modules, such as BambooHR payroll, performance management, and wellness until you have all the functionality you need.
But there are always areas for improvement or places where another platform does it better.
Here are the top alternatives to BambooHR as a human resources software:
---
What to look for in a great BambooHR alternative
Bamboo HR has a ton of useful functionality. From BambooHR's time tracking and workforce management capabilities to its reporting and analytics, onboarding, and employee satisfaction, there's a lot to love in this HR solution.
Yet, it doesn't have quite everything. Here are some of the features you should look for in a BambooHR alternative.
1. Advanced recruitment functionality
Some businesses may be happy with the basic recruitment functionality that BambooHR offers, but other companies will need more in-depth features to meet their hiring needs.
There are BambooHR alternatives that will help you:
Source candidates
Market your company to potential candidates
Create job descriptions
Post to job boards
2. Open and transparent pricing
How much does the BambooHR app cost? The company doesn't provide publicly available pricing, so you have to contact it to find out. A representative will then call you back and try to sell you the software.
With a bit of digging, however, you can stumble across its "Compare Packages" page, which lists its two different plan options: Essentials and Advantage.
Some BambooHR competitors provide pricing on their websites, so you can quickly decide whether that software is right for your business.
3. Comprehensive support
If you're on BambooHR's least expensive pricing plan (Essentials), you get access to email support and its knowledge base. If you select its most expensive option (Advantage), then you also get access to phone support.
Unlike other HR technology, BambooHR doesn't provide a live chat option.
---
Our top 5 picks for BambooHR alternatives
If you're still shopping around and you want to see what other solutions are available, take a look at the top five BambooHR competitors.
1. Zenefits
While BambooHR's support is ok (email only for the Essentials plan, email and phone for the Advantage plan), other platforms provide more comprehensive help options.
Zenefits offers excellent support options, including:
Live chat
Phone
Email
Online forum
A help center
You can use the live chat service or phone Zenefits for support Monday through Friday between 5 a.m. and 6 p.m. PST. It also promises to answer emails within 24 hours.
In terms of self-service options, there are tons of tutorials, videos, and help articles in Zenefits' Help Center. You can also ask questions and chat with other Zenefits users in the company's user forum, as well as get training to use the platform.
In our Zenefits vs. BambooHR head-to-head comparison, Zenefits came out on top not just in terms of support, but also for features and pricing.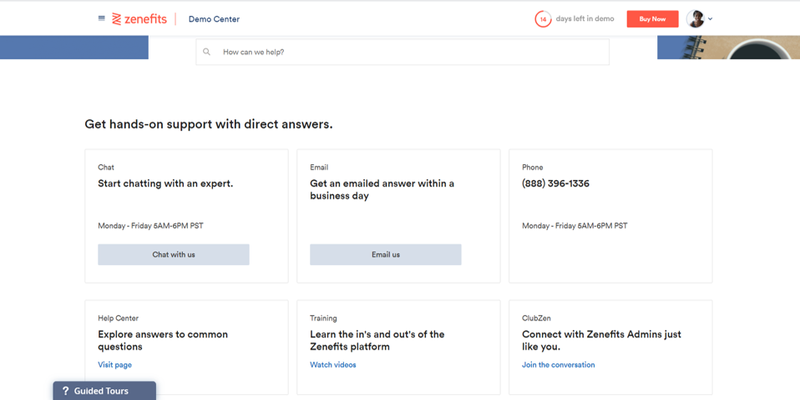 Read The Blueprint's full Zenefits review
2. Workable
If BambooHR's basic hiring functionality doesn't cut it, there are alternatives. Workable's talent acquisition functionality is suitable for any HR professional who wants to simplify and speed up their recruitment processes.
Workable has excellent job ad creation and application form customization options, along with in-depth screening options. However, Workable's candidate sourcing features make it stand out.
Its use of artificial intelligence (AI) gives you access to many more relevant candidates than you could ever hope to find manually. The AI-powered Auto-Suggest feature searches public online profiles to find candidates who match the skills and requirements you have specified in your job description.
It then helps you create highly-targeted campaigns on channels such as Facebook to make these people aware of the job opening and encourage them to apply.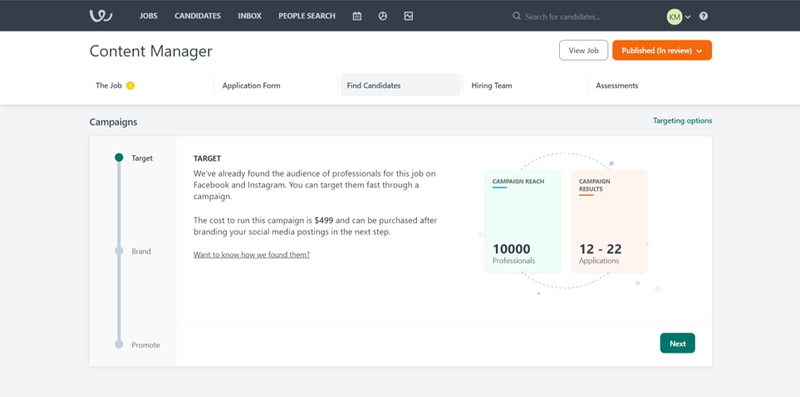 Workable is also very easy to use. It walks you through every feature and provides explanations about why you should take certain actions and fill out certain forms, making it suitable for HR employees new to recruitment as well as experienced hiring managers.
Read The Blueprint's full Workable review
3. Namely
Namely is our top-rated HR solution when it comes to support options, which is why we've picked it as a top alternative to BambooHR.
Namely provides every type of support you can imagine. It has live chat where you can connect with real humans with real names instead of an AI-powered bot. There is also phone and email support.
Namely has an active community called Backstage Pass where you can get peer-to-peer support from other HR professionals and industry experts. You can ask questions and get help using the software, as well as find out ways to improve your HR processes and practices.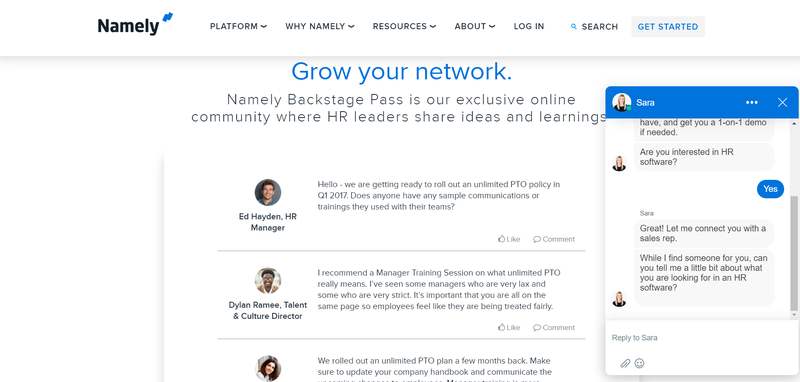 Namely also scored highly in our review for both usability and features. Namely has a social media–style user interface, which provides a familiar look and feel for users.
It also offers a broad and far-reaching set of features, including recruiting, onboarding, performance management, time and attendance, and benefits administration.
Read The Blueprint's full Namely review
4. CakeHR
CakeHR takes a modular approach to price, meaning that you only pay for the functionality you need, rather than having to buy an expensive all-in-one product.
Free trials are quite unusual in the HR software industry, but CakeHR bucks the trend. Its 14-day free trial allows you to test drive all of its modules. It also displays all pricing on its website rather than asking you to contact a representative to get a quote.
If you choose to implement CakeHR's core HR module, then it costs $5.50/month per employee. To add additional modules (performance, shift scheduling, timesheet, and expenses), it costs an additional $3/month per employee.
If you add the recruitment module, this costs an extra $200 per month regardless of how many employees you have.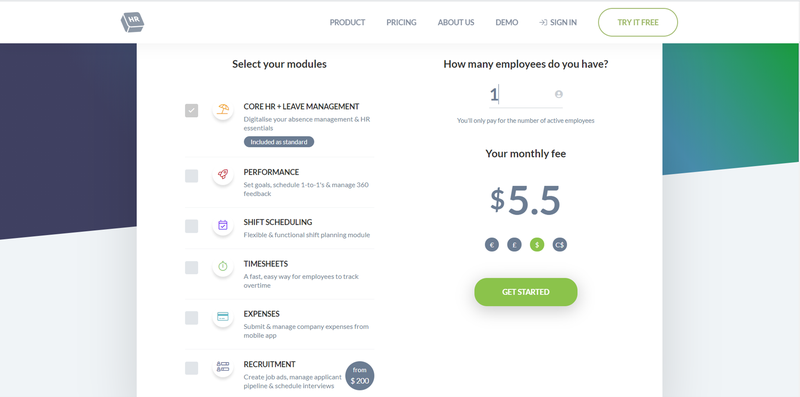 Read The Blueprint's full CakeHR review
5. Zoho Recruit
Zoho Recruit has made it into this list not only because it's our top-rated applicant tracking system (ATS), but also because you can use its sister human resources solution Zoho People from the same dashboard.
Zoho Recruit's integration with its sister email marketing platform Zoho Campaigns means you can also create automated email marketing campaigns to nurture passive candidates and ensure smooth communication.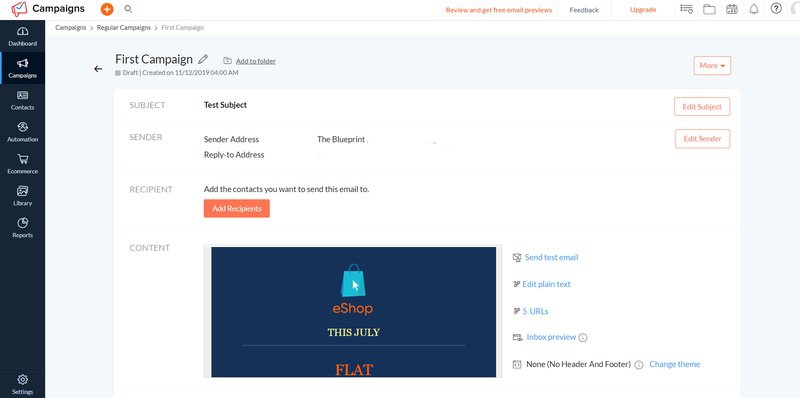 Another reason we love Zoho Recruit is that it's suitable for all kinds of recruiters, with slightly different options for each. It's aimed at:
Third-party recruitment agencies that hire candidates for external companies
Corporate HR departments that source applicants for within their own company
Recruiters who source freelancers and temporary employees
Zoho Recruit's impressive range of functionality covers the entire recruitment cycle, from sourcing to screening to interviewing to onboarding candidates.
It's designed for small businesses that want to quickly create job openings, companies that want to invest in recruitment marketing to improve the quality of candidates they attract, as well as data-driven recruiters who want to track the success of their hiring and talent management campaigns.
Read The Blueprint's full Zoho Recruit review
---
The gray area
Software isn't (necessarily) good or bad; "good" is a relative term when it comes to software. There can be a gray area when software gets amazing reviews from other users, but perhaps lacks that one component that is crucial for the smooth running of your HR department.
Any HR solution needs to be right for your business. What works for another company might not work for yours because each business has a unique situation and unique needs. That doesn't make the software bad, just not the perfect match.
Is that the case with Bamboo HR? Or do the factors we mentioned where BambooHR falters not matter to you? If you're still undecided, check out our in-depth HR software reviews to compare more details of other software options. With a little research, you should be able to find a platform that meets your needs.