When you work for a startup or small business, you often end up doing a ton of things that are way outside your comfort zone. You get thrown in the deep end and do it for the sheer reason that it needs to be done rather than because you have any expertise in the area.
One of these "things" is often HR, as many small businesses don't have the resources for a dedicated HR department.
On these occasions, what you need is a human resources tool that is the equivalent of an "HR for dummies" book. No jargon, no complex workflows, just a straightforward, easy-to-use piece of software. That's exactly what BambooHR offers.
It doesn't overwhelm you with unnecessary features or loads of different menus and submenus. Everything is accessible from the main dashboard. It's a solution that makes sense.
---
Who is BambooHR for?
BambooHR is an HR software that is suitable for small businesses that want an easy way to manage their human resource processes. As it's a modern, intuitive, and easy-to-use solution, it's great for all HR employees — or even businesses that don't have a dedicated HR department but still want to better manage their workforce.
As it offers add-ons for performance management and employee satisfaction, you can also continue to use the same solution as your business grows.
---
BambooHR's features
BambooHR has strong hiring, workforce management, and reporting functionality, although you have to pay extra for its performance management, time tracking, and employee satisfaction features.
This HR management software doesn't have the most comprehensive feature set, but it offers enough functionality to help small and growing businesses better run their human resources departments.
Workforce management
One of the aims of an HR department should be to get to know your employees better. You can't do this if you can't easily access all of your data. BambooHR centralizes all HR data in one place, bringing together personal information with time off requests, benefits and training details, IT assets, and employee employment status.
While other HR solutions only let you create employee directories with basic demographic data, BambooHR lets you take a deep dive into the specifics of each worker, so the HR department can be well informed when talking with and employees, and managers always have the latest information at hand.
The only area where BambooHR is lacking is that it doesn't incorporate performance management data.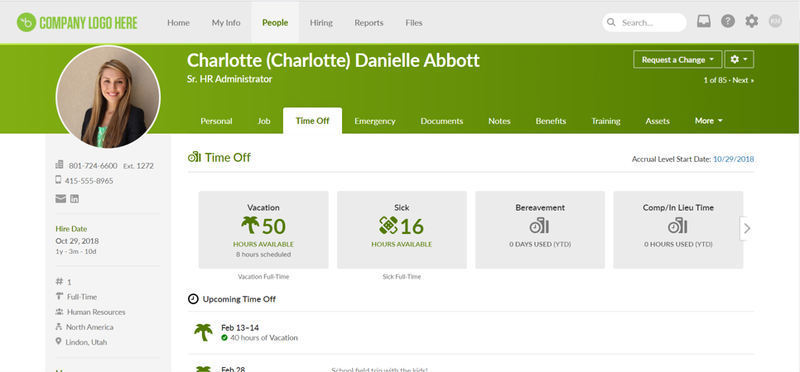 Hiring
BambooHR has great hiring functionality, but (unsurprisingly) it's not as comprehensive as a dedicated recruitment solution, such as Workable.
For example, it doesn't help you fill out your job description with suggested content. You can easily manage each open job posting, reviewing the candidate pipeline to see which stage each person has reached, as well as edit the listing and add new candidates.
You can also add collaborators to help you review candidates, choosing exactly what information each one can see (resume, address, data available, etc.).
BambooHR provides very detailed reports that help you understand your most successful recruitment channels (social media, job boards, company website, etc.), as well as how well hiring for each position has gone.
Being able to review how many candidates are in each stage as well as HR metrics such as total candidates and how long the job post has been open can help you optimize your recruiting processes.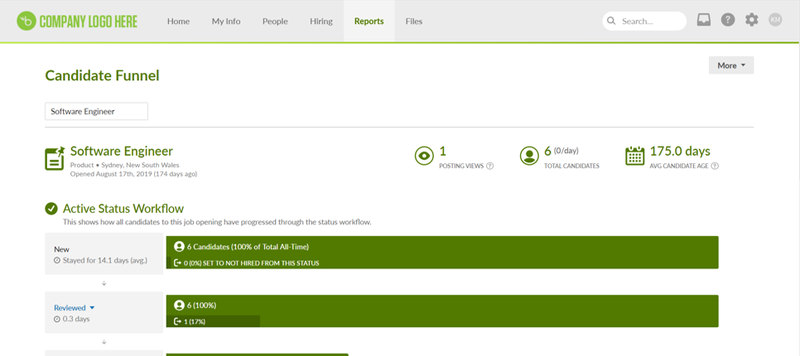 This hiring functionality also extends to onboarding employees, as you can create customizable onboarding processes for each employee, with specific documents to read, tasks to complete, and meetings to attend.
Reporting and analytics
Workforce analytics — and harnessing the power of your data — are becoming more and more important for HR departments. BambooHR recognizes this and helps you create any kind of report you can think of, including reports for:
Benefits
Headcount and turnover
Time off (balances and schedules)
Employee salary history and years of service
Candidate funnel
It's easy to create, edit, and share these reports without having any particular data analytics skills, which means you don't need the help of a data scientist to see where the HR department is performing well and where you can make changes. As an HR manager, you can own your data, which empowers you to make swift changes and be more agile.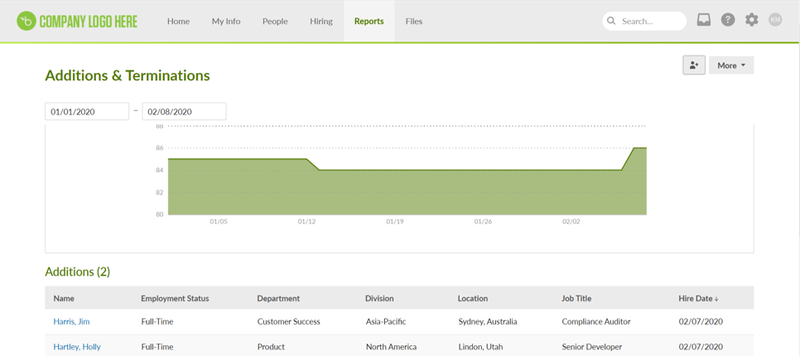 Add-ons
There is a lot of value in selecting one solution for all your HR needs, as you know data will flow seamlessly, and you only have one point of contact if you have a problem.
The BambooHR solution provides add-ons for an extra cost if you want to manage more of your human resources functionality with one solution. These add-ons include performance management, time tracking, and employee satisfaction.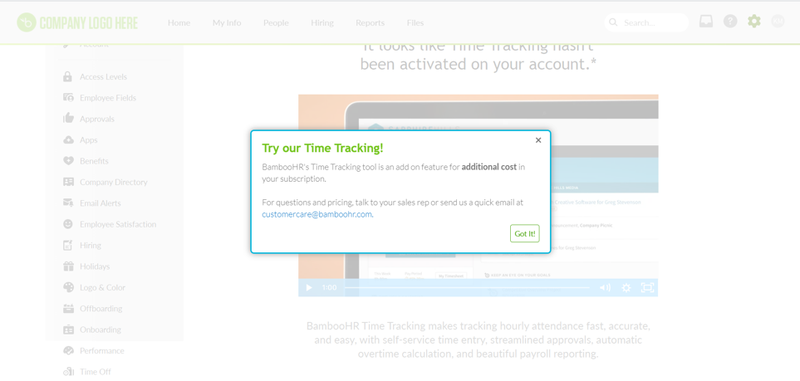 ---
BambooHR's ease of use
Upon start-up, BambooHR shows you a short video clip of the key features in the product and how to use them. While BambooHR is easy to use, it could use more in-app tips and explanations to help inexperienced HR workers to get up to speed quickly with the different features.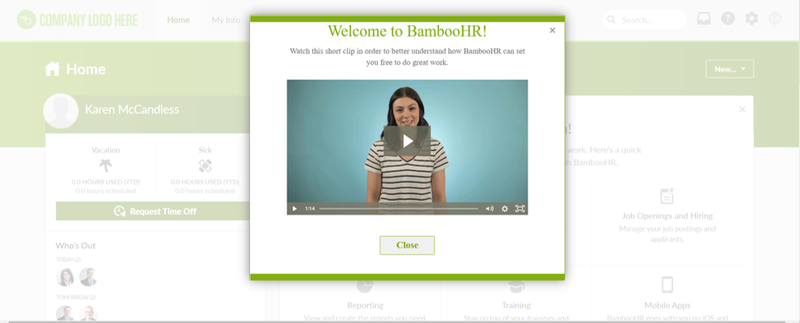 BambooHR is a relatively new entrant to the HR market — the company was founded in 2008, more than 20 years after SAP released its HR solution — and it shows. It has the kind of intuitive user interface and navigation that is common in modern SaaS solutions.
You don't need a manual or hours of training to get up and running; in fact, even if you aren't an experienced HR manager, all of the features are easy to understand.
The dashboard is clearly organized and intuitive. It highlights important company information and makes it easy to complete common tasks such as managing job openings, accessing reports, and requesting time off.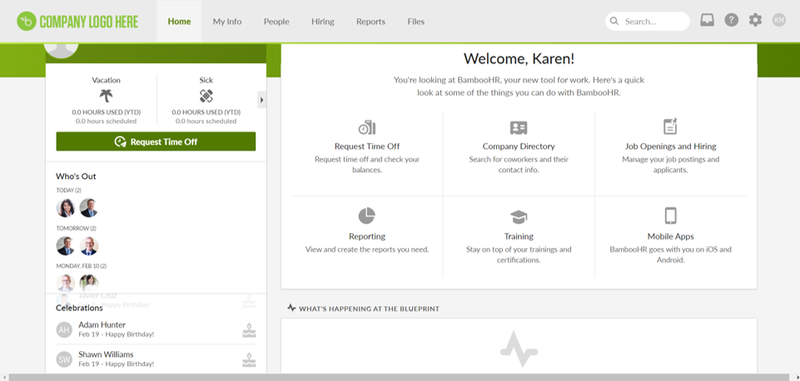 ---
BambooHR's pricing
BambooHR provides a seven-day free trial. During this trial, you get access to all features, and BambooHR pre-populates fields such as employee information and candidate pipeline, so you get a better idea of what the software can do.
After the free trial, you can choose the Essentials or the Advantage paid pricing plan (there is no free plan). The Essentials plan doesn't have hiring or onboarding functionality, nor does it have telephone support.
BambooHR doesn't make the cost of these plans publicly available; you have to contact the company to get a quote.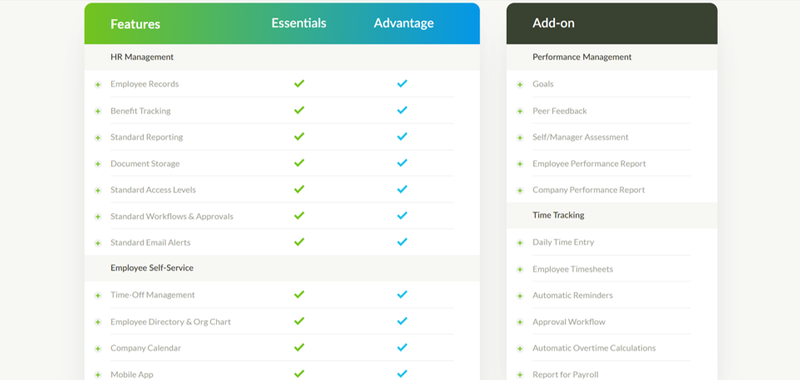 ---
BambooHR's support
If you are on the Advantage (the more expensive) pricing plan, then you get access to email and telephone support, which is available Monday through Friday, 8 a.m. - 5 p.m. (MT). If you're on the Essentials pricing plan, you only get access to email support (no phone) Monday through Friday, 8 a.m. - 5 p.m. (MT).
BambooHR also holds weekly customer success webinars, which you can listen to live or at a later date.
You can contact BambooHR for support from a sticky question-mark button visible on every page. This lets you submit a support request, search for an article that answers your question, or go to the BambooHR Help Center to find additional help resources.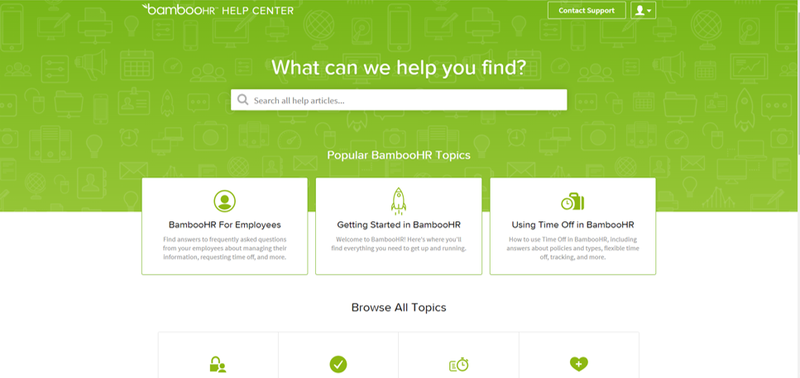 Unlike other HR software, such as Zenefits, BambooHR doesn't provide a live chat option.
---
Benefits of BambooHR
BambooHR's strength is its ease of use. You don't need any training to use the solution, even if you have no experience in managing an HR department.
It's also a good option for both small and medium businesses, as you can add extra functionality such as performance management and time tracking as your company grows.
---
An HR solution for everyone
It's important to choose an HR solution that matches your business's needs. Take Workday. It does everything you could ever want to do with an HR system. But it also takes a lot longer to get up and running and a lot more expertise with HR software. As such, it's a good option for large businesses.
BambooHR is the opposite. It doesn't do everything. But it does do a lot, and it makes each task really easy to complete. Not every business wants to dedicate a lot of time to managing their HR processes. BambooHR recognizes that and combines useful features with an excellent user interface and user experience.
---
Frequently Asked Questions
Is BambooHR an applicant tracking system?
BambooHR includes application tracking system (ATS) features, although they aren't as developed as they are in stand-alone recruitment systems. BambooHR's ATS functionality includes the ability to create job ads and manage the recruitment pipeline.
BambooHR offers a seven-day free trial, but no free plan. It has two paid plans: Essentials and Advantage. The Essentials plan doesn't have hiring and onboarding features or telephone support. BambooHR doesn't publish pricing information; instead, you have to contact the company for a quote.
Is BambooHR a payroll system?
BambooHR's core HR solution does not include payroll functionality. However, in 2017, the company introduced an add-on called BambooHR Payroll, which integrates with BambooHR and enables companies to manage their payroll processes from the same interface.

BambooHR is a comprehensive HR software platform helping you manage recruitment, time-off requests, and workforce planning. See if BambooHR is right for your team!
BambooHR is a comprehensive HR software platform helping you manage recruitment, time-off requests, and workforce planning. See if BambooHR is right for your team!