Benchmark Email is laser focused on providing an email marketing software that is really quick and easy to set up and use, without having to spend hours reading training manuals or customizing the options to suit your needs.
And it shows.
You can get up and running without any training.
It doesn't have the segmentation functionality to allow you to tailor your email and direct marketing campaigns and send personalized content to individuals in the same way that other mass email services such as AWeber and Sendinblue do.
But it still has a robust set of features that let you create beautiful emails and set up automatic sequences of emails to better engage customers.
Benchmark Email is very strong on user experience, but weaker on features.
---
Who is Benchmark Email for?
Benchmark Email focuses on making complex tasks easy, so it's a good solution for inexperienced marketers, especially ones who have never used email marketing service before.
It has a strong feature although the free version lacks certain features such as autoresponders and A/B testing. The paid, fuller-featured version is better value for money for larger email lists, which makes it more suitable for businesses with a higher budget.
---
Benchmark Email's features
Benchmark Email excels when it comes to email creation functionality. It also has a robust set of contact management features, but its segmentation options are a bit lacking.
Email editor
Benchmark Email shows you how you can best create an email by displaying one step per page. First it asks you whether you want to use the drag-and-drop editor, plain text editor, or code the email yourself, and then it prompts you to add a subject line.
This step-by-step approach ensures you have completed all the necessary steps. It then displays the checklist of steps you must complete before sending the email. This is a similar approach to Mailchimp, and makes it really easy for inexperienced email marketers to understand exactly what to do and exactly how to do it.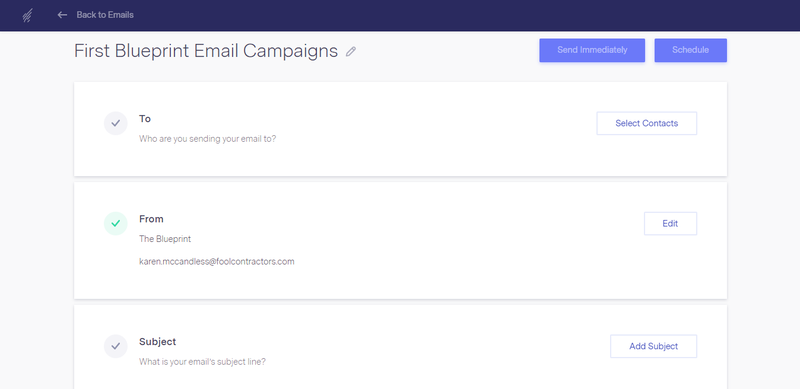 You can select email recipients from your existing email lists and easily exclude individuals from the list if necessary.
This can be very handy. For instance, if there are people on the list who have open tickets with customer support, they might not want to hear from your company at that time.
When it comes to designing your email, Benchmark Email provides a great range of templates organized by industry and occasion.
Each template is fully customizable, letting you delete, edit, and move existing content blocks while adding new content such as images, videos, buttons, navigation bars, and email permission reminders.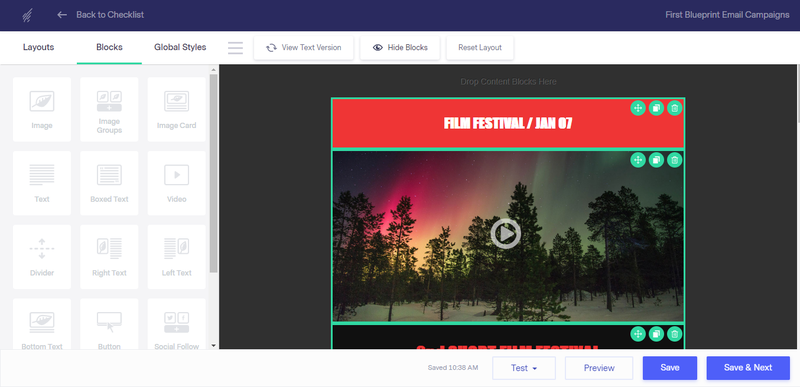 Email optimization is simple. Benchmark Email can suggest subject lines based on previous successful campaigns. And, it lets you easily test A/B subject lines to see which work best.
To ensure your emails end up in a recipient's inbox, you can send test emails, check how the email displays by email client, and run a spam check, which picks up issues such as broken links, design issues, and typos.
A couple more unique touches Benchmark Email has in its email editor include the option to auto-tweet your email blast and to add it automatically to your email newsletter archive page on your website.
Contact management
Benchmark Email gives you many options for adding contacts: you add them manually, upload a list, copy and paste from another document, or import them from another tool. Benchmark Email lets you create sign-up forms to grow your contact list, but it's not very advanced or intuitive and is difficult to customize.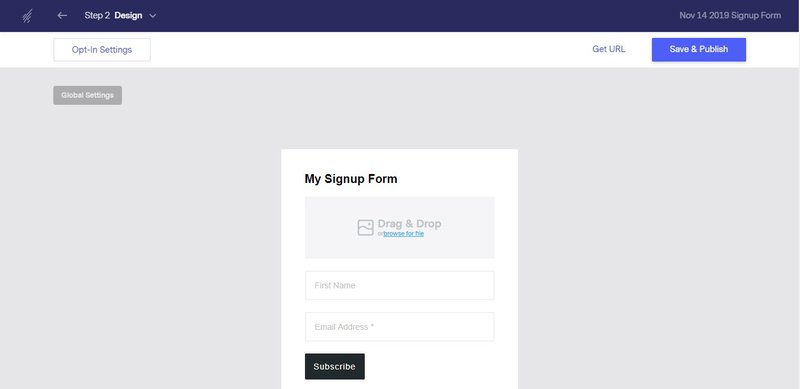 Benchmark Email's list cleaning feature is very useful. After you send an email, you can look at recipient actions then run the feature and remove addresses based on the following options:
Bounces (hard, confirmed, and soft)
Unsubscribes
People who have not opened a newsletter in a set time period
As with most of its features, Benchmark Email simplifies the process of creating segments by breaking down the process into small steps. First you name and describe the segment, choose an email list to use, and once you've completed those fields, you specify criteria.
Benchmark Email lets you apply as many conditions as you like to create your segment, however these conditions only cover demographic data, specific dates, such as when the customer was added to a list, and custom data you are collecting from your customers.
It lacks conditions for buying history, website browsing history, and contact source, such as social media, website, trade show, etc.
Autoresponders
Benchmark Email provides autoresponder templates, or you can build your own.
Continuing its theme, Benchmark Email breaks autoresponder implementation down into manageable steps so you can easily create complex sequences of emails to better engage your customers. First you choose your list, then your trigger and the time delay to use, before adding the emails to use in each sequence. Or you can manually create these emails if you haven't done so already.
Reports
Benchmark Email produces separate reports for your email campaigns, automated email sequences, and A/B tests. These reports track:
Opens
Clicks
Bounces
Unsubscribes
Email forwards
Shares on social media
Opens by location
The A/B testing reports let you compare these metrics side by side and shows you which subject lines and delivery times have performed best.
---
Benchmark Email's ease of use
Benchmark Email has designed its software in such a way that it breaks down each task into manageable chunks that you have to complete before moving onto the next task.
These tasks often only become visible when you complete the previous one, either by moving to a new screen or through a checklist. It saves your progress between sessions, and you can come back to the same place later on.
This makes it much easier to complete more complex activities.
In-app help messages
Benchmark Email helpfully points out features that you might not know about in the form of in-app pop-up messages. This is particularly helpful for people who haven't used email marketing software before.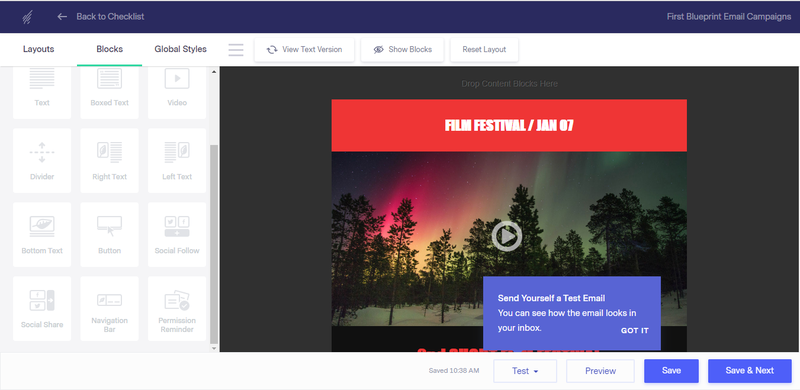 It also provides digital marketing tips and one-line explanations of features as you are using them, while advising you what you can do to get the best results. For example, when you are writing your subject line it suggests that you should avoid using all caps, excessive punctuation, and being spammy.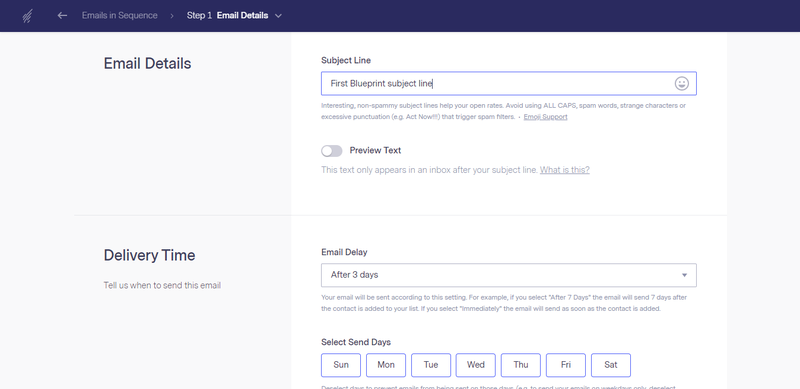 Straightforward user interface
Benchmark Email also keeps its user interface, and the overall user experience, super simple. There are only four main menus:
Email
Contacts
Automations
Reports
Each of these menus has several submenu options, with clearly marked functionality, such as "segments" and "A/B" testing. Benchmark Email uses the most straightforward terms to describe all its functionality so you can quickly find the feature you need. You can also easily return to the dashboard at any point.
---
Benchmark Email's pricing
Benchmark Email has a free plan, a paid pricing plan designed for small businesses, and a custom plan for enterprises. The free plan contains a lot of features, but it doesn't include:
Email list cleaning
Advanced segmentation
Landing pages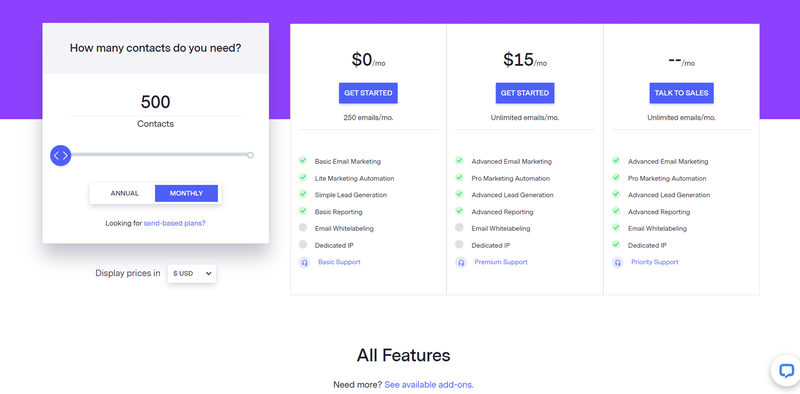 The main paid pricing plans include unlimited emails, and the price of the plan depends on the number of subscribers you have. The prices are as follows:
Up to 500 contacts: $15 per month
600 to 1,000 contacts: $23 per month
1,001 to 2,500 contacts: $35 per month
2,501 to 5,000 contacts: $58 per month
5,001 to 10,000 contacts: $89 per month
10,001 to 15,000 contacts: $118 per month
Benchmark Email also offers add-ons that you can purchase for either a monthly cost or a flat fee. These include testing how your email appears on different devices ($14 for 100 tests), hosting your images ($5 per month), and verifying the email addresses on your list ($3 for 1,000 contacts).
---
Working with Benchmark Email support
Benchmark Email places a sticky help button at the bottom of its main navigation, which you can access at any time no matter which feature you're using. Support varies according to your plan.
With the free plan, you only get online (email) support Monday through Friday between 6 a.m. and 5 p.m. PST. With the Pro plan, you get Premium support, which includes live chat and phone support, as well as access to the knowledge base. Priority support is included with the Enterprise plan, and it comes with managed account setup, email deliverability monitoring, and semi-annual health checkups.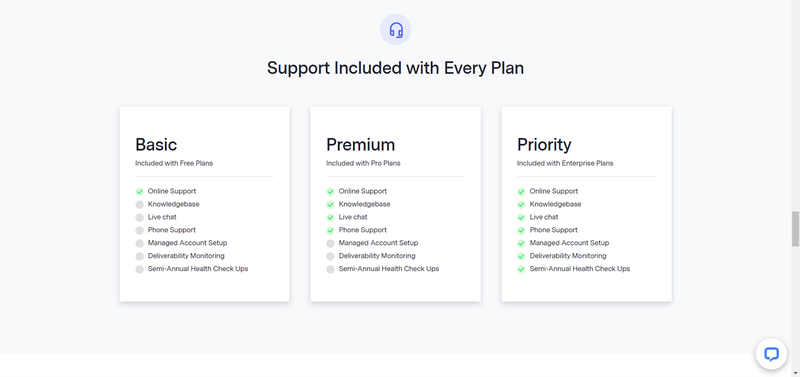 ---
Benefits of Benchmark Email
Benchmark is very easy to use, and it takes no time at all to learn how to navigate your way around the solution and use all the features. If you are struggling, you can refer to Benchmark Email's many in-app tips and support. There are also great support options, with 24/7 live chat, phone support, and email help.
---
A winning user experience
Benchmark Email has worked hard on user experience and put a lot of thought into breaking down tasks into smaller steps to make it as easy as possible to master the software. As a result, it is an extremely easy-to-use solution. The free version is light on features, especially when compared to the free versions from Mailchimp and Zoho Campaigns, and it offers no autoresponder and A/B testing functionality.
The paid version is quite expensive if you don't have many contacts, but the price doesn't increase that much for larger email lists, which makes it better value for money for more established email marketers. Overall, it's a great blend of user experience and advanced features.
---
Frequently Asked Questions for Benchmark Email
How much does Benchmark Email cost?
Benchmark Email has a free version with a wide range of features, but it doesn't include email list cleaning, advanced segmentation, and landing pages. The main paid pricing plan starts at $15 per month for up to 500 contacts. The price goes up according to the number of contacts you have in your email list. There is also an Enterprise plan with custom pricing.
Does Benchmark Email include autoresponders?
Yes. Benchmark Email's autoresponder functionality is included in both the free and paid plans.
What support options does Benchmark Email include?
Benchmark Email's support varies according to price plan. The free plan only offers online (email support). With the Pro pricing plan, you also get live chat and phone support, as well as access to a searchable knowledge base and live and recorded webinars. With the Enterprise plan, you also get managed account setup, email deliverability monitoring, and semi-annual health checkups.
---
How Benchmark Email Compares
The Motley Fool has a Disclosure Policy. The Author and/or The Motley Fool may have an interest in companies mentioned.