Talented candidates are in short supply. Recruiters are being challenged to find the best applicants in an extremely competitive market. The most talented candidates with the most sought-after skills can afford to shop around for the company they like best and that gives them the best offer.
Spoiler alert: That's unlikely to be your company if you don't have an applicant tracking system (ATS). Sure, you can resort to manual methods such as a trusty spreadsheet, but that's a time-consuming approach unlikely to deliver an optimal candidate experience.
Below we discuss why you need an ATS if you want to be a candidate's first choice of company.
The 6 benefits of using an applicant tracking system to improve the recruitment process:
Speed up time to hire
Source better-quality candidates
Track recruitment performance
Enhance the candidate experience
Improve collaboration
Streamline the hiring process
---
1. Speed up time to hire
Centralizing all data about your candidates and hiring process in one place means you have all the information you need at your fingertips to make better and more informed decisions. You can quickly see what actions you need to take and when, as well as smoothly and efficiently move candidates through the different stages of your workflow.
Since you can customize workflows, you can set up the optimal applicant management process for each open position instead of having to use the same stages for each role.
By using one of the leading ATS systems on the market, such as Breezy HR, you can also automate next actions to further speed up the hiring process.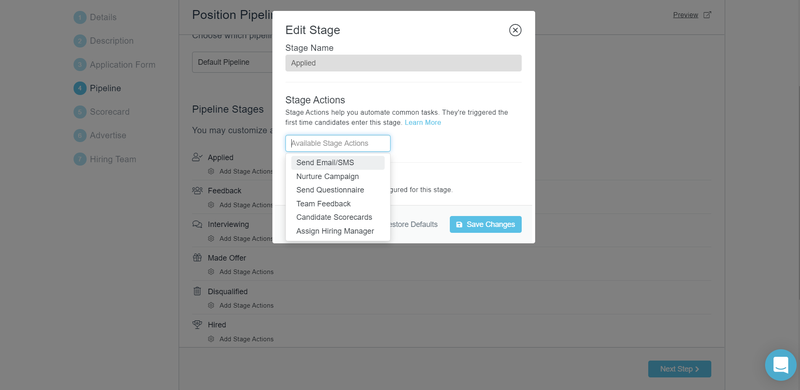 This means you never leave candidates in the dark about what is happening with their application, and you save time by eliminating manually checking pipeline stages.
For example, when a candidate has just applied for a job, you can assign them to a hiring manager or send them an automated email or a text via Short Message Service (SMS). When they are in the interviewing stage, you can choose to use employee evaluation techniques and get feedback from your team.
---
2. Source better-quality candidates
Sourcing and acquiring talent is a major headache for recruiters. While well-known companies can rely on their brand name to attract candidates, this isn't the case for smaller companies. Often recruiters have to proactively look for applicants rather than waiting for them to apply themselves.
With applicant tracking software, you can source better candidates in a number of ways. First, you can create marketing campaigns that target specific audiences. These display your job openings to people on social media channels and Google according to certain demographic data, such as location and job title.
Candidate tracking systems also let you build a careers portal where you can list open positions, allow candidates to subscribe to updates when new roles are posted, and build up your employer brand by showcasing your work culture and company perks.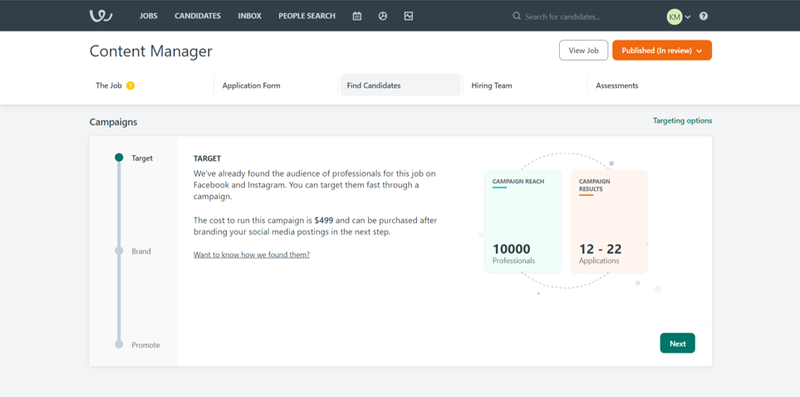 You can use an ATS tracking system such as Workable to more quickly find the best candidates for each job opening. The artificial intelligence-powered Auto-Suggest feature searches public online profiles to find candidates who match the skills and requirements you have specified in your job description.
It then helps you create highly targeted campaigns on channels such as Facebook to make these people aware of the job and encourage them to apply.
---
3. Track recruitment performance
If you don't know how effective your recruitment process is, you won't be able to spot ways you can improve it or do more of what's working. Before you start recruiting, you should set metrics you want to track so you can keep an eye on recruitment performance.
Metrics you should track include:
Time to hire
Candidates by source
Time in each stage
Dropout rate by stage
Knowing details such as how long it is likely to take to recruit for certain positions also improves the accuracy of your workforce planning and forecasting.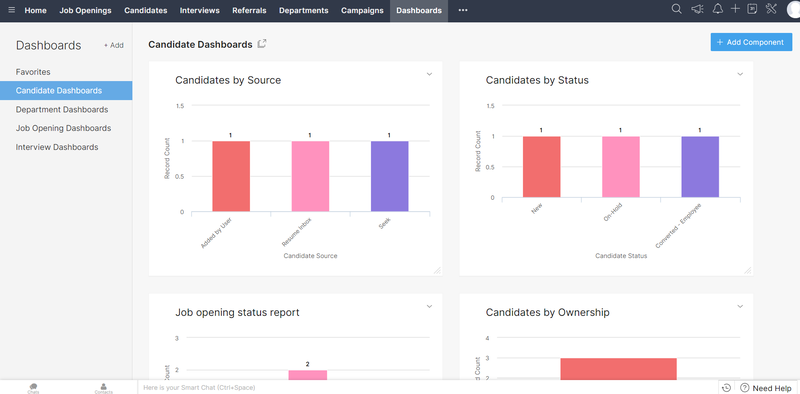 Zoho Recruit's free applicant tracking system includes built-in reports, which quickly pull together your hiring analytics and present them in a visual way to help you understand performance.
---
4. Enhance the candidate experience
Your recruitment process is the first chance a candidate gets to experience what it might be like to work at your company. If you take weeks to reply, constantly reschedule interviews, add unnecessary steps, and communicate in a haphazard way, they aren't going to get a good impression of your business.
Chances are they'll drop out of the hiring process and tell others about their experience.
If you use an online applicant tracking system, candidates can schedule their own interviews rather than having a long back and forth to secure dates. You don't forget about them and end up ghosting them since they're in your system.
You improve the speed and accuracy of your communication and present an image of a well-run, organized company.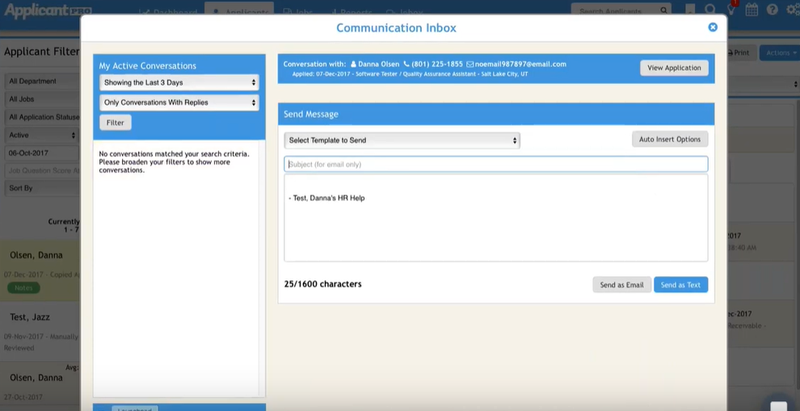 If you use an ATS recruitment system such as ApplicantPro, you can directly communicate with candidates from the applicant dashboard. You can either send candidates SMS or email, depending on their preferences.
The messages (and the candidates' replies) are all saved in the tool, which helps you offer a coherent candidate experience.
---
5. Improve collaboration
Finding the right candidate is not a one-person show. You need input, advice, and help from other members of your hiring team, and each member of your team needs up-to-date information about what is going on.
Imagine how it would look to a candidate if two different people from the hiring team email them to arrange an interview.
With an ATS, you can assign role-based access so everyone in the team has access to the information they need. Members of the hiring team can more easily give their opinion on candidates, and you can make joint decisions about whether to move candidates on to the next stage.
Everyone is also on the same page about the status of job openings and how well your recruitment strategy is working for each one.
---
6. Streamline the recruiting process
Almost all recruiters have unnecessary steps in their recruiting process. Why do you need to have two screening calls with a candidate? Is it really necessary to ask a candidate to do three in-person interviews?
Remember, this is a two-way process. It's not just about you finding the right candidate; the candidate is also deciding whether they want to work for your company.
With an applicant tracking system, you can get an overview of all the different stages and workflows you use to attract, screen, and hire candidates. This provides the insight you need to streamline your hiring process so it doesn't overcomplicate the process and overwhelm candidates and your hiring team.
---
How to choose an ATS
There are tons of applicant tracking systems to choose from, but narrowing them down is tricky. It's important to consider whom the system is aimed at. Is it for staffing firms or corporate recruiters? Is it an enterprise solution or a startup-friendly recruitment tool? How easy is it to use? How long does it take to implement?
We've tested the leading ATSes on the market so you can quickly see which one is best suited for your business.