One summer when I was in high school, I decided to mow yards instead of going back to my job from the previous year washing dishes at a local steakhouse.
I explained to my dad I didn't need some big boss man telling me what to do when I could work for myself. He laughed and told me I was trading one boss for multiple ones: every person whose yard I mowed.
Whatever, I thought, as I contemplated the glories of a work-at-my-own-pace summer.
Suddenly, however, I had people calling at all hours telling me when they wanted their yards mowed — and how to do it — while paying me on their own arcane schedules.
Each day was a new adventure as I tried to do the next most important task first without having anything fall through the cracks. I did OK money-wise by the end of the summer, but the hard lessons I learned about customer management were equally valuable.
When you start a small business, initial customer acquisition is essential, but relationship management — servicing your existing customer base while maximizing revenue from it — quickly becomes important.
The best customer relationship management (CRM) software is invaluable for your success with these efforts.
The five benefits of using CRM for your small business:
Centralized customer records
Better customer service
Enhanced relationship marketing
Improved sales funnel
Comprehensive performance analytics
---
1. Centralized customer records
One of the best CRM features is comprehensive and centralized customer records. Too often, customer information is spread across multiple departments and may consist of sticky notes on cubicle walls or a jumble of emails in different employee accounts.
The Pipedrive customer record below includes:
Contact information
Company information
Open and closed deals
Follow-up tasks
Communications history
Better yet, this information is available across your company instead of being relegated to one department or employee.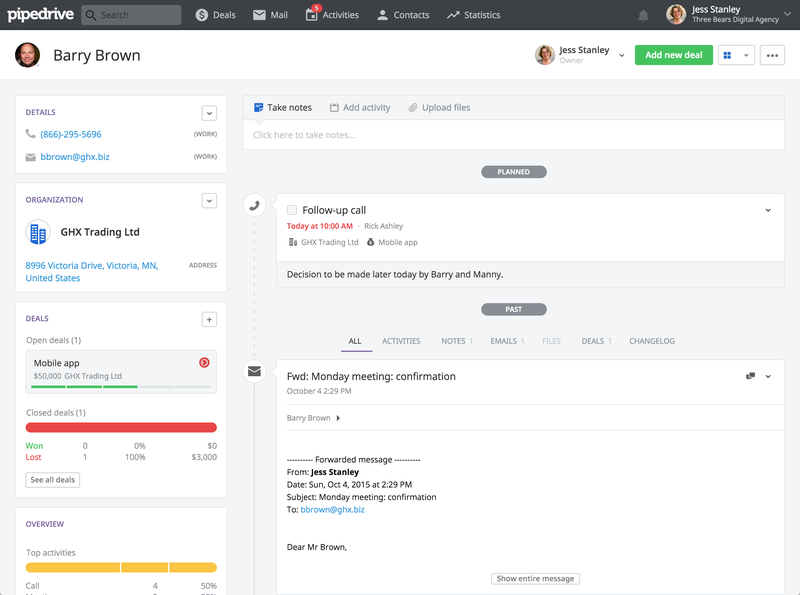 This centralized information makes employees' activities, including sales, service, and marketing, more efficient, while also documenting customer narratives and communications.
---
2. Better customer service
Have you ever made a follow-up call to a company's customer service number and found yourself having to start over again explaining your issue? Have you had this happen multiple times to resolve the same problem?
You're not alone, which is why 89% of consumers have switched to a company's competitor after an unsatisfactory customer experience.
Dynamics 365's customer service dashboard helps prevent customer defections. The left-hand pane documents the online chat between the customer and help agent, while content boxes on the right contain useful customer information, links to information sources, and a help agent script.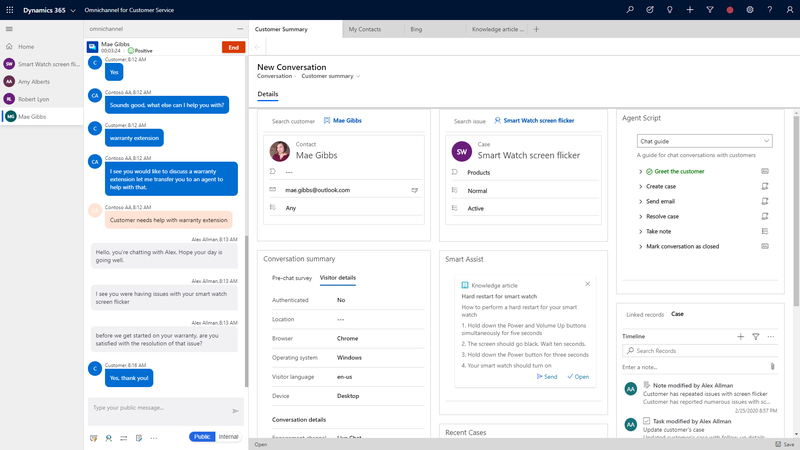 Another feature demonstrated above is the use of an automated chatbot at the beginning of the customer conversation.
The customer answered four questions, which allowed the chatbot to identify their area of need and alert the customer service rep about what to expect before entering the conversation.
Automation is a common CRM tool that streamlines the customer service process and allows help agents to focus on interactions requiring human intervention.
---
3. Enhanced relationship marketing
A common business mantra is to concentrate on expanding your customer base. Focusing too narrowly on this ignores an important fact: You have a 13% chance of making a sale with a prospective customer, but your odds increase to 60% to 70% with existing customers.
Relationship marketing tips include:
Customer segmentation: The days of the one-size-fits-all email blast are long gone; instead, use granular CRM customer information to create targeted email marketing offers based on geographic location, buying patterns, gender, education, job title, and other demographic data.
Rewards programs: Perks for loyal customers can include free upgrades or discounts, donations to a nonprofit of the customer's choice, or access to exclusive products and services. Reward these customers because

Constant Contact estimates that repeat customers

spend 300% more than their single-purchase counterparts.
Go to your customers: Customer service is too often reactive, but CRM best practices include finding your customers on social media platforms such as Facebook and Twitter. CRM advantages include tracking mentions of your company, so you can initiate conversations. Publicly resolving a customer issue or answering a question can create a loyal customer and attract new ones, too.
Existing customers are an untapped source of additional revenue, so maximize each one's lifetime customer value (LCV).
---
4. Improved sales funnel
CRM benefits beyond managing your existing customers include aiding customer acquisition and prospecting.
Sure, you can wait until a customer finds you and decides on their own to buy a product or service, but CRM makes lead management a proactive process, especially with your business-to-business (B2B) sales funnel.
Sales leads: The sales funnel's first stage is to generate sales leads by attracting potential customers. CRM information helps you identify customers you could ask for referrals, tailor targeted advertising campaigns, and use social media to go to prospective customers.
Lead qualification: While every website visitor may be a potential customer, all sales leads are not created equal. Recent statistics show 96% of visitors have

no intention of making a purchase

. CRM lead qualification tracks visitor activities, communications, and other information to prioritize the prospects worth your attention.
Lead nurturing: Once you know who your prospects are, lead nurturing turns qualified leads into customers. CRM provides a centralized hub for these activities, which include lead scoring, differentiated content tracks, and the hand-off process from marketing to sales.
Your CRM customer demographic information informs each sales funnel stage by creating buyer personas: the contact's position, company size, common pain points and objections, and goals.
---
5. Comprehensive performance analytics
Data drives business success, and that means tracking the return on investment (ROI) for your CRM software and improving your customer relationship efforts in areas including:
Sales: Open, closed, and pending deals, number of deals, and lead sources for closed deals
Marketing: Email campaign delivery, bounce, open, forward/sharing, and click-through rates
Customer service: Time to resolve queries/requests, resolutions with initial communication, average time to resolve, and customer satisfaction (CSAT) rates
This Salesforce sales dashboard provides the necessary data, including open, closed, and average amount of deals, for actionable insights about your sales. You can also break out this information by sales teams or individual salespersons.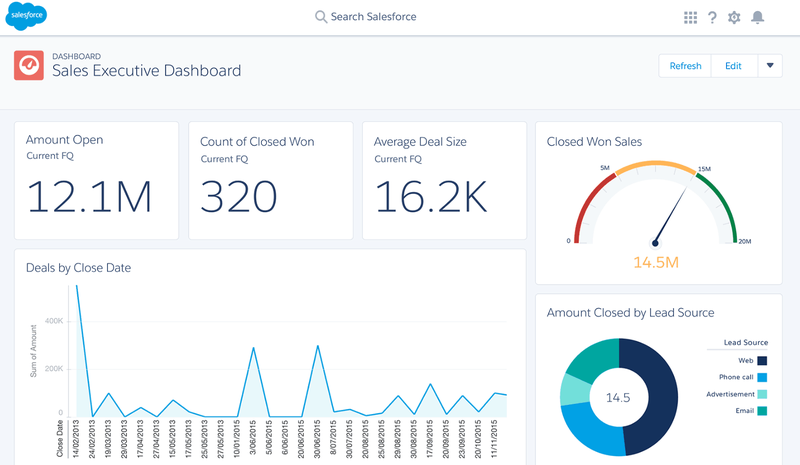 The business world has long valued intuition, which Scientific American defines as "insight that arises spontaneously without conscious reasoning."
Gut instinct's results, however, are mixed: A few high-profile successes — everyone remembers the Steve Jobs quote, "People don't know what they want until you show it to them" — overshadow its many forgotten failures. CRM provides the information to make informed decisions with measurable outcomes.
---
Stay ahead of the customer management curve
Whether you pay for or use free CRM software, your business's success depends on a comprehensive CRM strategy. You'll better serve your existing customers, maximize revenue generation, and enhance customer acquisition.
Sure, every customer is still your boss, but as your CRM experience increases, your relationship management abilities will continue to grow.