BigCommerce is a great e-commerce website builder that empowers start-ups and existing businesses to do more with their e-commerce business. But is BigCommerce the best online store website builder for your needs?
You have many alternatives to BigCommerce for launching or updating your e-commerce strategies. It's one of many e-commerce platforms. Alternatives to BigCommerce include other online store builders that each have their distinct features.
Continue reading to see our top eight BigCommerce alternatives, learn what differentiates each from the rest, and understand what to look for in your e-commerce builder. And be sure to freshen up on our reviews to get a healthy comparison.
Here are the top alternatives to BigCommerce for creating an online shop:
---
What to look for in a great BigCommerce alternative
BigCommerce packs a punch with capabilities, design, and scalability. Its blogging, product profiles, and design capabilities are great. But a worthy BigCommerce competitor will share similar features in analytics, customer management, and monetization tools.
1. In-depth analytics
It's critical that you monitor the performance of your online store. Reporting and analytics provide you with essential information on the health of your business, which helps you make smarter decisions to sustain growth across your operation. None of this is possible without in-depth analytics.
2. Customer management
BigCommerce offers an array of customer management tools. They're essential for building your marketing pipeline and marketing a product online that brings in a continuous stream of new sales.
It's these same tools that generate customer retention and repeat purchases. Detailed customer management capabilities include creating profiles, recording site visitors and purchase histories, monitoring buyer journeys, and more.
3. Multi-channel sales
It's no longer enough to sell only on your website or only in your store. Multi-channel sales strategies ensure that you're maximizing earnings by making it as easy as possible for consumers to purchase from your business across a multitude of platforms.
Along with website and in-store, other sales channels include Facebook, Instagram, Pinterest, Amazon, and eBay.
---
Our top 8 picks for BigCommerce alternatives
These are our eight picks for BigCommerce alternatives. Each offers a different nuance that may be exactly what you need to create your unique online store.
---
1. Best overall BigCommerce alternative: Shopify
Shopify is the stalwart for e-commerce platforms with its straightforward, easy-to-use feature set. Shopify empowers businesses and operators with no coding or design experience to build aesthetically pleasing online stores that monetize well.
Key Shopify features include product management and marketing and customer management capabilities. Product management helps you integrate products into your content plan on the front end and provides inventory management capabilities on the back end.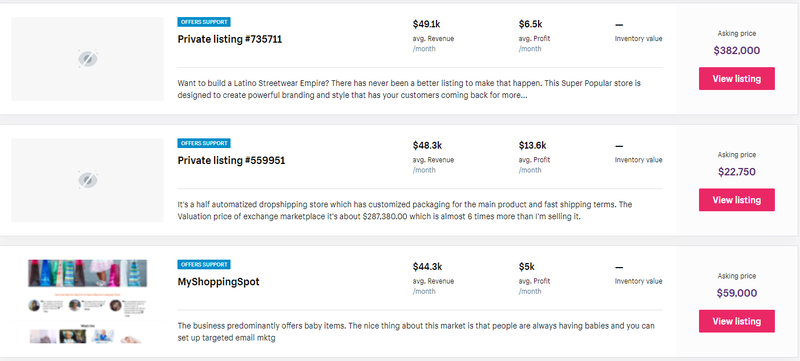 A great differentiator for Shopify is its marketplace of pre-built stores you can purchase if you're not keen on building your own. Shopify manages the storefront exchange directly, so no worries about being scammed.
Sites range from $50 to $1 million depending on complexity and existing monetization performance.
Shopify offers an affordable option for building, launching, and operating a successful e-commerce site. Prices range from $30/month to $300/month across three tiers of capabilities.
Read The Blueprint's full Shopify review
---
2. Best for learning as you work: Squarespace Commerce
Squarespace Commerce is the online store component of the widely popular Squarespace website builder and content management system. The platform features industry-specific tutorials designed to educate you on how to best optimize your storefront.
This is a great tool for new businesses, but Squarespace Commerce works equally well for larger businesses. It's designed to scale with your business.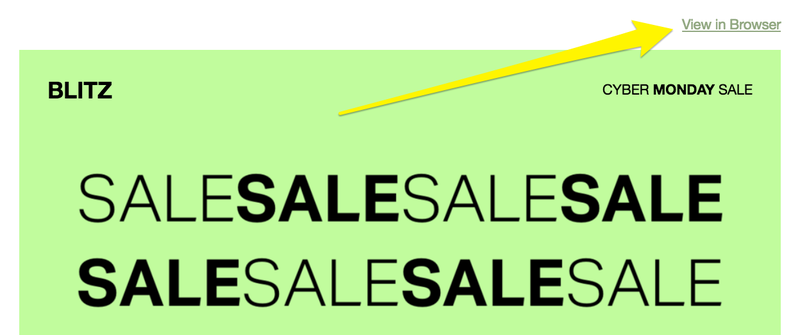 The platform offers all of the features you need to create an online storefront and share it with the world. You can take advantage of multi-channel sales capabilities so that as your business matures, you can expand sales across online, in-store, social platforms, and beyond.
Robust product management and shipping tools built into the system monitor inventory levels and manage the final leg of orders.
Squarespace Commerce offers two pricing options. The basic plan is $26/month and includes everything you need to launch and manage a successful online storefront. The advanced plan is $40/month and comes with built-in email marketing automation and unique selling options such as subscription-based models.
Read The Blueprint's full Squarespace Commerce review
---
3. Best for ease of use: Wix eCommerce
Wix eCommerce offers an easy-to-use tool for building your own online storefront. The platform caters to start-ups, solopreneurs, and other businesses getting into e-commerce for the first time.
Wix's drag-and-drop page builder kicks off the easy-to-use feature set. The developers have built in intuitive recommendations, made it easy to add images, videos, products, and other essential e-commerce site assets.
Navigation throughout the tool is easy to pick up, and dashboards offer status reports from creation to performance. They even offer a progress tracker that suggests key next steps as you build your pages.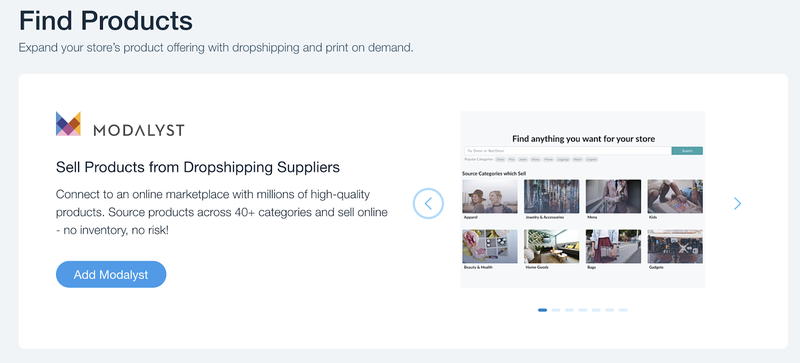 If that weren't enough ease of use, Wix eCommerce features an integrated platform that connects you with drop shippers and their product catalog. This empowers your businesses to sell items online without needing to manage inventory and shipping.
The drop shipping route certainly lowers your margins, but it's an easy way to test the waters.
Wix is a very affordable e-commerce platform. The basic plan is $23/month and comes with everything you need to get your site built and start selling online. Costs increase as you grow the feature set and add additional server storage for your website assets: The unlimited plan is $27/month, and the VIP option is $49/month.
Read The Blueprint's full Wix eCommerce review
---
4. Best for a robust feature set: Weebly eCommerce
Weebly eCommerce is a site builder powered by Square POS, which acquired Weebly in 2018 to establish an e-commerce site builder. The platform is easy to use, and it takes no time to get a site launched.
You can build a site quickly using professionally designed site themes and page templates as well as an intuitive drag-and-drop tool. The ease of use and prices make it a great fit for small businesses needing to sell online, especially if they already have a physical presence with Square POS.
Weebly eCommerce packs a punch with a ton of valuable e-commerce features. The platform offers powerful inventory management tools to update product profiles, bulk order, and monitor stock levels.
There's also shipping tracking to ensure orders are being fulfilled. Marketing tools embedded in the platform include capabilities for abandoned cart emails and SEO implementation.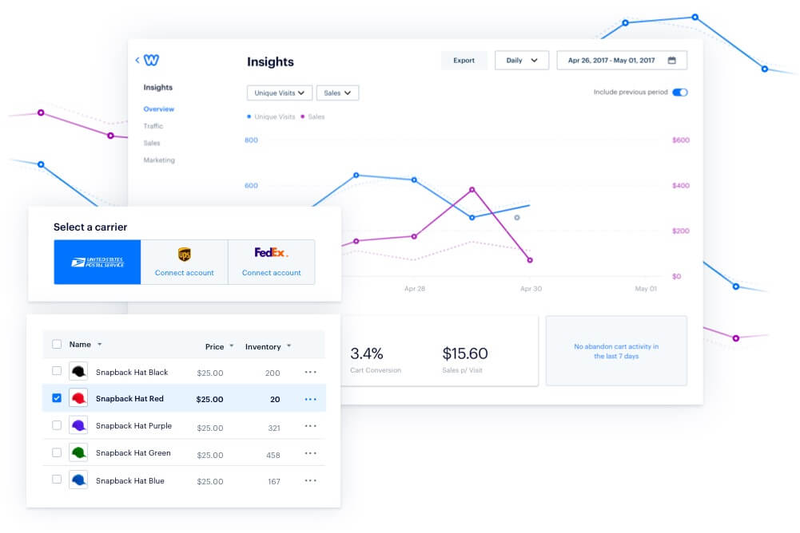 Weebly eCommerce offers a free option powerful enough to get a working online store launched, but it comes with limited features and data storage. Three paid plans offer more functionality.
Choose from a $6/month option with limited features and storage, a $12/month plan with unlimited storage and a larger feature set, and a $26/month plan with the full feature set. These are fair prices at all levels, making Weebly eCommerce a great budget-friendly alternative to BigCommerce.
Read The Blueprint's full Weebly review
---
5. Best for technical performance: Volusion
Unlike most platforms on this list, Volusion has been in the e-commerce game for over 20 years. It's a fit for new and small businesses and can scale up to support medium-size operations.
Volusion is straightforward, feature-rich, and full of technical enhancements to boost page load speed, SEO, and more. Loading speeds are a critical indicator of Google's ranking algorithm, so Volusion's commitment to maximizing load speeds is critical. Plus, site visitors don't have the patience to wait around for slow-loading pages.
The platform also offers an impressive feature set that includes robust customer and inventory management capabilities. Volusion's customer management tools track site visits and purchase history to provide insights for improved marketing.
Inventory management tools include intuitive product profiles and monitoring stock quantities.
Volusion offers four pricing tiers that range from $26/month up to $269/month. Price increases correspond with an increase in capabilities, but the least-expensive option is more than enough to get started. The platform also offers a host of integrations for ads, additional SEO support, page design, and more.
Read The Blueprint's full Volusion review
---
6. Best for existing WordPress sites: WooCommerce
WooCommerce is built for WordPress users who are starting from scratch, or who want to turn an existing site into an e-commerce site. It's a great fit for startups and folks testing the waters with online sales.
The open-source design gives you a lot of room to customize and optimize your WordPress site for online sales, and it requires only the development experience that it takes to create a WordPress site.
As a WordPress plug-in, WooCommerce profits from an extensive app and extensions catalog. The platform offers many features on its own, including easy-to-add product profiles, integration with multiple payment options, and dynamic pricing to entice shoppers to increase their spend.
Woo Commerce also offers sets of themes for your online store. These are similar to WordPress themes but optimized for conversion.
Pricing for WooCommerce is tricky as downloading and integrating with your WordPress is free. The costs come from developer fees, paid themes and extensions, and ongoing maintenance.
It's difficult to project costs as pricing will vary among users. This overall lack of pricing clarity is worth keeping in mind when compared to BigCommerce's upfront pricing tiers.
Read The Blueprint's full WooCommerce review
---
7. Best for launching a site for free: Ecwid
Ecwid is another e-commerce plug-in similar to WooCommerce. Unlike WooCommerce though, Ecwid can turn nearly any site into an online store, not just WordPress sites.
The platform offers a forever-free option that supports new businesses that want to get set up online without committing too many resources. It's an ideal option for first-time online sellers.
Ecwid offers a comprehensive list of features even though it's "just" a plug-in. You can count on Ecwid for critical tools like inventory and customer management, creating and maintaining product profiles, and more.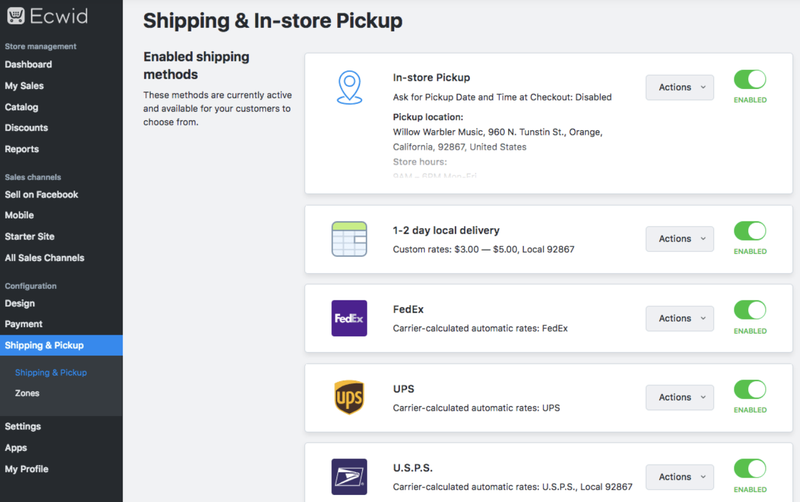 The platform supports multi-channel sales so you can maximize your sales across any channel your customers spend time on. Ecwid also has a tool that manages shipping across all major carriers.
Ecwid offers an affordable array of pricing options beginning with its always-free product. This is a highly limited version of the paid offerings, but it may be enough to get you started.
Paid options come in at $15/month, $35/month, and $99/month. You're able to list more products with the paid options and gain additional e-commerce capabilities.
Read The Blueprint's full Ecwid review
---
8. Best for mature, growing businesses: Magento
Magento is Adobe's e-commerce builder designed for large growth and enterprise businesses. The highly customizable platform can support huge inventory catalogs. It offers unique capabilities to support B2B and B2C operations.
Magento offers a range of customizations, the ability to process enormous orders, and more nuanced sales processes such as requesting quotes or negotiating bulk order prices.
The platform includes some drag-and-drop capability, but the bulk of site design requires web development and coding experts. Unlike most SMB-focused builders, Magento doesn't offer any pre-built themes or templates.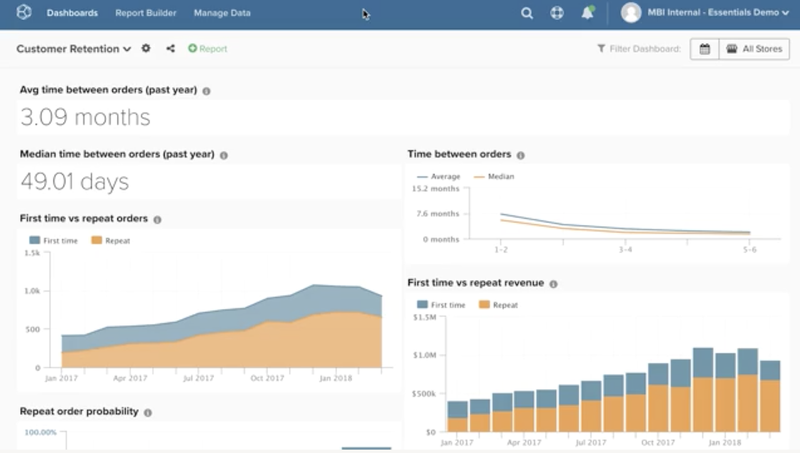 With an enterprise-level solution comes robust and highly detailed reporting capabilities for inventory, sales, and customers. Magento provides powerful tools for quantifying and analyzing performance and spotting trends across sales and products.
Pricing is much higher than you'd expect for a BigCommerce alternative, but that's the cost for enterprise-level platforms. There is a fully open-sourced free option, but it requires advanced coding experience to make it work.
Paid plans are steep. The most basic option starts at $1,999/month and jumps to $3,399/month as you add additional features and more support.
Read The Blueprint's full Magento review
---
BigCommerce is a great option in a sea of great options
It's more difficult today to choose an inadequate online store builder than a great one. You'll find tons of affordable, easy-to-use options for businesses of all sizes.
BigCommerce is certainly a top contender, but many more platforms may better serve your unique needs. Do your due diligence, and choose the best system for creating, managing, and growing your online business.