---
Who is Bitrix24 for?
If you're interested in a customer relationship management (CRM) software that also serves as a social networking tool, look no further. Bitrix24 combines all the elements that make open and active communication a breeze for small- and medium-size businesses. Not to mention the fact that you can use at least 90% of their tools for free.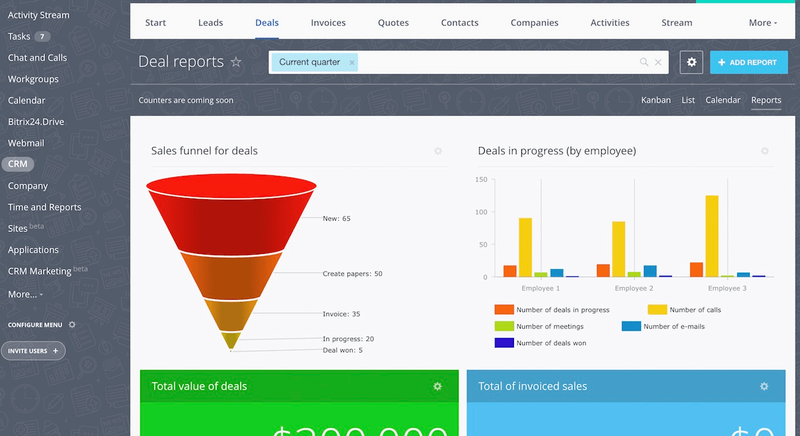 Bitrix24 contains everything a small- or medium-size business would need to manage, collaborate, and communicate across the company and beyond. You get a seamless platform for all your documents, messages, tasks, calendars, contacts, leads, and more.
You gain access to the software by creating an account and inviting team members to join. Bitrix24 calls their dashboard and data center an "Activity Stream." From here, you and your team can collaborate, view each other's progress, and assign tasks to different team members.
At first glance, you get a lot with this product. It's actually a lot more than just a CRM.
You get social networking tools, project management, CRM, document management, calendars, team management, email marketing, phone management, and HR controls. It even has mobile software that works with both Android and Apple products.
For pricing, it looks like Bitrix24 has a free plan for businesses to start out on. The free package gives you the ability to add unlimited users and provides different collaboration tools. From there, you'll have to upgrade to a paid version.
Right off the bat, something that stands out about Bitrix24 is that it's more like a company social network than anything else. Other CRM's have many tools to promote productivity and time management, whereas Bitrix24 seems to support wasting time and distraction.
Maybe we're wrong, but maybe not. Let's dive a little deeper.
What is Bitrix24 used for?
Okay, I know we said that Bitrix24 feels more like a goofing-off tool than a CRM. That's not entirely true. When you first land on your Bitrix24 intranet, you're greeted with something that looks quite similar to Facebook, but if you head over to the CRM dashboard, that is where you'll find all the productivity tools you usually see. Here's a general overview of some of the things you can do with Bitrix24:
Create leads
Generate invoices
Close deals
Record information
Assign tasks
Share information with the team
Sort records
Something interesting about this service is that you can customize almost anything. You can change what you display on your activity stream, which allows people in different positions to see less of what they don't need and more of what they do. You also have the ability as the moderator to filter specific messages only to the people who have permission to see them. This feature is critical because it prevents you from sharing sensitive information across the entire company, but you also don't have to send everything individually.
Overall, Bitrix24 doesn't offer that many features outside of the communication space. If you were looking to compare this to a Hubspot or Salesforce CRM, you're out of luck. That factor doesn't mean the service is useless, though.
---
Features of Bitrix24
We've talked a little about some of the features that make Bitrix24 what it is, but let's get into some more detail. Bitrix24 breaks down its services into five main categories:
Communications
Tasks
CRM
Contact center
Websites
Communications
If Bitrix24 does nothing else for your business, it will at least help you open up the communication lines in your business. If you struggle to convey information and assign tasks across the company, this software might benefit you.
You can chat via video, chat room, workspaces, and get it all in one place. There is an HR management system that helps you with attendance, reports, workflow, payroll, and employee directories. Bitrix24 also offers unlimited cloud storage and document management systems to ensure that no file gets lost and that employees have the proper permissions to access information.
Lastly, you can create individual workgroups so teams can work together on projects and communicate via the platform. This strategy works well both in house and remotely. You have the choice of managing Bitrix24 on your own server or using Bitrix24's.
Tasks
The next feature you get with Bitrix24 is its task management software. With this one, you can plan and execute tasks properly to ensure that everything stays on track and on time. It offers a group task manager that allows you to monitor time spent on projects as well as who is working on what at each point. The most important thing you can do is hold employees accountable to give yourself peace of mind.
You get to plan projects and manage them every step of the way. You can pick what employees you want working on a specific task, and you can track their progress as they complete certain milestones.
At the center of everything is that astounding communication channel. While all of this progress is made, the team members can continue to share their concerns, issues, and successes with you.
CRM
Next, the reason you came here: You want more information about the Bitrix24 CRM. For your sales team, you get funnel management tools, pipeline management, sales reports, and support for repeat customers as well as sales automation tools.
Your sales team can get a quick snapshot of their current pipeline and see who is moving through the funnel and who is standing still.
The CRM also tracks all the marketing costs and determines your return on spend to see which marketing campaigns you can continue and which you should shut down. The platform even tracks things like keywords and channels that will offer you the lowest acquisition cost.
For your marketing team, you get a variety of different ways to promote your brand. You can use email marketing, text messaging, calling, voice broadcasting, video, social ads, retargeting, and more. With the free package, you can send as many as 1 million emails a month.
Yeah, we said that it's still free … as long as you have 12 or fewer users, you get basically all of this included for no cost.
When you combine a lot of the communication and team management tools with the CRM, you'll find yourself with a seamless way to capture leads, track them, manage the project, and keep track of the team. If it all works together in perfect harmony, congratulations. If it doesn't, oh well, at least it's free.
Contact center
The contact center is another great feature that allows you to have a live chat on your website and provides social networking tools that help you keep the communication active with your clients. That's right; the tools are not only useful for your team. You can use them to improve your customer service as well.
As we said, when you put all of this together, you realize how powerful Bitrix24 is. Now you have incredible tools to manage your team members and keep communications open with them. Plus, you have a CRM that gives you the ability to track leads, push them through the funnels, and close them. Lastly, you can now talk with your clients to extinguish fires and quickly relay any necessary information to the parties involved.
Communication is powerful! Use it wisely, young one.
Websites
Now it's time for something I bet you never thought would be include for free. You get an amazing visual website builder with landing pages and even e-commerce stores that are entirely drag and drop. Bitrix24 even has free domains and hosting. All the templates are mobile optimized and responsive.
When you combine all five of these elements, you find yourself with not only an incredible CRM but an entire enterprise management system.
Did we mention it's still free?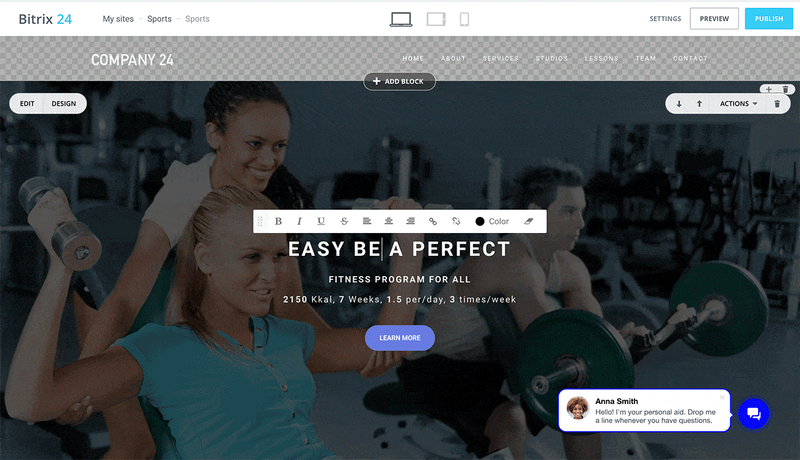 ---
Why choose Bitrix24?
So, you might be wondering whether Bitrix24 is the right choice for your business. As we said, it's mostly intended for small- to medium-size businesses, and it looks like it's most useful for companies that want to improve their communication.
If you have a hard time with openly communicating across the team and things get "lost in the shuffle," you'll likely love Bitrix24. You can communicate via live chat and video. You can also share calendars and have group calendars organized by department. The social intranet it has on the dashboard is useful to quickly and openly talk about issues or concerns without having to repeat yourself in various message threads.
There is also the data and information safety factor. When all the communications are in a slightly public forum, you don't have to worry as much about people hiding things or being dishonest.
The software also has a variety of HR tools to help you keep track of the employees and ensure that everyone is doing well.
What about the Bitrix24 CRM?
Yes, the CRM offers an assortment of useful features that you'll love. You get pipeline management so you can manage leads and deals as they make their way through the funnel. There is lead management that helps you generate more leads and capture them with landing pages and sales forms. The service has email marketing tools with great templates and dozens of sales automations to help keep things moving even when you're standing still.
One of the best things about this service is that it's entirely free for unlimited users, so you can't beat it with the number of features you get. With a CRM, website builder, landing pages, email marketing, automation, communication tools, and more, it offers a lot to sales teams on a budget.
---
The benefits of choosing Bitrix24
Probably the biggest benefit Bitrix24 has going for it is the fact the free plan comes with all of the features. Nothing is locked away.
This makes it a great option to try out and get used to CRMs as a whole. With the extensive free plan, you can test out different workflows and sales processes, and put into practice the goals you want to achieve with a CRM software.
Whether you then use Bitrix24 as your permanent CRM solution is up to you — but with the easy upgrade system (higher payment plans just give you more space, users etc.), it's a pretty good starting point.
An additional benefit for advanced users, or those with access to a crack team of developers, is the open-source nature of the software. Because it's open source, it can be bent and shaped into anything you need it to be. For example, if you needed to add an additional API call, or create a custom view or dashboard for your sales page, you'll be able to build that into Bitrix24 a lot easier than with other CRMs.
The tradeoff there is that you shouldn't expect the staff to come help you should you mess anything up. That's the blessing the curse.
---
How much does Bitrix24 cost?
Bitrix24's pricing scheme is somewhat complicated, but the good news is the company offers a 100% free version with unlimited users and a decent list of features — great for companies that are on a budget.
If you need more storage, collaboration tools, project management features, sales intelligence, or other advanced options, you'll have to open your wallet.
The first tier of paid plans is broken up into three sub-tiers: Start+ ($24/month for two years), CRM+ ($69/month for six users), and Project+ ($69/month for 24 users, but you get fewer features than with CRM+).
If you want to get even more out of the software, you'll have to sign up for one of the two "Business Plans." These include the Standard, which is $99/month for 50 users, or the Professional, which is $199/month for unlimited users and offers all features in full.
So which one should you get? It depends on your needs. Some plans are more focused on project management, while others are focused on pure CRM capabilities. You may want all the most powerful features, or you may only need the most basic, which will also affect your decision.
The pricing chart is pretty detailed, so take some time to go through that and figure out which one makes sense. It's wise to try the free option first to give you some idea.
---
How easy is it to use?
Bitrix24 is one of the more straightforward CRMs to use, but you have to learn to love the interface. It isn't the flashiest, and some of the features you need to setup beginner and intermediate campaigns can be a bit tricky to find. Other times, it can be downright ugly to navigate.
The support can be somewhat lacking at times, which means it can be a bit harder to get up and running compared to, say, a Hubspot or Pipedrive CRM.
---
Frequently Asked Questions
Yes, you can add or customize features to tailor the platform to fit your needs.
According to the company, it offers the most secure cloud solution, and your data is only accessible to you and your colleagues.
Does Bitrix24 offer a free version?
Yes, Bitrix24 has a 100% free version of the software with unlimited users. Not surprisingly, the features are more limited than the paid tiers, but if you don't need all the bells and whistles, it may suit your needs. You can at least use it to try out the software and see if you should upgrade to a paid tier.

If you made it through the entire review, I would like to commend you on your commitment to finding the best CRM. We believe that Bitrix24 is one of the best on the market. It provides a laundry list of features, and most of them are free.
If you made it through the entire review, I would like to commend you on your commitment to finding the best CRM. We believe that Bitrix24 is one of the best on the market. It provides a laundry list of features, and most of them are free.
The Motley Fool has a Disclosure Policy. The Author and/or The Motley Fool may have an interest in companies mentioned.