We live in an increasingly interconnected digital world that leaves online accounts and login credentials ever more vulnerable. Weak, reused, and compromised passwords leave everyone — the average and powerful alike — at the risk of unwanted intrusions.
For example, in 2016 cybersecurity researcher Victor Gevers needed only five attempts to guess President Donald Trump's then-Twitter password yourefired. After gaining access to Trump's account, Gevers notified the U.S. Department of Homeland Security and suggested using stronger passwords, providing maga2020! as one of several examples.
The result? In October 2020, Gevers claimed to have once again accessed Trump's Twitter account after discovering it was using his suggested maga2020! password from four years earlier. The moral of this story is that, whether you're a powerful world leader or someone like me with a handful of online accounts, a password protector application is essential to secure your login credentials.
Bitwarden is one of the best password managers on the market, even though the stripped-down interface belies its powerful features and flexibility. We'll go over its strengths, weaknesses, pricing, and customer support so you can decide if it's the best choice for your needs.
---
Who is Bitwarden for?
Bitwarden provides web- and client-based identity and access management (IAM) software for individuals, families, teams, and businesses via free and paid plans. Its applications include a web interface, mobile app, browser extensions, desktop applications, and command-line interface (CLI). Bitwarden's open-source software is hosted at GitHub, and anyone can view, test, and make contributions to its codebase.
Unlike most software vendors, Bitwarden doesn't readily identify any corporate clients. Instead, its website newsfeed has links to more than 50 positive industry articles and reviews from the past two years. Bitwarden provides some customer testimonials, but they're not easy to locate. I stumbled across them while looking at the website's sitemap.
---
Bitwarden's features
Bitwarden's open-source software has end-to-end encryption for cross-platform and device applications supported by a dedicated global user community. Its features include:
Cloud-based or self-hosted capabilities
Flexible third-party authentication integrations
Application programming interface (API) access
Third-party security audits and compliance
We'll take a close look at Bitwarden's password vault, browser extension, password manager mobile app, two-factor authentication (2FA), and security reports.
Password vault
The Bitwarden password vault is nothing fancy, but the simple design is easy to navigate. Quickly access your different accounts, settings, and tools such as the password generator.
Bitwarden's vault has four record types:
Logins
Payment information
Identification
Secure notes
The default dashboard view displays all records, but you can organize accounts in folders. In the screenshot below, my City of Waco — Water account login credentials are in the Bills folder. Select the name of the account to edit its information or use the shortcuts pulldown menu for other actions.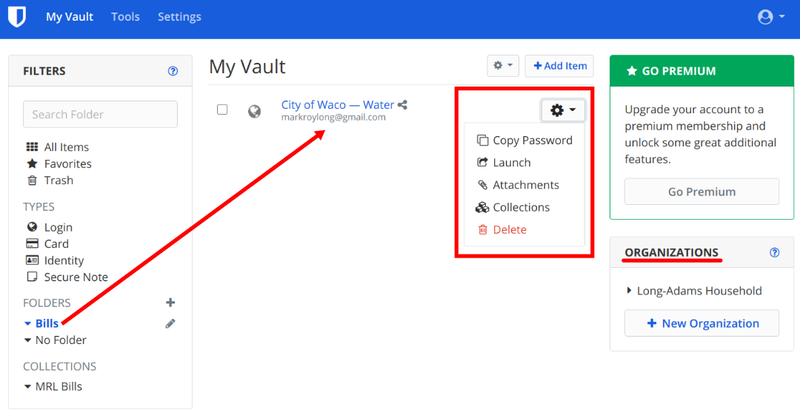 A key feature is Bitwarden's Organizations, or groups of users who share account information. During my Bitwarden test drive, I created the Long-Adams Household organization so I and my girlfriend could share account information. In the screenshot below, I added my water bill login credentials to the MRL Bills collection, which gives her access to it, too.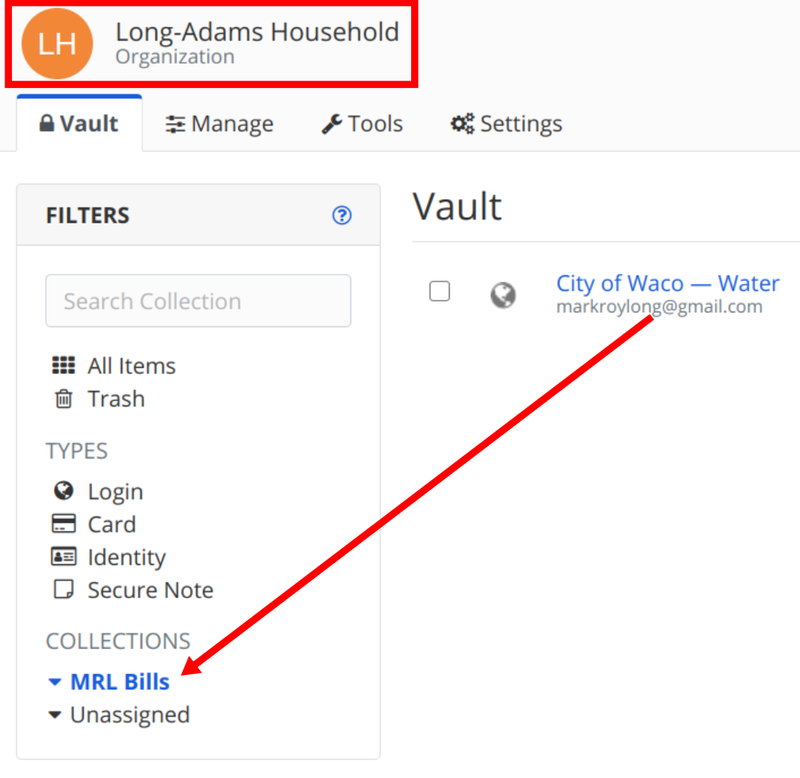 Sharing my water bill login information is no big deal on its own, but proactively providing access to your online accounts to a family member or significant other is important during an unexpected crisis. For example, when my grandfather died, my grandmother didn't even know which bank they used, much less any other financial information.
Browser extensions
Many password vault applications include single sign-on (SSO) functionality, which lets you sign in to your vault and directly open any of your accounts there without another login. Bitwarden only provides SSO with its top-tier business plan and none of the personal plans, so use its browser extension to quickly log into your accounts.
Bitwarden offers extensions for more browsers than most of its competitors:
Chrome
Firefox
Opera
Edge
Safari
Vivaldi
Brave
Tor Browser
The Chrome extension mirrors Bitwarden's password vault functionality with easy access to your logins, folders, and collections. A handy feature is the option to open the extension in its own window. This leaves it open while you go to multiple pages to pay or check the amounts of your monthly bills.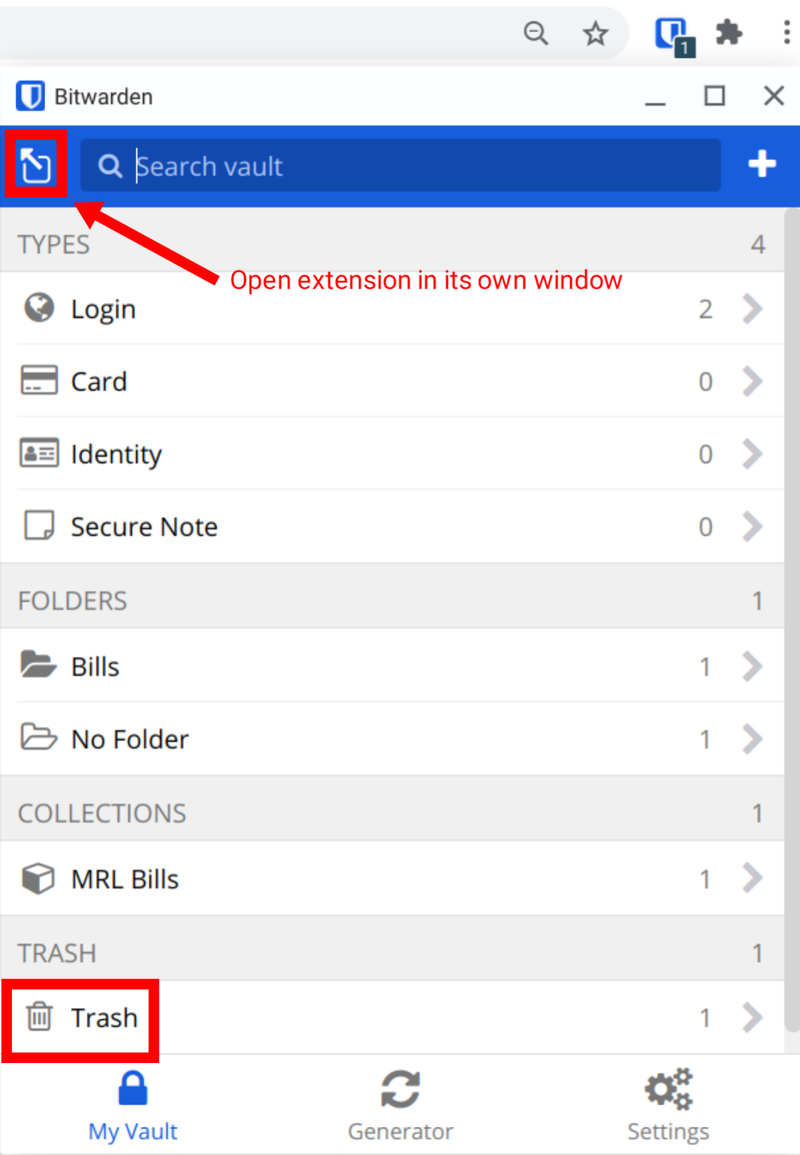 Another useful feature in the Chrome extension and the full Bitwarden password vault is "soft" password deletion. Instead of permanently deleting passwords, they remain in the trash for 30 days in case you accidentally get rid of one you meant to keep.
While opening the browser extension in its own window approximates a desktop application, Bitwarden offers multiple desktop downloads for Windows, Mac, and Linux operating systems. If you go this route, however, choose your specific download carefully because not all of them update automatically.
Mobile app
One benefit of dedicated password managers compared to using your browser's or smartphone's password management features is syncing across multiple devices. Like its browser extension, the Bitwarden password manager offers full password vault functionality. This includes a password generator to create strong passwords that are added and/or updated everywhere you use Bitwarden.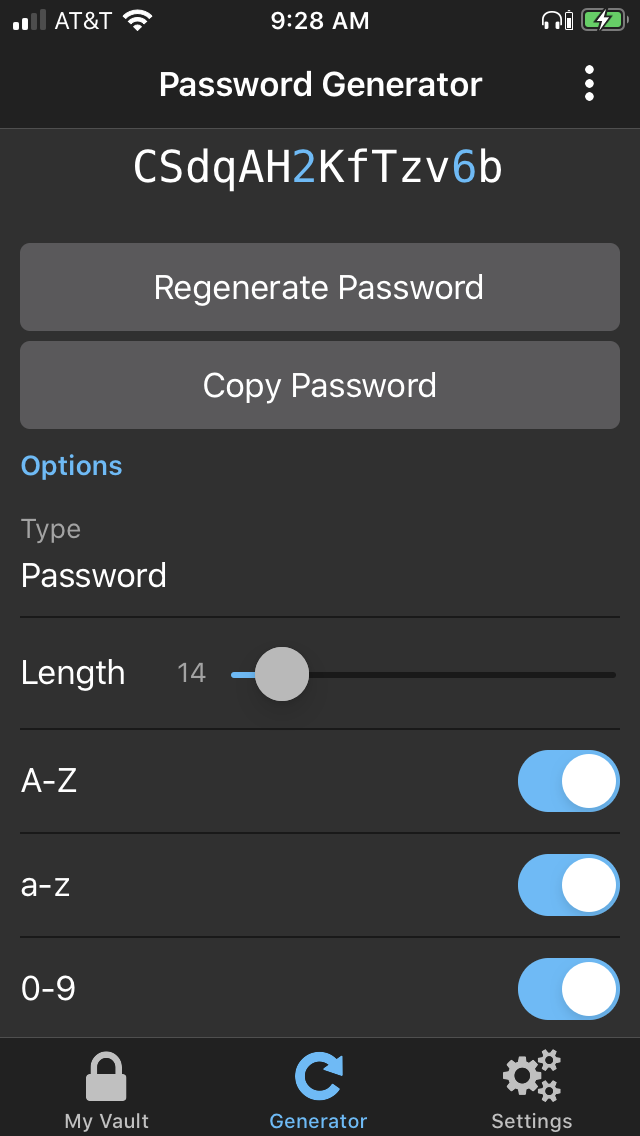 The Bitwarden app is available for both Apple and Android devices.
Two-factor authentication (2FA)
Even the strongest passwords provide limited protection because hackers with enough time and computing power will crack them. Bitwarden's 2FA adds an extra security layer by sending information — a "token" — that you must use. These can include answering a phone call or entering a one-time password (OTP) sent to a separate device or account on a secondary login screen.
For example, the last university where I taught used Duo for 2FA. Every time I logged into my school email account from my desktop computer, it sent an OTP to my smartphone that I had to enter into a follow-up login screen. Other options included answering a call or responding to a push notification.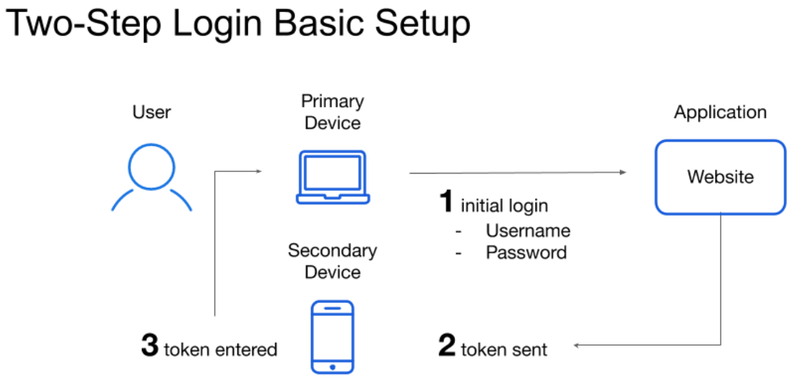 Free Bitwarden accounts use email or third-party authenticator apps such as Authy or Google Authenticator for 2FA. Paid accounts can use the Duo authenticator app with push notifications, text messages, phone calls, Universal 2nd Factor (U2F) security keys, and YubiKeys.
Password security reports
Using a password vault to store weak, reused, or compromised passwords doesn't offer much actual security, so Bitwarden has multiple password strength and security reports. It also checks to see if your login credentials have been exposed in data breaches or sold on the dark web, and it identifies sites with 2FA that you're not using.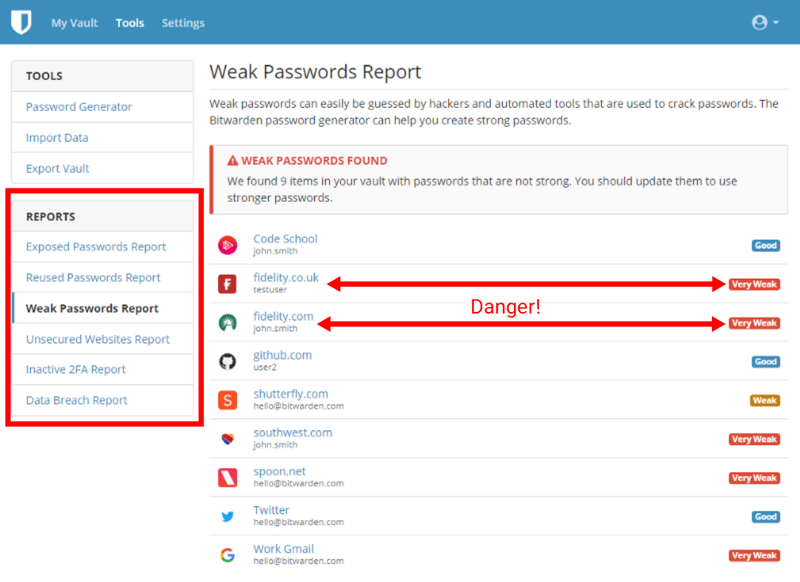 Bitwarden's free plans don't include password security reports, which makes the Premium plan ($10/year per user) well worth the money.
---
Bitwarden's ease of use
Bitwarden is a good case study for open-source software's less-is-more philosophy: low on frills but easy to use. What it lacks in flashiness, Bitwarden makes up for with its flexibility that supports a wide variety of browsers and operating systems, desktop applications, mobile apps, and self-hosting options.
Instead of overwhelming users — especially tech novices — with an avalanche of features, Bitwarden's password vault uses a clean design that provides quick access to stored passwords, folders, and tools. Its browser extensions and mobile apps also share a common layout that doesn't require you to learn different interfaces.
---
Bitwarden's pricing
Bitwarden pricing has separate personal and business plans, both with free options.
Personal plans include:
Free: Supports one user and includes unlimited vault items, syncing passwords across multiple devices, basic two-factor authentication (2FA), password generator, and self-hosting options.
Premium: $10/year for one user — Adds 1 gigabyte (GB) of encrypted file storage and password security reports.
Family: $40/year for up to six users — Adds unlimited collections, 1 GB of organization storage, and priority customer support.
Business plans include:
Free: Supports two users and includes two collections, basic 2FA, and unlimited shared items.
Teams: $36/year per user — Adds 1 GB of personal storage, 1 GB of organization storage, user groups, event logs, directory connector, application programming interface (API) access, and 2FA via YubiKey, U2F, and Duo.
Enterprise: $60/year per user — Adds single sign-on (SSO), enterprise policy management, and self-hosting options.
With the exception of the Premium plan, paid plans have a seven-day free trial. Some password manager applications provide all features during a trial period, but Bitwarden only includes the ones specific to the plan you choose.
---
Bitwarden's support
Bitwarden offers direct customer support via email but not by live chat or telephone. Self-service resources include a detailed knowledge base and community forums. Bitwarden also has an active subreddit community on Reddit, and its blog provides the latest product updates and related cybersecurity information.
---
Benefits of Bitwarden
When I asked Joel Grimes, an information technology system administrator, why he uses Bitwarden to protect his personal accounts, he said, "No fluff. Works great!" He added that he chose Bitwarden Premium for its expanded 2FA methods. Grimes uses Duo's authenticator app for most logins and a YubiKey to secure his email accounts.
I like that Bitwarden lets you use the Organizations feature to link two free personal accounts. (The free business plan also supports two users.) Most password manager applications with a free personal plan skip from there to a $40/year (or more) family plan supporting five to six users.
I have no siblings, children, or close relatives, so at the most, I need to share account information with my girlfriend, who's also an only child with no kids. But if we signed up for a family plan, we'd pay for multiple unused licenses.
If Bitwarden has an Achilles' heel, it's that direct customer support is limited to email with no phone or live chat options. This is not unusual for open-source software, which often relies on robust user communities to provide frontline technical help. While IT professionals like Grimes have no problem posting online support queries, non-technical users may find that daunting.
---
Get back to the basics with Bitwarden
Bitwarden's open-source approach offers a stripped-down interface that sticks to the basic features users need without any unnecessary bells and whistles. The tradeoff is a wider range of desktop applications, browser extensions, and self-hosting options than its competitors to tailor your user experience.
---
Frequently Asked Questions for Bitwarden
Who should use Bitwarden?
Bitwarden has plans suitable for individuals, families, teams, and businesses. Its free plans have enough features to satisfy the needs of many users, but the Enterprise plan adds advanced password manager functionality that larger businesses need, such as single sign-on (SSO). Still, for threat hunting, incident response, and endpoint detection and response (EDR), pair it with a good help desk or service desk application.
Bitwarden has free personal and business plans, and the paid personal Premium ($10/year per user) and Families ($40/year for up to six users) plans are affordably priced compared to its competitors. The paid business Teams ($36/year per user) and Enterprise ($60/year per user) plans fall within industry pricing norms.
What kind of support can I expect?
Bitwarden provides direct customer service by email but no live chat or telephone support. An extensive knowledge base is the primary self-service resource. Users can also turn to the Bitwarden community forums for help.

Bitwarden is an open-source software solution that focuses on password management fundamentals to create a streamlined user experience. Free plans include password sharing and two-factor authentication (2FA), while its paid personal and business plans add features such as single sign-on (SSO) functionality and password security reports.
Bitwarden is an open-source software solution that focuses on password management fundamentals to create a streamlined user experience. Free plans include password sharing and two-factor authentication (2FA), while its paid personal and business plans add features such as single sign-on (SSO) functionality and password security reports.
The Motley Fool has a Disclosure Policy. The Author and/or The Motley Fool may have an interest in companies mentioned.