Blackboard is a leading academic learning management system (LMS), but is it good for business? Blackboard Learn Ultra, the company's streamlined corporate training LMS, has much to offer. Yet it lacks e-commerce functionality, so it's not set up for selling courses. And its user interface and functionality are not as focused or intuitive as many of the competing LMSes that have been created exclusively for businesses.
If you're looking for an LMS to train employees and customers or to sell courses online, here are six great alternatives to Blackboard's online learning system.
6 top alternatives to Blackboard as an accounting software:
---
What to look for in a great Blackboard alternative
All of the learning management systems on our list are mobile-friendly and secure, two basic requirements for a corporate LMS. Here are other major features to look for in an alternative to Blackboard products.
1. Excellent user experience
In most businesses, training is a collaborative experience. Many employees may be called on to contribute to courses or oversee training results. A business LMS should make it easy for new users to jump in and contribute, with a clean, intuitive interface and ample training resources.
Managing user roles and moving between them as needed should be quick and easy. The system should also provide automated actions and notifications to save administrative work.
2. Affordable pricing
Blackboard's pricing is proprietary, but it is not the cheapest LMS on the market. Ideally, an LMS should provide scalable, flexible pricing with an accessible monthly payment for smaller businesses.
3. Advanced course building tools
When considering alternatives to Blackboard, look for a system that lets you easily create and schedule live, remote, and on-demand training experiences. This should include rich media experiences that turn coursework into digital storytelling.
Look for the ability to embed video lessons and capture audio, video, and screen recordings. Collaboration tools such as discussions, chats, and social media are also highly valuable for corporate training.
Training should be based on best practices for adult learning such as:
Microlearning: Short lessons reinforced with interactive elements and quizzes
Learning paths: Lessons arranged into logical, sequential paths to build mastery
Skill basis: Learning tied to specific job skills and performance goals
Gamification: Certifications, badges, and other rewards for learning achievements
4. E-commerce
E-commerce is a feature you'll need if you plan to sell online courses, and you won't find it in the Blackboard education system. Many LMSes come with payment processing built in so you can begin accepting course registration fees immediately. If you intend to monetize training, this is a critical feature.
5. Branded interfaces
You may use your LMS for internal training; training customers, partners, or other external audiences; and selling courses online. Look for learning systems that let you host multiple learning portals (multi-tenancy) and customize each one to fit your brand and your audience.
6. Certifications and badges
Customizable certifications and badges are a valuable feature in an LMS. Course certificates, badges, leaderboards, and other gamification elements give users a sense of excitement and gratification throughout their learning journey.
7. Integrations
Your LMS should integrate with key systems your employees use every day. The more you can embed learning into the flow of your employees' work, the easier it will be to create a true learning culture in your workplace.
---
Our top 6 picks for Blackboard alternatives
We've vetted a host of corporate learning management systems and found six great alternatives to Blackboard. Be sure to click through to get a complete review of each option.
---
1. WorkRamp
WorkRamp is our top-rated LMS for business training because it comes out of the box with all the features you need to create exciting, interactive courses. WorkRamp lets you create white-labeled learning portals for employees, partners, and customers or sell courses online.
WorkRamp's course-building tools make it easy to create interactive, media-rich lessons. Your employees can complete challenges, upload recordings of their performances, and gather feedback from peers and managers.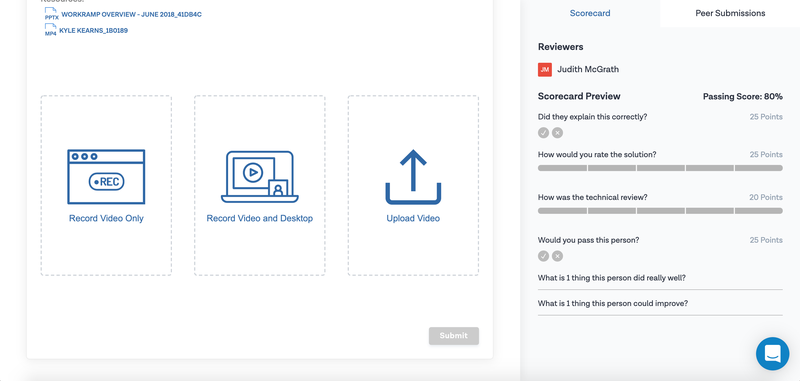 All of the tools are simple and inviting, making it easy for users to learn and contribute.
WorkRamp features expansive integrations with platforms such as Salesforce and Slack to foster continuous learning. With affordable pricing and outstanding support, WorkRamp is an ideal LMS for small businesses.
Read The Blueprint's full WorkRamp review
---
2. SkyPrep
SkyPrep is another great choice for business training and customer education, with full features for creating and delivering courses. E-commerce is built-in, but branded learning portals are available only with SkyPrep's Premium package, so you'll have to evaluate the added cost if you want to tailor your interfaces.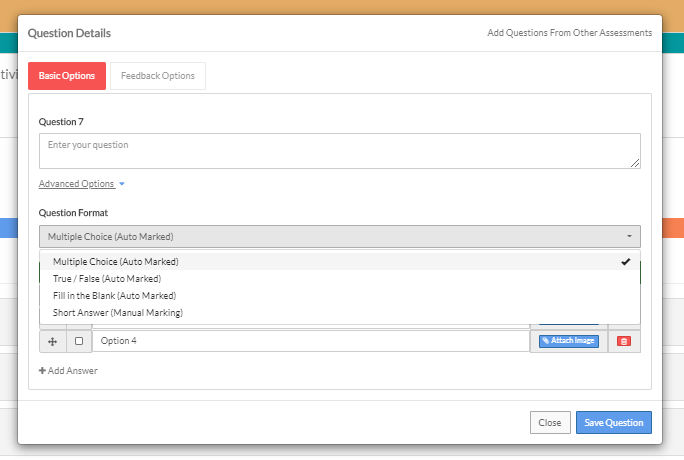 SkyPrep is well-equipped for employee training, with features for creating in-person and instructor-led training. Learners can download materials to work offline and sync up when they're back on the web, a nice feature for remote teams.
SkyPrep's integrations are another strong point, connecting to software systems for human resources, web conferencing, single sign-on, content management, and more. The system also features gamification elements for a positive learning experience.
SkyPrep's support is top-notch, including phone support and extensive online resources. Its pricing is transparent and flexible, starting at $199 for 100 active users per month.
Read The Blueprint's full SkyPrep review
---
3. Lessonly
Lessonly is an excellent LMS for team training and other corporate learning needs. The platform is built on key concepts of microlearning, contextual learning, and skills practice. The result is an LMS that does a lot of the heavy lifting of creating effective learning for you.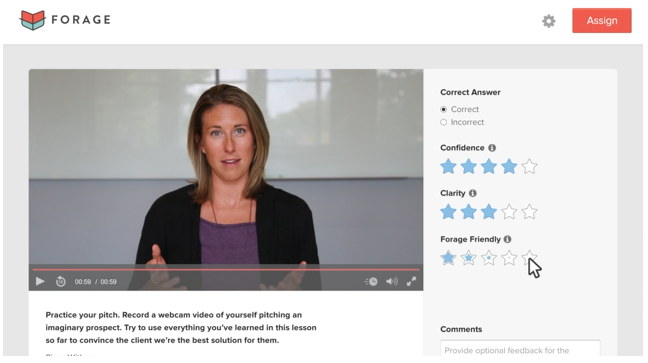 Lessonly's practice feature allows employees to practice key skills such as pitching a product or responding to a customer service request. Practices can be completed through video or audio recording, emails, or chats. Peers and managers provide feedback through a simple star-rating system.
Contextual learning is also built into Lessonly through automatic prompts and messages that guide the user through each learning experience. Basically, the LMS is sophisticated enough to make learning simple for the user.
Lessonly has also done its homework on microlearning, with lessons broken down by interactive elements and quizzes to keep the learner engaged.
If you're looking for a team training tool, Lessonly is an outstanding choice.
Read The Blueprint's full Lessonly review
---
4. eFront
eFront is ideal for mid-sized and large businesses that want a highly customizable, scalable LMS. eFront is a web developer's dream, ready to do just about anything you ask of it if you know how to ask.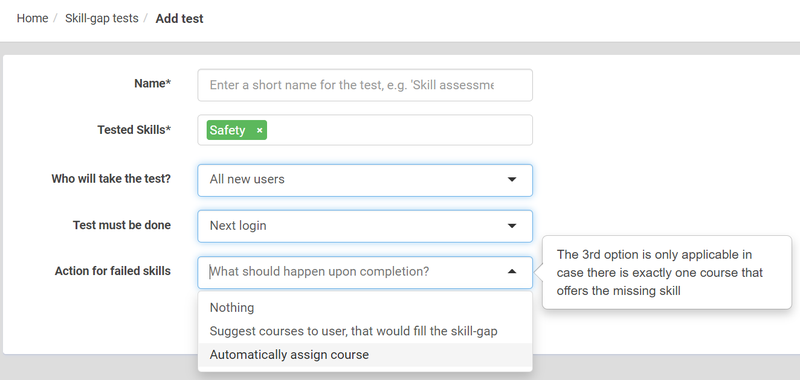 eFront has one of the most comprehensive feature sets out there, including a unique employee development tool that conducts skill gap testing and assigns appropriate training for you.
eFront's course-building tools are impressive, allowing you to import or create any kind of materials you might want. The platform also features a native email system and discussion forums to keep users connected. Gamification is another advanced feature built into eFront.
eFront comes equipped to build multiple customized learning environments with tools that include a native website builder. The system also has highly advanced, customizable security features to keep your system and your data safe.
Read The Blueprint's full eFront LMS review
---
5. TalentLMS
If you love eFront's features but don't need the full depth of capabilities, you might want to consider its smaller, lighter-weight sibling, TalentLMS. TalentLMS offers the same amazing breadth of features in a simpler, streamlined package.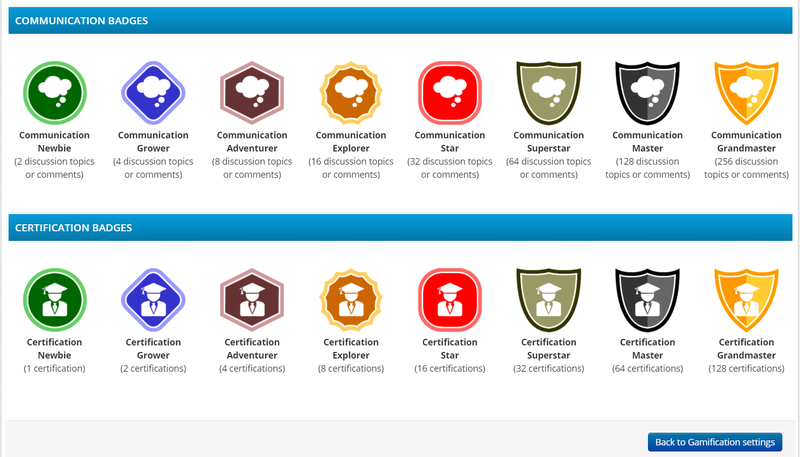 TalentLMS includes advanced features such as gamification and e-commerce in a package with terms a small business can love. In fact, TalentLMS provides a free account for up to five users and ten courses, so you can get in and test it out before buying.
The move to paid subscriptions is just as easy to manage, with pricing starting at an SMB-friendly $59 per month. If you're looking for an accessible LMS that punches above its weight, you should definitely give that free trial account a spin.
Read The Blueprint's full TalentLMS review
---
6. Absorb LMS
Absorb LMS is another good choice for small businesses, with a clean, intuitive user interface and a wealth of tools for building engaging learning experiences.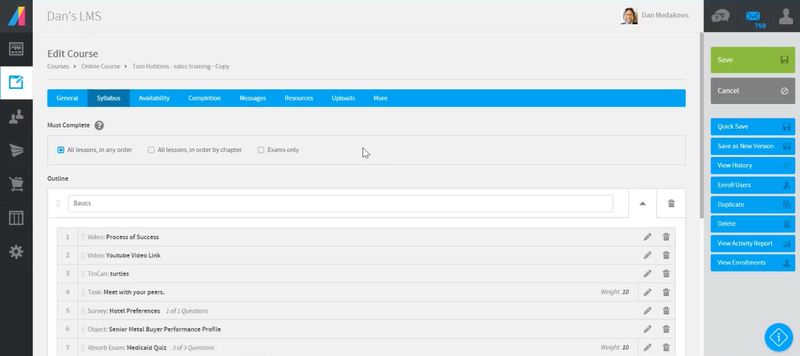 Absorb makes it easy to create appealing learning interfaces tailored to your brand and specifications. The system includes thoughtful features for managing users, building and delivering courses, and reporting training results.
Many of Absorb's advanced features must be purchased separately as part of optional packages. For example, Absorb Engage gives you gamification and social learning, and Absorb Infuse embeds the LMS in your existing systems. Be sure to explore the add-on packages when comparing pricing.
Read The Blueprint's full Absorb LMS review
---
Let an LMS do the heavy lifting
Training employees, partners, and customers gives your business a competitive edge, boosting everything from employee retention to lifetime customer value. An LMS makes it easier for you to capture and track those benefits. Check out the systems on our top ten list to find just the right LMS for your needs.