I've heard shocking things come out of the mouths of managers and recruiters while hiring candidates, including these:
"I prefer hiring women as they are easier to manage."
"I wish candidates would include photos so I could see how old they are."
"He has children so I don't think he'd fit with this team."
Most people don't realize they are biased. It's called unconscious bias for a reason. But bias is still very present in the recruitment process today.
That's why it's important to create processes and best practices that eliminate areas where bias can creep in, and where unconscious thoughts and reactions can prejudice decisions and hurt inclusive recruiting. One of these hiring best practices is blind recruiting.
---
Overview: What is blind hiring?
Blind hiring means removing any personal information that could identify a candidate from their resume. This normally involves data such as name, address, age, education, and companies the candidate has previously worked at.
---
3 benefits of using blind hiring for your business
Creating a blind application process not only eradicates unfair hiring practices, but it also means you get better applicants and can run a more efficient recruitment process.
1. Remove unconscious bias
There's a body of research that shows the recruitment process isn't fair. One study cited in Harvard Business Review, for example, revealed that employers are less likely to hire a woman who wears a headscarf.
In a quest to stamp out this issue, recruiters are trying to remove any form of bias from the hiring process.
Unconscious bias is difficult to correct because, by nature, we're not aware of it. Using blind hiring to remove personal details from a resume is a good way to ensure that decisions are made solely on a candidate's merits, rather than any other factors.
2. Diversify your candidate pool
Having a diverse workforce is good for business. Companies in the top quartile for racial and ethnic diversity are 35% more likely to have financial returns above their respective national industry medians.
But creating a diverse workforce is very difficult if you don't have a diverse pool of candidates to choose from. Some people will be put off from applying to certain positions either due to factors such as social norms and standards (not seeing women in more technical positions or men as nurses, for example) or from poor experiences when applying to these jobs in the past.
If you create a job application form and recruitment process where candidates don't have to enter the personal information that leads to bias, then you are more likely to get a wider variety of applicants.
Promote this fact widely and state clearly on all job ads that you use a blind recruitment process.
3. Create a more efficient recruitment process
The more information you have to sift through, the longer it will take to decide and move candidates to the next stage, or let them know you won't be taking their application any further.
Removing personal information means you can review candidates quicker and improve the candidate experience by not leaving them hanging around or, even worse, ghosting them.
If you use HR software or an applicant tracking system, you can source candidates by searching for keywords rather than looking at personal information on a resume and decide whether to move forward with candidates based on a scorecard of their skills and experience.
Recruiting solution Breezy HR lets you create a scorecard to help you easily evaluate candidates based on how well they meet the pre-defined criteria for this position. To create a scorecard, you enter different sections, such as skills and experience, and then add the criteria you are looking for in each section.
When you've filled out the scorecard, you will get a score that shows how suitable the candidate is for the position.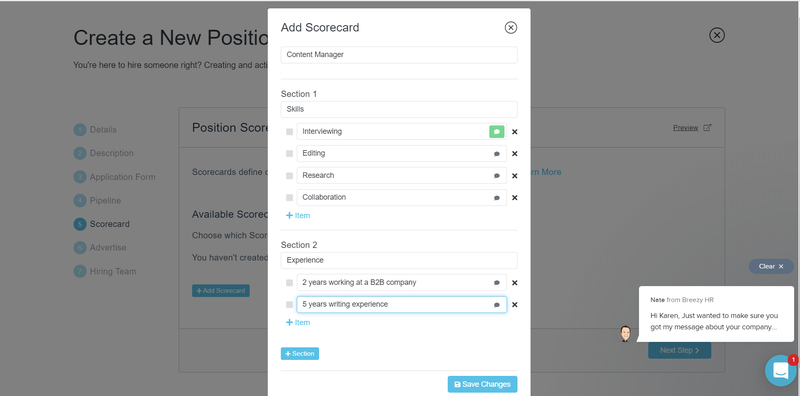 Reviewing candidates more quickly and moving them to the next stage also reduces costs and means you are less likely to overlook ideal candidates during the talent acquisition process.
---
3 ways to implement blind hiring into your recruitment strategy
Blind recruitment is a hiring idea any company can implement, whether you're a team of 100 recruiters, or you're recruiting while running a company. Here are three steps to take to implement blind hiring into your recruitment strategy.
1. Start with the job description
Words matter. You need to create neutral, unbiased job descriptions to attract a diverse set of candidates. Avoid any words that might suggest you're looking for a certain type of candidate and that might put individuals or groups of people off applying.
If you're skeptical that the words you choose have that much of an impact, consider this stat: job listings with gender-neutral wording get 42% more responses. You can also get sued for using words and phrases that violate laws such as The Americans with Disabilities Act.
If you're not sure whether your job description is inclusive, use a text analyzer to point out areas where you're failing and that recommends improvements.
Ongig's Text Analyzer is one useful tool that quickly scans and identifies "exclusionary phrases" that can indicate gender, racial, disability, or age bias. It also recommends words you can use instead.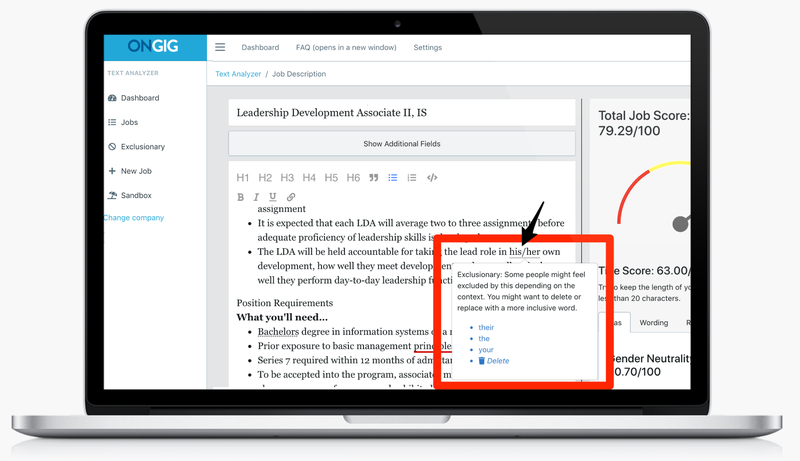 2. Select data to include and exclude
If you've carried out a job analysis before starting the recruitment process then you'll know what kind of skills and experience you need for each role. Use that information to decide what data you need to collect from candidates.
While many jobs can be done remotely these days, you may need the candidate to be located in a certain area if they have to carry out work in specific facilities. Or you might need candidates with specific qualifications, for example, if you are looking for a tax consultant or accountant.
You can ask for evidence of these qualifications, but not ask where and when they obtained them to ensure you aren't introducing age or educational bias.
3. Make it a company goal
Don't make a half-hearted effort to implement blind hiring in your company, as it won't be as effective as if you commit to making it work. To do that, make implementing blind hiring a goal for the HR department and the company.
Get support from the C-suite and ensure you have the resources in place to change your hiring practices.
When you make it a goal, you have to decide how you will track its success. Think about metrics such as time-to-hire and improving your overall diversity.
Workday's human resources dashboard is a useful tool, as it includes a scorecard that helps you manage workforce diversity.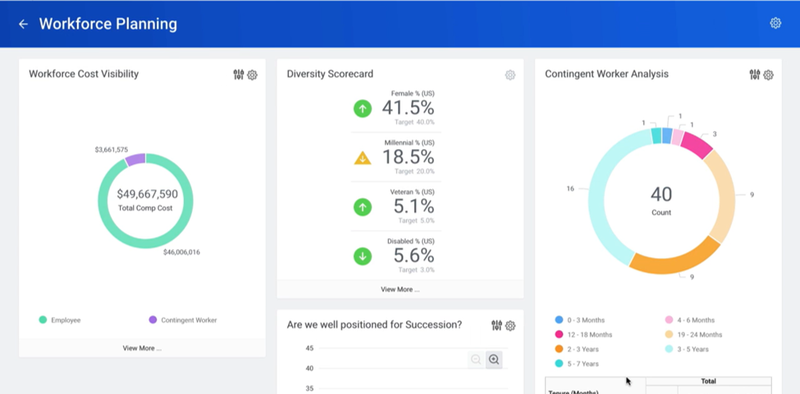 ---
Don't lose focus on diversity management
Blind hiring isn't a magic bullet that's going to immediately solve your recruitment or diversity issues. It needs a thoughtful approach, and it needs to form part of a larger diversity drive from your company while being part of a data-driven recruitment process.
Remember to constantly track how it's working and make changes as necessary.