As one of the internet's largest and most ubiquitous web hosting services for managing sites, Bluehost is a relatively affordable option. It ensures that everyone from beginners without much experience to more advanced developers with complex setups can have a hosting option that caters to their needs by offering a wide range of hosting options.
Thanks to its tiered pricing plans, Bluehost can make available a variety of services. From marketing help to site builder integrations, it is well equipped to improve digital marketing and site hosting training for small businesses.
It also doesn't cap bandwidth and visitor traffic to sites, allowing for fast page loading times and unlimited visitors. Plus, security features and regular backups keep your site running and safe with its servers tracking at almost 100% uptime consistently.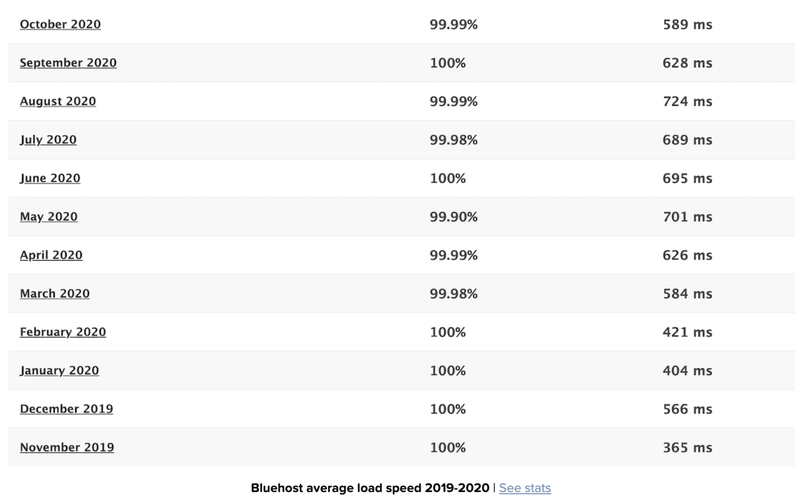 When it comes to Bluehost pricing, there are tiers to the Bluehost plans. With very cheap introductory pricing, it is easy to start with Bluehost as needed. It also offers 24/7 support via live chat and phone help.
---
Who is Bluehost for?
Bluehost is very well suited for the websites of small- and medium-sized businesses. It is competitively priced and easy enough to use that even total server novices will feel comfortable working with it.
If you prefer something with a little more customizability, Bluehost allows open source adaptations and offers advanced web development tools such as Linux and FTP.
---
Bluehost's features
As there are several web hosting services on the market, Bluehost hosting has to stand apart through comprehensive and useful features. Beyond the basics of literally hosting your site on the web, these features provide added value and usability for your time and money.
Shared hosting
Most of us aren't launching massive websites that need either incredible amounts of space or super detailed customizations. For smaller sites, Bluehost offers shared hosting plans. These allow you to share server space with another website and gives you access to great hosting at a discount.
Dedicated servers
On the flip side, Bluehost does allow you to have dedicated servers, so hosting is solely used by your site. If your website drives a high amount of traffic, you can share your server space with another. This also comes with what Bluehost calls "RAID Level 1" support, in which it mirrors your data to multiple disks.
Virtual Private Servers (VPS)
A Virtual Private Server lies between shared hosting and dedicated servers. In this instance, you can opt to share a server with other sites but have a virtual "wall" between your site and theirs. VPS let you make configurations, but on a smaller scale than dedicated servers.
Domain names
Don't have your domain name secured just yet? Not to worry, as you can purchase Bluehost domains directly from the company.
SEO and marketing
Bluehost also lends a hand where it is often needed most: with SEO and website marketing. It offers professional marketing services such as pay-per-click campaigns, content marketing, and SEO.
Hosting integrations with WordPress
Because so much content management is done through WordPress, Bluehost offers WordPress-focused hosting that is optimized and includes capabilities exclusive to WordPress-powered content. Bluehost is one of only three hosting platforms directly endorsed by WordPress.
---
Bluehost's ease of use
Just as most small businesses want an easy setup when building websites, they also want hosting to be set with just a few clicks. Bluehost really delivers with how easy it is to sign up and manage your hosting account.
The website's main dashboard is easy to use and clutter-free. It aims to make things as intuitive and user-friendly as possible. The layout itself is very similar to Microsoft Office and, in particular, Sharepoint or Box, making user adoption relatively easy.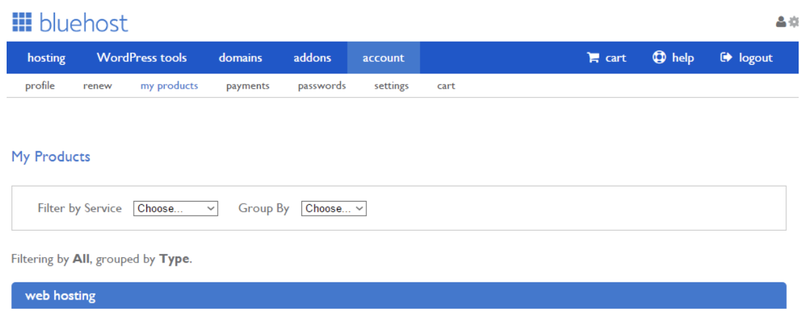 Bluehost also has shared packages that include the Bluehost control panel (where hosting and accounts are managed), domain name registration, ongoing maintenance, users, billing, inbox, etc.

You can also work from a unified login, meaning one username and password can access all of your Bluehost accounts, as well as integrate to all of Bluehost's help and support features.
You also get domain and email management, so you can easily upgrade and scale your server capabilities as your hosting and website traffic needs increase.
---
Bluehost's pricing
What is interesting (and important) about Bluehost pricing is that it starts at a reduced introductory rate before rising at renewal.
First-term prices run as $2.95 per month for the Basic plan, $5.45 per month for the Plus plan, $5.45 per month for the Choice Plus plan, and $13.95 per month for the Pro plan.
Upon renewal, the prices increase to $7.99 per month for the Basic plan, $11.99 per month for the Plus plan, $16.99 per month for the Choice Plus plan, and $26.99 per month for the Pro plan.
The Basic plan covers up to 50 GB, which should be enough for one website. The Plus plan lets you host multiple websites, and the storage space is unlimited. You also get access to unlimited email accounts. Looking at the Choice Plus package, you also get free domain privacy protection and enhanced backup options.
The Pro tier is used mostly for larger enterprises needing many websites or markedly higher performances.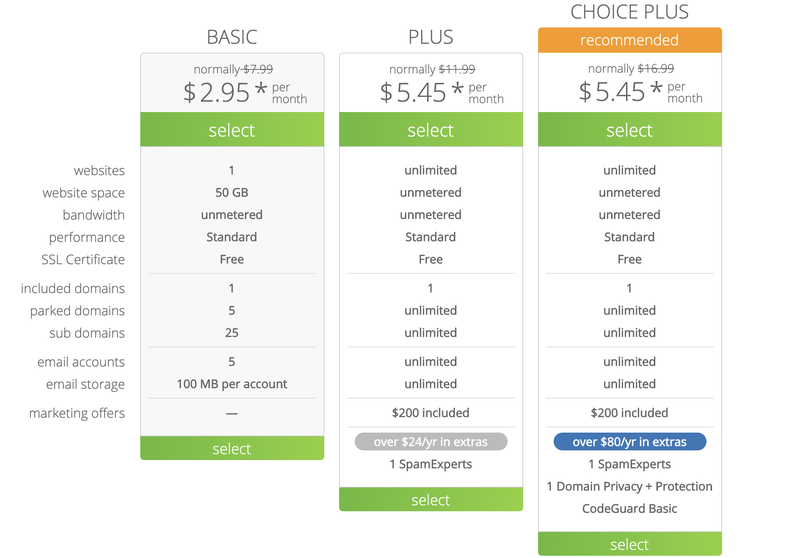 ---
Bluehost's support
When it comes to Bluehost support, you can get a hold of a representative 24/7 via both live chat and phone, as well as via ticketing. Other support options include email and a dedicated help desk operated by in-house experts.
Bluehost breaks its teams into three separate success cohorts: Sales for general inquiries and leads, technical for support and back-end help, and accounts for billing and service inquiries.
There is also the option to peruse its extensive library of online resources to self-teach or find answers to commonly encountered questions.
---
Benefits of Bluehost
Bluehost is a very affordable hosting option that is designed for users of all skills. If you have one website and aren't super tech-savvy, the Basic plan more than suffices. If you prefer to get a little fancier with your customizations or have more bandwidth needs, the Plus plan includes quite a lot of features.
These benefits, along with the excellent support, make Bluehost an accessible and user-friendly host. Plus, it has a built-in marketplace of available integrations to ensure Bluehost can best fit in with your business needs.
There is also the built-in Bluehost SSL certificate (which includes unique IPs and SiteLock protection, too.) Secure Sockets Layers help keep your site and data protected, as well as in compliance with many regulations. It also helps improve your search engine rankings.
---
Bluehost is a good web host for small businesses
Though the Basic plan is a bit sparse (it relies heavily on upsells to add-on features you will likely need), it still does a solid job of hosting and keeping sites up for a low cost.
For most small and medium-sized businesses, Bluehost does exactly what you need it to, and it does it well. For more complex needs, bear in mind that adding on all the capabilities you need will likely come with hidden costs.
---
Frequently Asked Questions for Bluehost
No, but it does offer affordable introductory monthly pricing.
Bluehost takes security seriously, not only backing up sites but also providing free SSL encryption.
Can I integrate Bluehost with my CMS?
Bluehost easily hosts sites built on multiple content management systems, and it's especially well suited to WordPress.

If you're ready to host your site, check out the discounted introductory pricing from Bluehost. You can cancel any time within the first 30 days.
If you're ready to host your site, check out the discounted introductory pricing from Bluehost. You can cancel any time within the first 30 days.
The Motley Fool has a Disclosure Policy. The Author and/or The Motley Fool may have an interest in companies mentioned.