It's a common misconception that bookkeeping and accounting software are the same. Just as bookkeeping and accounting professions have similarities, but are ultimately different, the same can be said for online bookkeeping and online accounting software applications.
Bookkeeping software's main focus is on recording financial transactions properly, while accounting software also includes the ability to analyze the impact of those transactions.
Many small business owners would be well-served by a good bookkeeping software application that records financial transactions properly and produces basic financial statements.
However, if you're looking to prepare business budgets, you'll have to make the jump to accounting software, since budget creation is typically not found in bookkeeping software.
If cost is an issue, keep in mind that bookkeeping software is usually less expensive than accounting software, while still providing you with the features you need to properly manage your business.
Here are our top picks for the best bookkeeping software for small businesses:
---
What to consider when choosing bookkeeping software
When buying any kind of software application, there are a lot of things you should consider, starting with cost. If you're a very small business, a freelancer, or sole proprietor, you likely don't have a large IT budget, so affordability is key.
There's a few other things you need to consider when choosing bookkeeping software for your business.
1. Availability of basic system functions
Determining what features are important to you is key to making your software search a lot easier. For instance, if you don't want to record all of your transactions manually, look for an application that includes bank connectivity.
On the flip side, if connecting your software to your bank makes you uneasy, look for an application that makes it easy to record your transactions manually.
Do you use your phone for everything, including your business? If so, make sure that the application you choose has a mobile app that will work with your phone.
2. Invoicing
As a small business owner, you're selling something, whether it's antique bubble gum machines or your expertise as a pig farmer. Either way, the only way you'll make any money is if you invoice your customers.
While all bookkeeping and accounting applications offer invoicing capability, if you want custom invoices that look professional, find the application that will do both.
3. Scalability
This could be a factor if you're starting small but intend to grow in the next few years. If you're freelancing with the intention of remaining a freelancer, a smaller application will serve you well, but if you want to be the next Starbucks, you should look for an application that shares your lofty expectations.
---
5 best bookkeeping applications for small businesses
If you're still not sure exactly what you're looking for, check out our overviews of the top five bookkeeping programs. All are online bookkeeping software applications, all are designed with small business owners in mind, and all are reasonably priced for even the tightest budget.
---
1. FreshBooks
FreshBooks was originally designed as invoicing software, and though it was popular, early users wanted something more. After all, if you own a business, even a very small one, you need to do things besides invoice your customers.
FreshBooks listened, adding a ton of new features in recent years, including the addition of double-entry accounting capability. With these new features, FreshBooks is now a top choice for sole proprietors and freelancers looking for complete bookkeeping capability.
FreshBooks offers a self-employed version or a teams version, with the teams version allowing you to connect to others you may work with, whether it be an employee, a contractor, or even a vendor.
Other features that make FreshBooks the top bookkeeping application for small businesses include a retainers option, which is perfect for attorneys, accountants, or other professionals, and the ability to accept ACH payments as well as credit card payments.
Estimates and proposals can also be created in FreshBooks, with the option to convert an estimate to an invoice.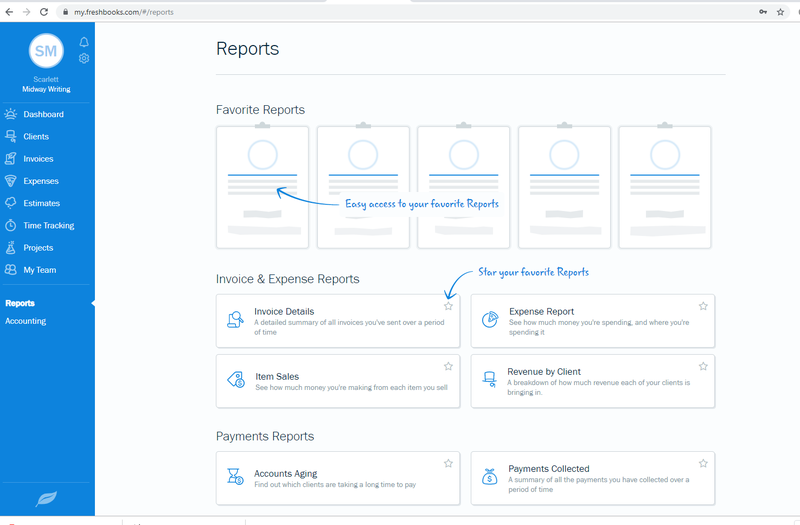 FreshBooks includes bank account connectivity, and speaking of connectivity, also connects with more than 100 apps in desired categories such as CRM, e-commerce, inventory management, and even tax preparation.
Creating an invoice in FreshBooks takes less than a minute, and you can add an online payment option to get paid quicker. Snap a photo of your lunch receipt to keep track of your expenses out of the office, and if you're billing your customers for your time, you'll appreciate the time-tracking capability.
Reporting options are pretty basic in FreshBooks, but they should be sufficient for smaller businesses, with an option to export any report to Microsoft Excel for customization.
FreshBooks offers four plans, probably one more than needed. These are the Lite plan, which is $15/month; the Plus plan, which runs $25/month; the Premium plan, which runs $50/month; and FreshBooks Select, which offers custom pricing.
Read The Blueprint's full FreshBooks review
---
2. Kashoo
Aside from its catchy name, Kashoo offers a surprising level of bookkeeping functionality. Well-suited for smaller businesses, sole proprietors, and freelancers, Kashoo offers one single plan that supports multiple users.
If you've ever waited anxiously for payment from your customers, you know how important it is to get paid quickly. Kashoo helps the payment process along considerably, allowing you to place a credit card payment option on each invoice you send out, making it easier for your customers to pay you.
Kashoo also offers bank account connectivity, which you can choose to bypass. You also have the option to upload a bank statement at month's end to make the reconciliation process a bit easier. Kashoo is a great option if your accounting knowledge is limited.
The application puts all system features into four buckets; Actions, Lists, Reports, and Add-ons, where you can create custom invoices, track income, keep track of your operating expenses, manage your customer and vendor information, and connect to any add-on applications.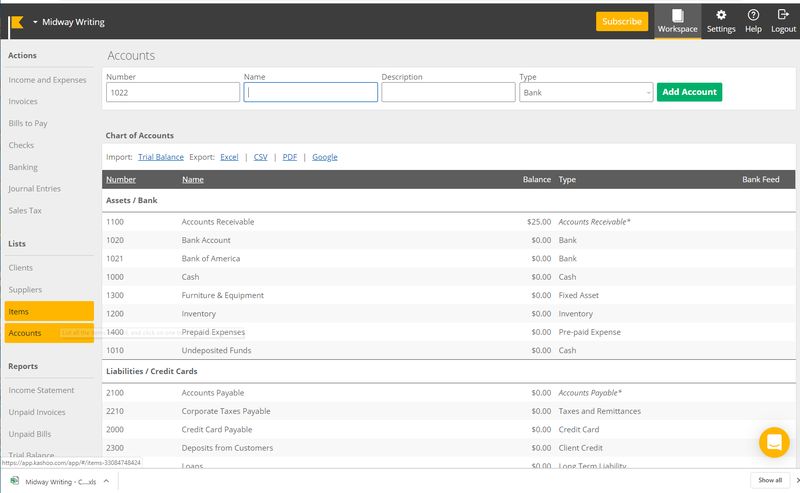 Kashoo also includes the option to pay your vendors with a check run, something that is becoming increasingly rare in comparable applications. In addition, there's a journal entry option that makes it easy to make any adjusting entries.
Not everything is great in Kashoo — reporting options are extremely limited, though they can be exported to Excel if you want to customize them, and while there's an iOS app, Android users are out of luck if they're looking for mobile accessibility.
Kashoo offers a single plan, which will cost you $19.95/month, or $199 annually, and supports an unlimited number of users.
Read The Blueprint's full Kashoo review
---
3. Sage Business Cloud Accounting
Sage Business Cloud Accounting offers something its competitors do not: scalability. While there is no real scalability within the application itself, you can easily scale up to more powerful Sage accounting software products should you find yourself outgrowing the application.
Sage Business Cloud Accounting is a good fit for sole proprietors and freelancers and would work well for those selling products, since it offers good inventory management capability.
Sage Business Cloud Accounting includes double-entry accounting capability, with a default chart of accounts included in the application. A mobile app is included for both iOS and Android devices, and both Sage Business Cloud Accounting plans include invoicing, sales tracking, and bank connectivity.
In addition, those who purchase the full accounting plan will have access to features such as vendor bills, quotes, and estimates, as well as the ability to print vendor checks.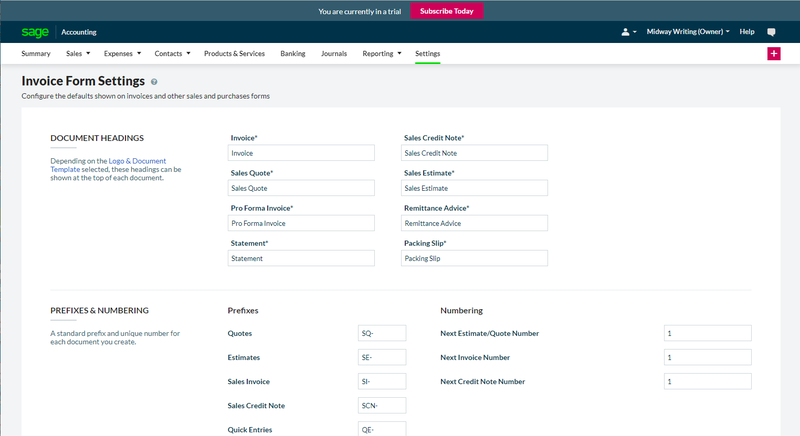 Sage Business Cloud Accounting's inventory management features include the ability to manage both stock and non-stock items as well as services: a great option if you sell both goods and services.
In addition, you can enter up to three levels of pricing for each product or service offered, as well as track any product by barcode if desired.
Sage Business Cloud Accounting offers excellent reporting capabilities, with all standard financial statements available as well as various accounting reports such as accounts receivable aging, a cash flow forecast, a sales revenue report, and an audit trail report.
Reports offer little in the way of customization, though they can be exported as CSV files for customizing.
Sage Business Cloud Accounting offers two plans. Accounting Start is better suited to very small or brand-new businesses that need limited features; it runs $10/month. If you're looking for more functionality, the Accounting plan is a better choice, offering reporting, quotes, and estimates for $25/month.
Read The Blueprint's full Sage Business Cloud Accounting review
---
4. ZipBooks
If you've never heard of ZipBooks, you're not alone. Launched in 2015, ZipBooks offers solid bookkeeping and accounting functionality, including a free plan that offers basic bookkeeping options. ZipBooks is a good choice for contractors and sole proprietors, especially those who need to track and bill time.
Better suited for service businesses, since it doesn't offer inventory management, ZipBooks offers complete double-entry accounting capability as well as good custom invoice creation.
Vendors and customers can both be easily managed in ZipBooks, and the application includes a handy feature called auto-categorization, which remembers how you originally classified transactions and automatically records future transactions similarly.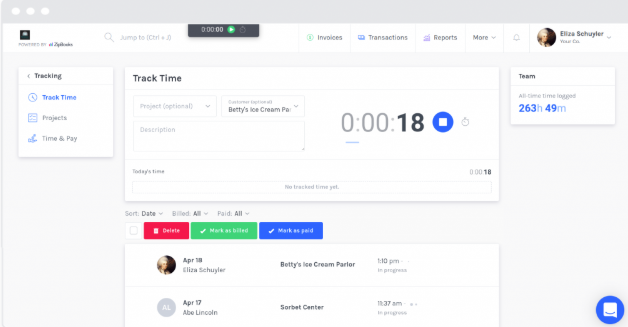 The ZipBooks free plan allows you to connect one bank account, while paid plans allow you to connect as many accounts as you wish.
In addition, ZipBooks includes an auto-billing option, a great feature if you bill customers the same amount each month, with an option to create automatic payment reminders. In addition, you can create custom quotes and later convert those quotes to invoices when approved.
Reporting options are good, with a variety of standard reports available, though customization capability is limited. As a bonus, ZipBooks also offers intelligence reporting, which provides a more analytical view of your business.
There are some things that ZipBooks is missing, including a mobile app for Android devices, as well as the aforementioned inventory feature.
However, ZipBooks does offer some scalability, with three plans available: the Free plan, which offers limited features; the Smarter plan, which supports five users and runs $15/month; and the Sophisticated plan, which supports unlimited users, and runs $35/month.
An Accountant plan is also available for professional accountants offering bookkeeping services to their clients.
Read The Blueprint's full ZipBooks review
---
5. Wave Accounting
If you're looking for free bookkeeping software, look no further than Wave Accounting. Wave is ideal for sole proprietors, freelancers, and consultants, as well as new business owners who have no idea how to record financial transactions.
Wave is not a good solution if growth is on the horizon for your business, but if you're small and planning to stay that way, this free (yes, free) application may be right for you.
Wave includes a long list of bookkeeping and accounting features starting with complete double-entry accounting. Also included is a good sales feature that offers custom invoicing and the ability to accept payments online, although there is a small fee charged for online payment acceptance.
Wave also includes good bill payment capability, as well as the option to upload receipts directly to Wave for easy expense management. You can connect all of your bank accounts directly to Wave, and an automatic reconciliation feature is included in the application for easy month-end bank reconciliation.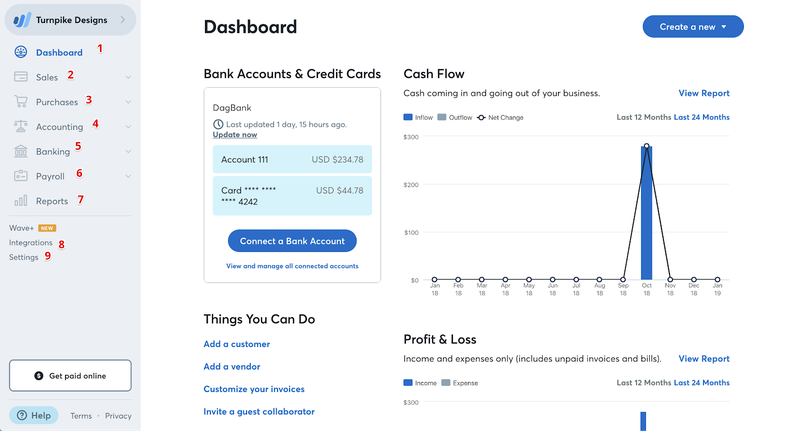 Wave reporting options are limited, though the dashboard feature is an easy way to view details such as bank account balances, current business expenses, a cash flow statement, and a profit and loss statement.
Reports offer little in the way of customization, though they can be exported as CSV files for customization if needed.
Wave's accounting features are all completely free. You'll have to pay only if you use their online payment service, Wave Payments, which charges 2.9% + $.30 per transaction. That's a small price to pay for being able to accept online payments.
Read The Blueprint's full Wave Accounting review
---
There's no bad option on this list
All the applications on this list offer good bookkeeping capability. While some may include a longer list of features, they can all help you manage your business finances the right way. But don't just take my word for it. Read the reviews, download a few demos to test drive the options, and find the one that's right for you.