Box is a top choice for any organization looking to take document management online. You can easily upload and share documents across the company, as well as host your private files (keeping your desktop clear of clutter), because of Box's file hosting feature.
Sharing permissions are easily adjusted, and you can opt for sending direct links or downloading content before sending it.
Links can be customized to allow viewing or editing capabilities. Storage is centralized, with users having the ability to store files in varying folders according to department, classification, etc.
---
Who is Box for?
Box is especially well suited for small- and mid-size businesses looking to streamline file storage and sharing. It's easy enough to create various logins, and the pricing per user is not astronomical. Whether you prioritize Box cloud storage or make more use of Box file sharing, it's a uniquely flexible tool.
---
Box's features
Box document management has a variety of features that set it apart and set you up for success. It's built to fulfill several functions, while still staying easy to navigate.
Box sync
Box sync is a handy desktop app that you can use offline. You don't need to log into Box through a browser at all times. If you are connected to the internet and have downloaded Box sync, any changes you make to documents on your desktop should appear in the master documents in Box itself.
There is a bit of lag time with the actual syncing on occasion, but it is overall a very useful feature.
Automated workflows
What you may already love about many organization tools can also be applied to Box in some areas; namely, the ability to create and track workflows. You can set up simple rules to automate tasks such as reminders to review documents or approve contracts right in Box itself.
The admin console lets you move files around through folders and assign tasks with due dates
Ease of sharing
Sharing documents is made super simple with Box. When you click on the triple dots beside a document's name, you are greeted by several options, including the ability to download documents (which you can then attach in an email), or you can explore the more efficient options to share.
From there, you can create a link directly to just that document or a single folder. You can finetune viewing permissions to allow a recipient to view, download, or have full editing abilities.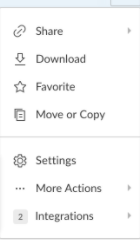 Secure permissions
The security of documents as a whole is taken very seriously. New users are required to log in not just at signup, but each time after they turn away from the system.
From the admin dashboard, you can set up various levels of permissions for individuals within your organization and specific folders or areas of access. They can be content owners, editors, or just have general viewing permissions.
When sharing content, you can even set up password-protected links for especially sensitive documents. These links also give you insight into link views and clicks.
Integrations
Box easily integrates with the most commonly used office software, from Microsoft to Google. You can even sync your Google account to link right to your Box account for greater efficiency.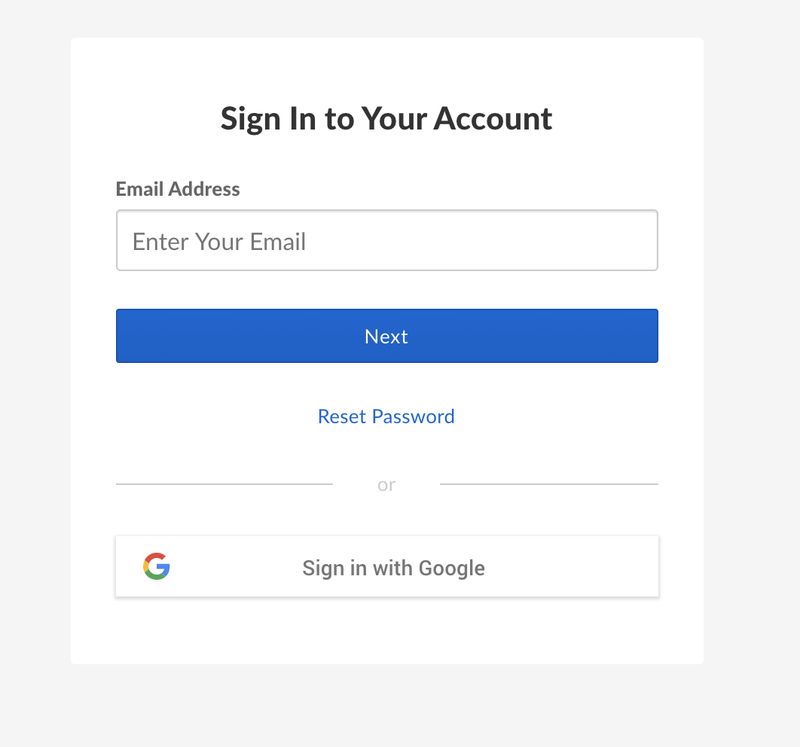 Box notes
Notes are a handy tool, allowing you to track progress and communicate easily with multiple authors on your team. Box Notes are a collaboration dream, letting you leave quick comments or questions right in a document, much like Sticky Notes or Google comments.
Reporting
Insight into data and analytics is incredibly useful for any organization. As an administrator, Box gives you an overview of individual user activity from security logins to shared links, and much more.
Whether you are interested in internal use habits or you want to track link activity, the reporting dashboard helps you see what's going on in your organization.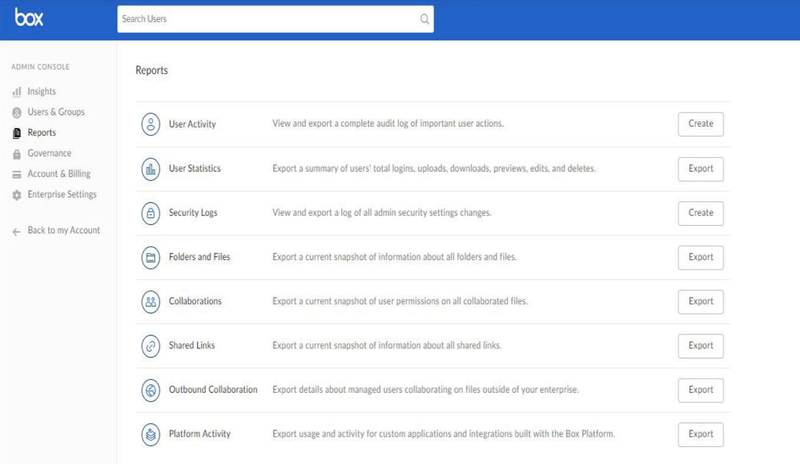 ---
Box's ease of use
Using Box is fairly intuitive, and it doesn't take long to get in the swing of things. The toolbars are straightforward, and the options are minimal in the best way, offering only actions that you are likely to use.
You can upload files with ease and editing documents opens online word processors, Excel panes, etc. so there is no learning curve there either.
---
Box's pricing
Free plan
Beyond a free trial, Box offers a long-term free option in the form of an individual account. There is a 10 GB storage cap, and it includes basic features such as mobile and desktop sync, editing documents, and searching folders.
Starter
For paid plans, Box pricing starts at $5.00 per month, hosting three to ten users. There is a maximum of 100 GB of storage capacity, and it includes enhanced access permissions.
Business
The business plan starts at $15/month per user. It includes unlimited storage and 50 saved versions of a file. You also have enhanced analytics and reporting, plus the ability to audit logs.
Business Plus
Next, the Box Business Plus plan goes up to $25/month per user. It adds features such as external collaboration, full activity tracking, custom templates, and more.
Enterprise
Box Enterprise pricing is $35/month per user, and the plan is tailored to your business' needs.

---
Box's support
Box offers three tiers of pretty good support options. Standard support is included with any Box license and covers maintenance help during business hours.
With premier services, you get access to a team of growth specialists, with dedicated account representatives on hand to support mission-critical cases.
Finally, platinum services are available at the highest level. They include training and support customized to your specific business, yearly onsite training, and a fully dedicated support channel.
---
Benefits of Box
For organizations opting for the business plan, you get unlimited storage, which is not something that every document management system offers.
Data is very secure in Box hosting, so even companies with highly sensitive information can feel safe using the system, thanks to SSL encryption and optional two-factor authentication.
The learning curve to using Box is minimal. As long as you know how to open a folder and type in a word processor, you're going to know how to use Box.
Plus, thanks to its Google and Microsoft integrations, you're set up for a smooth crossover. You can also track content and activity by groups, keeping documents organized and accurate.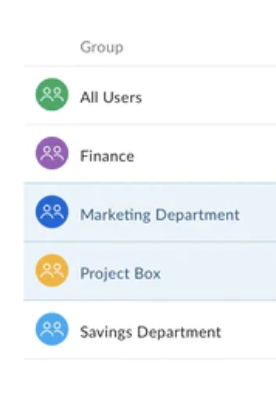 ---
Easy to use, easy to integrate
Box is a straightforward platform that requires minimal setup. You won't need specialized training to upload your content and edit your documents.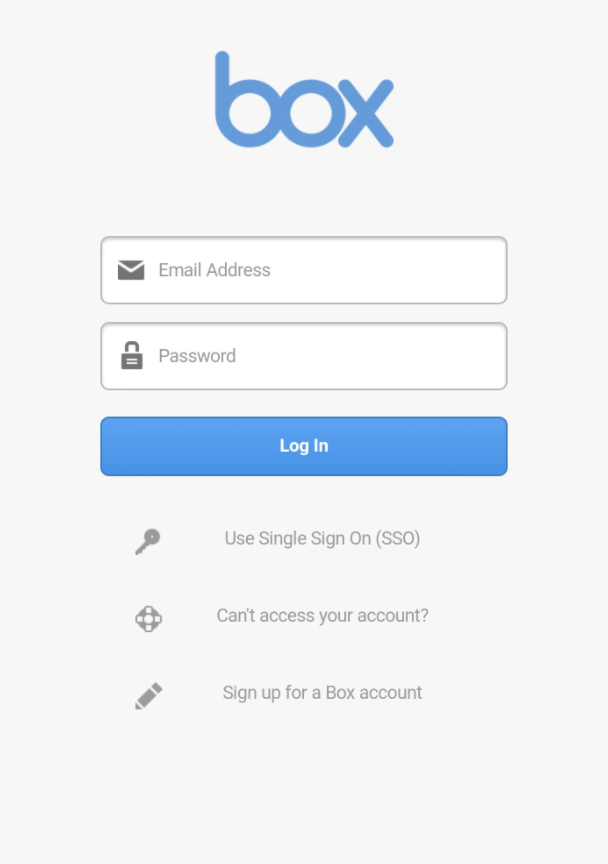 Plus, Box is available for you on the go, thanks to its mobile app. From sharing files to editing, and pretty much all of its primary functions are available on mobile.
---
Frequently Asked Questions for Box
Box offers one of the more affordable plans on the market. In addition to the long-term (but limited) free option, the first tier is only $5/month per user, with the most expensive option being $35/month per user.
Box is very safe. Not only does it encrypt data via SSL, but you can opt in for two-factor authentication as well as enhanced link security.
Do you have to have a minimum number of users?
For paid Box accounts, you will need at least three users. Depending on which plan you choose, there can be maximums. For example, the Starter tier maxes out at 10 people.