Having a solid portfolio to showcase your past work, achievements, and talents is the best way to take your freelancing career to the next level.
If you're starting out, it can take a while to build up an impressive portfolio. That's okay — we all need to start somewhere. Keep in mind that prospective clients usually request between 3-5 clips so once you've got a few under your belt, you're ready to market your skills as a freelancer.
And if your business has been negatively affected due to Covid-19, here are some tips to help boost freelancers, such as improving your technology and contacting past clients.
---
The importance of having a portfolio as a freelancer
Sadly, it's not enough to shout from the rooftops, I'm so talented! (We know it's true, but still...)
You need to have an online resource where potential clients can easily scan your accomplishments and completed jobs, feeling confident their business is in good hands.
| Team setup | Pre-COVID | Post-COVID |
| --- | --- | --- |
| No remote workers on their team | 46% | 6% |
| Fully remote team | 2.3% | 20% |
| Share of their workers are remote | 13.2% | 56-74% |
Seriously, now is the best time to advance your freelancing career. Look at the chart above — more workers are switching to remote work. The leading freelancer site, Upwork, recently stated, "Remote work has risen rapidly as a result of the pandemic, with more than half of the American workforce currently working from home."
This presents endless opportunities for virtual work, perfect for a freelancer like you. All you need is that amazing portfolio.
---
How to build a portfolio
Let's face it, it's a cutthroat world out there. When designing your portfolio, think about what will make you stand out from the competition.
Ask yourself these questions:
What are my potential clients looking for?
What are my key talents?
How do I convince people to hire me?
Display clips that best represent your skillset. Above all else, you want to spell out why you're the best. For example, this statement is bound to draw attention: Innovative designs delivered with precision and speed, all at an affordable cost. Yes!
Feeling overwhelmed? Take a deep breath. We've got some easy-to-follow tips to guide you along the way. It's time to land those jobs.
Tip No. 1: Develop a niche
Present yourself as an expert in your field. That way, potential clients can trust you're the perfect person to meet their specific needs.
Follow these steps to make sure your skillset is clearly defined:
Define your niche: If you're a photographer who specializes in weddings, then make that the main theme of your website.
Create separate sections: If you're a writer who offers a range of services, consider breaking your website up into categories, such as blog writing, professional research, creative writing, and so on.
Brand yourself: The more you can associate a certain topic with your name, the better. For example, freelance writer

Jennifer Goforth Gregory

has developed a successful business by creating a logo, a catchy name — The Content Marketing Writer — and sharing informative blog articles for other writers. We suggest reading her tips on

how to find your niche

.
Tip No. 2: Create a letter of introduction
Use the letter of introduction (LOI) to contact potential clients or apply for freelance jobs. It's the most important component of your portfolio since it'll list your highlights and most popular clips.
Tweak your LOI for each client, but it's good to have a solid template in place so you don't have to start from scratch every time. Remember, less is usually better. Here's how to write an LOI that's super effective. Always include your top 3-5 clips with each LOI, tailoring them to the individual.
Tip No. 3: Network and connect
Even though freelancing means working solo, you should never isolate yourself in a complete bubble. Connect with other freelancers through social media or by attending conferences. Don't worry, mingling with the competition won't create more competition — the opposite is more likely to happen.
For example, let's say you connect with another freelancer who's receiving inquiries related to your field. She passes them on to you, and you do the same when you stumble across jobs in her niche. It's a win-win situation.
This ultimately means joining all the social media platforms. That's right — all of them! Learn to tweak your hashtags for maximum effect, forming authentic relationships with other freelancers and potential clients. Think of it as a fluid portfolio, one that happens in real time.
Who knows, one simple connection may lead to your dream job.
Tip No. 4: Update your website
Your best sample might be from ten years ago. It's okay to include it in your portfolio but you need to focus on your most recent accomplishments. Potential clients want to see what's new, what's trending, and what's successful today.
Don't have a website yet? We'll discuss hosting options later. For now, here are a few tips to make your website shine:
Hire a web designer: If your website looks cluttered, boring, or downright unprofessional, it's time to hire a proper designer. Trust us, sometimes you need to spend money to make money.
Include big names: Let's say you've done designs for Apple, Microsoft, or some other big name out there. Definitely include these details or logos on your front page. It's not showing off — it's simply stating you're dependable, hardworking, and legit.
Use testimonials: Past clients can help you land new jobs. Just ask them to write up a little review, slap them on your website, and now you're a 5-star freelancer.
Above all else, make sure your website is clear, informative, and fun. Use a mix of colors, pictures, even videos — anything that makes it pop. Have colleagues review it regularly to make sure it's up to industry standards.
---
Specific tips for…
If you're feeling stuck on how to create a sensational portfolio, explore what others are doing in your field. Let's take a look at some great examples.
Writer portfolios
You'll find many fields to explore when it comes to freelance writing. You can specialize in blogs, white papers, scholarly articles, product reviews, and more.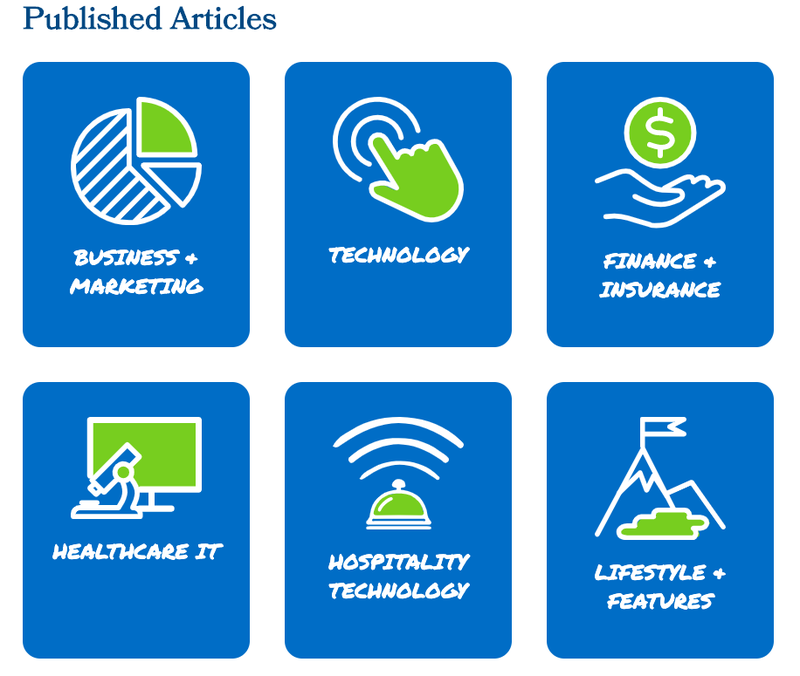 One successful example is by the freelance writer guru, Jennifer Goforth Gregory. Not only does she have a fantastic portfolio, she also has a popular blog where she regularly shares insight on how to build a successful freelancing career.
As you can see in the image above, Gregory has laid out her published samples into easy-to-find categories. Within each category, she lists dozens of clips that showcase the variety of her expertise, as well as the associated company.
Another superb writer's portfolio is by Hank Herman, author, writing instructor, blogger, and speaker. His website's main page gives a quick overview of his many talents. The image below shows how he includes a short blurb for each specialization. His portfolio page uses thumbnail images to highlight past accomplishments, making it easy to assess whether he's talented or not (quick answer: he is).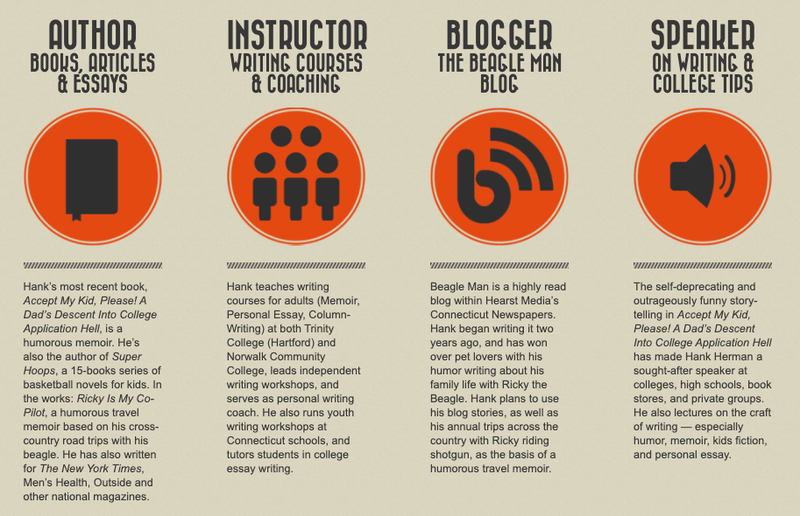 Designer portfolios
When it comes to illustrations, art, and graphic design work, it's best to have one page with lots of bright, eye-catching samples. Alternatively, you can divide your portfolio into categories, such as illustrations, logos, brochures, books, and so on.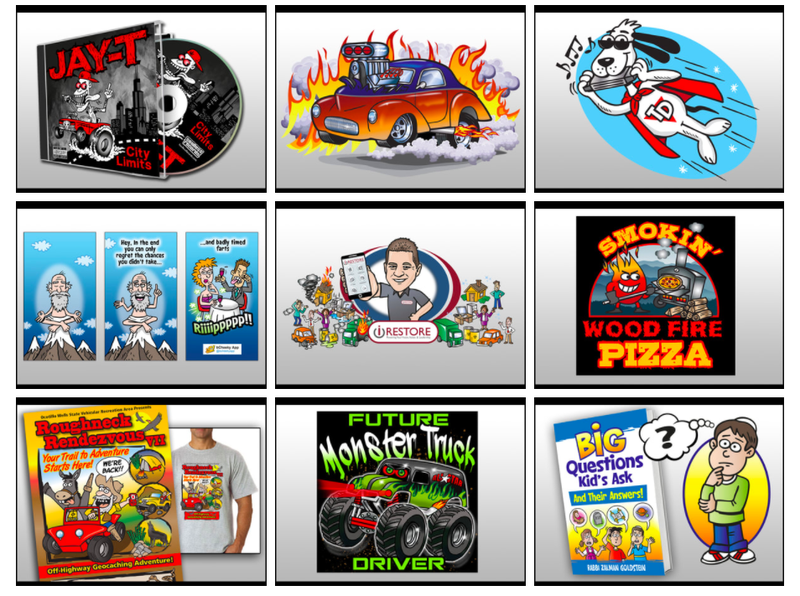 My career path as a freelance writer was inspired by my dad, Rick Menard. He's been a graphic designer, illustrator, and cartoonist my entire life. His portfolio includes a wide array of vivid cartoons, polished logos, t-shirt designs, CD covers, book illustrations, and more, as you can see in the image above.
Another fabulous example is illustrator and artist Merijn Hoss. Selected samples are portrayed as colorful thumbnail images against a simple white background. With a quick click, each image expands to a larger size, along with a detailed description. This is a fine example of how a simplistic, subtle approach is still very effective.
Photographer portfolios
The world of photography is forever expanding. Usually it's best to have a specialty, such as wedding photographer, family photographer, and such.
However, if you're an all-around amazing photographer, market yourself that way. We suggest including a separate page for each of your specialties. That way, if someone is looking for a newborn photographer, they'll be taken directly to a page with adorable, squishy babies.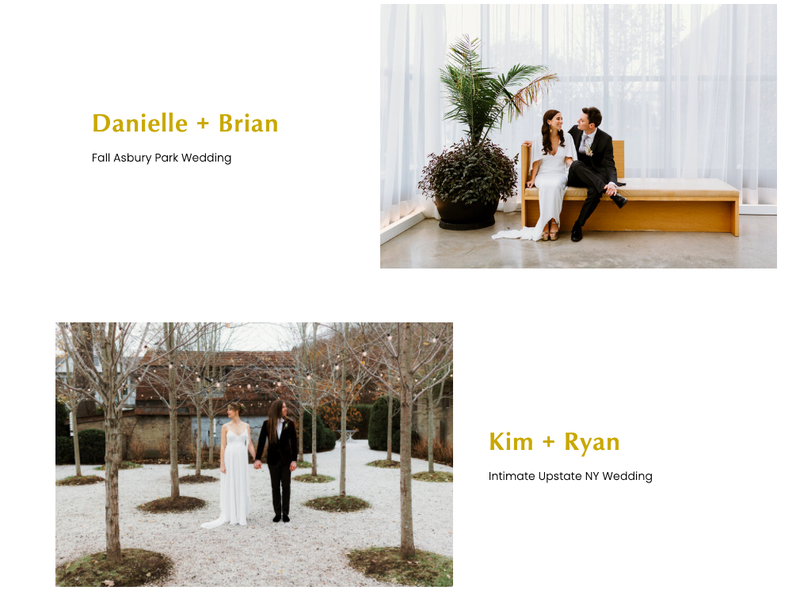 it's hard to determine how much to display in your portfolio's main gallery. We like the above example from Wild We Wander. Each couple's wedding is displayed with a single photo against a plain white background. This makes each image really pop. If someone is intrigued by a particular style, they can click on any image and view the full album.
Claudia Bravener Photography shows another fine example. Here you have a photo slideshow with the following options: families and friends, love and marriage, and maternity and babies.
---
If you don't have experience yet, what do you put in your portfolio?
Building a portfolio is tricky when you're starting out. You need clips to land new jobs, but you can't get clips until you land a job. Talk about a total catch-22 situation!
The good news is you have several ways to quickly land gigs — usually through freelancing platforms such as Upwork. The not-so-good news is that these "fast and easy jobs" don't always pay the greatest. In fact, sometimes the pay is downright awful. Sometimes you'll even need to work for free.
But hey, you gotta do what you gotta do to get the ball rolling. Read more on how to land your first freelancing gig.
And don't forget, you only need a few good clips to push your career onward and upward. So, roll up those sleeves and get to work. You totally got this.
---
Host your portfolio on the web with one of these platforms
Once you've gathered enough solid clips and have a vision for your portfolio, go ahead and start exploring website options. Here's a quick tutorial on how to create an artist website to showcase your work. Don't rely solely on social media or LinkedIn alone to promote your freelance business.
If you can't afford a web designer, check out our top five website builders for portfolios, such as Wix and Squarespace. These platforms are easy to navigate, allowing for a simple DIY approach to website building.
Now that your site is live with current clips, it's time to aim high. You've got all you need to prove that you're a hard-working, dedicated, one-of-a-kind freelancer. Go forth and land those jobs.