When you're a construction firm juggling multiple projects at once, those spreadsheets you've relied on in the past to run everything start becoming a major headache.
At this point, you're going to need construction management software, and if you've done any research whatsoever, you've probably heard of Buildertrend. The Nebraska-based developer has made a name for itself as one of the top options for construction managers.
But that doesn't mean they're right for you. In this review, we'll break down exactly why Buildertrend is so popular, what the downsides are, and how to know whether you should give it a whirl or look elsewhere.
---
Who is Buildertrend for?
Buildertrend software is for construction managers and contractors who want to feel in control of multiple jobs at once.
It boasts a well-organized dashboard and powerful team management features, as well as excellent customer support and strong reporting functions to help you analyze the performance of your business.
You also get a sales module to manage that all-important aspect of the construction business, and a way to set your project schedule within the platform. While the Buildertrend pricing structure may leave small firms in the cold, it may end up saving money for larger teams.
---
Buildertrend's features
Buildertrend declined to provide us with a free trial, and instead provided us with a demo video to showcase the software's features. Unfortunately, that makes it tough to identify any wonky functionality or other issues. However, four construction project management features in particular stood out.
Jobs menu
I was impressed with the jobs menu, which gives you a feeling of control over your day-to-day activities. All your jobs are listed to the left, and you click on them to bring them up, see their statuses, and dive into more details such as invoicing and logs.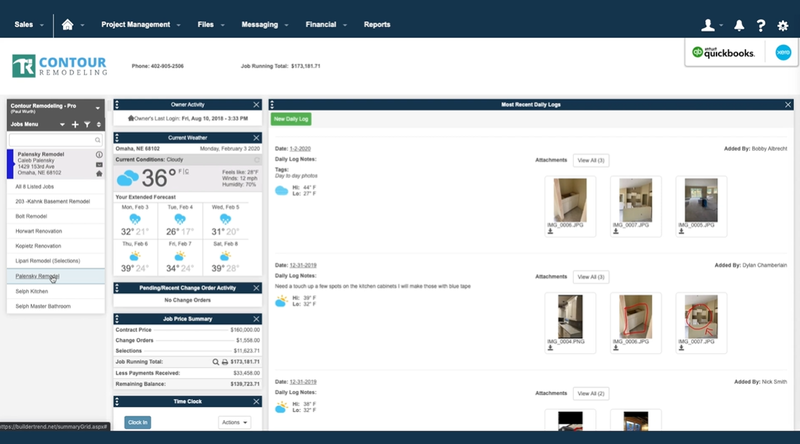 Sales
Buildertrend understands that a big part of construction is sales, and they have many elements you would expect to see in a CRM software solution, such as leads and opportunities.
You'll be able to generate proposals with minimal effort. The sales portion of the software doesn't dominate the dashboard, but it's easy to find when you need it.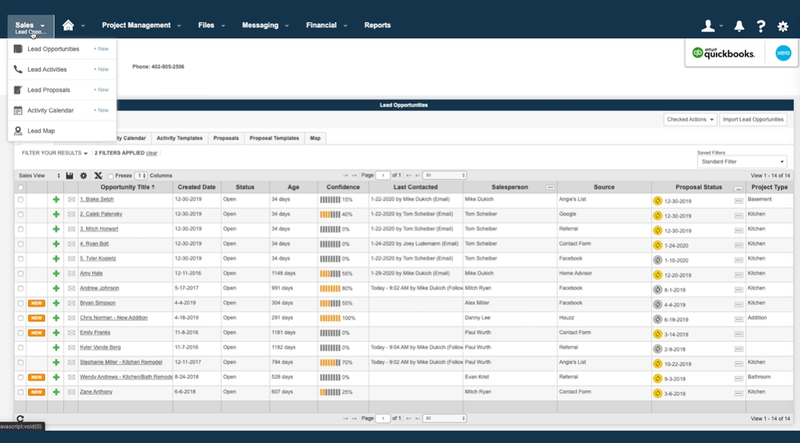 Messaging
Buildertrend has two ways to send messages. One is a "messages" feature that resembles email, and then "comments" which is more like instant messaging. The software also logs these messages and attaches them to the right jobs so you have a record. You can also request information via the "RFIs" feature.
Owner view
The "owner view" allows your client to visit your website, log in, and see a limited view of your job through the software. This allows you to share photos from the job or change orders. They'll be able to sign for changes and see what decisions are being made so everyone's on the same page.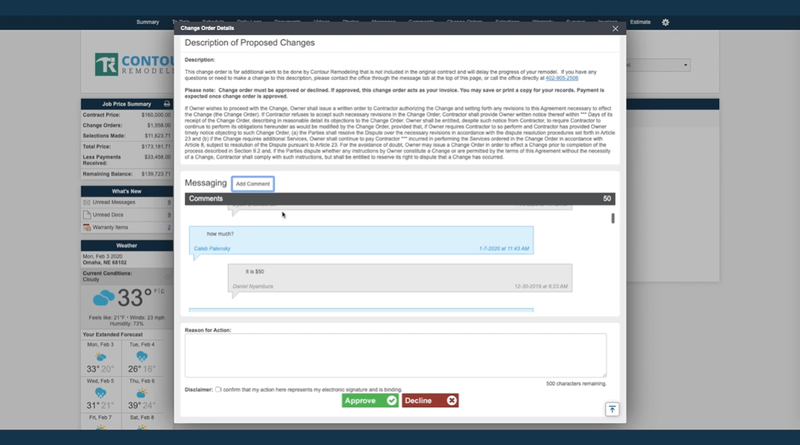 ---
Buildertrend's ease of use
Overall, Buildertrend is professional and easy to use construction management software that will get you hooked quickly.
My first impression of the dashboard is that it's busy, but nicely customized to the individual company. There's also a handy menu at the top that makes it easy to navigate to the most important parts of the software: Sales, Project Management, Files, Messaging, Financial, and Reports.
A window on the far left displays current jobs. You can click on each job to expand it and see more details. The largest window is to the right, and it shows the most recent daily construction logs so you're kept up to date on what's happening on job sites.
And to the center left, between both of these windows, you find other windows that show things like weather, order activity, job price summary, time clock, and anything else you want — it's all customizable.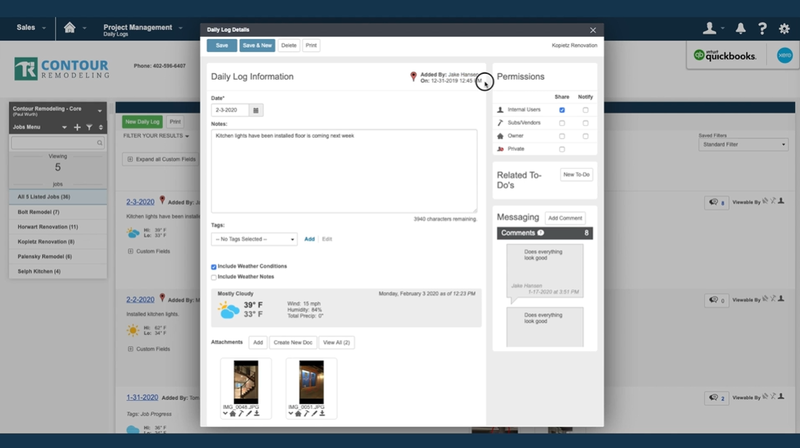 The financials can be the trickiest part of construction management, but Buildertrend lays it out in a way that's not overwhelming, separating bids, estimates, payments, budget, invoices, and payment reports so you can easily navigate between them.
And you can dial into report insights with a few clicks of a button, breaking down logs per job, sales leads, estimated cost vs. actual cost, and a host of other reporting options. You will not lack for analytics with this software.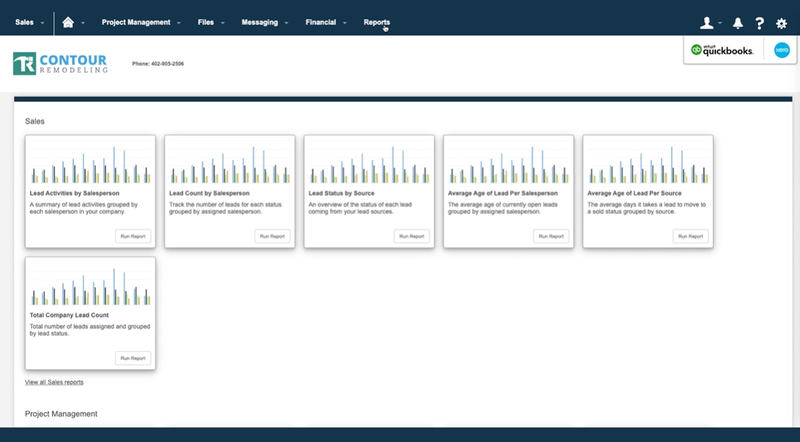 ---
Buildertrend's pricing
Getting a free trial isn't as straightforward with Buildertrend as with other software options. You will not be able to simply enter your info and get a login. Instead, you will have to pay up front with the guarantee that you'll be refunded if you decide the software isn't right for you within 30 days.
The cheapest option is Core, which starts at $99/month for the first three months, and then increases to the standard $299/month after that.
The salesperson I spoke to in the spring of 2020 said that the introductory price was recently put in place due to the businesses challenges many construction companies are facing due to the pandemic, so it's possible those introductory prices are temporary.
If you want more advanced features such as time clock, lead management, owner invoices, estimating, and more, the Pro version will cost you $299/month (increasing to $499 after three months).
Premium, the highest tier they offer, includes more features such as custom branding and QuickBook integration. That pricing is done on a case-by-case basis.
That may seem pricey, but keep in mind it includes unlimited users and unlimited jobs — a software option that charges per user can quickly outstrip that price tag once you get past 10-20 users.
As a result, this may turn out to be a cost-effective solution for large enterprises, although small contractors may balk at the price tag if they only need one or two users.
Also, Buildertrend's pricing is month to month, so there's less commitment — many other software developers try to lock in customers on an annual basis, although they often offer discounts for annual signups.
---
Buildertrend's support
Their website has a Contact Us link at the bottom of the home page that leads to a form you can fill out with your technical support issue. You'll find a phone number listed at the bottom. I called it and got through to someone after a brief hold.
The salesperson I spoke to said they assign a coach to each customer, who helps with onboarding and any technical issues. That's certainly a big plus for this software, as many other options out there either don't offer support at all, charge extra for it, or just provide general tech support through a call center.
---
Benefits of Buildertrend
Buildertrend is expensive, but you get a lot for your money. The software is intuitive and well designed. You'll feel in control while running multiple jobs at once, and there's lots of automation and reporting to help improve your efficiency.
And because of its flat monthly rate, it's a cost-effective solution if you have a large number of users compared to many other software options that charge per user. Also, the one-on-one coaching and support is a big plus.
You won't find many third-party integrations beyond Quickbooks, but that might be just fine for many contractors who just want an all-encompassing tool to manage their day-to-day operations.
The Buildertrend mobile app allows your crew to clock in and out directly from the job site. The Buildertrend app also provides tools to document the project and keep track of things while on the go.
If you can handle the price tag, this is a solid software option that would help most construction managers run their businesses better.
---
Experiment with Buildertrend first before committing
The big question with Buildertrend is: Do you need the nice extras such as one-on-one coaching and in-depth reporting tools, to name a couple. Before you commit, you'd be wise to take them up on their 30-day guarantee and experiment with the platform for a few weeks.
You may find a cheaper solution is the better choice if you need a relatively simple platform and don't have that many users, for example.
Try Buildertrend for a few weeks while also experimenting with alternatives that charge by the user or offer fewer features. The Blueprint is regularly publishing construction management software reviews to help you identify alternatives to more expensive solutions such as Buildertrend.
Try out construction estimator software as well. While construction management software provides you with total control over all aspects of your firm, you may only need estimating software — particularly if you're a small firm that only does simple jobs.
---
Frequently Asked Questions for Buildertrend
Is Buildertrend easy to use?
Buildertrend has a well-designed, simple and intuitive dashboard that puts you in control of your jobs. It's also customizable, so you can play with it until it suits your needs. And you can always drill down into more detailed features without losing track of where you are.
Does Buildertrend offer support?
Buildertrend offers one-on-one coaching and support for no extra charge, which puts it at the top of the pack when it comes to support. Most other software options don't offer support, charge extra for it, or provide more general tech support through a call center. This is a big plus with Buildertrend.
Is Buildertrend expensive?
Because they charge a monthly flat rate, the answer is, it depends. If you are a small contractor with only one or two users, it's going to be tough to justify the software's high monthly price tag. But if you're a larger firm with a dozen or more users, you may find that it is actually cheaper than software options that charge by the user.

Buildertrend is intuitive and powerful software that helps construction managers handle multiple jobs with ease.
Buildertrend is intuitive and powerful software that helps construction managers handle multiple jobs with ease.
---
How Buildertrend Compares
The Motley Fool has a Disclosure Policy. The Author and/or The Motley Fool may have an interest in companies mentioned.