One of the main features of Built for Teams is its org chart functionality. When I first read about this software, I wondered which small businesses would have the budget for a tool dedicated to managing their organizational structure.
However, when I started delving further into what it can do, I discovered Built for Teams is much more than that.
Built for Teams is workforce management, including absence and time management, and applicant tracking all rolled into one solution. But does it offer enough value for your business?
---
Who is Built for Teams for?
Built for Teams is designed to help HR professionals working in small businesses automate manual processes and better manage their workforces. It can also be used by recruiters and hiring managers who want to move from spreadsheets into an online applicant tracking system (ATS).
---
Built for Teams' features
Built for Teams brings together application tracking, workforce planning, and absence management. It's a somewhat unusual combination of features, especially given the heavy emphasis it places on its org chart functionality, but it still provides a lot of useful tools for small businesses.
Org charts
While other HR software such as Workday makes org charts a minor feature of their workforce planning and management capabilities, Built for Teams puts a heavy emphasis on its organizational structure functionality.
When you import your list of employees into Built for Teams, the software automatically builds your org chart. Or you can choose to add positions manually and mark them filled or open.
You can also drag and drop people to a new position or under a new manager if they have taken on a different role, or add a dotted line relationship if they have responsibilities that fall under different departments.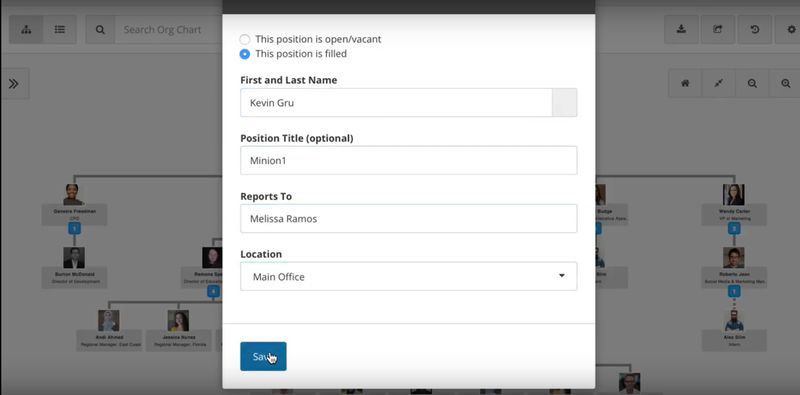 While Built for Teams calls this feature org charts, it's just a different way of viewing and organizing your human resource planning activities.
For example, you can add and view data on employees, including employee status, job title, department, contact information, location, schedule, and any other custom fields you want to include.
This is a searchable and filterable database, so, for example, if you want to check how many employees have been terminated from your company, you can add a filter to only show the terminated employees.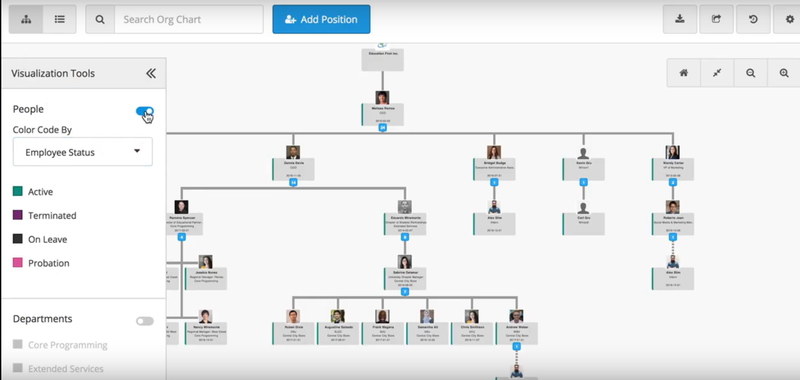 Org charts help when you're building a staffing plan, as you can add open positions that you need to hire for to meet the future needs of your company.
Built for Teams provides an overview of the positions recruiters need to hire for, which links your workforce management with your hiring process.
It also lets you see this information in a spreadsheet view and then sort it by the different fields, such as hire dates and department, before creating people analytics reports and exporting or sharing from the software.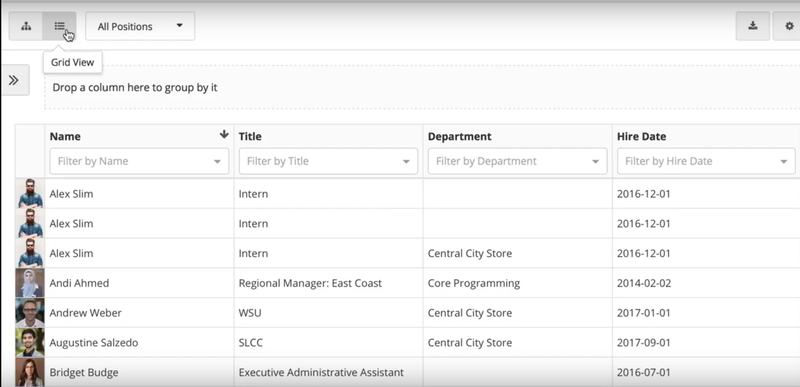 Applicant tracking
When you've added your open job roles to the org chart, you can start to recruit for those positions, as well as keep track of the talent acquisition process, while sharing progress with management and other departments.
Built for Teams doesn't have the same breadth of features as a dedicated ATS, such as Workable and Breezy HR. For example, it doesn't let you create a career portal to help with recruitment marketing, and there is no employee referral management functionality.
Its onboarding functionality is also very basic. It does, however, have a ton of useful features that are suitable if you don't need all the bells and whistles of a standalone ATS.
Built for Teams lets you:
Create job ads
Collaborate and communicate with other members of the hiring team
Customize your hiring workflow
Vote on whether to advance applicants to the next stage of the pipeline
Access hiring analytics, such as number of days since the job was posted, applicant sources, and total number of applications
Absence and leave management
Being able to manage a diverse range of workers, whether they are part time, full time, fixed period contract, or freelance employees, is important if you want to run a modern workplace.
Not all HR software provides this flexibility, but Built for Teams allows you to create an unlimited number of policies for time off, whether it's for sick days, vacation, life admin, or any other type of PTO.
When an employee requests time off — which they can do via both a web browser and the mobile app — the manager receives an email with an approval link and extra details such as who else is taking time off at the same time.
The manager can approve or deny requests directly from the email or from within the company calendar. Built for Teams has one of the most useful self-service employee portals on the market when it comes to managing time off.
Employees also have access to a ton of details about their time off, such as how much has carried over from the previous year, number of days earned, and number of remaining days. This means employees don't have to bug HR to find out the status of requests.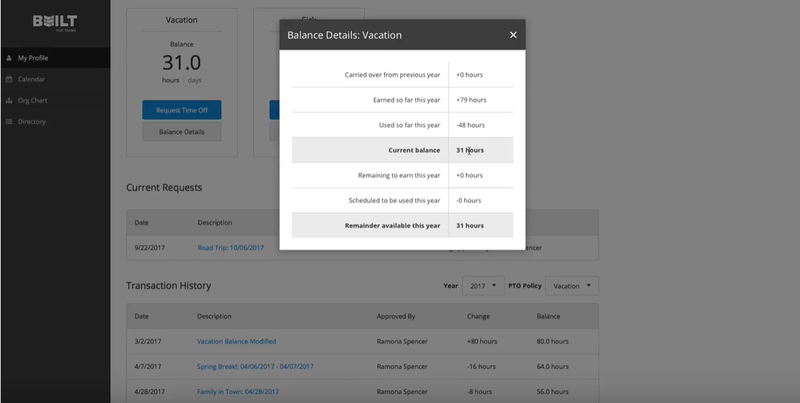 The integration with Slack is really useful. Your workers can request time off from within Slack rather than having to access the Built for Teams login. You can also see who has checked in and checked out by location, department, and team.
This check-in functionality is also available from within the app, where employees can automatically check in or manually add their hours worked. They can request time off from their timesheets. This then shows up on the calendar, which provides an overview of who is in and out by day and month.
By measuring HR metrics, such as actual hours worked versus forecasted hours, you can start to build a more detailed and accurate workforce analytics process.
Built for Teams doesn't include any other shift management functionality, such as the ability to plan upcoming shifts and optimize the number of staff assigned to each shift.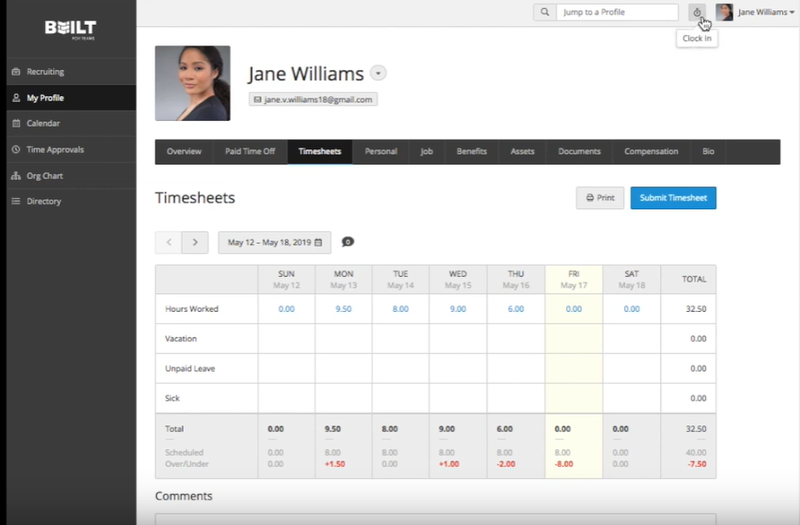 ---
Built for Teams' ease of use
You can tell Built for Teams was only set up in 2014, as it has a modern and intuitive user interface. Its design is more like Zenefits and Bamboo HR rather than traditional HR solutions such as SAP and Oracle.
And by that, I mean neither managers nor employees need lengthy training sessions or a detailed manual to know how to work the solution.
Built for Teams has simple and straightforward workflows and has both a main navigation plus a sub-navigation within each navigation that helps you easily make your way around the different options.
It also has very visible buttons that direct you toward the main tasks you need to carry out at any given time. This is particularly apparent in the employee portal where all your information is included in one place.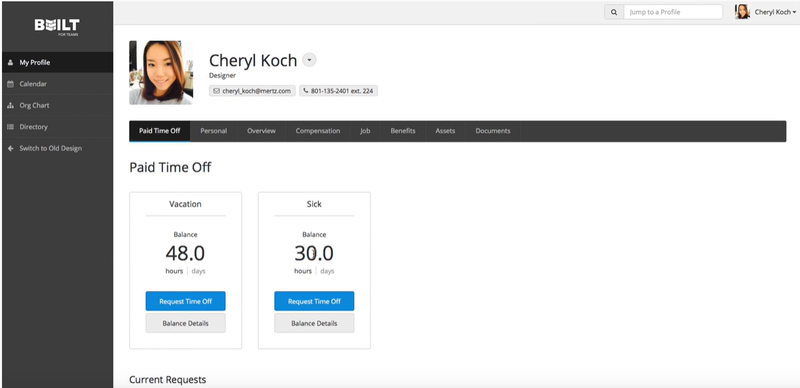 ---
Built for Teams' pricing
Built for Teams pricing is not publicly available, as it says that it offers custom pricing depending on the needs of your business. These prices vary according to:
The modules or features you need
The size of your organization
Your non-profit status
Special promotions
You have to contact their sales team and they will put together a quote for your business.
---
Built for Teams' support
In today's self-service world, people often want to find an answer to their issues themselves. That's why having a live chat help option is a key differentiator when it comes to support.
While other categories of software, such as email marketing, commonly have live chat support, HR software doesn't often offer this feature.
Built for Teams has a chatbot that lets you pose a question at any time and then asks for more details so it can direct you to the correct human to answer your question. It doesn't provide 24/7 support but it does let you know when you can expect to connect with a member of the team.
While Built for Teams also has a help center, the articles are quite basic and normally just provide text support, rather than screenshots or videos. You also get access to email support.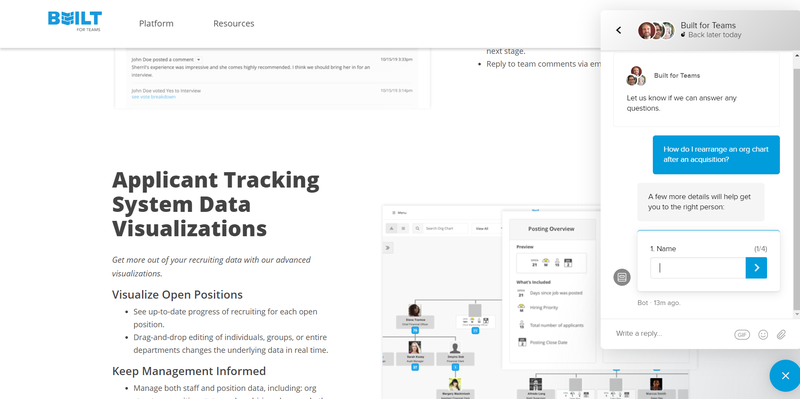 ---
Benefits of Built for Teams
Built for Teams automates workflow management processes, such as managing PTO policies, requesting and approving time off, analyzing hours worked, and getting an overview of your staffing levels. It also provides basic recruiting functionality, and helps you manage the structure of your organization.
---
Built to manage some — but not all — HR processes
Built for Teams is a mixture of applicant tracking and workforce management. It sits somewhere between an all-in-one HR solution and a dedicated workforce management tool. This makes it more difficult to pinpoint exactly where to position it in the market.
There are some missing workforce management features, such as shift management, and its recruiting functionality is basic. That said, what it does, it does well. It's super quick to get up to speed with all the different features, and it also offers great customer support.
---
Frequently Asked Questions
Is Built for Teams a performance management solution?
No, Built for Teams does not include any performance management functionality. Instead, it focuses on applicant tracking and workforce management.
How much does Built for Teams cost?
Built for Teams does not make its pricing public; you have to contact the sales team for a custom quote. The cost depends on modules or features, your company size, non-profit status, and any special promotions the company is running.
Is Built for Teams associated with Microsoft Teams?
No, Built for Teams is a completely separate product that is aimed at better managing your HR and workforce processes and has no association with Microsoft or its Teams collaboration solution.

Is Built for Teams built to help your company better manage its HR processes? Find out with a free trial or demo.
Is Built for Teams built to help your company better manage its HR processes? Find out with a free trial or demo.
---
How Built for Teams Compares