You always need to think a step ahead when it comes to your staffing needs. All it takes is for one pivotal member of the team to leave, or even be promoted, to throw the best-laid plans into chaos.
Ideally, you want turnover rates to remain low, but change happens, and you need to be ready for it.
You need a plan in place for when your staffing doesn't go to plan, or as expected, and this plan needs to be strategic or you'll experience downtime, a loss in productivity, staff burnout, and an expensive scramble to hire new employees.
That's why strategic business succession planning is so important.
---
Overview: What is business succession planning?
Small business succession planning involves identifying talented employees who can fill more responsible positions whenever those in management leave, move to another role, or get promoted. It's an important HR best practice.
You don't need a plan just for the C-suite; this should extend across the entire organization. It should include contingencies in case you don't have someone available to fill the gap or you have several managers or key employees leave at the same time and don't have the resources to transition employees into those roles.
---
3 benefits of having a business succession plan
Even the most successful businesses can face difficulties if they don't have succession planning strategies in place to fill key roles promptly. Here are the benefits succession management will bring your business.
1. Ensure business uptime
Customers don't care about your staffing issues. They aren't going to be sympathetic if their orders are late, if their inquiries aren't answered, or your website crashes just because you haven't got a plan in place for key members of staff leaving or moving to another role.
If you want to keep your customers happy, ensure you get good reviews, and keep on an even keel when it comes to revenue, then you need a business succession plan.
2. Reduce recruitment costs
Trying to urgently hire a new employee to cover a recent vacancy is costly. Not only do you have to divert resources from other open positions, but you also risk hiring someone who is not right for your business and might leave soon after being hired.
The alternative is to hire a temporary employee or freelancer. While freelancers are useful in many cases, you need to take time to find one who has the necessary skills. Hiring the first one you find is a risky strategy.
If you have a business succession plan in place, then you have more of an idea of when you'll need to recruit someone new and can prepare accordingly.
3. Keep employees happy
Who is going to do the work of the person who has just left or moved to another role? In some cases, you can put off less important projects until you find someone new. In other cases, the work still needs to be done to keep customers happy and your business operating as normal.
This often means asking employees to take on this work in addition to their existing workload. This might result in disgruntled employees, or even lead to burnout.
When you have a business succession plan, you can ensure there is someone on hand to take on any additional responsibilities when needed.
---
How to craft a small business succession plan
We've created a step-by-step guide to help you create a succession plan that will ensure you easily fill leadership roles as they become vacant.
1. Assess your staffing needs
Is your company going to be shifting its focus, introducing a new product or service, or going through a significant period of growth or organizational change? As a first step toward putting together a plan for succession, you need to have a staffing plan in place that identifies potential future gaps.
Also, make sure that you look at your employee satisfaction rates, as this is a good indicator of whether anyone is likely to leave in the near future.
Make sure you're holding regular performance management meetings or informal updates so you can catch any gripes before they become major issues, and so you have a better idea of whether anyone is dissatisfied with their role or the company.
HR software can help you keep an eye on employee engagement and satisfaction levels.
Zenefits provides a template to help you gauge employee satisfaction. This template includes a rating scale to get a more accurate picture of satisfaction, as well as questions and answers tailored to different types of surveys, such as learning and development.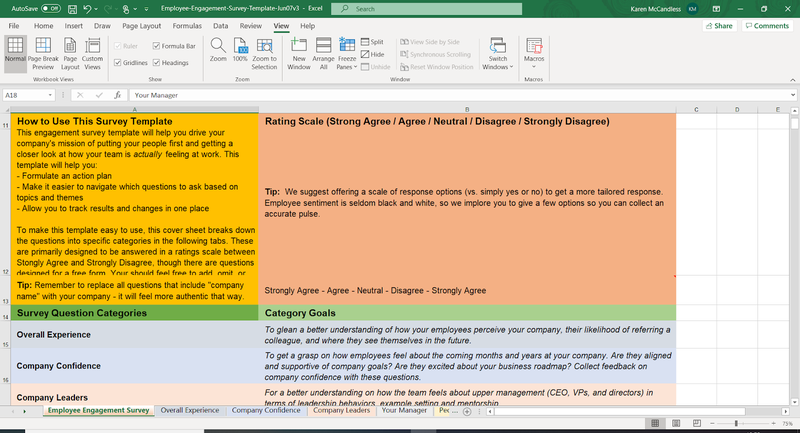 2. Identify potential candidates
Once you know which positions you'll likely need to fill, you need to identify the best people to step into these roles. Start by talking to your employees about their career goals. You need to find out if they'd be interested in the role first.
The potential candidates don't have to come from within the same department or be the most senior within the team. Think about the skills you need and the type of person who would thrive in the role and then evaluate who would be the best fit.
People management is about more than following procedures and meeting goals. The right person needs to understand how to be a leader who inspires and motivates their team to achieve great things.
BambooHR's employee performance reports can identify high-performing employees by visualizing and comparing performance and engagement individually, by department, and across the entire company.
These reports have the added value of finding out who feels undervalued, who is not engaged, and who is underperforming or excelling.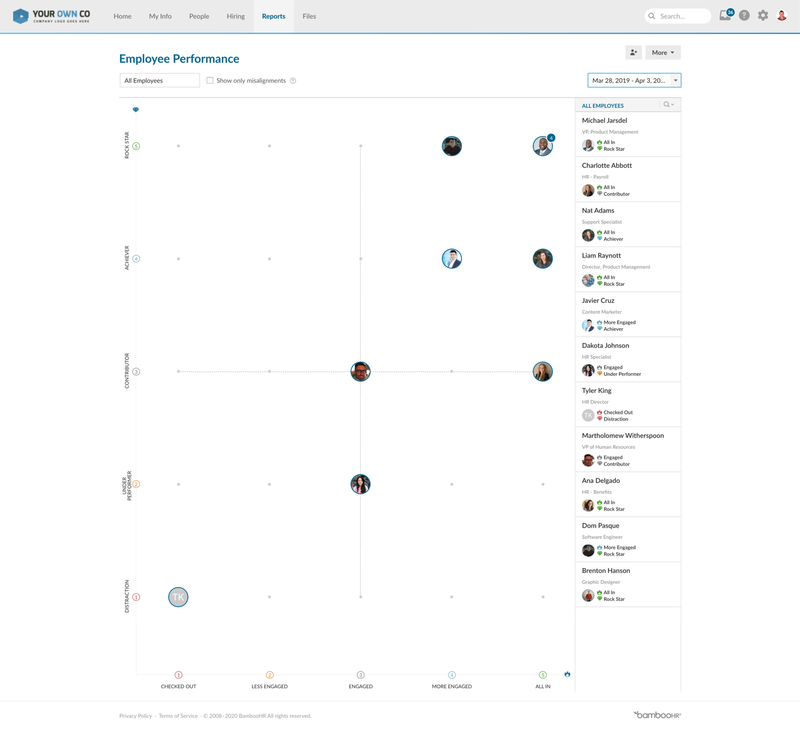 3. Provide learning and development opportunities
It's unlikely these candidates will be ready to immediately jump into a leadership role if one becomes vacant; you need to provide the training to give them the best chance of success.
Create a structured program that follows a timeline and ensures that they can learn the necessary skills.
Add this training to their personal goals and track how they are progressing with the training. They can shadow the person currently doing the role so they understand what is involved and find out which areas of the job or business they need to learn more about.
---
Choosing software that can help
If you're just starting on the road to succession planning, it can be tempting to look for a platform designed specifically for that purpose. But often your existing HR software can act as a succession planning tool, which saves you the time and effort of searching for a new solution.
This is the time to make the best use of your HR solution's performance management and employee engagement functionality, as well as any succession planning templates they offer, to ensure you have a robust process in place.