Ever had the experience of seeing a great software demo, but after purchasing it, you wondered what you were thinking? Buyer's remorse: Everybody's had it, and nobody wants it again. You can't afford it when you buy software online or off the shelf for your small business.
Here are the 6 steps you should follow to find the right software:
Conduct a needs assessment
Get stakeholder buy-in
Research potential solutions
Demo the software
Calculate the cost
Implement the software
Measure performance
---
Step 1: Conduct a needs assessment
Most regrettable software purchases are the result of making a decision without having all the facts. Instead of relying on an uninformed decision, conduct a needs assessment before you buy software and increase your business expenses.
A needs assessment gathers two kinds of data:
Quantitative: Measurable data that includes the time required to complete a process, number of process steps, process cost, quality of process results, number of errors, and amount of downtime
Qualitative: Subjective data that includes information from stakeholders who are part of the process — what they like, dislike, and think could be improved — and those using the end product

For example, perhaps your current customer service process is to check a support email account once or twice a day to check for any new messages requiring responses. This might be adequate while you're a one-person shop, but problems will arise when the number of employees and customers increases.
A needs assessment also helps identify key performance indicators (KPIs):
Current average response time versus your target time and/or your industry's standard
Current customer satisfaction (CSAT) score versus target and industry
Number of customer requests resolved per day versus target and industry
You might decide to buy customer service software to increase the quality of your support. This software can be expensive, so be thoughtful throughout the entire software purchasing process.
---
Step 2: Get stakeholder buy-in
Stakeholder buy-in is essential even if you have the power to make unilateral choices to purchase software. No man or business is an island, and your software decisions affect multiple people:
Frontline employees using the software
Managers monitoring employee and process performance
Information technology (IT) team responsible for installation and maintenance
Business team approving purchase and ongoing costs
Customers using software
A needs assessment achieves stakeholder buy-in in two ways: Solicit feedback from them during the needs assessment and provide them with its results. They'll know their input was part of the information gathering process, and they can see the rationale for making a software purchase.
If you want to purchase customer service software as in our hypothetical example above, ongoing communications with stakeholders is critical. If not, even the best software will face an uphill implementation and use battle if it's imposed upon people who had little or no input.
---
Step 3: Research potential solutions
Once your needs assessment is complete and you have stakeholder buy-in, research potential software solutions. Use an exclusion process to narrow the options down to your prime candidates based on questions specific to your needs:
What features does it include?
What customer support is provided?
How much data storage is included?
Is it scalable?
Is it web-based, server-based, or a desktop application?
Does it have mobile apps?
Does it integrate with your existing software?
What types of security does it use?
How long will it take to deploy?
Your decision may also hinge on how much functionality you can afford. Spiceworks help desk software is free for all users and companies of any size, but it has limited features and support options.
LiveChat customer support software has an expansive features set, which can be scaled up as your needs evolve, but you'll pay hundreds or thousands of dollars a year to use it.
---
Step 4: Demo the software
You're ready for a deep dive into one or two prime software candidates after excluding the options that aren't a good fit. A multi-prong approach will help you avoid buyer's remorse:
Live demo: Schedule a live demonstration of the software with a company representative. Dealing with sales reps is a mixed bag because you might endure a hard-sell session, but you have the chance to ask questions.
Trial period: Most software offers a trial period of at least a few weeks. Assemble a cross-functional team to test all available features, settings, and options, and report their findings.
Vendor research: Reputations are earned, not given, so research the public perception of potential vendors. A red flag or two doesn't mean you must look elsewhere for software, but you will want to follow up with them for an explanation about any patterns of troubling behavior.
Peer input: Ask your industry contacts for their thoughts on software and vendors. Shopify is a popular retail point of sale (POS) system, but if you're starting a restaurant, existing restaurateurs would likely recommend either Toast or Clover because they are designed for the food service industry.
Use a scoring system to rate your final candidates based on qualitative and quantitative data. Every purchasing decision is a trade-off among different factors, so you must identify what those are.
In our customer service example, Spiceworks is free, so you can experiment with it as much as you want. LiveChat has four plans, but only the team plan, the second lowest tier, is available for a two-week trial, which impacts your testing and research schedule.
---
Step 5: Calculate the cost
Before buying software online or out of the box, research the total cost to avoid sticker shock when future bills arrive. Questions to discover the true cost of software deals include:
Does the software require a one-time purchase or an ongoing subscription?
If it's subscription-based, is it billed monthly or annually? Is a price discount available when paying annually?
Does purchase require a contract? How long is the contract? Is there an early cancellation penalty?
How many business/employee accounts are included? How much does it cost to add more?
What support is included and what paid support is available?
What hardware must be purchased?
How much do third-party plug-ins and integrations cost?
What other potential fees might you incur?
Once you have answers to these questions, you can purchase your software with confidence.
Customer service software pricing is usually straightforward, and your costs depend on the features and number of help agent accounts included.
A POS system's total cost, however, can include multiple factors beyond a monthly subscription: required proprietary POS hardware, transaction fees for credit and debit card sales, and service fees for disputed sales and chargebacks.
---
Step 6: Implement the software
You must have a software implementation plan ready once you make your purchase. The last thing you want is software sitting unused in a box or waiting to be downloaded.
Once it's installed, initial and ongoing training processes may have formal and informal components:
In-person classes or webinars during onboarding
One-on-one coaching from power-user mentors
Self-training using online support resources
Lunch and learn sessions where users share their experiences
Open house brainstorming meetings for users to collaborate on solving issues
An online knowledge base is an important resource because it provides approved information, policies, and procedures for employees. It is also easily updated as required because it's online.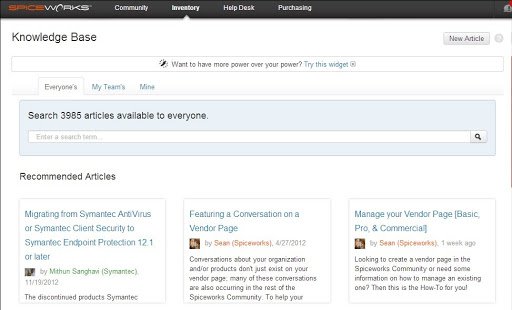 In our customer service software example, even the best software provides no ROI until it's successfully implemented. Your IT team must install and configure it, your customer service reps must learn how to use it, and their managers must ensure it's working as advertised.
---
Step 7: Measure performance
The final step to determine your software's ROI is measuring its performance. Your original needs assessment and KPIs dictate the qualitative and quantitative data to collect:
Money: What's the difference between the software's total cost versus money generated and/or saved?
Time: How have process times changed?
Up/downtime: How reliable is the software? What is the actual percentage of uptime versus initial projections or service-level agreement (SLA) guarantees?
CSAT: How do current CSAT rates compare to pre-implementation and projected scores?
Employee satisfaction: How do employees using the software feel about it? What do they like? Dislike? What would they change and why?
For our hypothetical customer service software purchase, KPIs also include:
Average first response time for help tickets
Average time to resolve tickets
Tickets resolved per day
It's no surprise if you think this is more effort than you anticipated when you first decided you needed a better customer service system. If you don't do this, however, you're operating blind, trying to determine if your software purchase was worthwhile.
---
Think twice, purchase once
The bottom line is a KPI every business has in common. You don't have any money to waste, so use the seven-step process above to make the best choices when shopping for software for your small business.