Even pre-COVID-19, the world of work was already in transition. The rise of the gig economy, project-based contracts, and remote working were shifting the way that companies run their businesses. COVID-19 and the need for entire companies to work from home simply sped up the process.
But, while there are a ton of solutions to help companies communicate (Slack and Zoom, for example) and manage projects (think Asana and Trello), the same can't be said for HR solutions. It hasn't been the focus of remote working solutions.
CakeHR — which is now owned by HR giant Sage and will have more resources for developing the solution — is looking to change that. It is specifically designed for HR professionals who have to work with employees across the globe in different teams and offices. But how well does it do that job?
---
Who is CakeHR for?
CakeHR is a human resources and people management solution for companies with a remote workforce.
It's aimed at HR professionals and executives due to its human resources process management functionality and its analytical capabilities that help companies tie the performance of the HR department to company goals and staff plans.
It is also aimed at recruiters who want to improve their applicant tracking and hiring process.
As CakeHR lets you choose the human resources modules you need, and you can add and remove these modules as needs change, it's a good solution for businesses looking to scale up quickly.
---
CakeHR's features
CakeHR provides different modules for the different HR functions, such as leave management, performance, shift scheduling, timesheets, and applicant tracking.
Leave management
CakeHR's time and attendance management module is pretty straightforward. Employees can request time off via the self-service portal or a manager can add it manually.
You can create and use multiple time-off policies, which is useful for remote teams based in multiple locations, as you can adhere to local laws. For example, you can create a policy for UK workers who are legally entitled to 5.6 weeks' paid vacation a year.
CakeHR has a shared calendar so you can see when everyone has time off. The calendar is color coded according to policy and type of trip. You can filter the calendar by team and location.
CakeHR also lets you set up customizable workflows for different teams and employees. For example, some employees may require approval for time off from both their team boss and regional HR representative. Or you can set up a different workflow for business trips and vacations.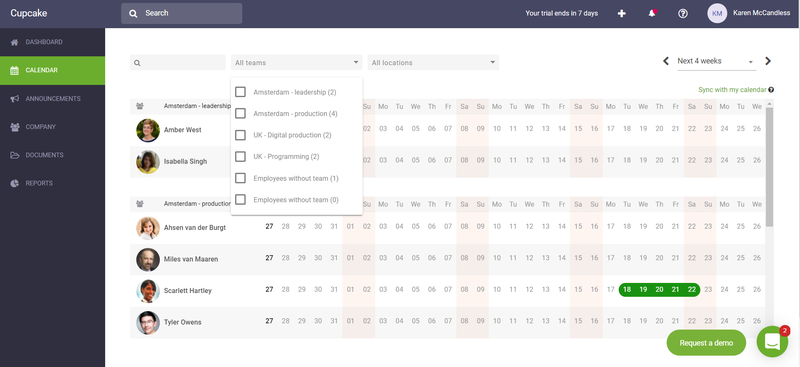 Performance
CakeHR's performance module is quite basic, and is missing features such as 360-degree and peer feedback, as well as recognition and reward program functionality. Its performance management functionality is not as intuitive and visual as other HR solutions, such as Zenefits.
Using CakeHR, you can schedule 1-2-1 meetings with employees, set goals, add checklists to go through, and then make notes on how the meeting went.
This information is visible to both the employee and the manager. If you don't want to schedule a meeting, you can instead opt to give employees a few lines of quick feedback at any point.
You can also keep track of individual, team, and company goals.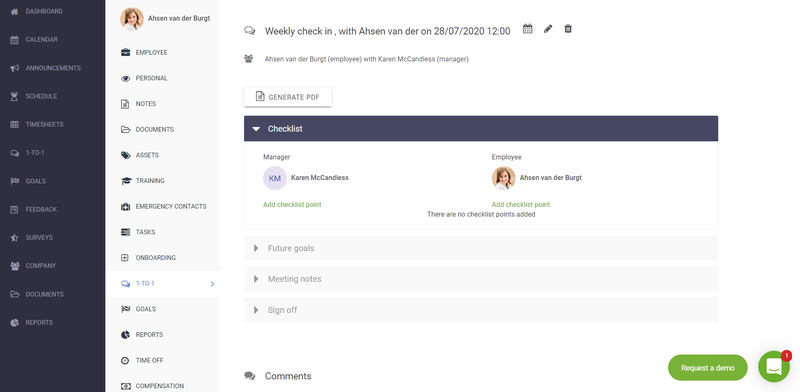 Shift scheduling and timesheets
CakeHR's shift-scheduling functionality is ideal for managing multiple teams based in different locations. You can add different shift schedule groups and areas and assign a manager to each one, then you can choose which shift group or area to view, or you can view them all at once.
To streamline and simplify the scheduling process and improve workforce planning, employees can add their own availability so you can more quickly create shifts that work for everyone.
With the CakeHR app's drag-and-drop interface, you can also quickly make changes. The calendar updates in real time, so everyone can see changes immediately.
When employees start their shifts, they can log time and submit their timesheets for approval. You can customize the workflow for each approval process.
Applicant tracking
CakeHR's applicant tracking functionality is nowhere near as comprehensive as that of other recruitment platforms, such as Breezy HR. It lacks sourcing and talent acquisition capabilities to help you find the best candidates for your role, other than the refer-a-friend functionality.
Instead, CakeHR helps you manage your candidate pipeline, ensuring that applicants move through the process quickly. You can build landing pages and application forms so candidates can submit their details for open roles.
Other useful recruiting features include:
Scorecards to help you objectively measure a candidate's suitability for the job
Interview scheduling
A customizable careers page
Reporting and analytics
CakeHR has a ton of built-in reporting tools to help you keep track of your workforce analytics. These reports are automatically generated using the data in your system, so you don't have to build them yourself.
The reports are really detailed and track a ton of information regarding your employees and processes. These include:
Time to hire
Changes in headcounts
Goal performance
Time-off status
Scheduled hours
Timesheet status, including overtime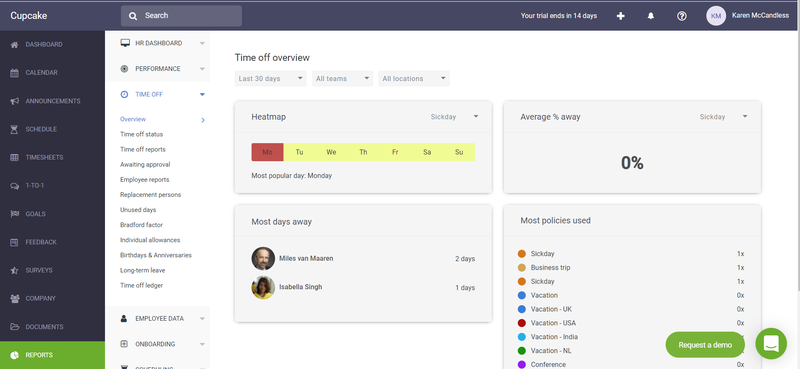 ---
CakeHR's ease of use
When you first start using CakeHR, you get a quick tour that points out where all the functionality is located, what it does, and how you can make best use of it. It's much easier than watching a video, as you don't have to leave the dashboard.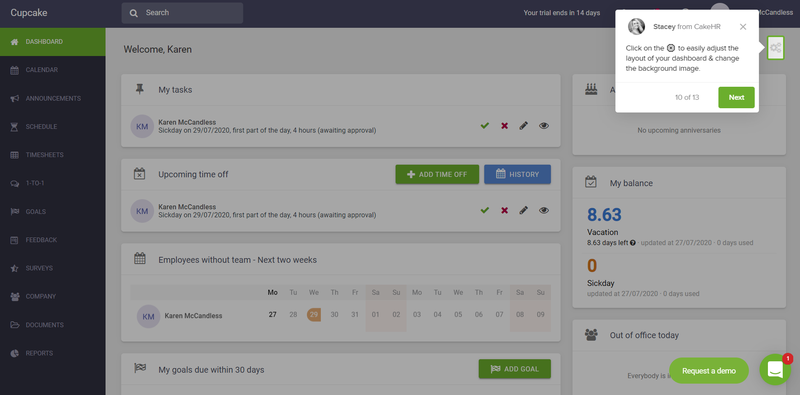 CakeHR has a sleek HR dashboard; its simplicity is its strong point. It limits the information it displays so you only see important information at a glance rather than being overwhelmed with data.
The dashboard is fully customizable so you can arrange it to only see the information that is most important to you. One of the useful features for managing remote teams is you can choose to only see data from your team, or your location, or multiple teams and locations. You can also adjust the time period to see this data.
All functionality is arranged in a left-hand menu so you can quickly move between different tasks. You can also carry out tasks from the main dashboard, such as quickly approving or rejecting time-off requests by clicking on the green check icon beside the employee's name.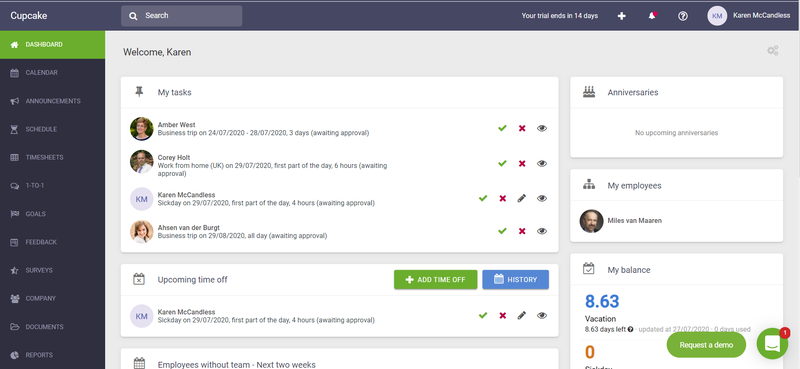 However, there are some times when you can get stuck in a workflow with no way to go back and change or edit earlier steps. For example, when you are adding a time-off request and you select multiple employees, you can't go back to change the dates you input.
---
CakeHR's pricing
CakeHR pricing is based on the modules you decide to implement; its recruitment module is the most expensive part of the solution.
If you choose only the HR modules (leave management, performance, shift scheduling, timesheet, and expenses), CakeHR costs $16/month per employee. It's a very good value all-in-one human resources solution.
If you choose the recruitment module, this costs an extra $200 per month regardless of how many employees you have and includes all applicant functionality.
This is expensive for an HR recruiting platform, especially when you compare it to Zoho Recruit, which costs $25/month per user if paid monthly, and Workable, which costs $99/month per job.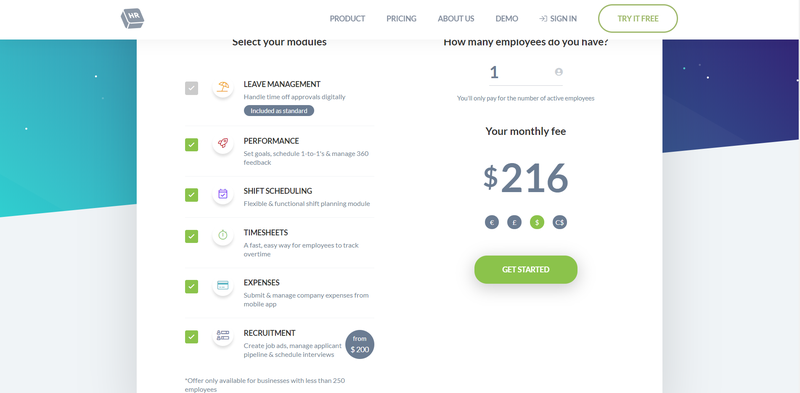 CakeHR also provides a 14-day free trial. You can choose the modules you want to try, or try them all at once.
---
CakeHR's support
After you've taken CakeHR's mini tour, you can request a virtual demo at any time or ask a question through the live chat option, which is always visible at the bottom right of the screen. This button also lets you search the CakeHR help center for an answer to your problem.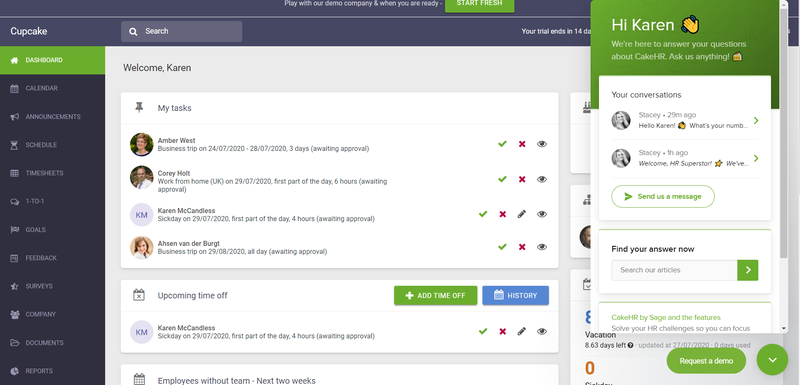 CakeHR's help center contains a ton of articles to help you set up the solution and learn how to use the features. You can also watch webinars that walk you through the different features. Additionally, you can email or tweet the CakeHR support team, but there is no phone support.
---
Benefits of CakeHR
CakeHR is an affordable and easy way to manage your human resources functions and recruitment process in one place. You can easily split all functionality up by site or team, which helps you manage all your remote locations.
---
Ideal for remote working
Most of today's HR and recruiting platforms are based in the cloud (and some have on-premise versions), and can technically be used to manage remote employees. But there aren't any other solutions that come to mind that are specifically designed for HR professionals managing remote employees.
CakeHR has been designed to help with the smooth running of the HR department when you have multiple locations and teams split across these areas. It's the ideal solution for the modern workforce.
---
Frequently Asked Questions for CakeHR
No, CakeHR is not free. It starts at $16/month per employee for all HR functionality. If you want to add the recruitment module, that costs $200 per month regardless of the number of employees you have.
Is CakeHR an applicant tracking system?
Yes, CakeHR has an applicant tracking module that lets you source, screen, interview, and hire new employees. This is available both as a standalone module and as part of CakeHR's overall human resources solution.
Does CakeHR integrate with any other software?
Yes, it integrates natively with GSuite and Slack. These are the only CakeHR integrations. If you want to integrate with any other systems, then CakeHR can build you a custom integration.

Can CakeHR help you better manage your workforce? Sign up for a free trial to find out.
Can CakeHR help you better manage your workforce? Sign up for a free trial to find out.