Campaign Monitor and Mailchimp are like chalk and cheese.
Mailchimp's branding is fun, friendly, casual, and helpful, which is reflected in its solution. Campaign Monitor is serious and stern, which is also reflected in its software.
Which approach is better? It depends on what you're looking for in email marketing software.
Campaign Monitor isn't lacking in functionality and it takes a logical approach to the way it organizes its user interface and menus. People aren't going to be shouting from the rooftops about the software, but it gets the job done. And very effectively.
Is this enough to topple the monkey from the top branch of the tree? Read on and you'll find out in our side-by-side comparison of Campaign Monitor vs. Mailchimp.
---
Campaign Monitor vs. Mailchimp: An overview
Both Campaign Monitor and Mailchimp cater for all email marketers. While Mailchimp is a lot prettier, Campaign Monitor is still almost as easy to use and puts up a good fight when it comes to features.
Who is Campaign Monitor for?
With Campaign Monitor, it's a case of don't judge a book by its cover.
It may not look the part, with a basic user interface that looks dated compared with most other email marketing platforms, but its functionality and ease of use make it a great option.
You can get up and running quickly and it has an excellent range of features, which makes it suitable for more experienced marketers who want to create complex campaigns.
Who is Mailchimp for?
Short answer to this question: everyone.
Mailchimp prioritizes usability so it can provide a user experience that is suitable for all marketers, even if you've never used email marketing software before.
It has a range of pricing plans (more on that below) to suit all business sizes, which means you can continue using Mailchimp as your business grows.
---
Campaign Monitor vs. Mailchimp: Features
Campaign Monitor and Mailchimp both have great autoresponder functionality. Mailchimp provides a wide range of templates while Campaign Monitor builds autoresponders for you based on your goals. Both solutions also provide the necessary insight to help you optimize all your campaigns.
What Campaign Monitor offers
Campaign Monitor's autoresponder functionality means you can easily send the right content to the right customers at the right time.
If you've never created autoresponders before — automated sequences of emails triggered by customer behavior — then Campaign Monitor is a great option.
It gathers information on your business by asking questions such as:
Your industry
Your goals (increasing engagement, taking action, or driving conversions)
The customers you want to target (new, engaged, or lapsed)
Campaign Monitor then uses that information to build an autoresponder for you.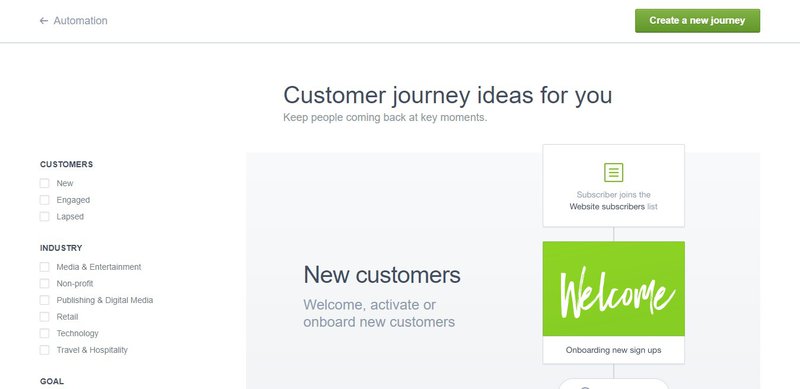 Another area where Campaign Monitor stands out is its transactional email functionality.
It provides templates to help you create emails that are optimized for transactions, such as purchase confirmation, shipping notifications, and payment information. You can then measure the success of these emails so that you can understand how to drive more revenue from them.
What Mailchimp offers
Mailchimp is hard to beat when it comes to features, although — as we'll explain in more detail in the pricing section — the free plans do not provide all of the functionality.
Mailchimp is a data-driven email marketing platform.
Every aspect is underpinned by analytics and reports. I haven't come across another email marketing solution that provides revenue-drive analytics. Its revenue-driven reports detail the total number of orders per campaign, as well as total and average order value for each email message.
Mailchimp also uses machine learning to good effect. It builds segments automatically using an algorithm that predicts how likely a customer is to shop with you again, and how much they are likely to spend. Mailchimp also provides a wide range of autoresponder templates, so you can quickly create automated sequences of emails for campaigns such as
Win back
Cart abandonment
Order notifications
Results: Mailchimp takes it
Mailchimp takes the win due to its very granular analytics that help you understand how each email is performing in terms of revenue, rather than just tracking vanity metrics, such as opens and clicks.
---
Campaign Monitor vs. Mailchimp: Support
Campaign Monitor and Mailchimp take similar approaches to support: Help from a human is a luxury and you only get it if you pay for the most expensive pricing plans. Otherwise, you have to search their Help Centers for answers.
What Campaign Monitor offers
Campaign Monitor only offers phone support if you pay for its most costly plan. While this may suit some people, if you have an urgent problem, or something you just can't fix on your own, then you're stuck.
There's also no live chat option. When you click on the "Contact Support" button, it sends you to the Help Center rather than giving you a way to actually contact a helpdesk.
Its Help Center consists of blog-style articles with screenshots and text explanations, as well as links to in-house courses to further your knowledge.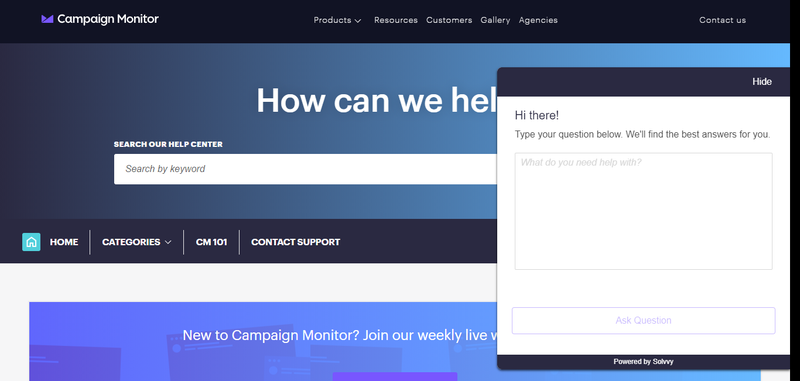 If you can't find an answer to your problem after searching the Help Center, you can submit a ticket, but there is no information on response times.
What Mailchimp offers
Mailchimp's support isn't great. If you're on its free plan, Mailchimp expects you to sort out your problem yourself. When you click on Mailchimp's "Help" button, you are directed to their Knowledge Base where you can search for articles that are relevant to your issue.
Mailchimp's help articles are very detailed, with lots of screenshots, videos, and links to other relevant information.
That said, if you have a problem that isn't in the Knowledge Base, then it's very difficult to get help from the company. You have to scroll right to the bottom of an article to find details on how to submit a ticket. It's neither obvious, nor easy to find.
Results: Mailchimp wins
While neither of these solutions excels when it comes to support, Mailchimp's very detailed and easy-to-understand help articles put it a nose ahead.
---
Campaign Monitor vs. Mailchimp: Ease of use
Mailchimp is hard to beat when it comes to ease of use. It's one of the reasons why it's such a popular email marketing solution.
Conversely, Campaign Monitor takes a straightforward, no-frills approach to usability.
What Campaign Monitor offers
Campaign Monitor's solution is best described as straightforward. It has a sensibly organized navigation, with menus for:
Campaigns
Automations
Transactional emails
Lists and subscribers
Insights
It also has an "overview" button, which you can click at any time to get back to the main dashboard.
When you first start using the solution. Campaign Monitor asks you a series of questions to find out more about your goals, your email marketing experience, and the size of your email list. It then tailors and personalizes the dashboard based on your answers.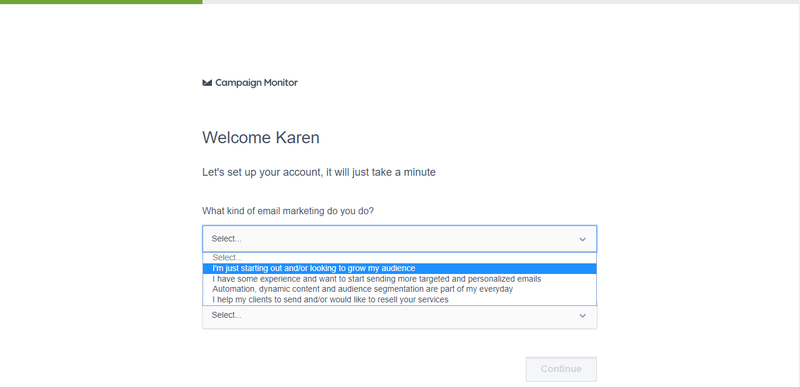 However, Campaign Monitor's user interface is dated and its minimalist approach lacks the personality, accessibility and clever copywriting that makes Mailchimp a pleasure to use.
What Mailchimp offers
There's a reason why Mailchimp has 11 million customers and counting, according to TechCrunch.
While clever marketing, and a strong monkey-driven brand, are part of their success, the product is also very accessible. From the very first moment that you sign up to Mailchimp, it holds your hand and walks you through every step.
As you use each feature, you'll receive in-the-moment explanations as well as tips and hints on the functionality.
It also provides a lot of advice as to why you should complete certain steps or take actions (such as personalizing your subject line or creating segments). This advice helps you improve your email campaigns and, at the same time, become a better email marketer.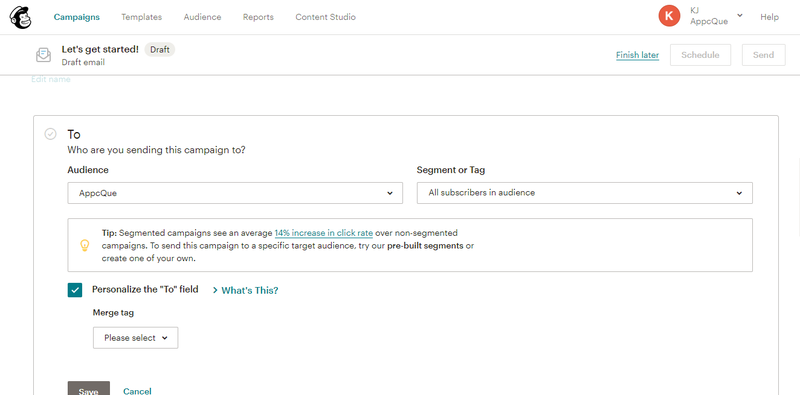 Results: Mailchimp triumphs
It would take something special to beat Mailchimp when it comes to ease of use. Campaign Monitor's logical approach does offer something different, but not enough to see off Mailchimp.
---
Campaign Monitor vs. Mailchimp: Pricing
When choosing an email marketing solution, you need to consider not only what the software costs for your current business needs, but also what the price will be if your business grows.
For example, if you currently have an email list of 1,000 contacts but, in a year's time, you expect to grow that list to 5,000, you need to check what the solution costs for both situations.
Mailchimp pricing and Campaign Monitor pricing are very similar in terms of price increases according to the size of your email list.
What Campaign Monitor offers
Campaign Monitor doesn't offer a free plan. However, you can use its free trial for as long as you want, making it similar to a free plan. Unlike other software, which limit free trials to 14 days or 30 days, Campaign Monitor's free trial never expires.
That said, you can't send an email campaign to more than five people, which limits its viability.
With Campaign Monitor, you can choose either to pay for a monthly subscription or to pay for each campaign.
If you pay per campaign it costs $0.01 per recipient and $4 per campaign. Campaign Monitor has three monthly pricing plans: Basic, Unlimited, and Premier. The costs vary according to the number of contacts you have.
The least expensive monthly pricing plan — Basic — increases incrementally as follows:
$9 for up to 500 contacts
$29 for 501-2,500 contacts
$49 for 2,501-5,000 contacts
$99 for 5,001-10,000 contacts
What Mailchimp offers
Mailchimp offers a free pricing plan, which includes autoresponders, CRM-style contact management, and basic email templates (you can't access the whole range of templates).
The free plan doesn't include A/B testing or 24/7 support. It also only lets you send up to 10,000 emails per month and you can only work with up to 2,000 contacts.
Mailchimp also provides three paid price tiers. The Essentials Plan lets you send up to 500,000 emails a month, compared with 1.2 million on the Standard Plan, and 3 million with the Premium plan.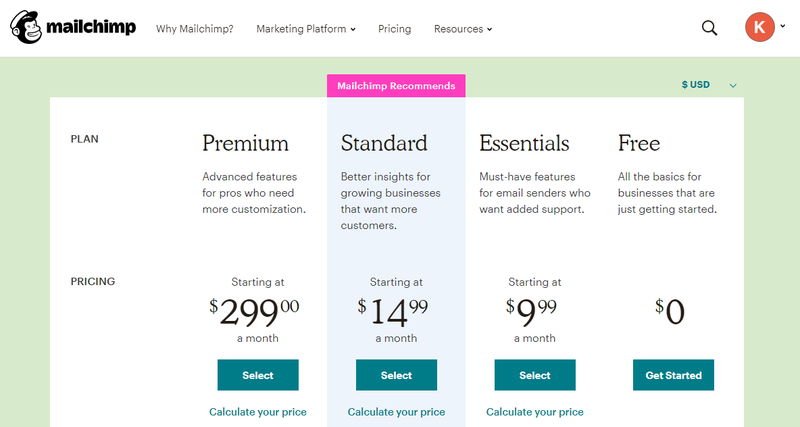 Mailchimp's pricing for paid plans varies according to the number of contacts you have. For example, the monthly cost for the Essentials plan (which is the least expensive paid option) is:
$9.99 for up to 500 contacts
$29.99 for up to 2,500 contacts
$49.99 for up to 5,000 contacts
$74.99 for up to 10,000 contacts
Results: Mailchimp wins
Campaign Monitor and Mailchimp are very similar in price, but Mailchimp's free plan with a useful range of features give it the edge.
---
Campaign Monitor vs. Mailchimp: Integration with other software
Making sure that the email marketing solution you choose plays nicely with your existing technology landscape is key to ensuring that your staff are able to easily collaborate and access the data they need to do their jobs.
What Campaign Monitor offers
Campaign Monitor has an App Store (accessible from its main navigation) where it offers both purpose-built apps and integrations. The difference between normal integrations and apps from the App Store is that the latter are separate programs that you can install and manage directly from a dedicated interface.
For example, with the Campaign Monitor for Shopify app, you can download this software from the app store, install it, and then add the app into the main Campaign Monitor interface.
Campaign Monitor offers many different integrations for a variety of software categories. These include:
Google Analytics
Unbounce
Shopify
Intercom
Campaign Monitor also provides an API where you can build other integrations.
What Mailchimp offers
Mailchimp offers tons of integrations with commonly used software, such as
Zapier
WordPress
Canva
Chargify
Google Analytics
ClickFunnels
PayPal
SurveyMonkey
Mailchimp also provides an API, which lets you build your own integrations if there isn't a native integration available.
However, one area in which Mailchimp doesn't excel in the support they provide with building integrations using the API. It clearly states that it cannot help you build integrations using its API, and you must contact a third-party specialist to get help.
Results: Campaign Monitor wins
Campaign Monitor has clearly focused a lot of its resources on its integration functionality, and having a dedicated App Store means that it wins this round.
---
How They Compare: Campaign Monitor vs. Mailchimp
| | Campaign Monitor | Mailchimp |
| --- | --- | --- |
| Free plan | | |
| Free trial | | |
| Autoresponders | | |
| Revenue-driven analytics | | |
| Transactional email optimization | | |
| API | | |
| Automatic segment builder | | |
| Personalized in-app tips | | |
---
There can only be one winner (and that's Mailchimp)
Campaign Monitor put up a good fight. It has some excellent functionality which makes it stand out on the market.
The ability to build autoresponders based on your specific goals and industry, as well as its transactional email optimization capabilities, make this solution stand out in the market. It's also easy to use and quick to set up.
However, it's still not enough to topple the market leader.
Mailchimp's data-driven, revenue-based approach means it's not just a pretty face and a fun brand, it also helps you accurately measure the return on investment of your email campaigns and optimize your messages to get better results.