Even if you're a well-known business with an excellent company culture, when you want to find the best candidates, you often need to look for them. Some businesses post job ads and wait for candidates to come to them. Sure, that can work sometimes, but often you'll be missing out on a large chunk of the market.
Passive recruitment — sourcing people who are employed and not actively looking for a job — can be a gold mine for your business if you approach it correctly. Passive candidates account for a massive 75% of the workforce.
If you can see they have the skills and experience working for a company you respect, why wouldn't you want them to work for your business instead?
Here are five methods to make sure you're sourcing the best applicants in the field.
---
Overview: What is candidate sourcing?
One of the premier qualities successful recruiters share is proactivity. Candidate sourcing involves proactively looking for candidates, rather than waiting for them to apply for your job.
Even well-known and respected companies that everyone wants to work for, such as Facebook and Apple, still need to source candidates. To find the right candidate, you need to know what's in the market and invite people to apply and interview who aren't even looking for a job.
---
Sourcing vs. recruiting: What's the difference?
Sourcing candidates is a key part of the recruiting process, and every business should be doing it.
Sourcing refers to actively looking for candidates and attracting them to your business. This doesn't mean you have to cold message people on LinkedIn. Some traditional businesses still cold call people, but it's not a best practice for most recruiters.
---
The 5 best methods for sourcing candidates
There's no one method better for sourcing candidates than another. It depends on what works for your business. Here are five ways to find the best candidates quickly.
1. Careers portal
One of the most neglected sources of recruitment is your own website. Most candidates will likely visit your site during the hiring process, so you need to make sure it accurately represents your company.
Your careers portal should contain information such as:
Company culture
Mission
Values
Available job openings
Prospective resume submission options
Newsletter sign-up form
It doesn't have to take a lot of time, money, and effort to set up a careers portal. A lot of HR technology and applicant tracking systems (ATS) include functionality to help you get started, including customizable templates.
The Applicant Manager helps you build a careers portal, which you can customize according to your company's brand. Candidates can view and apply for open positions directly from the careers page. Applicants and external recruiters can also submit resumes proactively to help you build your talent pool.
You can also build a separate careers portal for internal candidates.
2. Social media posts and ads
Social media is one of the most valuable hiring sources to reach your target audience.
When most people think of social media, Facebook, LinkedIn, Twitter, and Instagram are often the first, and sometimes only, channels that come to mind. Yet you can also tap into TikTok, Quora, Reddit, GitHub, and other channels to find candidates.
You need to find out which channel your target audience uses and meet them there. Don't send cold messages to a wide group of people and then not respond to their inquiries. Research your market and personalize your correspondence to your applicants' profiles.
Zoho Recruit helps you create targeted and personalized social media campaigns based on location and audience. With the Facebook Job Postings functionality, candidates can apply to a job without leaving Facebook. It also has an add-on for temp agencies that helps create campaigns for seasonal workers and to target remote job boards.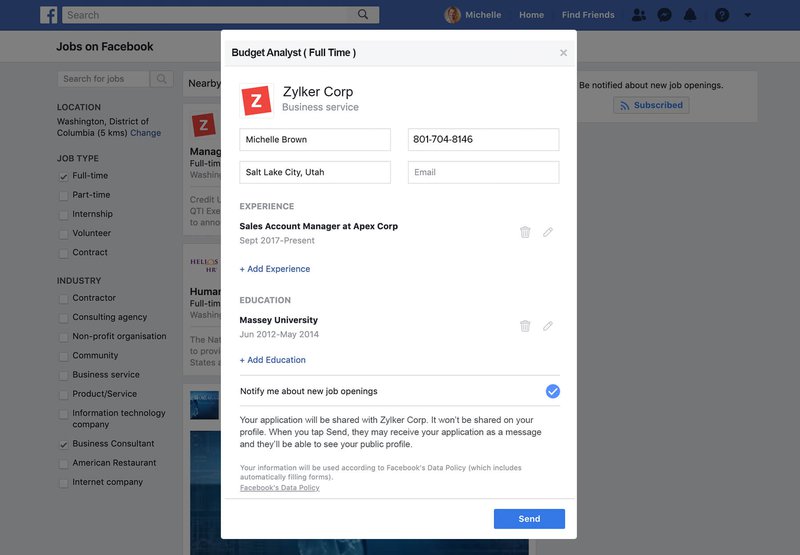 3. Set up an employee referral program
Make the most of employee referrals. This is a cost-effective way of finding new, high-quality candidates, with the added bonus they're recommended by someone you already know and trust — a current employee.
These impressive stats explain how well employee referrals work at sourcing candidates:
It takes, on average, 35-40 days to fill a position using employee referrals, compared to 60 days without.
About 45% of employees sourced from employee referrals stay for longer than 4 years, while only 25% of employees sourced through job boards stay for over 2 years.
To run a successful employee referral program, keep your current staff happy so they will recommend people from their network. You also need a structured program that rewards your workers for the time and effort they put into their recommendations.
4. Create a talent database
Create a talent database to help you source better candidates and speed up your recruiting process. You can input the details of talented applicants who aren't right for a current opening and then search for their information when a suitable job comes up.
Greenhouse recruiting software has a CRM-style database that lets you quickly create a talent pool. Every time a candidate submits their details, record them in this database so you can filter the information to find them later.
The Greenhouse LinkedIn browser plug-in helps you find and add candidates to the database by letting you save their LinkedIn profiles directly in the software.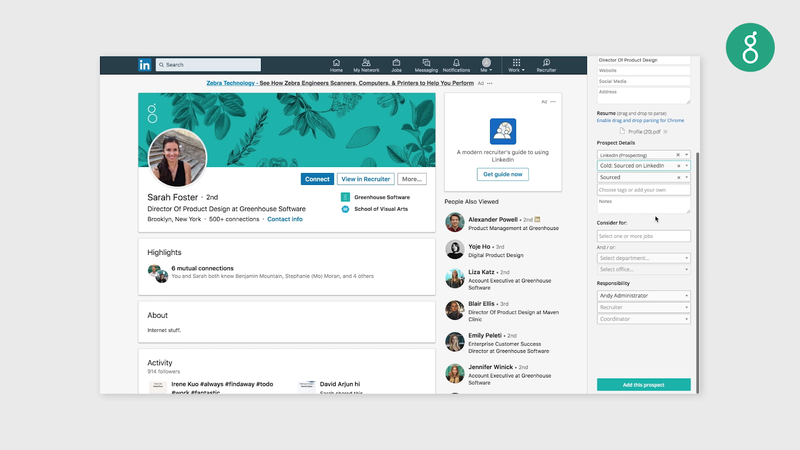 5. Tap into artificial intelligence
Sourcing candidates can be a time-consuming process, like finding a needle in a haystack. One of the benefits of an ATS is that it automates the process and does most of the work for you. Modern applicant tracking systems use artificial intelligence (AI) to find candidates using an algorithm that conducts searches for you.
Workable's AI-powered Auto-Suggest feature searches public online profiles to find candidates who match the skills and requirements you have specified in your job description.
It then helps you create highly-targeted campaigns on channels such as Facebook to make these people aware of the job and encourage them to apply.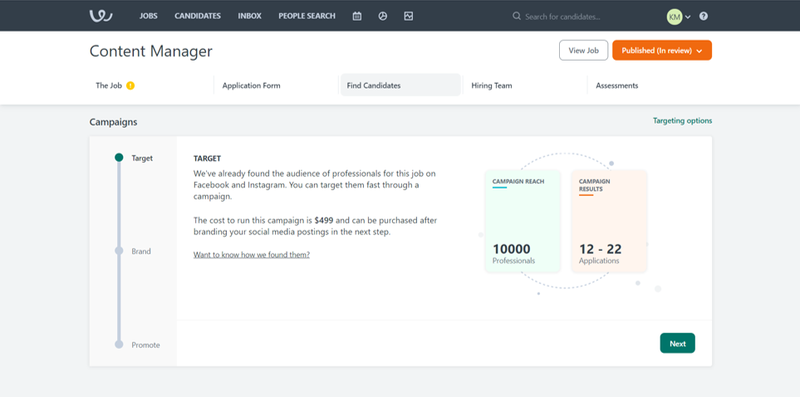 ---
Personalize your approach
No matter which method you use to source candidates, personalize all communication. Treat your candidates like individuals, with respect. You'll get better results, and you'll build a reputation as a company with a good recruitment strategy and process.