In the extended family of corporate learning systems, Canvas is the first-born everybody looks up to, the one who became a brain surgeon and takes the parents to Tahiti every winter. It's accomplished like that.
But is it good for business? Turns out it's good at that, too. While Canvas came of age in academia, it's been quick to adapt to the needs of business trainers, with innovative features such as Canvas Studio for video coaching and Portfolium for recording accomplishments.
Let's see what this training heavyweight has to offer businesses like yours.
---
Who is Canvas for?
Canvas is an open-source, mobile-friendly LMS ideal for businesses with substantial training needs. It's organized, customizable, and capable of bringing order to any mix of training programs you might create.
Canvas's e-learning features are not as tightly focused on employee training and onboarding as those of recent LMSes built expressly for business. You may be able to create similar experiences using Canvas, but you won't find them laid out so easily. Canvas is also not built for e-commerce, so it is not the best choice to sell courses online.
Canvas's deep capabilities mean a steeper learning curve for new users. While you don't have to know what every button is before launching, there's a lot to take in. The company's training resources cover every feature for you, and there's plenty of support if you have questions. But it's not simply a matter of signing in and you're off.
---
Canvas's features
There's no efficient way to cover all of Canvas's features. If you're looking for an LMS education tool, it's safe to assume Canvas provides it until you learn otherwise. Here are some highlights.
Orderly admin interface
Canvas presents its world of possibilities in an approachable admin dashboard with a simple left side menu and a to-do list on the right. Courses in bold tiles are front and center in all user dashboards. Buttons suggest common next steps, in this case to create a course or view grades.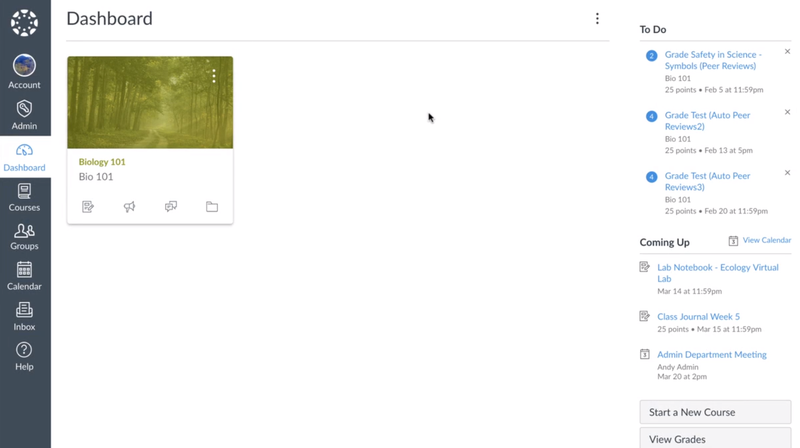 Canvas administrators can create hierarchies of accounts, courses, sections, learning groups, and individual learners, each with different permissions.
Canvas divides users into account-level roles and course-level roles. On the account side, the only built-in role is admin. On the course side, you can choose from student, teacher, teaching assistant, designer, and observer. Admins can easily create additional custom roles to control access to courses, resources, user settings, analytics, and other areas of the system.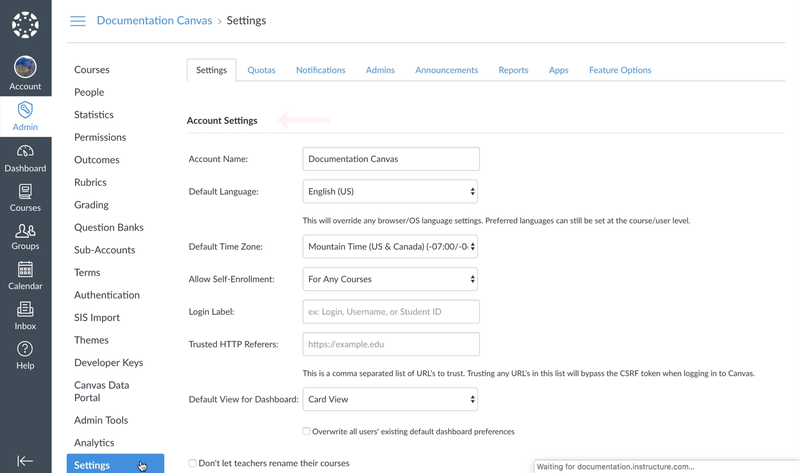 Options are nested in menus on the left, with further items tabbed across the top. This allows Canvas to present advanced functionalities in an accessible interface. Breadcrumbs are always there to help if you venture too far down a rabbit hole.
Advanced user features
Canvas's learner and instructor interfaces are easy to navigate. From Profile settings, users can simply click to activate systems they'll need to use such as Google Drive or Skype. Users can also approve third-party applications to grant access to their accounts.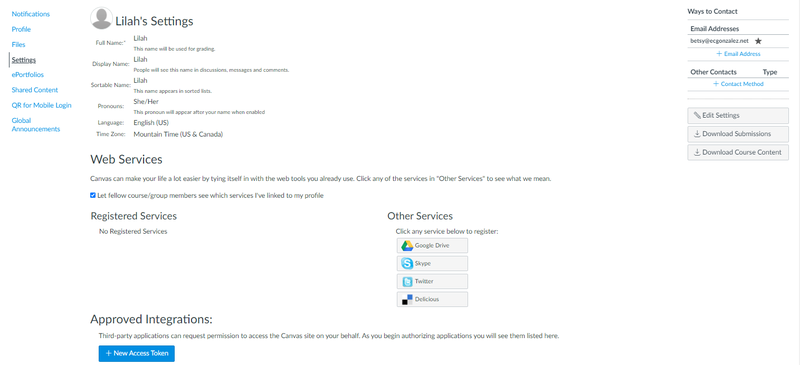 Another neat feature is a quick reader (QR) code generator for mobile login to the Canvas Instructure app. This allows users to securely access the system on phones or tablets.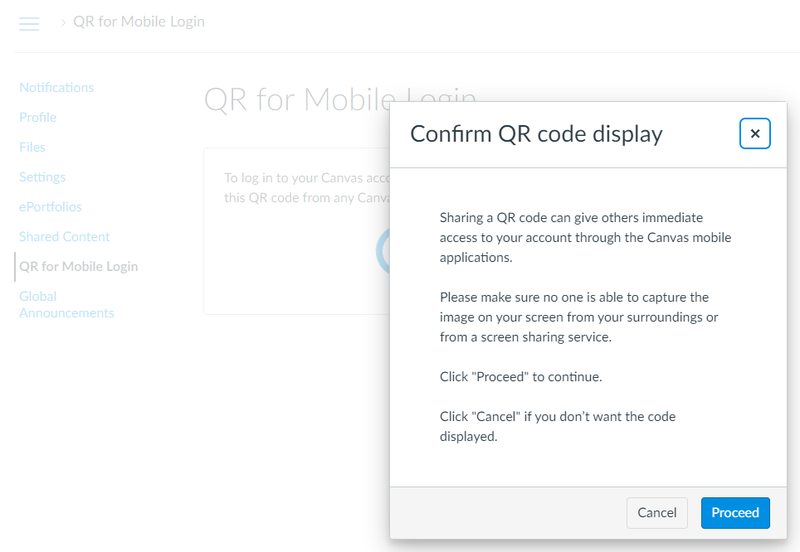 It's easy to create user hierarchies and send automatic group notifications in Canvas. The interface also includes its own email system. In addition, users can receive notifications via text messages or push notifications on a schedule of their choosing, all with a few clicks.
Themed interfaces
You can theme accounts and grant permission for subaccounts to be themed separately from the admin dashboard. Advanced customization is available via custom cascading style sheets (CSS) or JavaScript, so you can tailor Canvas more precisely to match your brand.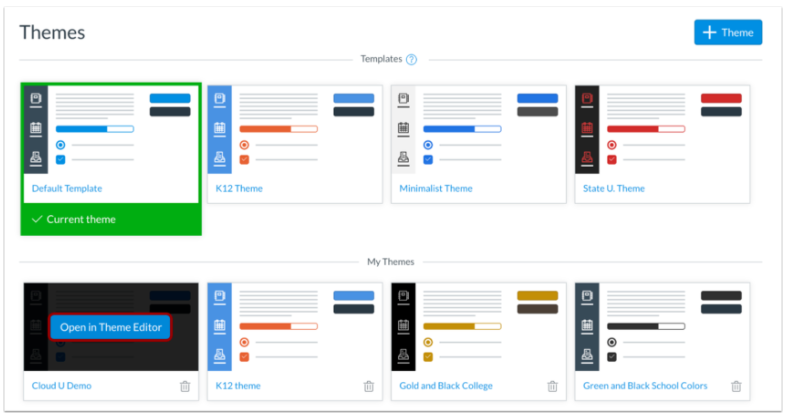 Besides themes, Canvas comes with templates for course banners and previews to help you create a visually appealing, professional course catalogue without a ton of design work.
Course building and tests
Canvas comes loaded with all the tools you need to import or create course content including video, audio, documents, and embedded web pages.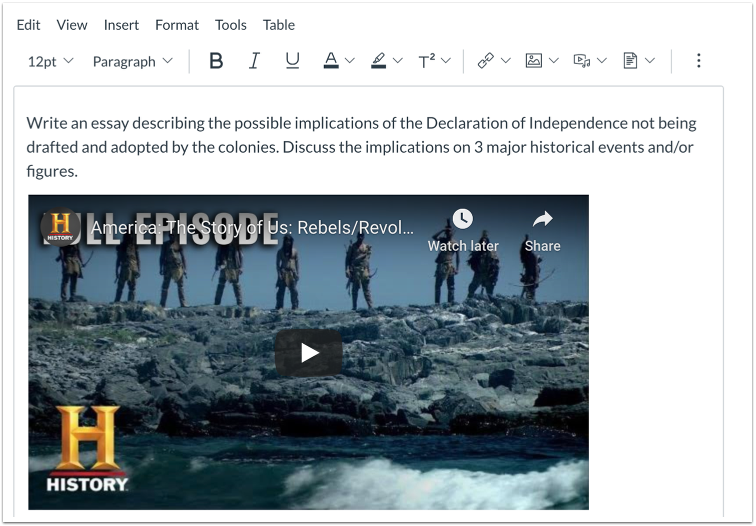 Instructors can import content from other systems such as Moodle, Angel, Blackboard, and D2L from a drop-down menu. Any content you create in Canvas can be copied into new courses.
Canvas includes thoughtful features such as course chats for communicating in real time, discussions, and conference scheduling. Instructors can sort students manually or automatically into groups for assignments or tests. Students and instructors can also create collaborations for group study or project work.
Canvas's test builder is a good example of the depth of features available to instructors. In addition to the usual settings such as passing scores, question shuffling, and automated grading, Canvas supports more than a dozen question types.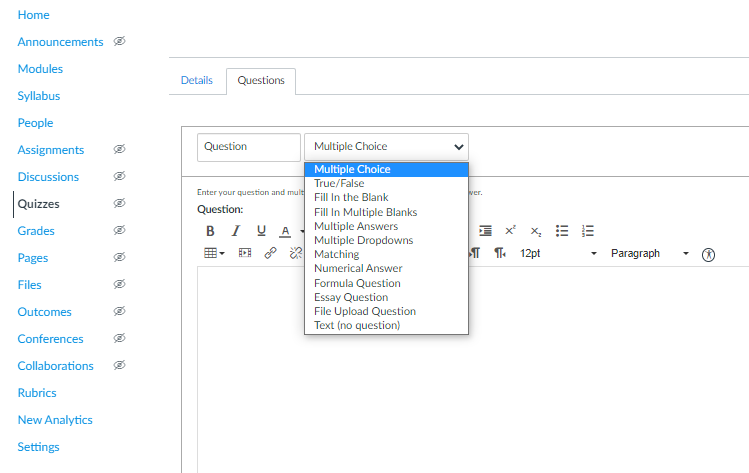 Under File Upload, you can upload an image and create hot spots for registering answers by clicks. If you're committed to building the ultimate learning experience, there really isn't anything you couldn't build with this toolset. It's impressive.
Canvas Studio
Canvas Studio is Canvas's interactive media feature for immersive learning experiences. Studio allows instructors and learners to upload videos and comment on them within the video timeline. If a user types a comment, the video pauses automatically. When the comment is entered, Canvas bookmarks it and resumes playing. Quiz questions can also be embedded in the timeline.
Other users can reply or add new comments in real time, chat-style, or independently as they view the material. This creates the feel of a virtual Canvas classroom for learners who may be separated by time or distance.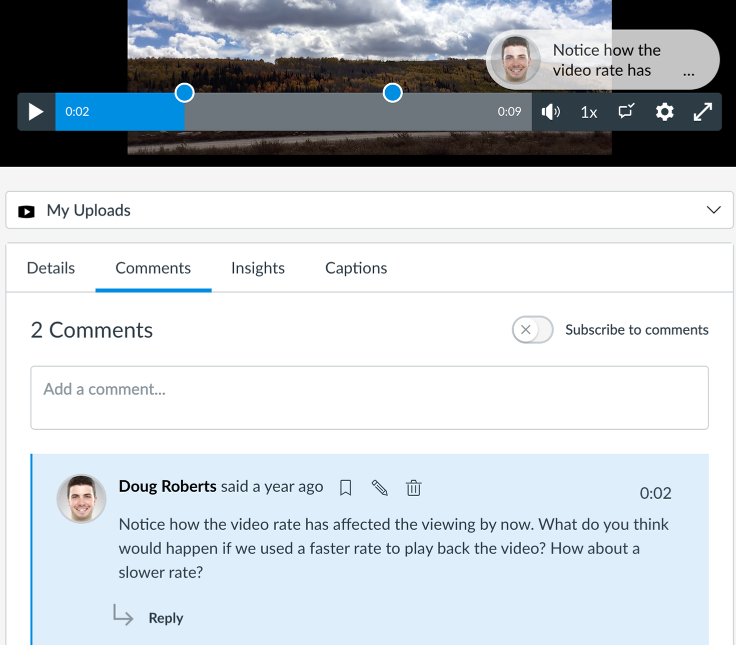 Students can also upload videos of performances for review by peers or instructors. Studio makes it easy for viewers to provide feedback throughout the performance instead of typing up notes at the end.
Learning paths and rewards
Instructors can create learning pathways and milestones for users to navigate. Pathways may require learners to complete projects, attend events (called "experiences"), and submit assignments.
Canvas can automatically assign different content to learners as they progress through a pathway based on test scores and other performance measures. For example, learners who score poorly on a quiz could be assigned an additional round of review and a retest before moving on to the next unit. Canvas calls these automated learning pathways MasteryPaths.
Most graded assignments can be built into MasteryPaths to tailor learning to users' needs. Badges may be awarded for completing all the required elements.
Portfolium
Learners can curate projects, milestones, badges, and other accomplishments in Portfolium, Canvas's digital portfolio feature. Users can keep their portfolios private or share them with colleagues or the public. This could be valuable for employee development, performance reviews, and job promotions.
If the user leaves Canvas, the portfolio can be exported as a zip file.
Reporting and analytics
Canvas is equally game at reporting what it's been up to. Admins and instructors can view analytics across any data points in table or graphic formats.
Here's an example of an instructor's report comparing results across a course, section, and individual student.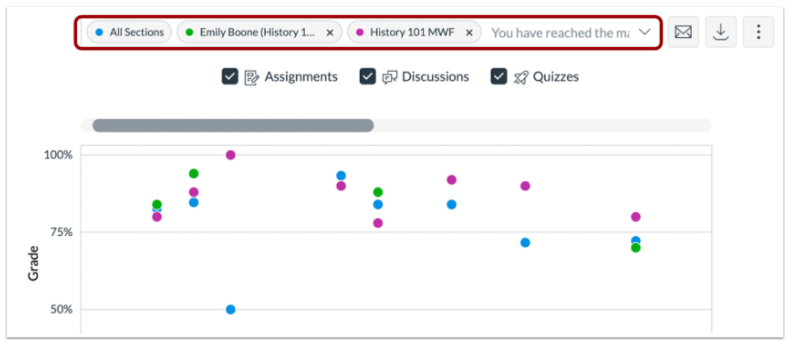 I've seen more appealing graphic reports built into LMSes, so this may be a case of substance over style. But you can access a wealth of data in Canvas, break it down into custom reports, and share manually or automatically on a schedule with various user groups.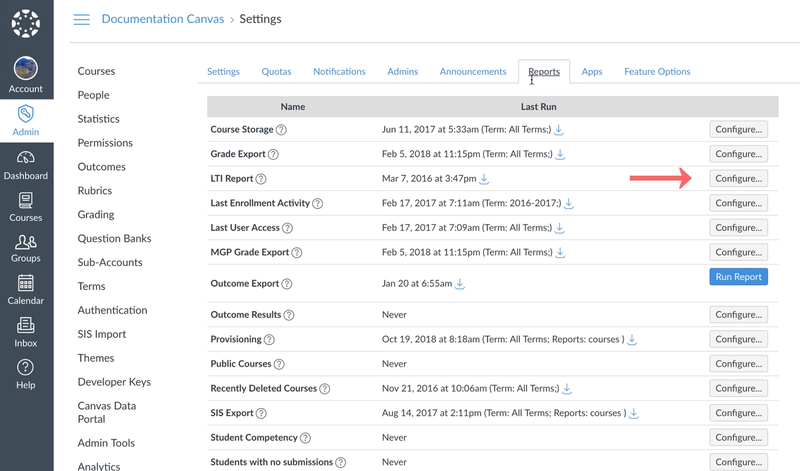 Integrations
You would expect an established LMS like Canvas to play well with everybody in the space, and you would be right. From the individual user profile to the admin dashboard, Canvas offers a wealth of apps that you can connect to with a click.
Canvas's open application programming interface (API) lets you integrate systems and data selectively based on roles, courses, departments and other criteria. Canvas also supports learning tools interoperability (LTI), connecting you directly to a wealth of education apps.
Apps can be enabled systemwide or by individual courses.
---
Canvas's ease of use
Canvas is well laid out and easy to navigate, especially for learners. The nested side menus and right sidebar notifications pack a lot of functionality into a clean, open interface.
Canvas's features are not as tightly focused as some LMSes created expressly for business. Because of the scope of its features and functionalities, Canvas may require more onboarding, training, and support to administer. The company does offer hands-on support for implementation and beyond as well as extensive online documentation to see you through.
---
Canvas's pricing
Canvas provides pricing only by quotation. As with most learning systems, Canvas LMS pricing is by annual subscription based on the number of users in your account. Some features are optional upgrades.
---
Canvas's support
You can access Canvas customer support by phone, live chat, and email. It also has an active online community to tap into and fantastic resources for every aspect of the system. These include brief video tutorials that walk you through specific steps and written instructions. With these resources at your disposal, you should be able to find answers to your questions quickly.
---
Benefits of Canvas
Canvas is a reliable, powerful LMS ideal for enterprise-level training. It's not built for e-commerce, so it's not the best choice if you want to sell courses online.
Canvas is fully mobile to engage remote learners anywhere. It supports all types of learning, from on-demand courses to live training and coaching. Canvas makes it easy to create media-rich learning experiences with interactive elements and discussions. Canvas's open-source LMS provides almost endless opportunities to tailor a learning environment to your brand and your business.
---
Build your corporate university
Instructure bills Canvas Corporate LMS as a way to build your corporate university, and that's an excellent way to look at it. It's a sure bet for large businesses that want to create a substantial, enduring training program for a variety of audiences and divisions. Canvas is tried and tested with functionality that won't let you down, and its resources are phenomenal.
With so much to offer and a no-hassle free trial, Canvas is definitely worth exploring for any business training need.
---
Frequently Asked Questions for Canvas
How much does Canvas cost?
Canvas provides pricing by individual quote on an annual subscription basis. A free version of Canvas for teachers and students is available. The free accounts have limited functionality.
Canvas is an open-source, cloud-based learning management system (LMS) that can deliver courses through any mobile device. It supports on-demand courses and live training sessions. Corporate Canvas LMS is designed for business training.
Canvas is the top LMS in higher education. Corporate Canvas brings all of that functionality to businesses, with attractive features for employee training and coaching. Canvas can deliver interactive, immersive learning experiences in person and remotely, making it a great LMS for enterprise-level training.

Canvas Corporate LMS is an open-source, mobile LMS with tools for creating collaborative, interactive learning experiences. Test it with a no-obligation free trial.
Canvas Corporate LMS is an open-source, mobile LMS with tools for creating collaborative, interactive learning experiences. Test it with a no-obligation free trial.
The Motley Fool has a Disclosure Policy. The Author and/or The Motley Fool may have an interest in companies mentioned.