Canvas and Blackboard Learn are advanced learning management systems that can support learning environments of any size or complexity. They're not as focused or streamlined as many up-and-coming systems designed expressly for business, but their feature sets are far deeper.
An advanced learning management system (LMS) can help you develop a learning culture in your business. The benefits of continuous learning at work are profound, including greater employee engagement, better performance, and lower turnover.
Canvas and Blackboard Learn share many key features including mobile-responsive design, sophisticated user-management tools, and the ability to support multiple, customizable learning portals. So which is better for building a learning culture in your small business? Let's compare them side by side to see how they stack up.
---
Canvas vs. Blackboard: An overview
Canvas and Blackboard are both leading learning management systems for academia with recent iterations tailored for business training. Here's how they compare.
Who is Canvas for?
Canvas is a highly secure, open-source learning management system that can be tailored to suit your business and your learning goals, no matter how big or complex. It is well suited for businesses that want to create multiple interfaces tailored for different user groups. It doesn't come with e-commerce functionality built in, so if you want to sell courses, it is not an ideal solution out of the box.
Canvas is not as easy to use as some simpler LMSes designed for business training such as WorkRamp or SkyPrep. Businesses with experienced LMS users or web development resources will find it easier to unlock Canvas's full potential. The company provides onboarding training to help users get up to speed quickly.
Instructure offers two versions of Canvas specifically for business: Canvas Corporate for enterprise and Canvas Bridge, a streamlined version for business training. If you find that Canvas's full version is more than you need, be sure to check out Bridge. This review covers Canvas Corporate.
Who is Blackboard for?
Like Canvas, Blackboard is an LMS with a hefty academic pedigree. It began as an open-source LMS but sold that system in 2020. Blackboard's LMS for business training is Learn Ultra.
Blackboard Learn Ultra is ideal for enterprise-level training. Like Canvas, Blackboard Learn Ultra doesn't support e-commerce out of the box, so you will need to address that independently if you want to sell courses online.
Blackboard doesn't have quite the depth of innovative features that Canvas offers. Blackboard also has some catching up to do in its user experience and design. But Blackboard is worth considering if you have substantial training needs. Like Canvas, Blackboard offers extensive training materials to help you build your learning environment.
---
Canvas vs. Blackboard: Features
Canvas edges Blackboard out in innovation and flash, but make no mistake: Both these LMS giants have deep features and capabilities to explore. Here are some highlights.
What Canvas offers
Canvas lets you host and brand multiple learning portals independently, with built-in themes that are click-button easy. You can also customize the system using custom cascading style sheets (CSS) or JavaScript.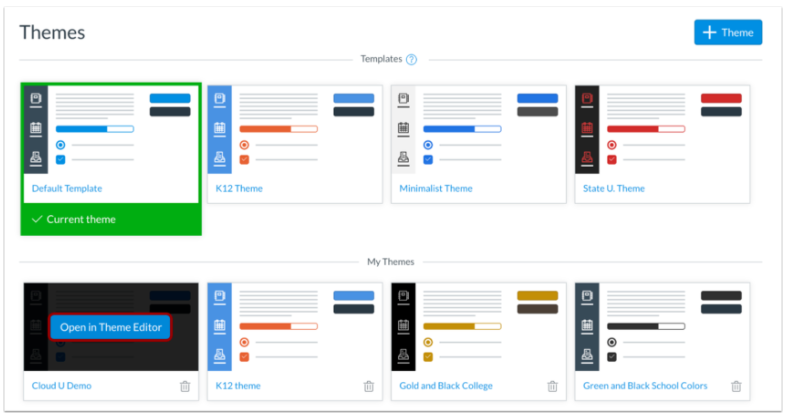 Canvas has outstanding course-building tools for building immersive, media-rich course modules. You can easily import or create whatever content you need, including documents, media, assessments, and embedded web pages. You can also import content directly from systems such as Moodle and D2L, a great tool if you have an existing body of courses to offer.
Canvas also provides unique tools to foster interactive learning that go far beyond polls and quizzes. Social learning tools such as comments, discussions, chats, and collaborations integrate seamlessly into lessons.
One unique tool, Canvas Studio, allows students to comment directly within the timeline of a video. Canvas pauses the video, bookmarks the comment, and resumes playing when the student is done. Other students can easily see the comments and respond.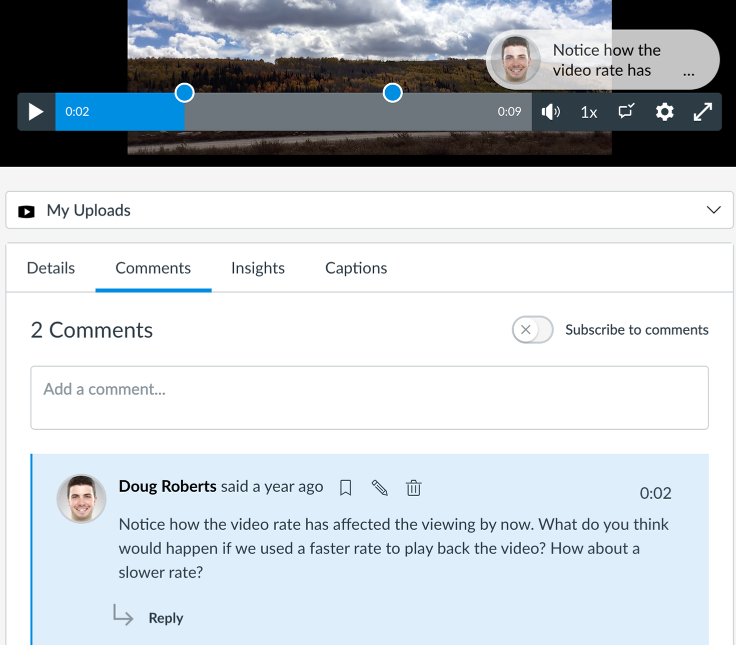 That's a great feature for connecting remote learners and enriching asynchronous coursework. Canvas also allows learners to record video, audio, and screen capture, a helpful feature for practicing skills and gathering feedback.
Canvas LMS analytics and admin features are equally deep and well-thought-out. From grouping users and assigning permissions to automating events and sending notices, Canvas has a tool for it.
What Blackboard offers
Blackboard offers many of the same core functionalities as Canvas. Blackboard can host multiple, customized learning portals to support live and asynchronous training. This is ideal for businesses that want to provide unique learning experiences to different audiences, such as employees, customers, and partners. It also allows you to manage administrators, courses, and learner groups independently.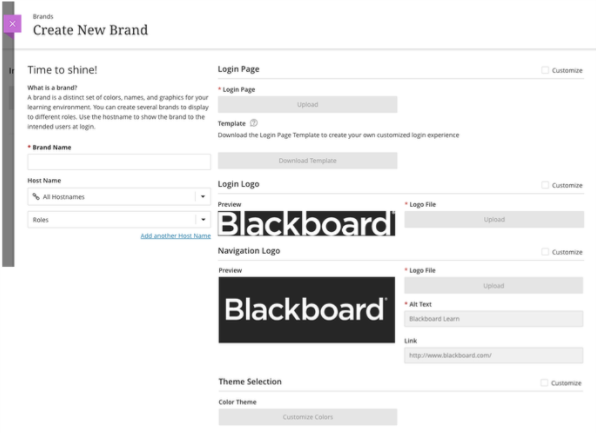 Blackboard's course-building features also run deep. You can import content via file uploads or simple drag-and-drop functionality. You can also bulk import entire courses from cloud accounts such as Google Drive and Dropbox.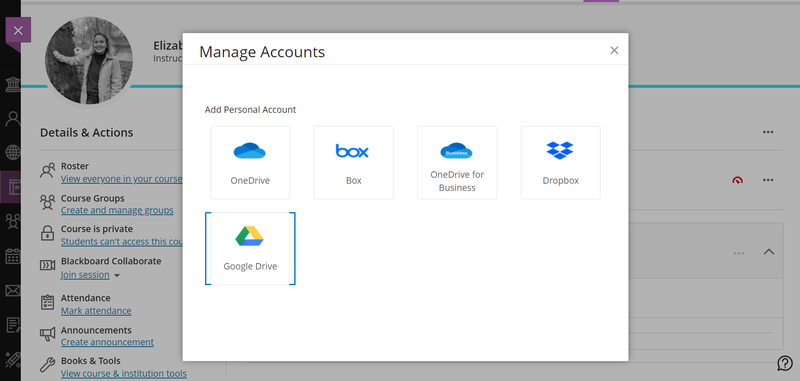 In addition to importing content, Blackboard features a relatively standard toolset for creating learning units, discussions, quizzes, surveys, and other course components. Courses can be easily connected into learning paths. Like Canvas, Blackboard includes a portfolio feature to allow users to showcase their accomplishments, a nice touch for engaging employees in learning.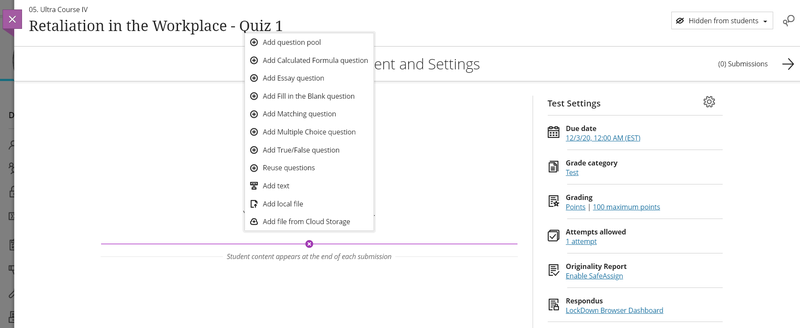 Where Blackboard really stands out is in its administrative capabilities. For example, Blackboard makes it easy to set up parameters such as course prerequisites, minimum grades, time limits, and permitted attempts. You can create an access code to secure tests and even lock the browser during testing to prevent cheating.
These features take on a lot of the work of delivering course content, from moving learners through your curriculum to grading tests and tracking learner progress.
Blackboard is equally adept at system administration. As an example, Blackboard comes loaded with no fewer than 10 pre-built roles for system users alone. You can also add custom roles and assign primary and secondary user roles. This allows you to exert very precise control over what users can access and do.
The winner: Canvas
Canvas and Blackboard both provide full features for creating courses, providing on-demand and live training, and managing users. Across the board, however, Canvas's features are better designed and more innovative than Blackboard's.
---
Canvas vs. Blackboard: Support
The best software in the world is useless if you're stuck and can't get an answer. So where can you turn if you have questions about Canvas and Blackboard?
What Canvas offers
Canvas offers phone, chat, and email support as well as vast online resources for users. In addition to a massive knowledge center and online videos, Canvas has a user community with more than 1.3 million members.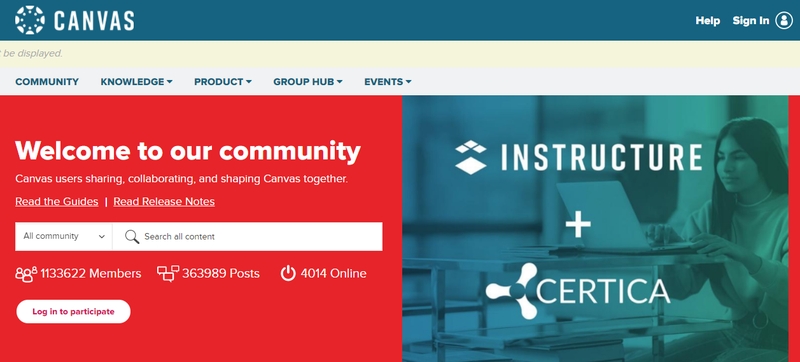 With Canvas, you're never really alone, and you're never far from an answer to your questions.
What Blackboard offers
Blackboard also provides comprehensive support via phone, internet, and live chat. Blackboard has extensive online resources including user forums, video tutorials, online courses, and a help center.
Some Blackboard packages also come with onsite or remote training to help you get up and running.
The winner: Canvas
Canvas edges Blackboard out once again with its user-friendly online resources.
---
Canvas vs. Blackboard: Ease of use
User experience is a major differentiator between Canvas and Blackboard.
What Canvas offers
Canvas presents a mind-boggling array of features and capabilities in an orderly user interface. Nested menus, tabs, and breadcrumbs are there to help you drill down and find what you want.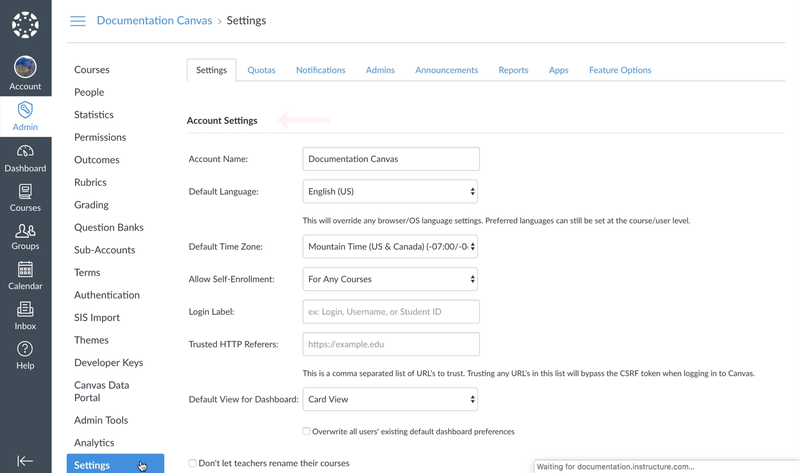 Still, with so many options at every turn, Canvas has a steeper learning curve than streamlined systems made for business such as Lessonly or TalentLMS.
What Blackboard offers
User experience has never been a strength for Blackboard. Blackboard's interfaces are logical enough, but they're not particularly intuitive or user-friendly.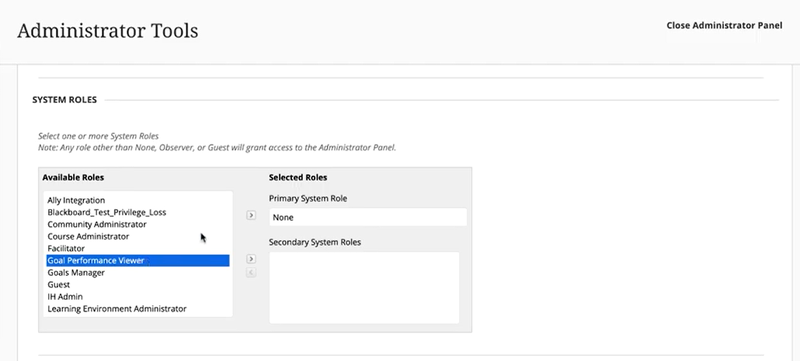 For admins and instructors, especially, Blackboard has quite a learning curve.
The winner: Canvas
Canvas and Blackboard are both complex, but Canvas edges Blackboard out in user experience. The functionality in Blackboard is a bit harder to unearth and deploy, and the navigation is not quite as appealing or intuitive.
---
Canvas vs. Blackboard: Pricing
To compare Canvas vs. Blackboard costs, you will have to do some digging. Both companies provide pricing details only by quote. Here are the basics.
What Canvas offers
Canvas is a software-as-a-service (SaaS) system. You pay a one-time implementation fee upfront, plus an annual subscription fee based on your total number of users. The company offers a free unlimited trial, so you can see what you're getting before signing up. Some features are charged separately.
What Blackboard offers
Blackboard's pricing is also subscription-based and proprietary. Blackboard offers a free trial, CourseSites, which you can use to try out the platform and even teach up to five courses.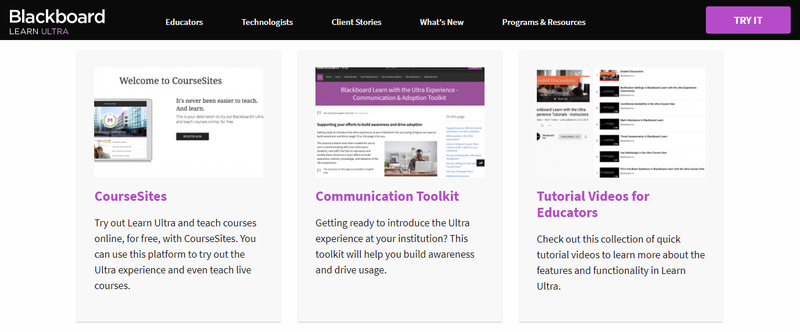 Results: Tie
You'll have to contact a sales rep to find out whether Blackboard or Canvas is more affordable for your business.
---
Canvas vs. Blackboard: Integration with other software
Integrations are key for instilling a culture of continuous learning in your business. How well do Canvas and Blackboard connect with your existing systems?
What Canvas offers
Canvas offers extensive integrations with external applications and systems. And with its open application programming interface (API), you can integrate Canvas with just about any system you use in your work.
Canvas also supports learning tools interoperability (LTI), connecting you to further educational resources and applications.
What Blackboard offers
Blackboard doesn't sport the full complement of ready-made integrations that Canvas offers. It does support integrations via REST API and LTI.
The winner: Canvas
Canvas has built-in integrations with more applications than Blackboard.
---
How They Compare: Canvas vs. Blackboard
| | Canvas | Blackboard |
| --- | --- | --- |
| Mobile response | | |
| E-commerce | | |
| Phone support | | |
| User-friendly | | |
| Cutting-edge features | | |
| Transparent pricing | | |
---
Give them a try
Canvas and Blackboard are basically space-shuttle LMSes: big, hefty, and sporting a whole lot of bells and whistles. If you're creating an online university for large, distinct audiences, they're both up to the task. But a space shuttle isn't the best vehicle for every journey.
Canvas is flashier and easier to drive, while Blackboard Learn is still finding its feet in the world of streamlined, made-for-business LMSs. But with free trials on both sides, it's worth taking them for a spin before settling on a corporate LMS.