Certify by Emburse is business expense tracking software designed for just about any size or type of business. Along with excellent expense management capability, Certify also offers separate travel management and accounts payable add-on modules that can be used in conjunction with the Certify expense management module.
---
Who is Certify for?
Is there a person alive who enjoys saving receipts and then later going through those receipts racking their brain trying to remember what the receipt is for? What if you have all your employee's receipts only to find three expenses on the company credit card bill not accounted for? And while we're asking, do you think your employees enjoy waiting up to two weeks or more to be reimbursed for items they paid for?
That's where Certify comes in. Certify helps businesses of any size track expenses. With automated expense report creation, it doesn't matter if you're tracking business expenses for yourself or you need to track employee expenses. Certify can help you manage them all.
---
Certify's features
Certify offers easy implementation, intuitive navigation, and access to valuable add-on modules that offer even more functionality. But even better, Certify is affordably priced for small businesses and is so easy to use that your employees will actually use it.
Besides some top-notch features, Certify also includes integration with accounting software applications, and as a single version software application, ensures that you're using the most updated version available. In addition, Certify supports multiple languages and multiple currencies.
And, they guarantee 99% uptime, because it doesn't matter what great features an application offers if you're unable to access it when you need it.
In addition to its excellent expense management application, Certify also offers Certify Travel for easy travel booking that ensures company compliance. It also offers Certify AP, which speeds up the entire reimbursement process, with both add-on modules integrating seamlessly with Certify Expense.
Using Certify, you can also track your mileage by entering a From and To location on your mobile app, and Certify will calculate miles traveled and apply the appropriate expense based on the mileage reimbursement rate you added during the setup process.
Check out these other features in Certify.
ReceiptParse™ OCR
Patented by Certify, the ReceiptParse technology offers autofill and extraction technology that eliminates the need for data entry. With the Certify mobile app, you just snap a photo of any receipt, then tap the AutoFill tab, which scans and extracts data from the image into Certify. Up to 15 separate expense fields can be automatically captured and populated.
When it's time to prepare your expense report, just compare extracted data to the receipt and make any changes needed. For those without a smartphone, Certify offers up to 11 ways to capture receipt data and upload the receipts directly into the application.
Travel and Expense Policy
Unauthorized travel expenses create a lot of headaches for business owners. But if employees are unaware of company policies, violations will continue. That's why easy access to your company's travel and expense policy is so valuable.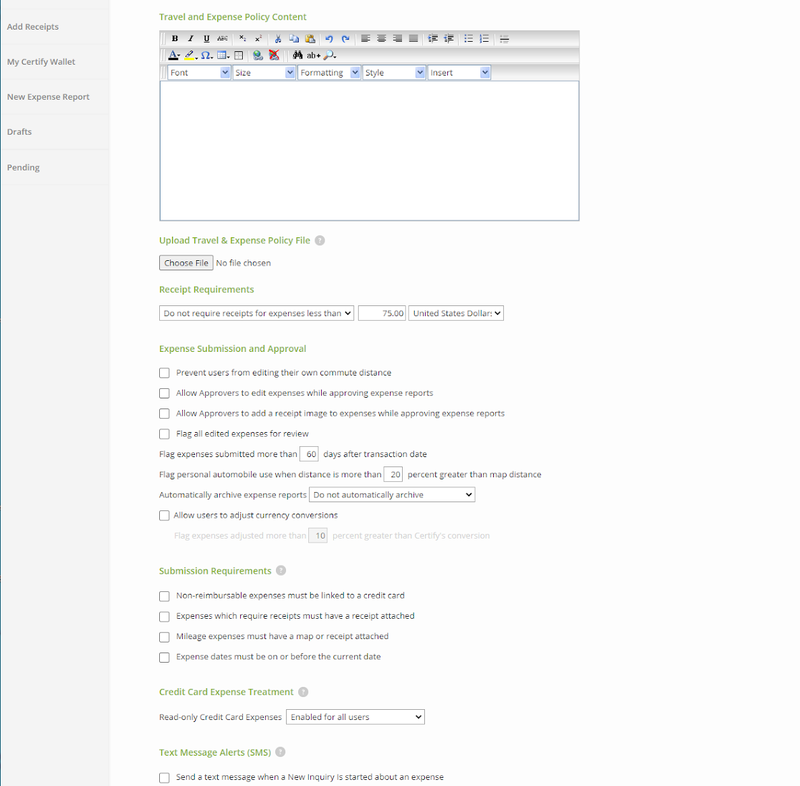 Certify lets you create and store your company travel policy. If you already have a company policy in writing, you can just upload it directly into Certify. In the configuration feature, you can also create receipt requirements, such as a minimum amount that requires a receipt.
A more expanded version of your company's travel policy can be set up and maintained in Certify Travel, including pre-trip approvals and corporate rates for air, rail, hotel, and rental car expenses.
Certify mobile app
The easiest, most efficient way to add a receipt to Certify is with your mobile phone. The Certify mobile app supports iOS, Android, BlackBerry, and Windows devices, and allows you to snap a photo of a receipt and upload it to the application in minutes.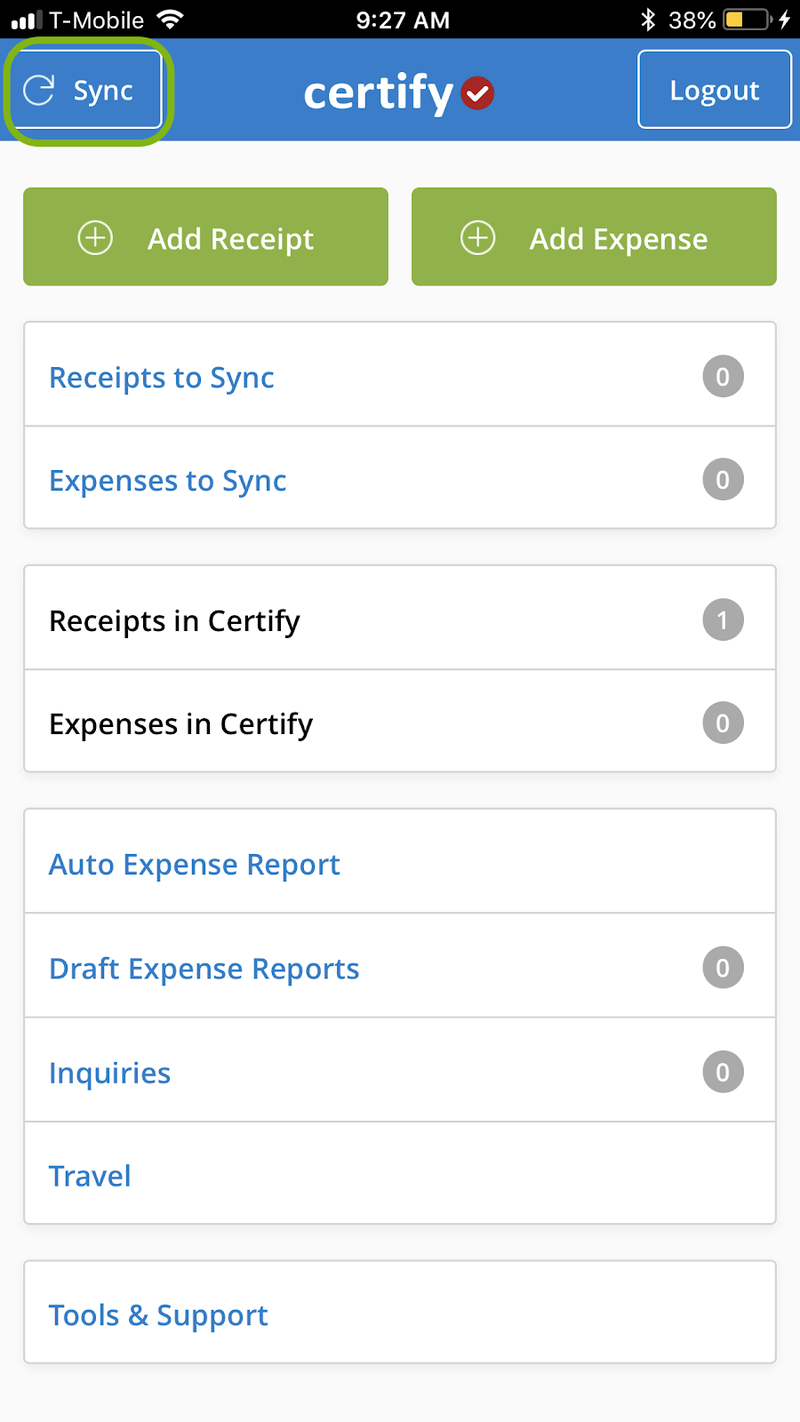 Just tap on the Add Receipt tab, focus your camera and tap the Photo button to capture the receipt image. AutoFill then does its magic, populating the appropriate expense fields, though you're able to add additional details or correct information if you wish.
Once receipts are uploaded, they're stored in the My Certify Wallet feature, which serves as a receipt tracking system of sorts, where they'll stay until attached to an expense report.
You can also enter additional expenses, create an expense report, and access tools and support from the mobile app.
Automatic expense report creation
One of Certify's most popular features is its ability to automatically create an expense report. Once you've added or uploaded receipts and other expenses to the Certify Wallet, those expenses can be added to a new expense report. You can add all the items in the wallet to your new expense report or add items based on a date range.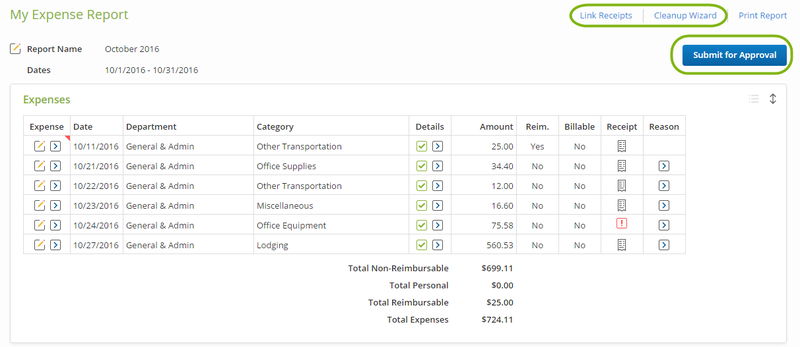 Once you've added all items, you can review your automated expense report for accuracy. When you're satisfied, simply click the Submit for Approval button, where it will be automatically forwarded to an approver for further processing.
Analytics
It doesn't do much good to track your expenses if you don't use that information. The Certify Analytics feature does just that, providing you with access to various standard reports and the ability to create customized reports. You'll also have access to the Enterprise Dashboard, where you can view key performance charts for any date range, with the charts refreshed every day. These charts include:
Top 5 Expense Categories
Expenses by expense type
Expense policy violations
Processed expense reports
Top 5 employees who expense the most
Expense accrual by expense status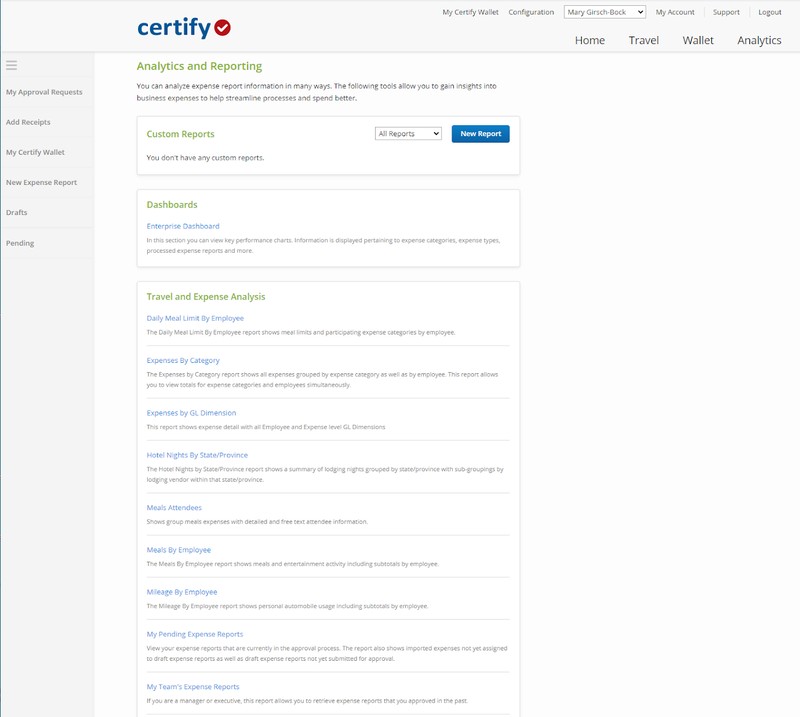 You'll also have access to expense report statistics and the average number of days it takes to submit an expense report. This is a valuable feature that is worth the price of the application alone.
---
Certify's ease of use
If a tool or resource is difficult to use, employees can be reluctant to use it. That won't happen with Certify because the application's designed to offer even new users an easy way to manage their expenses. Certify's home page offers an intuitive user interface that provides easy access to all the application's features, with direct access to product support resources.
Larger businesses can take advantage of Certify's implementation services, but there's also a self-implementation feature available for smaller businesses. The system configuration page lets you set travel and expense policy, add expense categories, and add new users to the system.
After logging into Certify for the first time, you can use the New User Setup Wizard to quickly complete the user setup process, which includes language and currency preferences, and instructions on downloading Certify Mobile, which supports iOS, Android, or Windows mobile devices.
You can place all receipts and expenses uploaded or added to Certify in the Certify Wallet, where you can review them for accuracy before creating an expense report. Certify also includes a Clean Up Wizard for editing receipts and line item expenses before report submission.
You'll also be able to view any draft and pending reports not yet approved with the analytics feature mentioned earlier.
---
Certify's pricing
Certify offers three expense management plans:
Certify Now!
Professional
Enterprise
Certify Now! is designed for small businesses with 1-25 employees, with pricing a very reasonable $8/month, per user. The Professional plan serves businesses with 25-200 employees, while the Enterprise plan serves businesses with more than 200 employees.
Professional plan pricing is based on a monthly service fee while the Enterprise plan is an annual fixed price, with a custom quote for businesses with more than 25 employees available directly from Certify.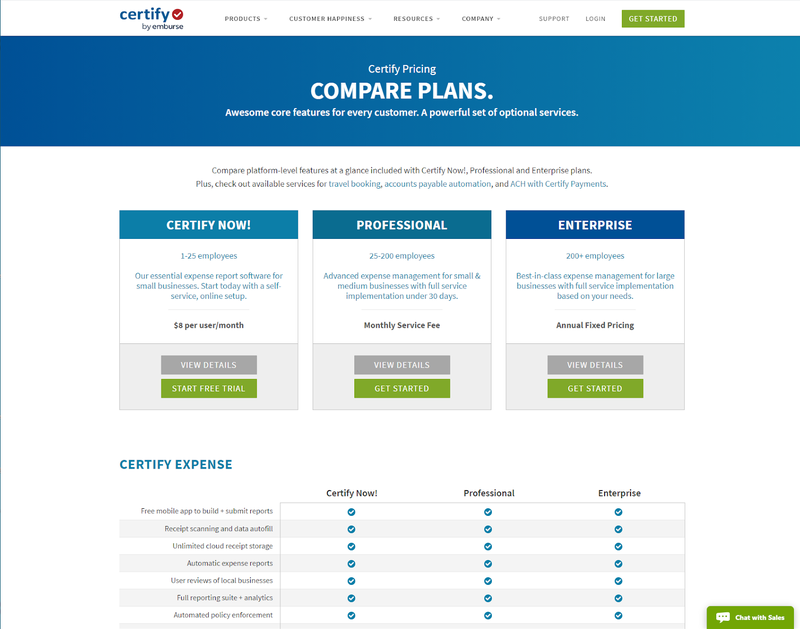 Those interested in add-on modules such as Certify Travel and Certify AP can contact Certify directly for pricing.
---
Certify's support
The Certify Help Center includes easy access to numerous help and support resources, including the option to browse support topics. Training videos are available, or you can view getting started resources including the Certify User Guide, which provides detailed instructions on everything from getting started to creating, submitting, and approving expense reports.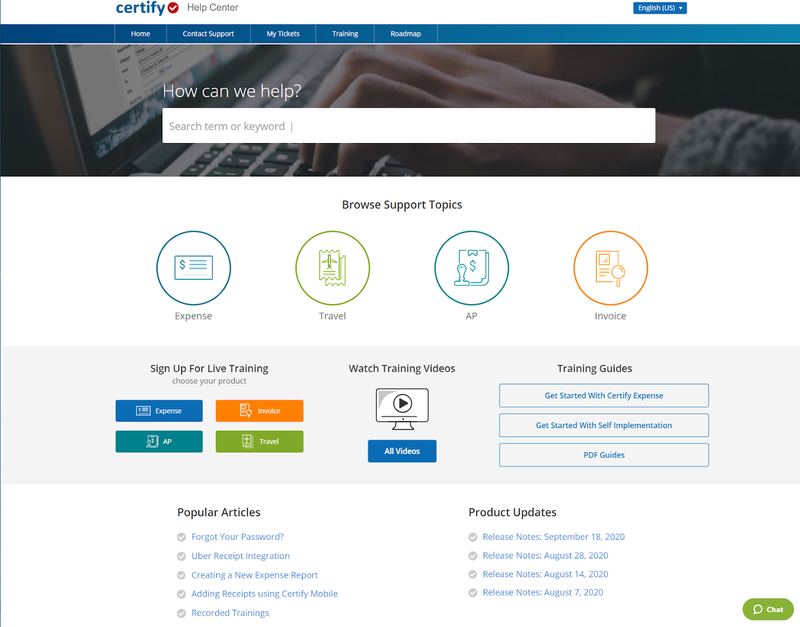 Support is available via email, with an option to attach any supporting documentation. You can manage any open support tickets directly from the Help Center. You can also contact Certify using their toll-free number, with local support offered across the globe.
---
Benefits of Certify
You will reap a ton of benefits when you use Certify, two of the biggest being easy, accurate, expense report creation for your employees and more time for you or your accounting staff to spend on important tasks, rather than matching 50 receipts to a credit card statement. Employees will love it because they get reimbursed for out-of-pocket expenses much faster than before.
Bookkeepers will love not spending hours reconciling each expense report, and you will have peace of mind knowing your employees are following expense management guidelines when they're on the road.
---
Why not give Certify a try?
Certify offers a free, 14-day trial of Certify Now!, the plan designed for businesses with 1-25 employees. You'll be pleasantly surprised to see how easy it is to track business expenses, whether it's just you or a staff of 20. Stop spending your time reconciling expenses and let Certify manage them for you.
---
Frequently Asked Questions for Certify
What does expense management software do?
Expense management software makes it easy to manage everyday expenses and track expenses you or your employees incur while traveling. What's even better is that after those expenses are entered, an expense report is automatically generated and sent for approval, resulting in more accurate expense tracking, faster reimbursement of expenses, and better receipts management.
Most expense management applications also offer add-on options such as mileage tracking, travel booking, and automatic reimbursements.
Certify is affordably priced, putting it within reach of just about any business. Prices start at $8/month, per user. If you have three employees using the application, you'd be paying $24 each month, well worth the cost when considering the time it saves you and your staff.
Certify offers intuitive system navigation, easily accessible features, and tools and resources available at your fingertips should you get stuck. Certify also offers live webinar training for all new Certify users, with training scheduled weekly and available to all system users, with numerous pre-recorded training videos available on demand for new users.
The Motley Fool has a Disclosure Policy. The Author and/or The Motley Fool may have an interest in companies mentioned.