---
Who is ClickTime for?
ClickTime is a time clock software for project-based teams looking to more effectively allocate employee time. If you need to track and analyze billable versus non-billable hours and project profitability, ClickTime's time sheets will help you understand where your employees' time goes.
In-app time tracking helps employees label time usage down to the minute, meaning you can accurately bill clients — and have extensive data on hand to support your costs and fees.
All this data collection means you can better predict how many hours you'll need to schedule to work on certain projects or with certain clients. For agencies, consulting firms, or nonprofits, the insights into labor costs and use of employee time could make ClickTime worth a trial or demo.
---
ClickTime features
The backbone of ClickTime is employee timesheets, which you can use to track billable and non-billable hours. From these timesheets, you can view a slew of reports that detail things like employee time-usage trends and project costs.
Scheduling
Since ClickTime focuses on timesheets and time tracking, it doesn't include traditional scheduling tools. Instead, ClickTime removes barriers that stand in the way of employees accurately tracking their time. Rather than using a separate timer or taking note of start and end times manually, employees can track time directly from ClickTime, which adds that data directly to their timesheets.
Once you've set up clients, projects, and tasks in the system, your team can start tracking the hours they spend on them. Employees can choose to enter total time worked, use manual start and end times, or track time to the minute with ClickTime's in-app stopwatch, which will update their timesheet as it runs.

Employees aren't the only ones who will have a better handle on their available time. Using Clicktime's allocation management tools, you can see who has time left in their schedules to work on various tasks and how much time each project will take to complete, given available employee hours.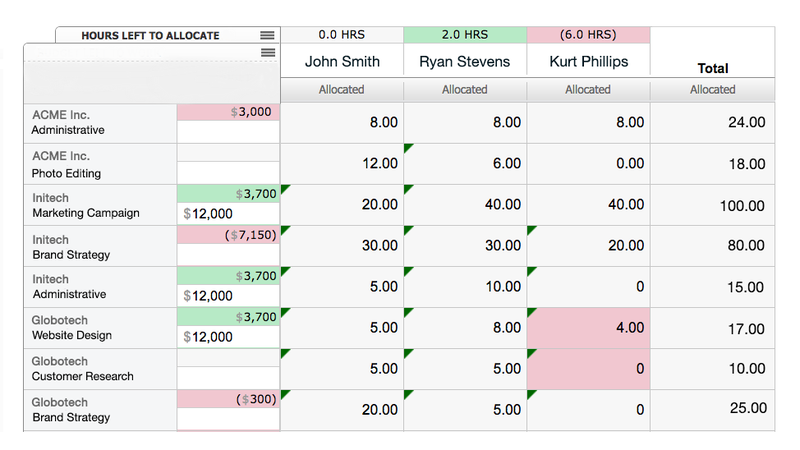 Employees can also update their available time by requesting time off, which means you can better anticipate who's in the office and when your team might be a little shorthanded.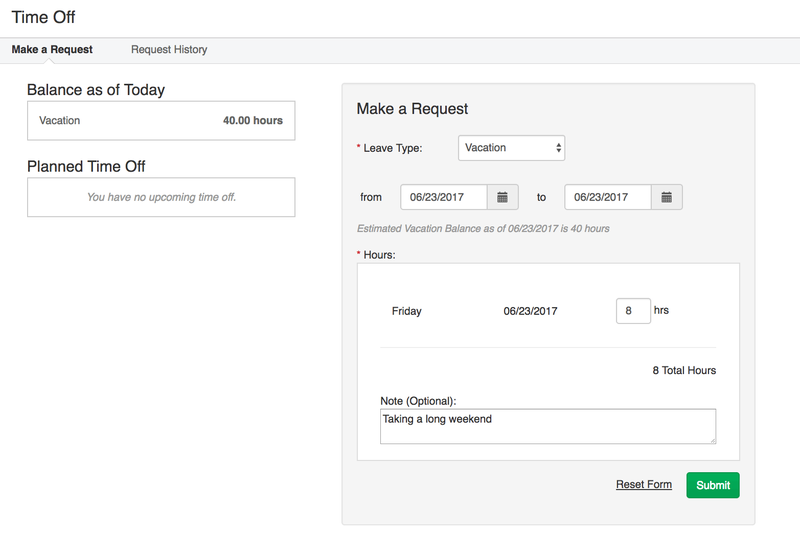 And once you've created rules related to time off accrual, employees can see how much vacation time they've earned from their dashboards.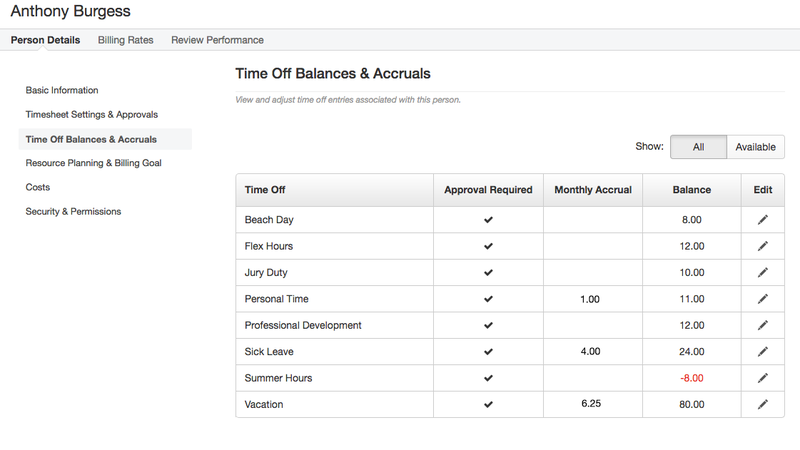 Budgeting
As the saying goes, time is money. And by using ClickTime's time-tracking tools and gathering data from timesheets across your company, you'll be able to more completely track and understand your project labor costs. As employees update their timesheets, you can see whether you're on budget in real time.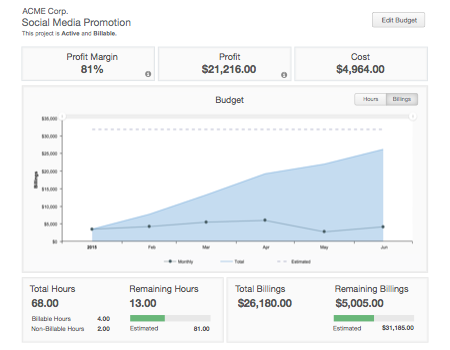 And to compensate employees for all their hard work, ClickTime integrates with popular payroll tools like Paychex and ADP so you can export data on employee hours directly to those systems. It also integrates with QuickBooks, so if that's what you use for client billing and accounting, you can easily bill clients for your employees' time.
Mobile access
In addition to tracking time from the web app, employees can also track time and edit and submit timesheets from Android and iOS mobile apps. However, these apps aren't rated very highly in app stores by users, so employees might have difficulty using them effectively.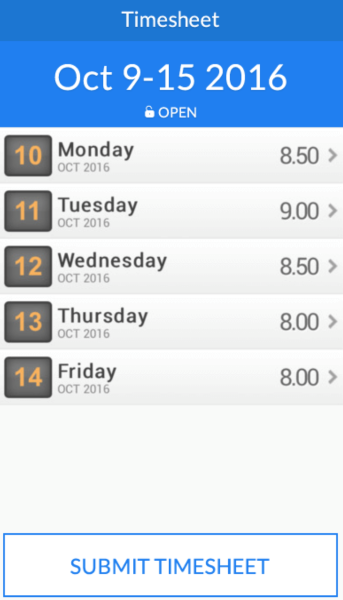 ---
Benefits of using ClickTime
ClickTime helps you use and schedule employee time more effectively. Using ClickTime's extensive reporting tools, you can analyze where employee time is spent and on which projects, enabling you to allocate your team's hours more intelligently. And since all this tracking is done in real time, you can make up-to-the-minute decisions about allocating resources instead of waiting for employees to turn in timesheets at the end of the week.
That means you save money by getting a better handle on project costs, and your employees can spend more time working on projects that matter. Plus, with a better understanding of associated costs and employee hours, you can more accurately set project and client rates, increasing your profit margins over time.
---
ClickTime pricing
Of all the time clock tools I evaluated, ClickTime was one of the more expensive systems on the market. Even its basic "Starter" tool — which only includes timesheets, time tracking, and a limited number of reports — is nearly twice the cost per user as similar systems on the market, and that's at the annual rate.
For businesses who don't want to (or can't) commit to a year with ClickTime, system costs start at $12 per user per month. So, if you're looking to save some money, I'd recommend making sure you want to use ClickTime for at least a year before signing up.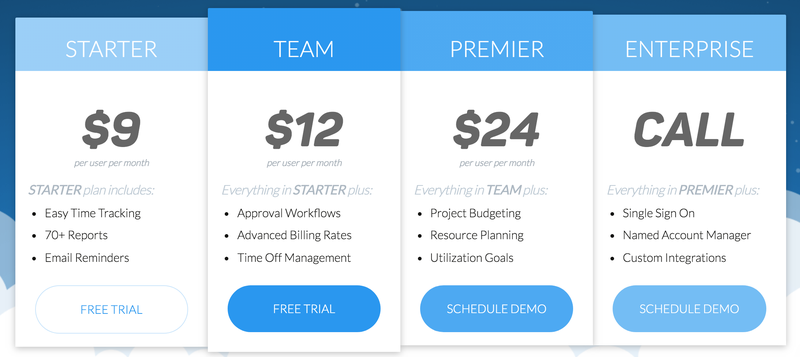 However, if project costing and resource allocation are important to you, having a centralized system where employees can track and enter time and where you can pull detailed reports from that data might be worth the price tag.
---
ClickTime's ease of use
ClickTime's dashboard reports make it extremely easy to understand large amounts of data. If you have lots of employees working on many different projects at different rates, you can understand it all at a glance with data rollups and charts.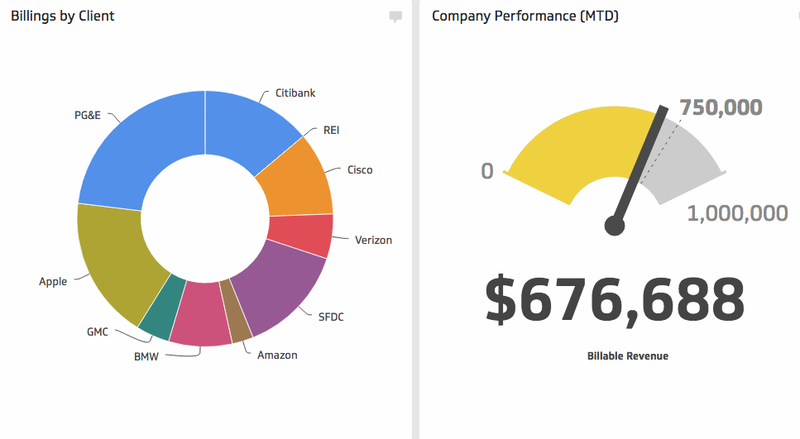 Getting started
When you first log in, ClickTime seems to have a lot of moving parts. However, your initial setup is broken down into a few main categories: clients, projects, and tasks. Once you set up clients and projects (and add tasks to those projects), employees can use these basic classifications to label, track, and record their time. You can also create different "divisions" (or teams) to further classify employees' hours.

Because ClickTime tracks so many different data points and requires some time to set up, I recommend familiarizing yourself with the system by playing around with the dummy data available in its free trial. I also suggest taking advantage of ClickTime's quick start guides, which break the setup process down into easily manageable steps.
---
Frequently Asked Questions
Is there a free version of ClickTime?
No. ClickTime pricing starts at $9 per user, per month (if you agree to a one-year subscription).
Which industries does ClickTime cater to?
Any business that needs to track billable and non-billable hours could benefit from ClickTime's tools. ClickTime specifically caters to nonprofits, IT services, and marketing and ad agencies.
What tasks can you accomplish with ClickTime?
ClickTime allows you to track and analyze billable versus non-billable hours and variables such as project profitability. Primarily, ClickTime functions off of timesheets.

Look into ClickTime if you need to track the hours employees spend on your projects.
Look into ClickTime if you need to track the hours employees spend on your projects.
The Motley Fool has a Disclosure Policy. The Author and/or The Motley Fool may have an interest in companies mentioned.