---
Who is ClockIt for?
ClockIt is for any business that wants an affordable solution for keeping track of employee time and building schedules. If you're a startup that needs to manage employee time, set up vacation policies, and understand employee attendance, but you don't have a lot of money to spend on software, ClockIt is worth checking out. However, given the complexity of the system, ClockIt seems to be geared toward the tech savvy, not necessarily someone who's using scheduling or time-tracking software for the first time.
---
ClockIt's features
ClockIt is one of the few time clock systems I reviewed that allows you to both build schedules and track time by project and client. These capabilities mean many types of businesses could use ClockIt to track and manage employee time.
Scheduling
Instead of a drag-and-drop method, in ClockIt, you build schedules by using "time templates." You can then use these templates to create schedules for various employees. You can set up schedules that recur forever or create new schedules as you need them.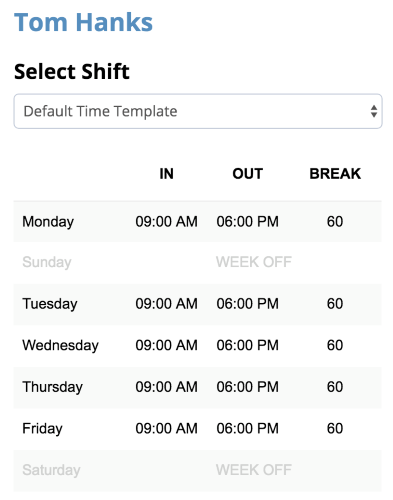 Time-off parameters must also be set up using a template. If your business has multiple locations, you can apply different accrual rules and recurring holidays to different sites according to each location's needs.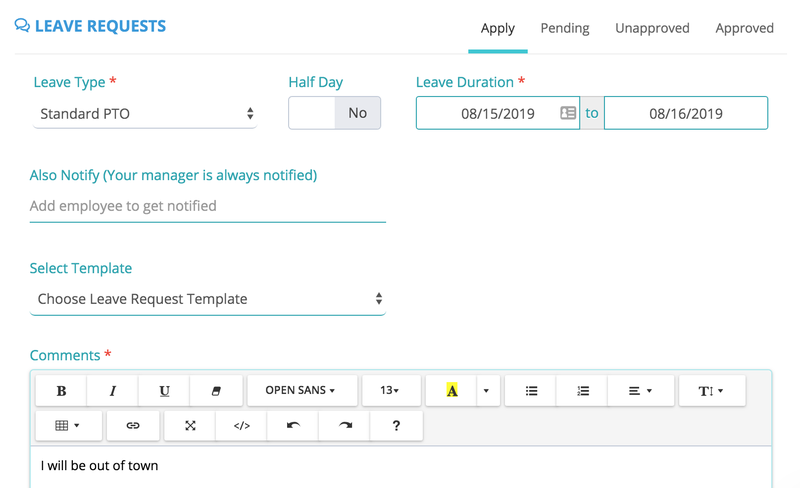 Accountability
Employees can clock in via a web or mobile app, through an integration with Slack, via a time clock kiosk, or with a biometric time clock (which costs extra and starts at $450). In addition to clocking in and out for shifts, employees can also track time spent working on various projects and tasks. To ensure accurate clock-ins, you can set up geofences (which restrict the locations where your employees can punch in and out), capture their location from ClockIt's mobile app, and even create IP restrictions for those punching in on the web app.
As a manager, you can see who's clocked in, at what time, and via what method in real time. This attendance report is accessible from your manager dashboard and from ClockIt's mobile app.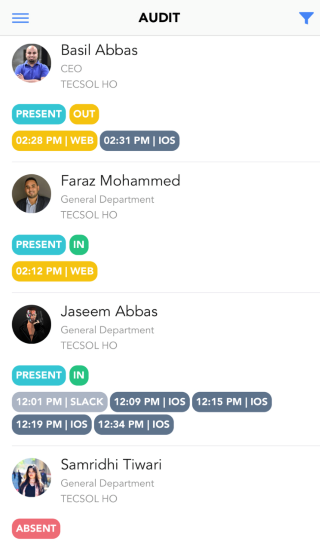 Most reports, including an attendance audit, live on the manager dashboard and are displayed as easy-to-read stats or charts. However, you can also access more detailed reports from ClockIt's reporting tool. These data-heavy reports are largely formatted as in-system spreadsheets and can be exported or shared with colleagues.
Budgeting
By creating an employee time data report in ClockIt, you can export all relevant data to your payroll solution, ensuring accurate and fair payment that includes hours worked and time off.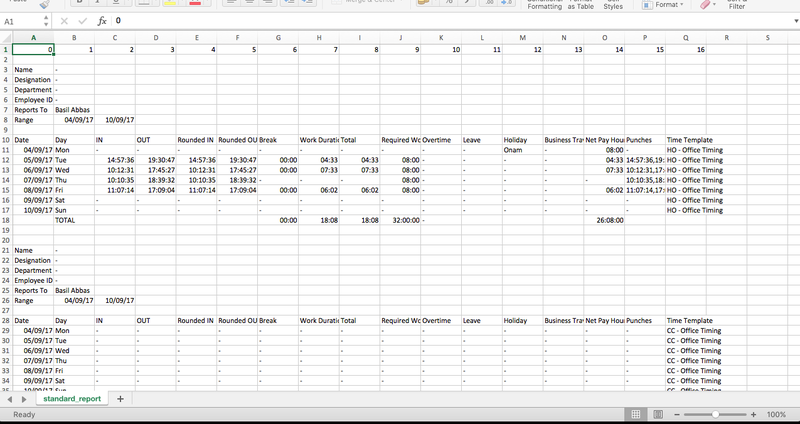 ---
Benefits of using ClockIt
ClockIt is highly customizable and gives you the opportunity to tailor schedules and time off policies according to your needs — and according to local labor compliance laws. Whether you're managing a distributed team, employees across multiple states, or teams in different countries, ClockIt can help you keep track of everyone.
For organizations with multiple locations, the convenience of managing all employees from one centralized system is probably the biggest benefit of using ClockIt.
---
ClockIt pricing
For those who don't need much and have a small budget, you're in luck: ClockIt now offers a free version with unlimited users that has time and attendance features, as well as online support and mobile apps.
If you want extra features, such as GPS tracking, reporting, route planning, scheduling, document upload, and more, you'll have to pay for one of four tiers.
XS is $29/month for up to 10 users; S is $49/month for up to 20 users; M is $99/month for up to 50 users; and L is $199/month for up to 100 users. All of them offer pretty much the same features (except for M and L, which also give you API access), so you're paying for the extra users.
If you just want to try it first, ClockIt offers a 14-day free trial with no credit card required.
---
ClockIt's ease of use
With its wide range of features, ClockIt makes it possible to accomplish a lot. However, when navigating the system for the first time, it seemed that actually using all of these features to your advantage would require lots of time spent either in setup guides or on calls with customer service.
Getting started
Unlike other heavy-duty time clock systems, ClockIt's free trial didn't have the option to fill the system with dummy data. Instead, there was a brief welcome video that detailed how to add users. After that, there was almost no in-system assistance — no setup wizard or links to self-help guides. Even the self-help portal, which was easy to find, lacked an immediately identifiable "getting started" guide for new users.
In the end, I had to dig through ClockIt's self-help articles to set up just about everything in its system. Even then, I wasn't entirely sure how everything worked or if it was set up correctly.
---
Frequently Asked Questions for ClockIt
Does ClockIt offer a free plan?
Yes. ClockIt now offers a free plan with unlimited users, although its features are limited to just the most basic functions. ClockIt also offers a 14-day free trial for a no-risk, no-cost way to try it out.
Which industries does ClockIt cater to?
Given its ability to create schedules, allow employees to clock in and out, and track time based on projects, ClockIt is a flexible option that could be used in many organizations. Especially for startups that need a robust time clock solution to manage employee for a low cost, ClockIt is worth checking out.
What's the deal with biometric time clocks?
With a biometric time clock, employees can clock in and out using their fingerprints or with facial recognition. While these types of time clocks make buddy punching or other forms of time clock tampering more difficult, they're also more expensive than a typical time clock kiosk or workstation (which you can set up on a desktop or tablet). The least expensive biometric time clock ClockIt mentions starts at $450.

Check out ClockIt if you're looking for a feature-rich time clock solution at a low cost.
Check out ClockIt if you're looking for a feature-rich time clock solution at a low cost.
The Motley Fool has a Disclosure Policy. The Author and/or The Motley Fool may have an interest in companies mentioned.