Your customers are your most valuable resource, but how much do you really know about them? A transactional business perspective sees each sale as a standalone event, but client relationship management takes a longer view to build enduring bonds and consumer loyalty.
The best customer relationship management (CRM) software provides a centralized interface and database for external and internal stakeholder interactions.
We'll go over collaborative CRM systems that allow sales, marketing, and customer service to work together and case studies that demonstrate the benefits of CRM for your small business.
---
Overview: What is a collaborative CRM?
Multiple types of CRM systems exist, but the three main ones are operational, analytical, and collaborative. While operational CRM focuses on automating tasks and analytical CRM crunches performance data, collaborative CRM works to facilitate the customer experience.
Marketing, sales, and customer service used to work in their own information silos, but collaborative CRM tears down these walls. It uses interaction, channel, and document management to increase customer satisfaction and enhance your prospecting efforts to generate sales leads.
---
Functions of a collaborative CRM
Collaborative CRM has one overarching goal: creating a superior customer experience. The quality of the customer experience you provide before, during, and after sales is critical because bad service will drive up to 96% of customers to another company.
Interaction management
Each customer relationship management example used to start at ground zero: "How may I help you today?" Answering a question or solving a problem, however, might require talking to multiple help agents or departments.
Before collaborative CRM, the customer had to restate — frustratingly! — their situation each time they talked to someone new.
Help Scout CRM uses a shared conversation interface so multiple agents can talk to customers and speak privately with each other to answer questions and solve problems.
In the screenshot below, a list of ongoing chats is in the left pane, the current chat in the center pane has the customer comments on the left and help agents — including a private message between them — on the right, and more customer info such as links to previous conversations in the right pane.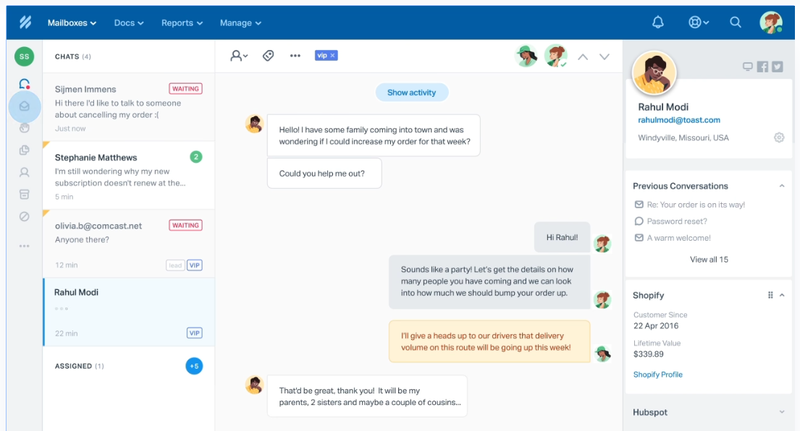 Another Help Scout feature is collision detection: real-time alerts when multiple agents are viewing or replying to the same conversation. This prevents any confusion or communicating at cross-purposes during lead nurturing and other lead management activities.
Channel management
In the past, your customers had to use your preferred communication channels; superior customer service in today's business environment requires using their choice of methods to talk.
Collaborative CRM employs an integrated communications dashboard to manage multiple channels such as chat, email, text, phone, or social media.
Like Help Scout, the HubSpot CRM dashboard has content panes for current conservations, an individual conversation, and expanded customer information.
The key element in the screenshot below is the left-hand menu, which lets agents move between multiple communication channels, including live chat, email, texts, Facebook, and Twitter.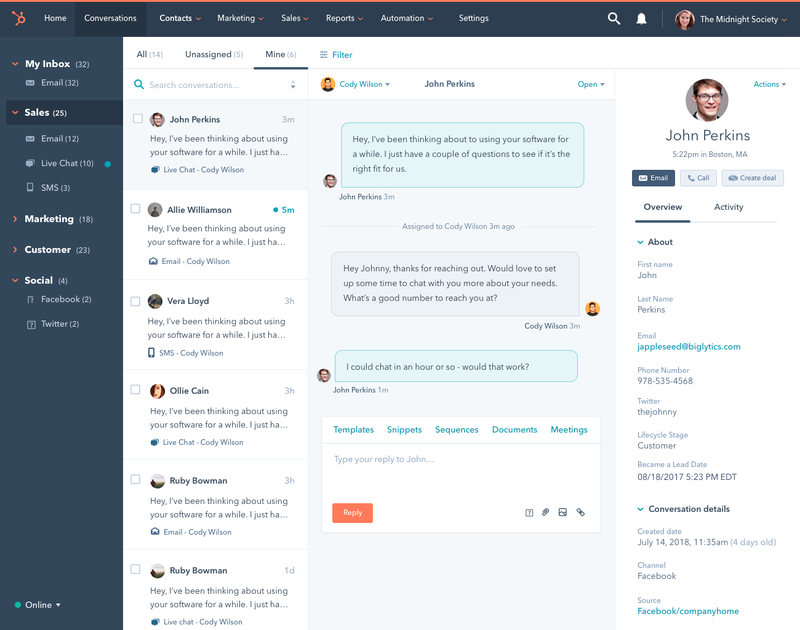 While the same customer may use different channels at different times — perhaps they asked a question in a live chat that you answered via email — these messages are aggregated in a single customer record.
Whether it's a marketing, sales, or service employee who opens a customer account, they'll access the same information and communications history.
Document management
Beyond customer communications, document management includes customer records such as proposals, contracts, and service level agreements (SLAs). It also folds in technical and other support documentation, which help create customer self-service portals.
Increasingly more users want self-service options including knowledge bases, troubleshooting guides, and FAQs. Knowledge bases supply approved, uniform information and are easily updated as changes occur.
Agents can then spend more time on customer interactions requiring human intervention instead of repeatedly answering the same low-level questions.
Groove provides performance metrics for its knowledge base feature to increase customer support efficiency. Learn which articles and search terms are most popular, and discover which searches produced no results. Those failed search terms should have priority when you decide which articles to produce next.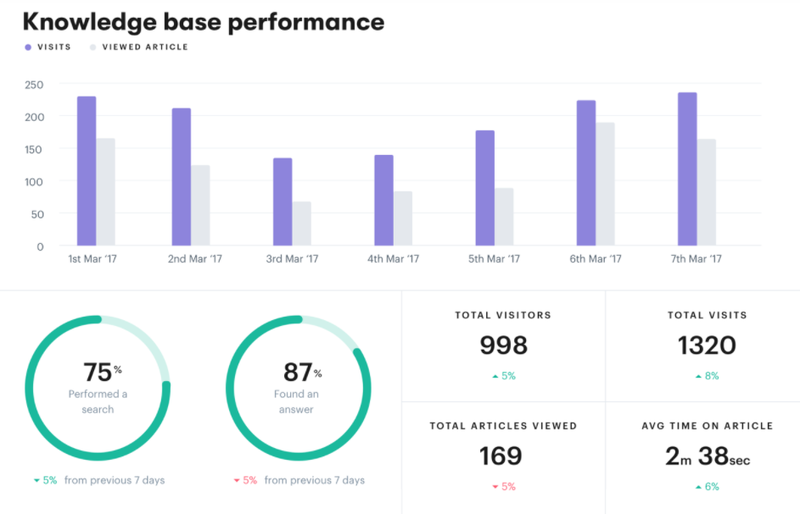 Some CRMs allow for an even more collaborative exchange of information by allowing users to write their own knowledge base articles, leave comments on articles, and rate them.
---
How a collaborative CRM works within a small business
Each type of CRM example we looked at above demonstrated interaction, channel, or document management. Now, let's see how these features work in the real world. These examples come from larger organizations, but the only difference between them — and their results — and your small business is a matter of scale.
1. Provide proactive customer service with a collaborative CRM
Video game studio Activision uses Salesforce's suite of CRM products to monitor players' online social media posts. Comments are matched to customer accounts, and gameplay issues become service tickets, resulting in faster patch releases and stronger customer relationships.
Proactively finding these issues and publicly solving them on Facebook and Twitter also serves as a marketing tool that demonstrates Activision's commitment to its user community.
2. Increase sales with a collaborative CRM
Amazon created its own in-house collaborative CRM to increase sales. Every Amazon customer is familiar with those recommended product emails based on past purchases and product pages viewed.
Amazon further leverages customer data via its Kindle e-book reader: Amazon reviews the highlighted words in your Kindle to send you related e-book recommendations.
3. Promote customer self-service with a collaborative CRM
Schools are good candidates for self-service portals with knowledge bases because each new crop of students brings another round of the same questions.
The London School of Hygiene & Tropical Medicine (LSHTM) partnered with TOPdesk to create a student self-service portal. In three months, self-service increased from 3% to 40% and, more recently, to 70%.
---
Benefits of using a collaborative CRM for your small business
Using collaborative and other CRM types provide multiple benefits, but they boil down to one thing for your small business: a positive bottom-line impact.
1. Reduces costs
Collaborative CRM direct savings include lower costs per customer contact for service. The average cost for each telephone call to a technical support center is $11, but that drops to $5 for a live chat session, $2.50 for an email, and $0.10 for web-based self-service.
Indirect savings include a unified customer database multiple departments can use instead of having fragmented, duplicated, or inconsistent customer records.
2. Increases revenue
Businesses focus many of their marketing efforts on attracting new customers, but existing customers are more valuable than new ones.
You'll spend five times more to attract a new customer than retain a current one, and even a 5% increase in customer retention can grow revenue by 25% to 95%. Sure, you want new customers, but a collaborative CRM helps drive cross-selling, upselling, and repeat purchases.
3. Protects customer relationships
Collaborative CRM features help ensure high rates of customer satisfaction, which is critical given your customer base's value. Streamlined customer service experiences, robust self-service options, and going to your customers online instead of waiting for them to come to you demonstrates your commitment to them.
It's not guesswork: Your CRM can identify areas where you're performing well and what needs improvement.
---
Leverage collaborative CRM for business success
Your products and services drive revenue generation at your small business, but your customers are equally important. Collaborative CRM lowers costs and increases profits by providing better service and maximizing lifetime customer value.