The COVID-19 pandemic ushered in a fast shift to unprecedented numbers of employees working from home. Many may find themselves gathered around a conference table again post-pandemic, but research suggests that greater levels of remote work are likely to continue.
Your company might already have a remote work policy in place, but effective telecommuting involves more than just policies and procedures.
Well, we also provided our staff with some video conferencing best practices, you might say.
That's great! However, there's still a key piece to telework missing in these documents — good ole human connection.
Connecting from home business decisions should consider which interactions happen in the office that don't happen as organically in a remote work environment. Telecommuting is an opportunity to strengthen your team through increased trust and opportunities for work-life balance. Keeping connected will help you get there.
The ten tips below aim to keep your team connected while working from home. They're meant to go beyond what your legal, human resources, or accounting departments have to say about the matter and tap into what matters most to your employees.
---
1. Create opportunities for spontaneous connection
Office environments are full of natural micro-interactions — those proverbial afternoon chats around the water cooler or while picking up your report at the photocopier.
Research suggests we underestimate how important this type of social connection is for our overall happiness. There's also evidence these informal conversations can lead to breakthroughs on business challenges or innovative new ideas for a company.
While you can't randomly bump into a coworker in the hall while telecommuting, you can create this colleague connection using video conferencing software.
In Zoom, Microsoft Teams, or whatever video conferencing platform your company uses, create short meetings during the week that are meant for informal conversations.
You can set recurring 15- to 30-minute meetings labeled as "Coffee Break," "Lunchtime Chat," or any other name that makes it clear it's for social interaction. Colleagues can mark their attendance as "tentative" on their calendars and pop into the video chat rooms whenever they're available.
To avoid staff getting burnt out on a recurring meeting, you can also send out invites more sporadically. Let's say you notice your afternoon workload is a little lighter one day. Use that day to send out an invite in the morning letting folks know you'll be opening up your Zoom room at 2:00 p.m. if anyone wants to hop in for a quick hello.
---
2. Incorporate "get to know you" events for new staff
When new employees connect to work, company leadership has to get creative about how to fold them into a remote team. While new hires will meet people through a remote meeting to learn about their tasks ahead, it can be hard to fit enough time into those project meetings to really get to know each other.
To facilitate these "get to know you" events, companies can use communication apps programmed to randomly pair colleagues together with prompts and questions to guide their conversations. Donut and WaterCooler are two Slack add-ons that do just that.
Making time for these informal meetings will help new staff feel more connected to their new coworkers and even let existing employees learn something new about each other.
---
3. Leverage visual collaboration software
At some point, you've probably heard that we don't all learn or process information in the same way. The most popular theory describes that people are either visual, auditory, reading/writing, or kinesthetic learners. If you're relying solely on conference calls or video chats to flesh out projects, you may not be connecting with everyone on your team in a way that works best for them.
In-office environments, learners who need more than auditory information benefit from being able to map out ideas and see other people's visions on a team whiteboard. MURAL is one company that offers a digital workspace that emphasizes real-time visual collaboration.
It essentially recreates the whiteboard experience online. This can be a fun way to connect with colleagues while also respecting diverse learning needs and getting things done.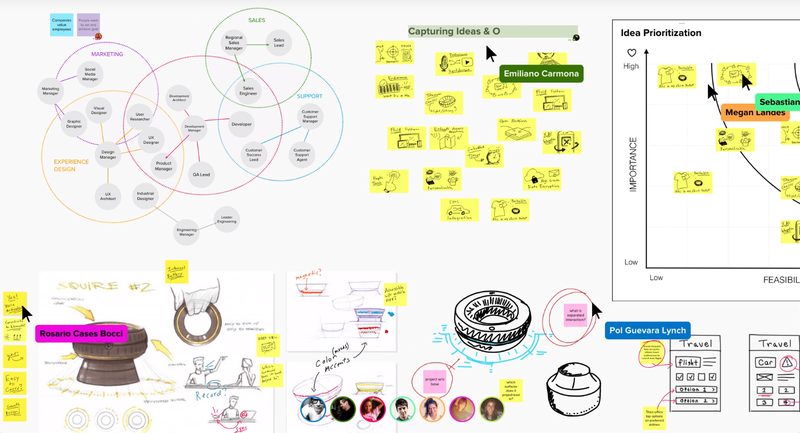 ---
4. Offer non-video options for involvement
While the different types of video conferencing have helped teams stay connected, they've also given rise to what experts have termed "Zoom fatigue." With screen time dominating workplaces, schools, and social engagement, a constant requirement to be on camera can feel taxing to staff's energy levels.
When working remotely, remember to mix in non-video options for engagement. For example, if you need to have a one-on-one check-in with someone, try setting up an old-fashioned phone call instead of a video chat.
Additionally, while your company may encourage a "video on" culture, it's important to be gracious in allowing coworkers to turn theirs off when they need. With office life and home life now sharing the same space, colleagues may need some wiggle room to manage personal matters during your Zoom call.
---
5. Find a productivity accountability buddy
Doing work virtually can be hard for people who are new to it. In addition to the typical distractions of the internet, remote work now also presents all the distractions of being in your home. Finding a telecommuter accountability buddy is an excellent way to connect working with socializing.
Team up with a coworker to do the Pomodoro Technique. This productivity method involves 25-minute focused work blocks on a specific project with five-minute breaks between the first three and a longer 15- to 30-minute break after the fourth.
It helps split up big tasks into distraction-free, manageable chunks. Doing it with a buddy can keep you focused on your goal and looking forward to your check-ins and laughs during the breaks.
---
6. Be a "hype man" for your fellow team members
When you aren't physically seeing your coworkers, it can be harder to remember to take time to celebrate their achievements or share their work milestones with your team.
An estimated 79% of employees who quit their jobs report that a lack of appreciation from their company played a large role in their decision. Therefore, it's critical to make sure gratitude is a regular piece of your strategy to stay connected while working remotely.
Make time in your schedule once a week to send out a team email or message in a Slack channel to publicly praise your colleagues. Share that Suzanne crushed her sales goal. Tell everyone how Whitney won a regional leadership award. Quote that client thank-you letter that calls out Tim's awesome customer service.
---
7. Normalize home office life
Even if your team members are all pros on how to video conference, working from home can create unique challenges. When you connect from home, you may have a child doing school work right next to you. Your cat might decide to hop in front of your video camera at a less than ideal angle because, well, that's just what cats do.
Help your team members stay connected by removing the anxiety or stress they might feel as they anticipate some of these moments where home life spills into work life. Consider hosting a bring your kid to work day or a bring your pet to work day where employees have a chance to meet some of the little ones that fill your home office life. This signals understanding to staff and helps deepen personal connections.
---
8. Schedule check-ins where the primary goal is to listen
The coronavirus brought with it a tough time for many people. People are facing challenges with finances, home life, health, and so much more. Many of us have the habit of asking, "How are you?" without actually expecting a true, full response and without anticipating the time it can take to really listen to that response.
Stay connected with your colleagues by finding time at least once a month to give them a call, ask how they're doing, and then truly listen. Creating a virtual work environment where team members know someone cares enough about what they're going through to set aside a personal check-in speaks volumes.
---
9. Plan virtual social events
Just because everyone is working from home doesn't mean you should let team social events fade into a distant memory. Scheduling in time for a low-pressure co-activity is a great way to keep connected with your team.
This could be a book club, pizza party, happy hour, or a number of other activities. Try to make it as close to real life as possible by not over formalizing the schedule or feeling like everyone needs to talk the entire time.
If you're all doing a painting activity, for example, be OK with periods of silence as people focus on the project — just like you would if it were an in-person event.
Everyone Home DC, a nonprofit working to end homelessness in the District of Columbia, did just that. On their Facebook page, they shared a photo from their leadership team meeting where they all spent some virtual time together painting Black women leaders using a kit from a local business.
Not only was this a chance for them to stay connected, but by sharing their activity through their social media, it also became an opportunity to highlight their brand — one that, just like its supporters, is adjusting to a new remote work environment and trying to care for its employees and community as much as possible during this time.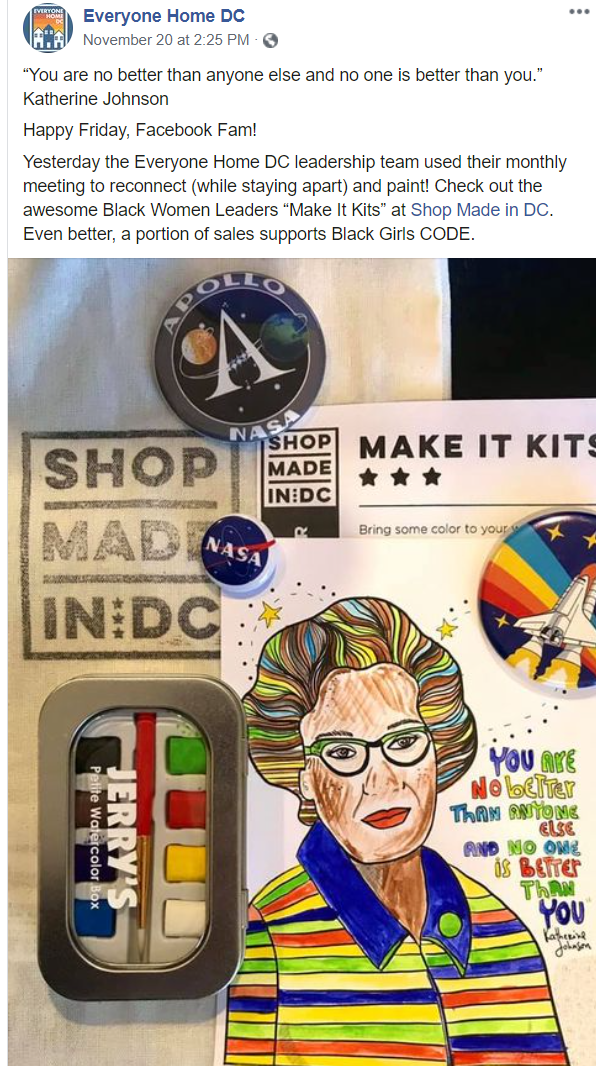 ---
10. Spice up your video call backgrounds
Video conferencing programs, like Zoom, offer the option to switch your background to your chosen image. You can select your own photo or something fun from the software's options. Spice up some of your video conferences by encouraging participants to pick a background other than their actual home office.
You can use these backgrounds as lighthearted conversation starters or even turn it into a contest for the most creative background. You could also play a game of "guess the location" where everyone chooses a photo from a past vacation.
---
Get creative to stay connected when working from home
Shifting to a remote work environment can be challenging for maintaining the socialization and connection that occurs more organically within an office environment. However, with a little creativity, you can keep your team motivated and connected while working from home.
This presents an opportunity to not only strengthen trust and relationships between staff but also foster a culture of work-life balance throughout your organization.