When choosing email marketing software, it's easy to go with what you know. Perhaps you used Constant Contact in your last role, and you were mostly happy with it. Plus, you know how it works, so you won't have to spend time learning how to use a new tool.
Or maybe you just started a job at a new company and they already use Constant Contact, so you think there's no need to rock the boat and switch email marketing software.
While both of those approaches have their merits, it pays to check out the competition. See what else is out there first. If you carry on using the same solution, you'll get the same results. So it may be time for a change.
Here are our top alternatives to using Constant Contact as your email marketing software:
---
What to look for in a great Constant Contact alternative
While Constant Contact is a robust email marketing solution, there are areas that could be improved and reasons why it may not be the perfect solution for your business. Here are some factors to consider when looking for a Constant Contact alternative.
1. Segmentation
Sending generic emails to your entire email list is a thing of the past (or it should be). Instead, you need to segment your list to ensure you're only sending relevant emails to the target audience.
While basic segmentation, such as by location and age, is a start, ideally you want to go deeper and segment according to factors such as past purchase history, brand affiliation, and interactions with your brand, such as likes on social media.
2. Landing page and form builder
Email marketing campaigns should form a key part of your overall inbound marketing strategy; they don't work in isolation. That's why it's important that you use forms and landing pages to not only grow your email list by encouraging people to subscribe, but also to move prospects further down the funnel.
Your email marketing solution should help you easily create attractive landing pages and forms that are optimized for your target audience.
3. Autoresponders
Autoresponders — also known as automated workflows — are emails that your software sends out automatically based on customer behavior. For example, if someone subscribes to your email list, they will automatically receive a welcome email.
This not only saves you the time of manually tracking customer behavior and sending email blasts accordingly, but it also helps you send more relevant, targeted content at the optimal time in the customer journey.
4. A free plan or free trial
Trying before you buy is an important way to evaluate whether an email marketing tool is right for your business. As part of Constant Contact's pricing plans, you'll receive a 60-day free trial with access to all features.
Other email marketing tools that are similar to Constant Contact — such as the ones listed below — provide free plans with limited features.
---
Our top seven picks for Constant Contact alternatives
We're not going to leave you to search for Constant Contact alternatives all by yourself. Instead, we've put together a list of our favorites.
---
1. SendPulse
When it comes to creating autoresponders, SendPulse's marketing automation platform is second to none, which is why it's one of Constant Contact's main competitors. Its workflow builder automatically sends emails, text messages, or push notifications based on user behavior and events.
These behaviors and events include:
Abandoning a cart
Making a purchase
Signing up to a newsletter
Custom events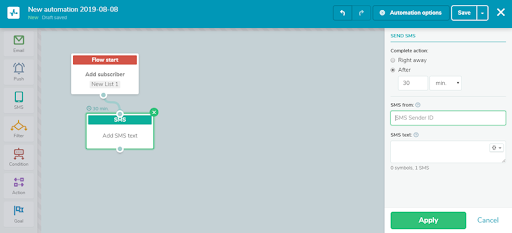 The workflow builder also lets you choose a timed interval at which to send the message. For example, you can wait 30 minutes after a user has made a purchase before kicking off the post-purchase campaign.
Read The Blueprint's full SendPulse review
---
2. Mailchimp
This list wouldn't be complete without a mention of industry leader Mailchimp. There are two particular areas that make Mailchimp one of the best free alternatives to Constant Contact.
Firstly let's look at its segmentation capabilities. Instead of having to build segments manually, Mailchimp's machine learning algorithm uses customer data to build segments automatically.
All segments are dynamic; instead of having to update segments manually as new people subscribe, or customers start or stop meeting certain criteria, Mailchimp moves them in and out of segments automatically.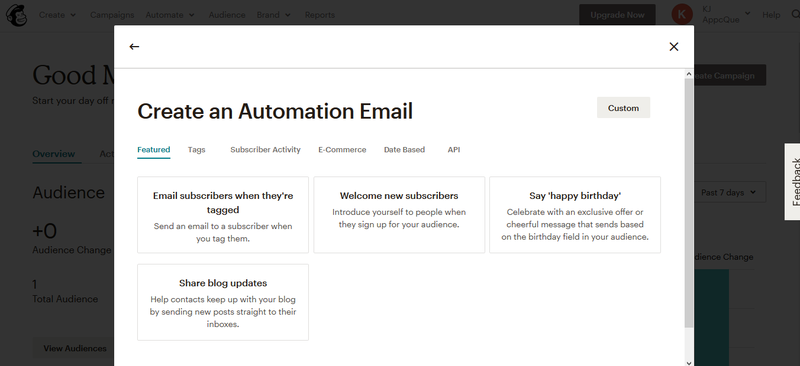 Mailchimp also excels at building autoresponders. If you're new to email marketing or are pushed for time, you can use one of Mailchimp's autoresponder templates. These templates are for:
Rewarding loyal customers
Order notifications
Cart or browse abandonment
Purchase follow up
Win back/customer re-engagement
Read The Blueprint's full Mailchimp review
---
3. Sendinblue
Sendinblue is another segmentation pro. Its segmentation capabilities are driven by its powerful contact management search.
The ability to search by multiple criteria, such as email engagement history, demographic data, and inclusion in lists, improves your email list management and enables you to more quickly and easily create segments.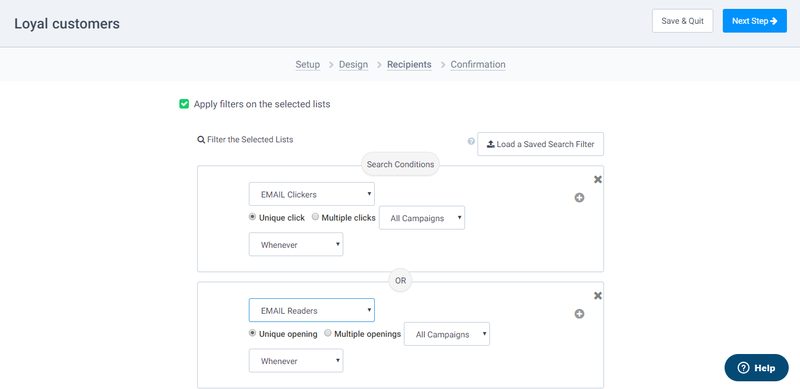 With Sendinblue, you can segment your email list according to:
Demographic data like gender, age, and location
Pageviews and clicks on products or categories
Email opens and clicks
Past purchase behavior
When you've created these segments, you can then apply rules based on the criteria of the segment, and even display different email content to different segments from within one campaign. For example, if you're emailing contacts who are women, you can change the text to include female pronouns.
Read The Blueprint's full Sendinblue review
---
4. HubSpot Marketing Hub
HubSpot Marketing Hub is an all-rounder, which can help you create an email marketing strategy that works. This is not only down to its strong feature set, but also its user forums where you can ask for support from your peers.
The company also offers a lot of guides, templates, tools, and live and on-demand webinars. These help you learn how to use HubSpot Marketing Hub and improve your B2B email marketing campaigns.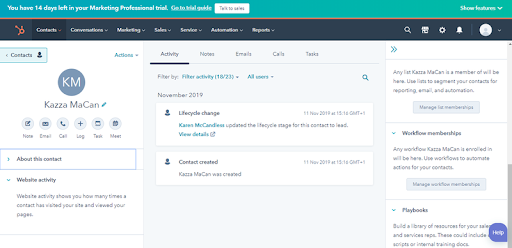 In terms of features, HubSpot Marketing Hub has particularly strong contact management functionality. You can see all your interactions with your contacts in one place. This includes:
Lists they are members of
Automations they are currently enrolled in
Updates to their contact information
All interactions this contact has had with anyone in your company
Read The Blueprint's full HubSpot Marketing Hub review
---
5. ConvertKit
If you're looking for email marketing software that prioritizes landing pages and form building, then ConvertKit is an excellent option.
While many other email marketing tools like Constant Contact include basic capabilities that let you customize the color, font, and text size of your form, ConvertKit goes beyond that.
For example, if a customer has already filled out the form and they return to the page, you can customize what you show to them. You can continue to show the form, hide it, or provide custom content.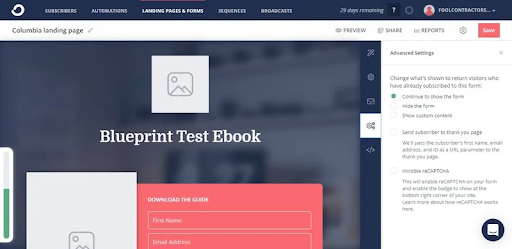 Other options include choosing different actions when a customer fills out the form, such as sending them an email or adding them to a list.
There are also built-in forms and landing page reports that let you track the visitors, subscribers, and subsequent conversion rate.
Read The Blueprint's full ConvertKit review
---
6. Zoho Campaigns
Zoho Campaigns is a great choice for small business email marketing due to its reasonable price tag and its roster of features. The free plan allows you to send up to 12,000 emails per month to up to 2,000 subscribers.
The paid pricing plans start at $3 per month. This contrasts with Constant Contact, which starts at $20 a month and doesn't have a free plan.
Zoho Campaigns' drag-and-drop email editor is a standout feature. While Constant Contact's templates are similar, this software has advanced editing functionality.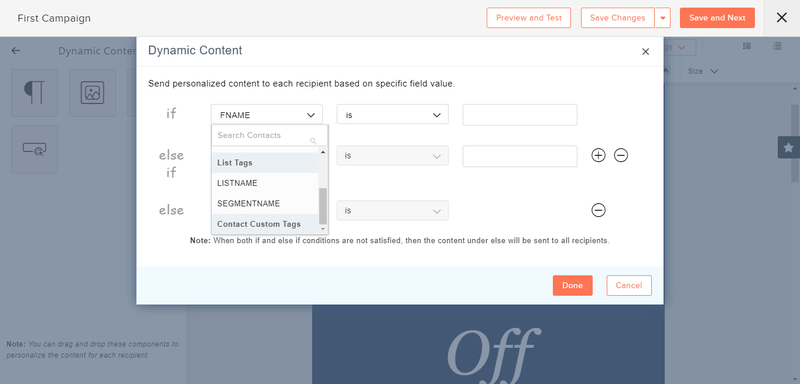 It not only lets you add images, text, videos, calendar invites, buttons, attachments, tables, polls, and HTML snippets, but you can also change the layout and fully customize the design.
Its dynamic content functionality allows you to display different text and images based on conditions such as the recipient being on a certain list or segment, or based on custom contact fields.
Read The Blueprint's full Zoho Campaigns review
---
7. Benchmark Email
Don't underestimate the importance of support when choosing a new email marketing solution. Live chat support, for example, is useful when you want to quickly ask a human a question and you don't have time, or you aren't in the right situation, to make a phone call.
Benchmark Email provides 24/7 live chat to all of its customers, even with its free plan. This is unusual, as most email marketing software providers only offer live chat during business hours and most make you pay for the extra support.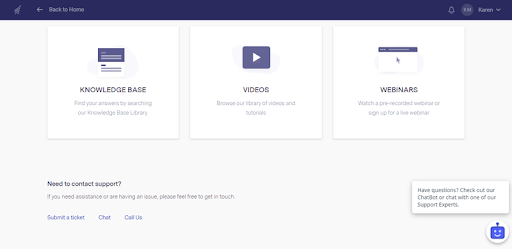 You can also access local phone support, email the company, or use its self-service support, which includes a knowledge base full of useful articles, videos, and webinars that provide guidance on using the product, as well as email marketing examples and best practices.
Read The Blueprint's full Benchmark Email review
---
Shop around
Just because we've offered alternatives doesn't mean that Constant Contact is the wrong option for your business. Only you can know which email marketing software works for your unique needs.
That's why you should work out what you need, and then shop around, read reviews, and try each option before deciding to settle on one software.