A good marketing system and a good automation system may seem like very different things, but the right CMS is both of those at once.
Taking the pressure off the old 'jack-of-all-trades, master-of-none' approach, content management system software effectively manages all aspects for you so that your site can be the best it can be.
When you embrace the efficiency of a CMS, you are free to focus on other areas, assured of the machine-learning precision of a website and content portfolio that delivers.
Here the top picks for the best CMS software options:
Kentico
Bolt
Contentstack
Sitefinity
Our top 10 picks for the best CMS software
With so many options out there to choose from, we've curated our top picks of CMS software, options that meet a myriad of needs and budgets, while still delivering a high-quality system.
1. Wix
Wix is a huge player in the content management and website building game, hosting 160 million websites. It is all but especially designed for small businesses, restaurants, e-commerce, and portfolios, thanks to its ease of use and scalable building approach.
One of its best features is its ability to automatically optimize your site for mobile.
The foundation is solid and not too prone to change, which makes it excellent for smaller organizations, or if you are going it solo. That doesn't mean hindrance and conformity, though, as you can optimize and customize according to your needs.
In fact, it is all about customizing your site. If you have a central image, logo, or aesthetic, you can start with that and Wix will optimize a theme around it.
Wix automatically installs and upgrades security updates, so you're always protected. Editing is a breeze, with its dashboard that works on mobile or desktop, including photo filters and text animations.
Building sites is a drag-and-drop process, too, so ease of use isn't an issue. There are built-in help features, online resources, and customer support available to you, so you won't feel lost.
The pricing is spot on, too. If you have a basic need, Wix has a free plan that never expires. However, if you need something a tad bit more professional, such as your own domain name or the ability to use e-commerce features, you'll need to opt for a paid plan. They're pretty inexpensive though, ranging from $13 to $39/month.
Wix is best suited for a smaller scale, though, as integrations are a bit more limited, and you can't update your template after publishing.
2. WordPress
WordPress is pretty much all-inclusive and easy to use for all levels of content management. While it originated as a tool for creating blogs, it has massively expanded as a top choice for creating all types of websites.
WordPress lets you create entire web pages, publish and update content, and allow multiple users access with varying permissions, everything you need to maintain an active online presence.
Plus, it is designed to be user-friendly. Without having to worry about going into too much backend and coding, you can select readymade templates and follow in-depth guides on getting set up.
With over 50,000 plug-in options available, you can fully customize your site and your content to do exactly what you need. This makes WordPress an extremely ubiquitous and adaptable choice.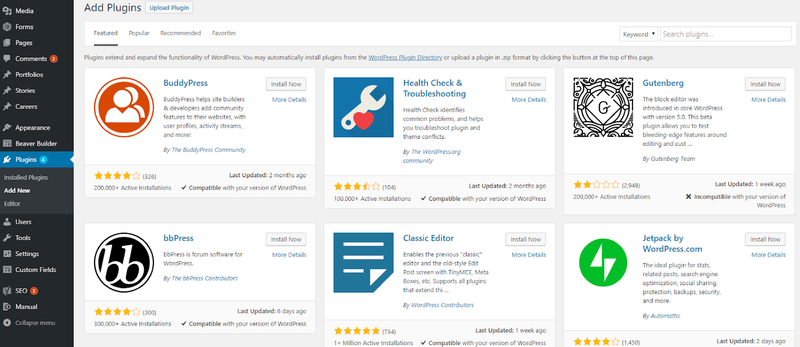 WordPress is free, open-source software. It comes SEO-ready, so you can start out of the gate with the ability to rank on search engines, allowing people to find you.
And with a variety of options on how you can use it, WordPress is an excellent choice for everyone, from beginners to more advanced site builders.
3. HubSpot CMS
Built by marketers for marketers, HubSpot CMS is a top content management system.
To get the biggest barrier out of the way first, it is pretty expensive. In fact, it's the most expensive CMS on this list, starting at $400/month minimum, plus a mandatory $1,000 onboarding fee.
But with that cost comes some pretty amazing features, so if you have the budget, HubSpot CMS may be your best bet.
As a content management system, HubSpot CMS is designed with a marketing bent, making it excellent for creatives, e-commerce sites, basic pages, and more.
It's also built with non-techies in mind, so it's very easy to use, as well as having some amazing support in the form of online resources and dedicated account managers.
While you may be used to split testing for emails and landing pages, HubSpot CMS takes that facility a step further and lets you do the same thing with your webpages, which is pretty unique. And very helpful.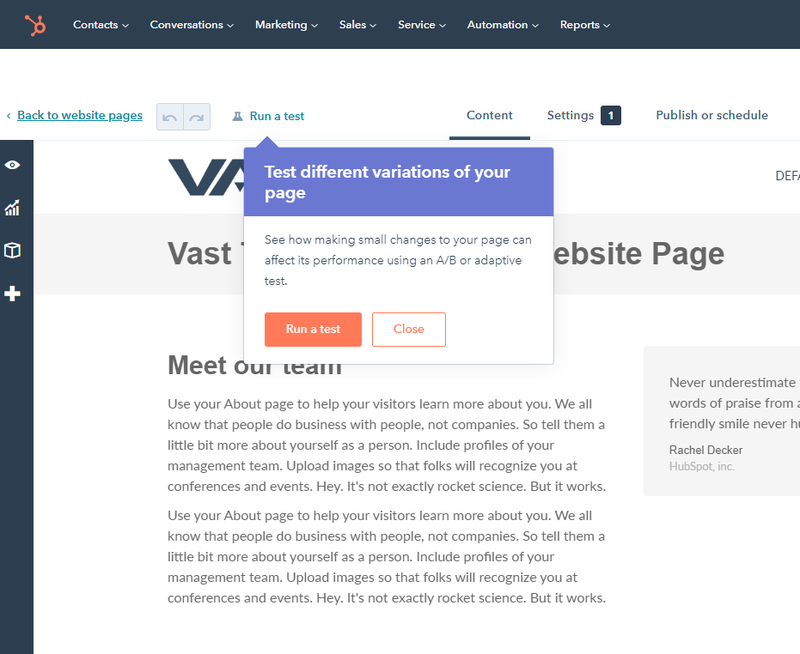 HubSpot CMS also takes on the dirty work of analyzing search engine algorithms and optimizing your pages.
From giving tips as you're building to automatically calling out fields and backlinks that will help you rank, SEO is very easy with this system. You also have access to built-in Google Analytics, site hosting, content transitioning, and dynamic content options.
4. Squarespace
Squarespace is one of the original players in the e-commerce website management software world but has grown to encompass many types of sites.
One of its main attractions is all about aesthetics, with a bevy of professional themes and templates. Squarespace lets you create a website that looks sleek and professional.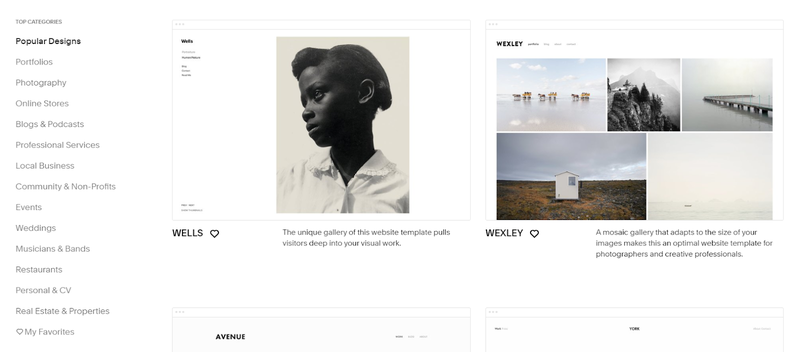 Building and managing content in Squarespace is too easy, thanks to its drag-and-drop tool and its templates that act intuitively as you build. Very similar to WordPress, it offers several extensions to let you customize it as you need.
You can really get down to details with its style editor, and it's even easier to integrate high-quality images, thanks to the ability to add on searchable Unsplash and Getty images.
Lastly, the built-in analytics dashboard makes tracking KPIs simple to do so you can easily adjust your strategy. And if you're still not convinced of it's usability, check out our visual, step-by-step guide to Squarespace.
The cost is pretty reasonable, too. After your two-week free trial, you can purchase plans starting at $12/month which allows you up to 20 pages, or upgrade to a $40/month plan with unlimited bandwidth.
5. Magnolia CMS
Similar to HubSpot in its one barrier, Magnolia CMS can deter some based on pricing: that is, the fact that they don't provide any. You have to contact a rep, explain your needs, and begin a free trial before you can find out what it will cost you.
If money, and the ability to invest extra time in something that may not pan out, isn't really an issue, though, then Magnolia is a top option.
With multiple customizations available and a philosophy based around multitasking and efficiency, Magnolia CMS is a top choice for enterprises, IT businesses, startups, and even government websites.
If your site must have a lot of capabilities, Magnolia is king. In fact, it may even be overkill on power and ability for a more straightforward site.
Magnolia loves organization, and that extends to content management. It can auto-recycle old content and organize everything into levels: smaller blocks, tags, and labels, so you can quickly find old content you are looking for, repurpose pieces, and direct website visitors to what is most relevant.

It also keeps you on top of things with notifications, system backups, detailed cookie tracking, integrated AI search capabilities, and a customer support team at the ready.
6. Drupal
Another open-source CMS, Drupal boasts a knowledgeable community of designers, developers, editors, builders, etc.
Because of this wealth of expertise, Drupal is an excellent CMS choice for large websites requiring a lot of bandwidth, constant uptime, and a professional look. It's the preferred system of The Economist and even the White House.
Drupal is very flexible, so you can adapt your site to almost any use. Though the development side is a bit tricky (expect to hire a developer), the user experience is very intuitive. It comes purposely bare-bones, so you can add on and download only those plugins you need.
It has many downloadable themes and site customizations. Plus, it auto-optimizes for mobile versus desktop, so you can capture the widest audience. Another great feature is its drag-and-drop capability, so building a page is like stacking LEGOs into place.
The editor tool is visual, so, aside from developing, the actual editing is intuitive, requiring no coding.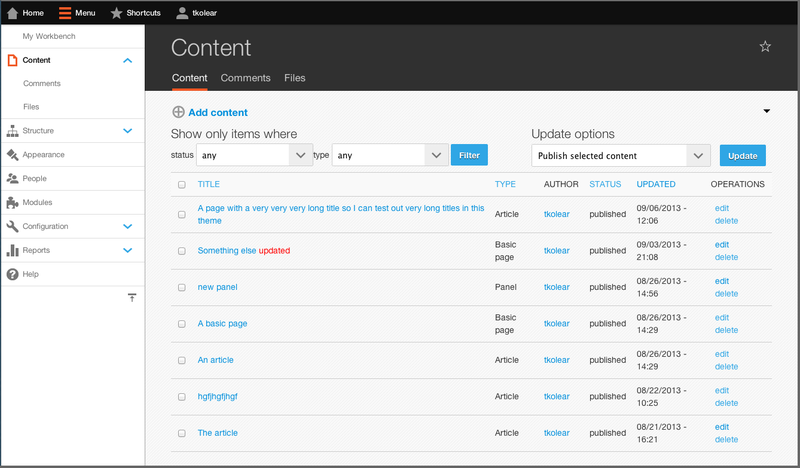 Like the majority of open-source systems, Drupal is free, though, since it is coding-heavy to build, the development costs outside of Drupal itself can get steep.
7. Kentico
A super adaptable CMS, Kentico is user-friendly at its core. You don't need to code much or create pathways from scratch, as it allows for multiple-user management, Google integrations, customer management, and more.
As a software fully integrated APS (APS.NET is a free, open-source, cross-platform framework for building web apps with varied programming languages), it is often preferred by digital marketers and IT-savvy managers specifically.
High customization is the name of the game, with tailored websites and state-of-the-art experiences, all without fear of security breaches or feeling lost, thanks to constantly dedicated support teams and safety updates.
Its editor is easy and simple enough for basic website builds. Still, it also offers the ability to add on more customizations as needed.
A really cool built-in feature? Its automatic translation ability, meaning it can support multilingual sites from the start. It simplifies the translation between audiences and vendors.
Widgets can be embedded and are easily set up by regular users, eliminating the need for ongoing developer maintenance.
It also prioritizes content efficiency, allowing for smart recycling of content, relinking, and cloning capabilities, so you don't have to rebuild all the time.
After your free trial, Kentico costs $7,999/year, but it comes with the features, support, and security to back up the pricing.
8. Bolt
If you value clarity and a straightforward approach, Bolt is the CMS for you. Built by and for front-end designers and developers, Bolt is intuitive at its core, modern in design, and easy to learn.
It is highly preferred by non-technical users, people like content editors who don't do coding, because it allows the user to focus on producing and editing content, rather than jumping through hoops.
It's single-minded in being a content management system and focuses on doing that really well rather than being distracted by bells and whistles. Also, it is open-source and so another free option, such as WordPress, for the budget-minded among us.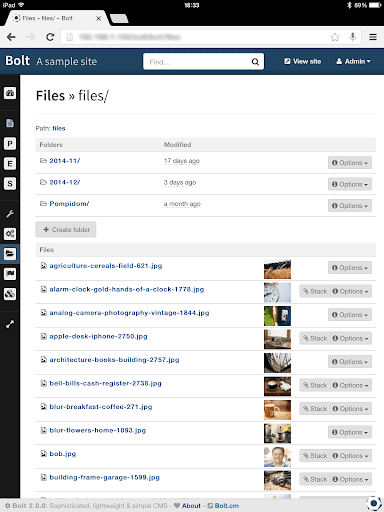 The templates are sleek, and the setup is quick and easy. It's also fast to load, with a built-in cache system to keep page speeds up. The code is clean and maintainable, so it can be easily managed without a fleet of developers.
Security is tight, and bug fixes are quick. Overall, it is clean, purposeful, and efficient as a CMS option.
9. Contentstack
Contentstack focuses on modern and cutting-edge technology. It's a CMS designed to thrive in a digital world. It is API-focused, meaning you can integrate outside resources to build direct workflows and app-like automation that manage your database of leads while maintaining clean data.
So, if your area of focus is customer journeys and audience behaviors, this is the CMS for you. It offers built-in social media management for content cohesion. It also provides workflow capabilities, so you can customize content delivery and schedule publishing.
The single admin panel is a dream, allowing you to manage your digital assets from one place. You also can recall content, archive it, republish, and even access previous versions.
Another unique feature is its sandbox-type ability, which lets you test content and publish it in four areas outside of live: development, testing, staging, and production.
Building pages is simple, a mix of drag-and-drop and direct instructions. It also calls out pages section by section, so you don't have to worry about missing anything.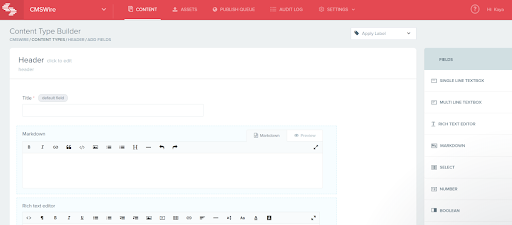 When it comes to price, you have three very different options: a two-week free trial, a flat $3,500/month, or the option to contact them directly for customized plans.
10. Sitefinity
Flexible, flexible, flexible. That's the keyword for Sitefinity. It is clean and user-friendly with decent support and adaptable features. It is a cloud-based solution, allowing for exponential storage. It was developed in Bulgaria, which gives it a strong international foothold.
It's ideal for content managers who need a lot of flexibility and adaptability. The CMS and page management is so easy to update, it makes changing content easy.
Another feature is its options to dial in on customer needs. It optimizes the audience's journey and has dynamic features that allow it to be delivered in a tailored manner across channels, devices, and demographics.
The dashboard lets you know what you need at a glance and keeps you apprised of updates and items requiring your attention.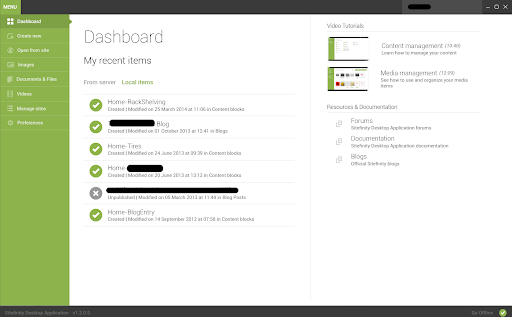 It's made for marketers, not coders. Sitefinity is ready to go (almost) right out of the box, needing very little custom development. It also offers optional integrations that you can opt in to and download as needed, and those add-ons can be installed and uninstalled as needed, keeping your experience clean. It also focuses on loading speed, letting you create fast-loading pages.
For pricing, you will need to contact Sitefinity directly for a quote at each of their three tiers. Still, it generally falls between $1,000-$7,000 yearly.
What The Blueprint looks for in a great CMS software solution
A great CMS has a few non-negotiable features: it's accessible, easy to collaborate, support-friendly, customizable, organized, search engine-optimized and metrics-ready. We look for these characteristics in each system.
How SEO-friendly is it?
You can't have a successful business without an online presence anymore, for the most part. And the way to an online presence is visibility. If you can't be found quickly on a search engine, you don't carry as much weight or professional appeal. And the algorithms that can help you rank are impossible to figure out without AI and computer coding.
A good CMS is one that is SEO-ready for you. It optimizes your pages, gives insight into keywords, and directs the necessary backlinks/coding, so you will have maximum visibility.
Is the content easily customizable and professional looking?
A good site should look professional. Gone are the days of GeoCities and AngelFire looking cool. Your website needs to be sleek and knowledgeable.
And, since each type of business requires different things, the ability to customize is a must. An e-commerce site looks different than a restaurant website which looks different than a portfolio site and so on.
How is support?
If you're a marketer or business owner, you're most likely not a coder. And when it comes to technology, bugs are bound to pop up, and things are bound to go wrong.
When that happens, you can't figure them out on your own, without possibly making them worse, so good and knowledgeable support is a must to keep your site functioning.
What is the pricing - what value do you get for your dollar?
There's no way around it — money matters. Whether you are working on your own or within an organization, you'll have a budget.
Of course, low cost is valued, but you also must take into consideration the value you get for your spend.
If a system is free, it still should work well. And if it's expensive, you should be getting all the bells and whistles.
Is it user-friendly?
There's nothing harder for a creative or a business manager than being thrust into a technological nightmare.
At the end of the day, you just want the easiest path to getting your content published. A good CMS shouldn't make you waste your time wading through unnecessary steps and overly complicated processes.
How your business can benefit from using a content management system
With so many moving parts and so much content out there to publish, a business is only as good as its efficiency and reliability. That's where a CMS is a lifesaver.
Stay updated without the hassle
The beauty of using a CMS is that it is built for automatic upgrades and updates. You don't need to worry about researching when security updates come out, or manually coding in new upgrades. A good CMS handles all that for you, automatically.
Easy and secure collaborations
You can have as many cooks as you need, without them messing up the kitchen.
With a CMS, you can allow others just what access they need, and nothing more. Meaning you can have guest authors or teammates publish as needed, without giving them your login info or control of your site.
SEO-friendly out of the box
Rather than hope you're hitting the right notes to rank in the search engines, CMS software usually is SEO-friendly out of the box, or with the help of an easy plug-in. You can rest easy, knowing your content is optimized.
Track audience behavior
Data is power. You'll only grow a business or an audience if you can have insight into audience behavior.
Content management software comes with dashboards and reporting features that let you see what content performs best, allowing you to tweak content for different demographics.
Don't feel technically and technologically overwhelmed
CMS software already does the tech part for you, so you can feel confident using it as a non-coder. Layman's terms abound for the regular folk among us.
No computer science background? No problem. Content management systems are designed to be as user-friendly as possible so you can focus on getting your work out there.
Manage from anywhere
Thanks to web platforms, all you need is a username, password, and an internet connection to manage your site.
Most content management systems allow you the freedom of managing and updating from a desktop, an app, or a mobile platform, so you can stay on top of things from wherever you are. The software takes care of syncing, so your site is always updated.
Content Management System Frequently Asked Questions
Do I need a new web server?
A content management system integrates with your existing site, so you won't need to host your own. If you are building a website from scratch, you can often host directly through the CMS itself.
Can I customize domain names through my CMS?
For free trials and free versions, you're generally stuck with the CMS-based domain name. However, once you pay to host, you are allowed your own custom domain name to set your site apart.
Can you multitask on a CMS?
Any good website these days is more than one simple page or function. Any CMS you use should be able to support multiple capabilities and tasks.