ConvertKit and ActiveCampaign are two very different beasts.
ActiveCampaign is a mammoth marketing automation solution, with more features than many email marketers will know what to do with. While ConvertKit has a very clearly defined target market — creative people including bloggers, podcasters, and designers — its range of features and ease of use make it a good option for e-commerce marketers who sell products online.
We've pitted these two email marketing software products against each other in a bid to help you understand which is better for the unique needs of your business. Read on for our ConvertKit vs. ActiveCampaign comparison, which looks at features, pricing, ease of use, support, and integrations.
---
ConvertKit vs. ActiveCampaign: An overview
Who is ConvertKit for?
According to the company, its email marketing software is aimed mainly at creators. ConvertKit defines creators as bloggers, authors, makers, YouTubers, poets, painters, musicians, podcasters, chefs, designers, and teachers.
Due to ConvertKit's basic email editor and lack of email templates, it's only suitable for companies that want to create very simple emails.
Who is ActiveCampaign for?
ActiveCampaign is more complicated than your average email marketing platform, which makes it more suitable for experienced marketers who already have experience using this type of software.
It has functionality that makes it suitable for both B2C and B2B marketing strategies, including the ability to manage not just individual recipients, but also business accounts with multiple points of contact.
---
ConvertKit vs. ActiveCampaign: Features
ConvertKit and ActiveCampaign both have strong feature sets but, while ConvertKit focuses on some functionality at the expense of other features, ActiveCampaign is an all-around marketing powerhouse.
What ConvertKit offers
ConvertKit made a conscious decision to make its email editor very basic because the company believes that simple emails work better, rather than ones carefully designed ones.
While this approach might work for some companies and purposes, the issue is that ConvertKit's email editor is a lot more difficult to use than other email marketing software drag-and-drop editors, with knowing how to start an email being particularly difficult.
ConvertKit's email editor lacks key features such as link-check, spell-check, preview and email deliverability checks. It also only includes a few basic templates, which means you need to spend more time creating your email.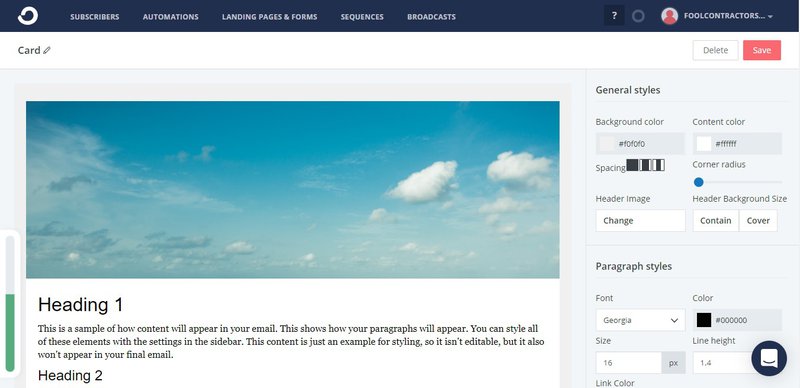 Segmentation
While ConvertKit's email editor may be lacking, it offers great segmentation functionality. When using ConvertKit's segment builder, you can add as many criteria as you like, excluding and including customers as examples.
Some email marketing software only lets you apply basic criteria such as demographic data, but ConvertKit allows you add conditions for past purchase behavior and date-dependent data such as subscription date.
Form building
ConvertKit has advanced form and landing page building capabilities, which allow you to:
Choose which action to take when a customer fills in a form
Automatically send incentive email to new subscribers
Change text and fields shown to returning visitors
Alter text shown in search results and social media
ConvertKit also helps you easily create autoresponders by providing templates for specific purposes, such as when a subscriber signs up to a list or when they make their first purchase.
What ActiveCampaign offers
While ActiveCampaign — like ConvertKit — doesn't provide a wide range of templates to help you quickly create email messages, the ones it does provide are targeted to specific purposes, such as product recommendations, customer feedback, welcome emails, and discounts. This enables you to create more relevant campaigns.
Email deliverability
ActiveCampaign's drag-and-drop email editor provides a lot of features to help improve your email deliverability. This is a measure of how likely it is your emails will reach a recipient's inbox, or whether they will end up in their spam folder.
These features include:
Responsive design, which means your message is optimized for the device it is being accessed on.
Spam check, which gives you a pass or fail depending on how well you rank against criteria such as the domain you are using to send emails and what your from address is.
Email preview options, which show what your message looks like across different email clients, for both mobile and desktop.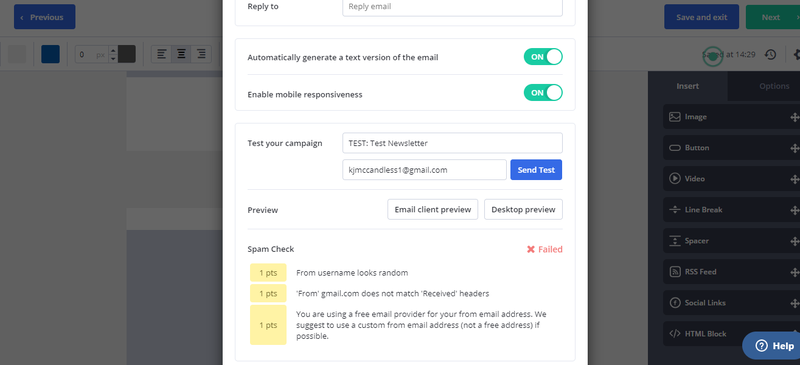 Segmentation
ActiveCampaign lets you add multiple, very specific conditions to create customer segments.
This criteria includes not just demographic data such as location and age, but also source channel. So you can tell whether they signed up via social media, sign-up form, etc. You can see the pages they've viewed on your site and the number of times they viewed each page, and the date they subscribed to your newsletter.
This allows for account-based marketing tactics and improves the customer experience by allowing you to send super relevant emails that are more likely to lead to good engagement, such as opens, clicks, and conversions.
Automations
Much like ConvertKit, ActiveCampaign provides autoresponder templates to help you create better sequences of emails that are triggered by customer behavior. These templates are tailored to the different types of campaigns you might run to engage customers, such as:
Cart abandonment
Upselling and cross-selling
Repeat product views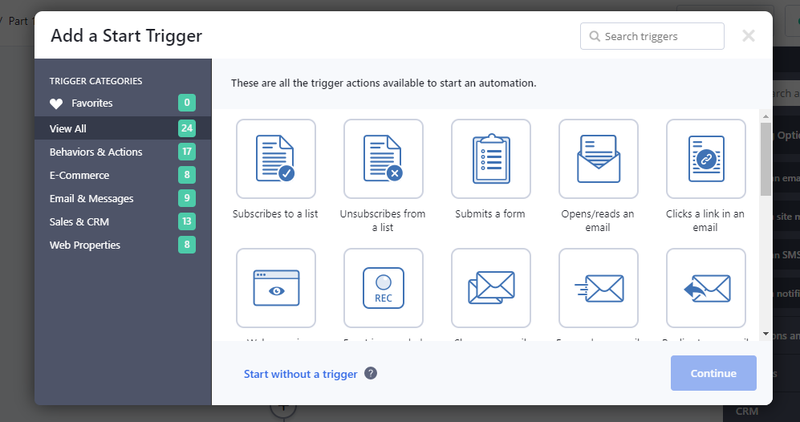 Results: ActiveCampaign wins
ActiveCampaign can do almost anything, email marketing-related, you could ever wish for. Meanwhile, ConvertKit's below-par email editor let it down.
---
ConvertKit vs. ActiveCampaign: Support
Upgrading to more expensive pricing plans not only means you get access to more features, but also more support options. Phone support, for example, is often only available to customers on the most expensive plans.
What ConvertKit offers
To get support from ConvertKit, all you have to do is click on its sticky "Help" button, which is visible at all times. ConvertKit's live chat and email support is available from 8a.m.–8p.m. EST Monday through Friday, with limited service during evenings and weekends.
Live chat and email support are available to all customers on all plans. ConvertKit doesn't offer a free plan.
If you want to go down the self-help route, you can ask other ConvertKit user questions in the online support forum, which the company moved from Facebook to Slack. There is also a Knowledge Base, which is accessible from the "Help" button.
What ActiveCampaign offers
It's easy to get support from ActiveCampaign. There is a "Contact Us" button on the main navigation, which takes you to a page where you can fill in a form to get email support or talk with ActiveCampaign via their live chat option.
Live chat is available at the following times:
Sunday from 4p.m.–12a.m. Central Standard Time
Monday–Thursday from 8a.m.–12a.m. Central Standard Time
Friday from 8a.m.–4p.m. Central Standard Time
ActiveCampaign provides live chat and email support to all of its paid plans. Like ConvertKit, ActiveCampaign doesn't offer a free plan, while phone support is only available if you purchase its most expensive Enterprise plan.
If you want a self-service option, you can click on the "Help" button at the bottom of the screen. This opens up the Knowledge Base in a sidebar, which means you don't have to navigate away from what you're doing to get an answer to your question, and can easily get help with the software, as well as digital marketing tips.
Results: ConvertKit takes it
It's a close contest, with both solutions providing very similar options when it comes to live chat and email support, but ConvertKit's Slack support group put it just a nose ahead.
---
ConvertKit vs. ActiveCampaign: Ease of use
If you are looking for an email marketing solution that does absolutely everything then you often have to sacrifice ease of use. That's the case with ActiveCampaign and, to some extent, with ConvertKit as well.
What ConvertKit offers
ConvertKit manages to be both really intuitive and simple to use and, at the same time, it makes some aspects of the software more complicated than it needs to be. ConvertKit is easy to use if you use it in the way the company wants you to.
If you prioritize managing your contacts and creating segments over spending time creating visually attractive emails, you'll get on much better with this software.
ConvertKit provides a checklist to help you get up and running, but this list does not include the action to "create an email", which is a normal first step for most email marketers.
Instead, ConvertKit invites you to "create your first sequence" or "send a broadcast." ConvertKit's approach takes some time to get used to, especially if you are used to other email marketing software that doesn't work in the same way.
Unlike ActiveCampaign, ConvertKit does provide in-app support, as it displays a demo video on the relevant page to help you understand how a function works, helping you get the most out of each option.
What ActiveCampaign offers
Ease of use is not ActiveCampaign's strong point. Admittedly, with the sheer volume of features ActiveCampaign has packed into the solution, it was always likely to be a complicated tool to use.
You need training to get up and running on ActiveCampaign, as it can be confusing to know what to do when you first log in, especially as some features are dependent on others. For example, you have to set up a segment first before you can create a lead score.
ActiveCampaign is more suitable for experienced email marketers who have used this kind of software before, as it doesn't provide in-app support to explain different features, and to help you understand how to use them to create best results. It's not intuitive, and you need to explore the solution for a while before you can start to create campaigns.
Results: ConvertKit takes it
ConvertKit's in-app help makes it easier to understand how to use an option. A complicated tool like ActiveCampaign really need to provide more guidance when you first start using the software.
---
ConvertKit vs. ActiveCampaign: Pricing
Both ConvertKit and ActiveCampaign have decided not to offer free plans, but they do both offer 14-day free trials.
What ConvertKit offers
ConvertKit is upfront about why it has made that decision. According to the company, you get what you pay for, and free plans don't deliver the features you need to run campaigns that convert. There is a 14-day free trial if you want to test out the software first.
ConvertKit pricing is straightforward, as you get the same features no matter how much you pay. The difference in price comes from the number of subscribers you have.
Saying that, ConvertKit is comparatively quite expensive. Its least expensive plan comes in at $29 per month, and that is only for 1–1,000 subscribers.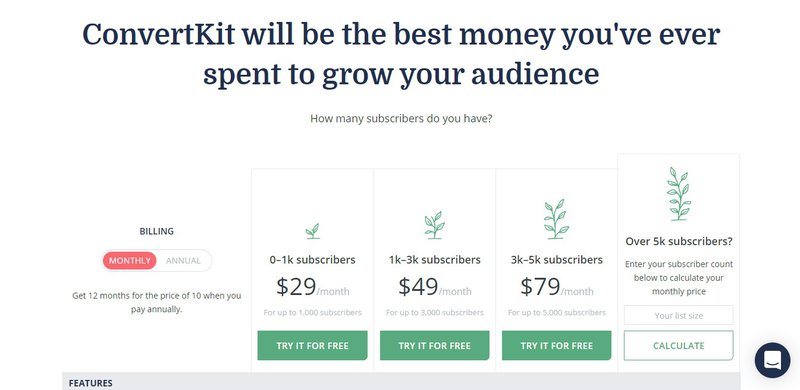 What ActiveCampaign offers
Like ConvertKit, ActiveCampaign provides a 14-day free trial, and no free plan. Unlike ConvertKit, ActiveCampaign pricing depends both on the plan that you pick, as well as the number of contacts you have in your email list.
ActiveCampaign has four pricing plans, with the most basic plan (Lite) coming in at $15 per month if you pay on a monthly basis. This plan provides email marketing functionality, but if you want customer relationship management and marketing automation capabilities then you need to fork out for a higher-tier plan.
ActiveCampaign's plans are only good value for money if you plan on using all of the functionality, especially as the price goes up considerably as you add more contacts. The price for the Lite plan is as follows:
$15 per month for up to 500 contacts
$49 per month for up to 2,500 contacts
$89 per month for up to 5,000 contacts
$139 per month for up to 10,000 contacts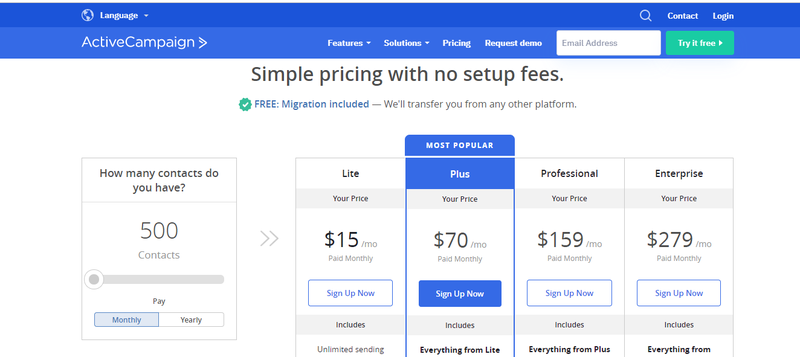 Results: ConvertKit triumphs
While initially ActiveCampaign might seem like better value for money, its price goes up very steeply once you start to add more contacts. That's why ConvertKit provides better value overall, but it's very close and depends on which plan you go for.
---
ConvertKit vs. ActiveCampaign: Integration with other software
Building your own integration isn't easy and requires significant technical expertise. That's why it's better to choose email marketing software that offers a lot of native integrations.
What ConvertKit offers
While ConvertKit provides a decent roster of integrations, it's also missing connections with common business software, such as PayPal, SurveyMonkey, Canva, and Zero.
Here are some of the most useful native integrations it provides:
Unbounce
Acuity Scheduling
Stripe
The good news is that if you do want to integrate with software not on the list, ConvertKit provides an API, plus lots of helpful documentation, to help you set that up.
What ActiveCampaign offers
ActiveCampaign offers tons of integrations across a wide variety of different verticals. These include e-commerce, content management, CRM, and social media.
Here are some of the most popular integrations:
Shopify
Typeform
Facebook
WordPress
Google Analytics
Unbounce
WooCommerce
ActiveCampaign provides a lot of support documentation to help you use its API to build integrations with any software not on the list. If you need more support with these integrations, you can ask ActiveCampaign's developer community for help.
Results: ActiveCampaign wins
ActiveCampaign offers a lot more integrations than ConvertKit so it wins this round.
---
How They Compare: ConvertKit vs. ActiveCampaign
| | ConvertKit | ActiveCampaign |
| --- | --- | --- |
| Free plan | | |
| Free trial | | |
| Drag-and-drop email editor | | |
| Autoresponder templates | | |
| Advanced segmentation | | |
| API | | |
| Community help portal | | |
| A/B testing | | |
---
Too close to call: it's a draw
This was a really difficult call to make. ConvertKit and ActiveCampaign are very different solutions.
ActiveCampaign has a fantastic roster of features, but it's not easy to use and it doesn't provide a lot of in-app support.
ConvertKit is missing useful features — it doesn't matter whether that's a conscious decision or not — such as a drag-and-drop email editor, and it's not always easy to use. Its pricing is a touch better.
Here's what I would say: if features are important and you want to spend a significant amount of time creating very complex campaigns then ActiveCampaign is your winner.
If, however, you want a solution that is easier to use, and you don't mind the lack of email templates or you don't prioritize the appearance of your emails, then ConvertKit is the one for you.
That's why it's important to get very clear on what you're looking for before choosing a solution.