While Mailchimp — and a lot of the best email marketing software — aims to serve all kinds of industries and audiences, ConvertKit is very clear on who it is aimed at: creators.
ConvertKit defines creators as bloggers, authors, makers, YouTubers, poets, painters, musicians, podcasters, chefs, designers, and teachers as examples.
ConvertKit has taken a couple of bold decisions that it claims ties in with this audience. Firstly, it claims that plain-text emails perform better than more visual ones, which is why it doesn't have a drag-and-drop email editor. Its templates are also very basic.
The second bold decision that ConvertKit took was not to offer a free plan. The company believes that you should pay if you want an email marketing solution that helps you create valuable emails.
Will these decisions help it overcome the might of industry heavyweight Mailchimp? Find out below.
---
ConvertKit vs. Mailchimp: An overview
Who is ConvertKit for?
ConvertKit is aimed at freelancers and small businesses who want to make money from their blog. As it lacks a drag-and-drop email editor, it is more suited for people who have technical knowledge and know enough code to be able to create an email using an HTML editor.
Who is Mailchimp for?
Mailchimp's user-friendly interface, along with its personalized in-app tips, makes it a good choice for people who have never used email marketing software before, or businesses that don't want to spend a lot of time creating campaigns. But its strong set of features also means it's suitable for experienced email marketers.
---
ConvertKit vs. Mailchimp: Features
ConvertKit is very strong in some areas, such as subscriber management and segmentation, but weak in other areas, such as its email editor. Mailchimp is an all-rounder when it comes to features and is strong across the board.
What ConvertKit offers
Would you like the good or the bad news first? The bad news is that ConvertKit's email editor is very basic, and it offers a limited range of templates. This is a deliberate decision from ConvertKit as the company believes that you don't have to spend time creating visually attractive emails to be successful.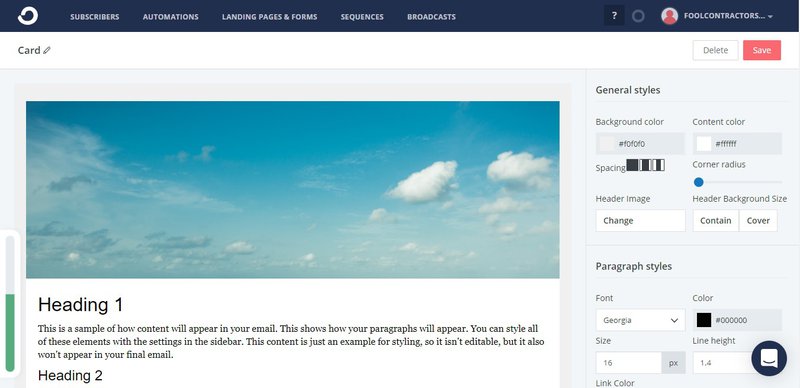 However, ConvertKit's email editor also lacks link-check, spell-check, preview and email deliverability options, which means you have to spend longer manually checking all elements of your email to make sure it's free of errors.
Now for the good news: ConvertKit has great subscriber management and segmentation capabilities. As ConvertKit is very focused on analytics, it provides deep insight into customer behavior. This includes:
New subscribers
Total subscribers
Average open rate
Average click rate
History of past purchases
Source channel (email, social media, display ad)
You can also use ConvertKit to create specific segments based on as many conditions as you like, while both excluding and including customers based on this criteria. Conditions you can apply include demographic data, purchase behavior, and subscription date.
What Mailchimp offers
By contrast, Mailchimp has a fantastic email editor. Its drag-and-drop email editor makes creating attractive emails very easy. You can add and editor content blocks, including video, images, social media buttons, and text blocks, and spell-check all your text.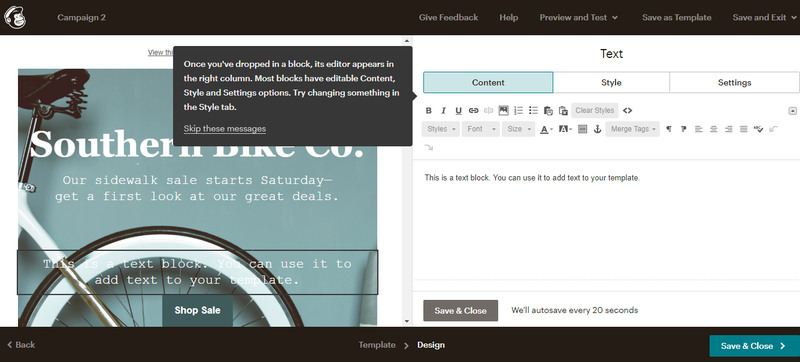 Mailchimp's email editor includes a commenting feature, which allows multiple people to add comments on the email if they think there are areas that can be improved or if they spot any errors.
Mailchimp's segmentation capabilities are possibly even better than ConvertKit. Instead of having to build segments manually, Mailchimp uses machine learning to build them automatically based on how likely a customer is to shop with you again, and how much they are likely to spend.
These segments are dynamic, which means that instead of having to manually add and remove customers, Mailchimp does it automatically. When a customer starts meeting the criteria (such as when they make a purchase), Mailchimp adds them to that segment and when they stop meeting that criteria (such as they haven't interacted with your brand for six months) then Mailchimp automatically removes them.
Results: Mailchimp wins hands down
Mailchimp's email editor is miles better than the one that ConvertKit provides, and its segmentation capabilities are strong too, which means that Mailchimp takes this round.
---
ConvertKit vs. Mailchimp: Support
Some people prefer solving problems themselves, others want to chat to a customer service agent. It's important to factor in support preferences when choosing email marketing software.
What ConvertKit offers
ConvertKit has great support options, which you can easily access through a continuous sticky help button on its dashboard. Its live chat and email support is available to customers on all plans from 8a.m.-8p.m. EST Monday through Friday.
ConvertKit also provides limited support via both live chat and email at weekends.
If you prefer peer-to-peer support, you can ask other ConvertKit user questions in the online support forum, which the company moved from Facebook to Slack to make it easier to get help. ConvertKit's Knowledge Base contains loads of detailed articles that can help you solve your issues yourself, and it displays demo videos on each main feature page to help you get the most from its functionality.
What Mailchimp offers
Mailchimp is all about self-service support.
If you are on the free plan, you only get access to the Knowledge Center and — if you can find the option — you can submit a ticket. If you pay for Mailchimp, you can get 24/7 email support, although phone support is only provided with the highest-tier price plan.
Mailchimp's Knowledge Center contains tons of useful articles, complete with screenshots and videos, to help you solve problems yourself.
If you can't find an answer, and you want to submit a ticket, you have to scroll down to the bottom of an article to find the contact details. Mailchimp does not make it easy to access this option.
Results: ConvertKit is more helpful
ConvertKit wins this round as it makes it easier for you to contact their support team and speak to a human.
---
ConvertKit vs. Mailchimp: Ease of use
Being able to find the relevant features right away is key to user adoption. That's why it's important that email marketing software guides you towards the right actions rather than leaving you to fend for yourself.
What ConvertKit offers
Much like its feature set, ConvertKit prioritizes subscriber management and segmentation when it comes to ease of use. When you first start using ConvertKit, the software displays a checklist to guide you through certain tasks to get your email campaigns up and running.
This list does not display what you may think is the rather obvious option of "create an email". Instead, ConvertKit invites you to "create your first sequence" or "send a broadcast."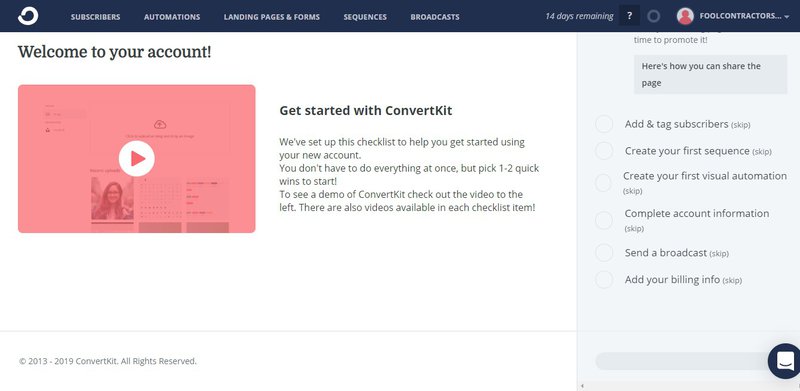 ConvertKit doesn't have a main dashboard, so there is no way to get an overview of all your activity.
You just have to access all the information in the relevant menu. This does make navigating the solution more complicated, as you can't just go back to the home dashboard to check the actions you still need to take.
On the plus side, ConvertKit provides demo videos of each feature when you first use them to help you understand what they do and how you can get the most out of the software.
What Mailchimp offers
Mailchimp prides itself on being easy to use, and rightly so. There's a reason so many inexperienced email marketers choose Mailchimp.
One tactic that Mailchimp uses to make its software seem more user friendly is to create fun copy and visuals that are also useful and easy to understand.
Mailchimp also provides personalized tips throughout the app that are based on your answers to several questions at startup. This includes whether you
Support online bookings or appointments
Sell products online
Measure success by the number of products sold online or people interacting with your software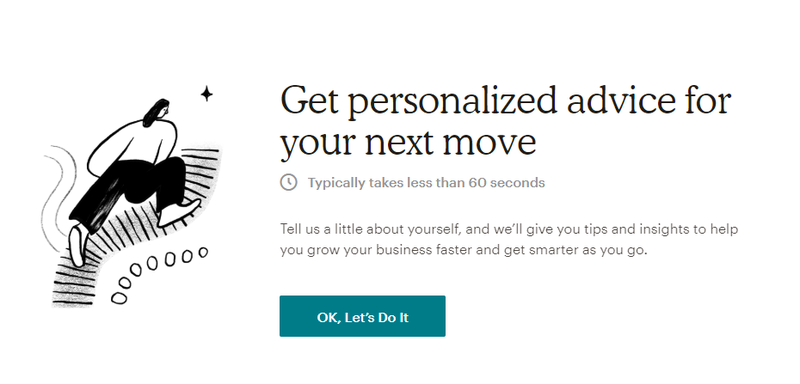 These tips are peppered throughout, and offer you help not just to use the software, but also to understand why you should complete a certain action (such as personalizing the subject line), and how it will benefit your business.
Results: Mailchimp wins
It's hard to beat Mailchimp when it comes to usability, and ConvertKit isn't up to the task, as its lack of focus on creating emails stands out in comparison.
---
ConvertKit vs. Mailchimp: Pricing
Free plan or no free plan, that is the question. Some email marketing software provides free plans, others only provide free trials. Free plans inevitably don't have the same range of features as paid pricing plans, but these features may be enough for some businesses.
What ConvertKit offers
ConvertKit is very upfront about its decision not to offer a free plan. The company says it believes that you should pay if you want to create campaigns that pay off from a revenue point of view.
It offers a 14-day trial to help you decide if it's the right software for you.
ConvertKit's pricing depends on the number of subscribers, not features. You get the same features no matter what you pay. That said, ConvertKit is comparatively quite expensive. Its least expensive plan comes in at $29 per month, and that is only for 1–1,000 subscribers.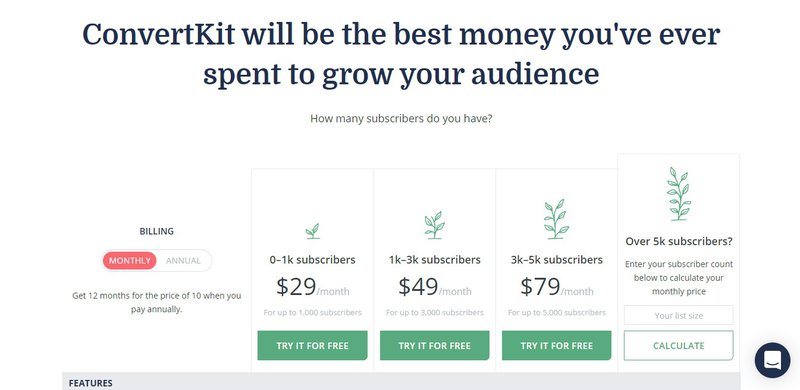 This compares to Zoho Campaigns, where prices start at $5 for unlimited emails for up to 500 subscribers and Mailerlite where a plan for 1–1,000 subscribers costs $10/month.
What Mailchimp offers
Unlike ConvertKit, Mailchimp offers a free plan.
However, this plan only has email support, and only lets you send 10,000 emails a month and manage a contact list of up to 2,000 people. It also doesn't include A/B testing and only provides basic email templates.
Mailchimp has three plans that you have to pay for, with the total cost of each one varying according to the number of contacts you have. For example, the Essentials plan, which is the least expensive paid option, costs:
$9.99 for up to 500 contacts
$29.99 per month for up to 2,500 contacts
$49.99 per month for up to 5,000 contacts
$74.99 for up to 10,000 contacts
Results: Mailchimp takes it
Mailchimp's free plan is a great option for small businesses, as it provides tons of functionality. Its paid pricing plans are also less expensive than ConvertKit's plans.
---
ConvertKit vs. Mailchimp: Integration with other software
Whether this is your first time using email marketing software, or if you're an old hand and you're switching from another solution, it's important to note how well each tool integrates with your existing technology landscape.
What ConvertKit offers
ConvertKit provides native integrations to many different solutions, which helps data flow seamlessly between the different software and improves collaboration between departments. Here is a list of native integrations with popular software:
Unbounce
Acuity Scheduling
Stripe
ConvertKit is missing quite a lot of integrations with commonly used software, such as PayPal, SurveyMonkey, Canva, and Xero (or any other accounting software).
ConvertKit provides an API, plus lots of helpful documentation, to enable you to build integrations with any software not on that list.
What Mailchimp offers
Mailchimp offers a lot of native integrations (more than 200 and counting) across a wide range of software categories, including ecommerce, accounting, payments, content management, and productivity. Some examples of integrations with popular software includes:
WordPress
Xero
Canva
Chargify
Google Analytics
ClickFunnels
PayPal
Mailchimp also provides an API, so you can build integrations yourself that aren't on the list of native integrations. The only downside with using the API is that Mailchimp does not provide any support when using it to build your own integrations. You have to contact a Mailchimp integrations specialist if you need help.
Results: Mailchimp wins
ConvertKit is missing quite a few integrations with commonly used software. That means you have to build your own integration, which is more complicated and time consuming.
---
How They Compare: ConvertKit vs. Mailchimp
| | ConvertKit | Mailchimp |
| --- | --- | --- |
| Free plan | | |
| Free trial | | |
| Drag-and-drop email editor | | |
| Personalized in-app tips | | |
| Automatic segment builder | | |
| Community help portal | | |
| A/B testing | | |
| Autoresponders | | |
---
All-round marketing focus beats niche product
ConvertKit is strong in a lot of areas. Its analytical approach to managing subscribers helps you understand buying behavior and gives you the kind of revenue-driven insight that can help you boost your return on investment. Its advanced segmentation options — especially the ability to include and exclude subscribers — makes it stand out. But its email editor lets it down.
The problem is that ConvertKit's email editor is much less user friendly than Mailchimp's, which makes it more time consuming to create emails.
And the email editor is a key feature in any email marketing solution. ConvertKit has a lot of potential, and it positions itself as the leader when it comes to Mailchimp competitors, but it just isn't enough to beat the chimp, which excels in almost every respect, apart from support.