Consumers today are bombarded by businesses battling to win their patronage. Whether that be through emails, social media posts and ads, robocalls, or text messaging, our increasingly digital lives mean little respite from constant company outreach.
For instance, according to data from Cisco Systems, email spam represented nearly 85% of all email sent. With such an onslaught hitting consumers, how does a business cut through the clutter to reach potential customers?
The solution is a personalized marketing process for each customer. So how can this be achieved in a scalable manner? The answer is by leveraging customer relationship management (CRM) software. Let's examine how to apply CRM software to market your business.
---
How to create successful marketing campaigns using a CRM
A successful marketing campaign requires tracking each customer as they are nurtured through the customer life cycle journey from awareness of your business through to purchase and even post-purchase activities.
This process involves a large amount of data and analysis to create a personalized approach to each client.
As a result, many companies today employ CRM software to assist in such business activities, particularly around B2B sales. In fact, the term CRM has become synonymous for software used by a company's sales team.
Yet CRM systems are also ideal for marketing teams to guide consumers through the customer life cycle. Here's how a CRM can help.
Customer life cycle management
A key feature of a CRM in marketing is the software's ability to track where every one of your clients live in the customer life cycle. It delivers marketing analytics for each life cycle phase to help you evaluate your business-to-business (B2B) marketing strategies.
Are your strategies effective in converting your audience into leads? Which marketing tactics are best for transitioning a lead into a sale?
A CRM provides these answers. Then it helps automate the execution of those strategies.
Through the use of a marketing CRM, you can streamline a significant portion of your workload while also improving management of clients through the customer life cycle.
Customer segmentation
To deliver the personalized marketing approach required to reach customers these days, a marketing team must be able to use customer segmentation, also known as market segmentation, to target their client base.
An example of using market segmentation would be identifying demographic information and actions taken by a customer, such as how often they visit the company's website. This helps properly categorize each client, for instance, as a potential lead.
If your business focuses on account-based marketing, segmentation is even more essential in order to create a target list of prospective clients.
In terms of segmentation, CRM marketing software excels. It stores all customer data in a single repository, from contact information to details of every customer action, like email open rates. By leveraging all of this data, you can segment your client base in many ways.
From there, the CRM provides a slew of tools to help you refine your marketing strategies. These include reports on key marketing metrics related to each segment such as the cost per lead, and personalized email communication to clients based on segment information.
Improved communication
Customer outreach is part of marketing 101, but a one-size-fits-all message won't cut through the clutter. Neither will a spray-and-pray approach using one mass email for your entire database.
To nurture clients through the customer life cycle requires ongoing communication, which is difficult to manage and scale up as the business grows without the help of a CRM with marketing automation.
A CRM stores the history of all communication with a customer. This lends itself to improved customer contact and better follow-up since a business can tailor its messaging based on factors like if this is the first interaction with a client or if the customer called with a complaint.
Moreover, tactics like direct marketing can be streamlined. A CRM enables emails to be automatically sent to customers based on factors like their segmentation such as moving to a new stage in the customer life cycle.
Even the actions a customer takes, such as whether or not they showed interest in a specific product, can trigger an automatic email.
Personalized content
Because CRM software collects a trove of information on each customer, it's now possible to implement personalized marketing outreach at scale.
For example, if clients are just becoming aware of your business offerings, the communication should be more explanatory. If the customer has purchased before, any outreach should be more of a follow-up or recommendation of additional products and services.
Leverage the CRM's automation capabilities to enable a high degree of customization. For instance, you can design unique email templates for each part of the customer life cycle, and when a client enters a new stage of the life cycle, the CRM can trigger the appropriate email.
In-depth data analysis
Data collection and analysis is a critical factor to the success of a business. For instance, every advertising campaign requires a set of measurable marketing KPIs to gauge success. Here again, CRM software plays a key role.
Using its collection of customer data, a CRM can generate reports that track progress towards marketing goals, or provide insight into marketing tactics that deliver success as well as those that should be eliminated because the desired return on investment (ROI) is not there.
By experimenting with various marketing channels and analyzing the data collected by the CRM to determine what works best, you can streamline efforts, reduce costs, and zero in on the areas that make the most sense for your business.
---
The best CRM software for marketing
Now that we've looked at ways to leverage a CRM for marketing, it's time to identify the CRMs that can help. When it comes to marketing CRMs, fortunately, you can choose from many options.
All CRMs come with the same basic functionality, which includes a degree of customer data collection and reporting. How they differ is in the depth and extent of the marketing tools available. Let's take a look at some of the best CRMs for marketing.
1. Salesforce CRM
As one of the largest and best known CRM platforms available, Salesforce's CRM offers a rich array of tools and capabilities.
From email marketing to customer life cycle management, Salesforce has it all. There's even support for a content library where marketing collateral and other materials can be housed for easy access.
If it lacks a desired feature, Salesforce's customizable platform allows you to add capabilities (if you have a tech-savvy team) or to use an integration with third party software. The platform offers a lot to help marketers achieve their objectives.
2. Zoho CRM
Zoho CRM is another feature-rich CRM enabling a wide range of marketing tactics. Among its many benefits are:
Customer segmentation tools such as the ability to score each lead for better prioritization.
Customer communication tools like live chat and the ability to invite clients to a webinar or other marketing events.
Customer surveys used for the marketing research process to develop positioning strategies, or to collect feedback to improve the customer experience.
An integration with Google Ads that brings advertising campaign data into the CRM to better analyze ROI and identify areas for optimization.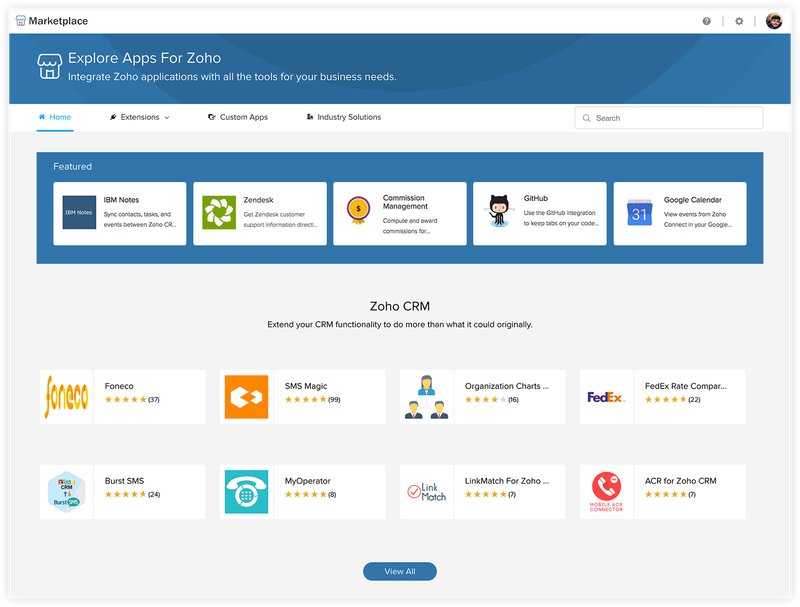 This list is just the tip of the iceberg. Like Salesforce, Zoho's capabilities are extensive and well-suited to support many marketing activities.
3. SugarCRM
Like Salesforce and Zoho, SugarCRM delivers a large number of marketing tools. As a result, all three share CRM features like lead scoring and integration with Google Ads.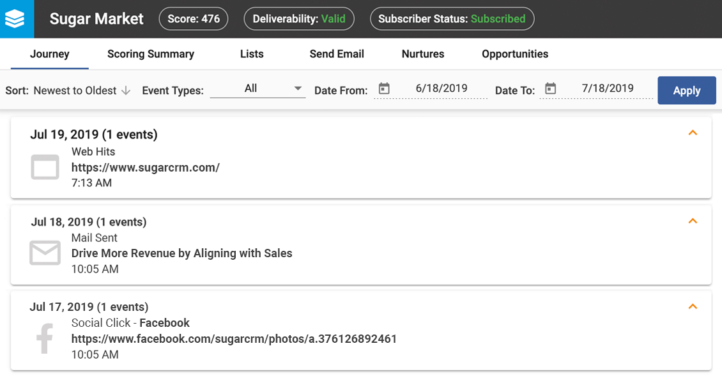 In addition, SugarCRM can help with various digital marketing tips, such as how to incorporate search engine optimization (SEO) into your website. The platform also possesses strong competency in personalized communications with customers.
4. HubSpot CRM
HubSpot CRM is attributed with coining the phrase inbound marketing. As such, the company has its roots in the marketing realm. Its platform includes email marketing, management of advertising campaigns, customer segmentation, live chat capabilities, and SEO and social media tools.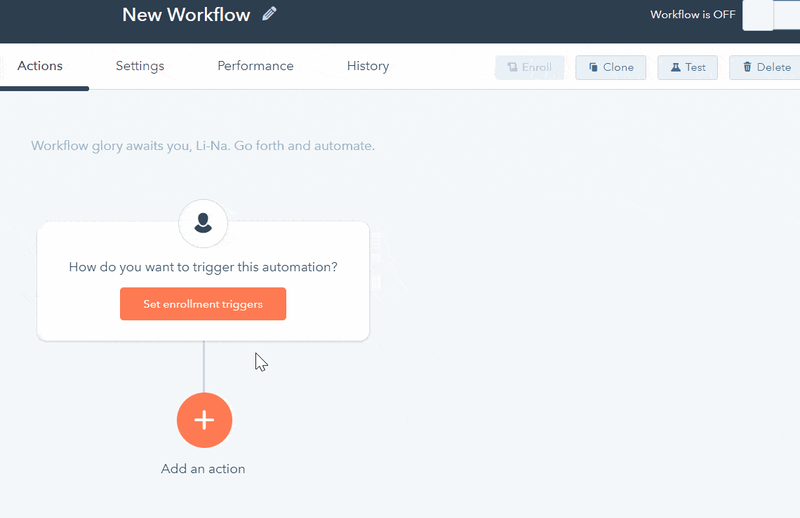 An attractive aspect of the HubSpot CRM is that it offers a free tier, but with limited features. So HubSpot's free version may be a good introduction to a CRM if its starter software meets your basic needs.
5. Agile CRM
From automatically scoring leads to segmenting customers based on behaviors and actions, Agile CRM offers a solid suite of marketing tools. It even provides the ability to build and send out your own newsletter using predefined templates or to create a video to insert into email marketing campaigns.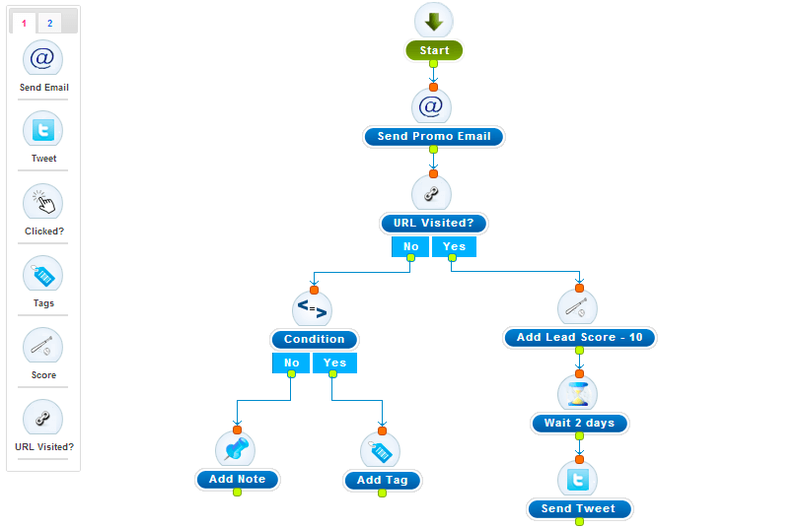 There's also call center capabilities to support script creation and other tools for telemarketing. Agile CRM casts a wide net in terms of the various marketing tactics it supports.
---
A final tip for using CRM software for marketing
Before seeking out a CRM option, outline your company's marketing needs, objectives, and key tactics. In this way, you can match the features of a CRM to the needs of your business.
For instance, if email marketing is a big channel for your company, then how well a CRM supports this will be a critical consideration. Or you can complement a CRM's abilities with specialized software like Mailchimp to round out your company's marketing automation toolkit.
By finding a CRM that is a good fit for your business, you can tackle marketing initiatives efficiently, strategically, and with the personalized approach required to reach your customers and achieve your goals.