Today's technology-driven world thrives on data. An IDC report forecasts 2019 revenue from data and analytics solutions to reach $189 billion, growing to $274 billion by 2022.
Moreover, a McKinsey study indicates businesses that extensively use customer analytics see a 93% improvement in profit over businesses that do not. Clearly, companies find value and a competitive edge in collecting and mining customer data.
So how can customer analytics help your business? Let's break down this concept and take a look at customer analytics software that can propel your company toward success.
---
Overview: What is customer analytics?
Customer analytics is the collection and use of customer data to inform business decisions. This data can be applied in many ways.
Some examples include using the data for business development, improving account management, to develop a B2B marketing strategy, inform product development, and even to predict future customer actions.
For instance, there's the famous case of Target identifying that a woman was pregnant before her own family knew. The company used analytics to track the woman's online behavior, which prompted them to send her maternity offers. That's the power of customer data analytics.
The ability to collect and analyze this data is done primarily through technology. Customer relationship management (CRM) software is one of the top options among companies looking to incorporate a customer analytics strategy.
That's because CRM software can collect troves of customer data and surface insights easily.
---
What customer analytics look like in different sectors
The collection and application of customer data is happening across all industries, although data use differs based on the specific needs of each industry. Here are some examples.
Banking
Banking is one of the leading sectors adopting a client analytics approach since life changes can transform a banking customer's finances dramatically.
For instance, if a customer is headed to college, they may need a loan to pay for their education. If a couple is getting married, they may want to open a joint account.
In addition, banks use customer data to combat fraud. Potential fraud is identified by analyzing customer behavior patterns inconsistent with the norm. For example, a bank might put a hold on your credit card if it detects a large purchase made outside the city where you reside.
Also, banks need to flag customers who are potential risks. A bank does not want to provide a mortgage or other loan to customers who are likely to default.
Banks can improve and speed up these decisions by analyzing their own customer data and marrying it with third party data from sources like a credit reporting bureau.
Retail
The retail sector is going through a massive transformation wrought by e-commerce. Consumers are buying online more than ever: 35% of purchases during the 2019 holiday season occurred on smartphones, according to an analysis by Adobe.
Consequently, retailers that adopt a customer analytics strategy will be in a position to outmaneuver competitors.
We've already mentioned how Target uses customer data. Amazon is another retailer applying its customer analytics capabilities in numerous ways.
For instance, Amazon knows which products complement the ones you bought and can recommend these additional products. Amazon also knows which products are slow sellers and automatically adjusts pricing to spur sales.
Marketing
Any company involved in marketing must use customer data to inform its marketing strategy. Some key ways this data is used include:
To segment customers: Data is required to validate potential leads against the target customer profile, and to nurture these leads toward purchase. Customer data is also used to identify where clients reside in the customer life cycle.
To personalize content: Today's consumers tune out any marketing outreach that fails to personalize its messaging. Customer data is required to achieve that personalization. For example, if a client previously made a purchase, you can send a follow-up email to thank them and suggest complementary products.
To improve ROI: Marketers generate better return on their advertising spend by leveraging customer data. Online ads can be targeted to consumers who are most likely to buy. Analyzing customer actions to tactics like direct marketing allows marketers to hone their strategy, removing tactics that are not performing while boosting investment in those that do.
Travel
The travel industry benefits greatly from the use of customer data. For example, casinos know which offers and discounts will draw customers in, providing a free room to some and merely a free meal to others.
Travel sites collect information on which trips you're planning. So after checking airfare prices from Los Angeles to Tokyo, a travel site can start emailing alerts when the price drops. Airlines analyze popular destinations and combine this info with visitor spikes throughout the year to optimize flight prices.
---
The importance of tracking and using customer analytics
We looked at how some industries use customer analytics. Here are reasons why analytics is essential to every type of business.
1. Optimized marketing
Your company can choose from a large number of marketing strategies to help it grow.
But which of the many marketing channels drives the most acquisition at the lowest cost? Which stage of the customer life cycle is each of your clients in so that you can properly nurture them into the next phase? How can you better segment your customer base to improve your marketing performance?
Customer marketing analytics gives you these kinds of insights.
2. Product improvements
Customer experience analytics delivers an objective view of your offerings' performance. Your product or service can't improve unless you know those aspects most valued by customers and those they ignore.
For example, if visitors frequently drop off one area of your website, it's a sign that something is wrong. Perhaps that page loads too slowly or is not rendering correctly on a mobile device.
Or if the sales team is selling one type of product or service more than others, it hints that you may have a hit on your hands, warranting a price increase.
Your customer data can reveal these valuable learnings.
3. Revenue insights
Customer analytics can make a substantial impact on your company's revenue. Your customer data answers questions like:
Which customers contribute the most revenue?
Which are the most profitable?
Where does your company lose customers?
What customer behaviors contribute to high retention rates?
The answers to these kinds of questions mean the difference between a prosperous business and a struggling one. That's why successful companies are transitioning to a data-driven decision-making model.
4. Predictive analysis
Wouldn't it be great if you could predict the future? With customer analytics, it's possible to take the guesswork out of your growth efforts. Analyzing customer data enables you to find patterns in behavior.
For instance, if a particular email subject line generates higher open rates, you can increase your use of that subject and eliminate those that don't perform as well.
If you know your most profitable customers and present them special offers proven to encourage additional purchases, you can quickly grow revenue while maximizing profits.
5. Improved sales processes
Which leads are the most promising, and hence, should be prioritized by your B2B sales team? Does the team have enough customers of appropriate revenue size in their pipeline to hit your financial goals for the month? What are your average close ratios, which measures your team's ability to close a sale?
Customer analytics gives you this information.
Tools like CRM software provide lead scoring capabilities to find the best leads to follow up on, and generate reports that track key sales management metrics like the sales pipeline, average deal size, and close ratios.
---
The best CRM software for customer analytics
When it comes to customer analytics, CRM software is one of the best mechanisms to collect, analyze, and act on this data.
Every CRM package offers some degree of reporting and analytics so it's worth studying CRM examples to determine the software that works best for your business needs.
Here, we list a few of the best in customer analytics.
HubSpot CRM
HubSpot CRM is a well-rounded CRM when it comes to applying customer analytics to sales, marketing, or other business needs. With it, you can:
Spot trends like how many times a customer visits your site before they buy.
Identify where your most valuable lead sources originated from, for example, social media, referrals, or your email marketing campaign.
Determine which marketing tactics work best to convert visitors to customers.
Track the activity and status of every lead.
This is just the tip of the iceberg. There's a lot more HubSpot's analytics can do, such as the ability to create custom reports and analysis of your website traffic. And the bonus is, it's an easy-to-use platform.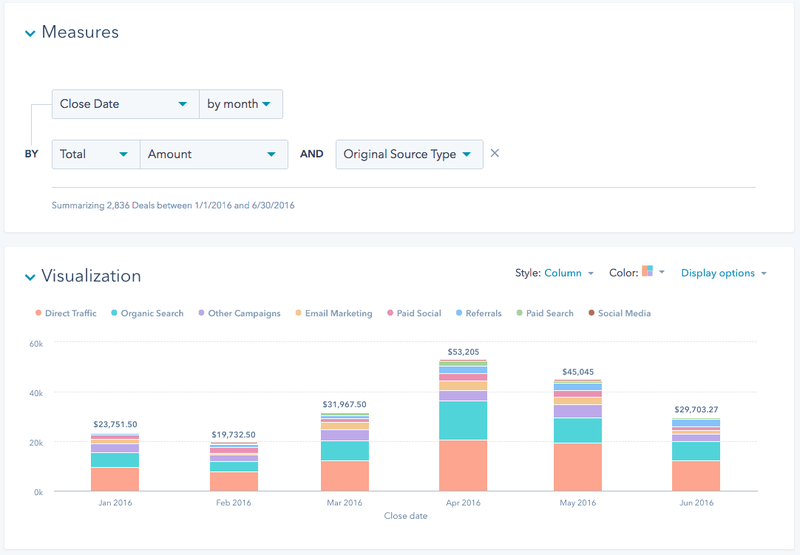 HubSpot's base version is free, which enables you to give it a test drive, but the more powerful analytics tools are only included in paid versions. Still, it's a solid platform, and has a reputation for being particularly strong for marketing-related CRM activities.
Zoho CRM
Zoho is a veteran CRM that's been on the market for years. As a result, it's packed with a broad range of features, including its analytics capabilities. That's what makes Zoho a solid choice. Some of its vast reporting features include:
Analysis of costs vs sales and profit.
Dollar amounts in play at every stage of the sales cycle.
Tracking progress toward goals such as revenue, target number of leads, average response time to customer inquiries, and other key performance metrics.
Revenue generated by every marketing channel.
Artificial intelligence (AI) assistance to suggest the best time to contact customers, predict business trends, and even to identify when customer sentiment toward your company is negative or positive.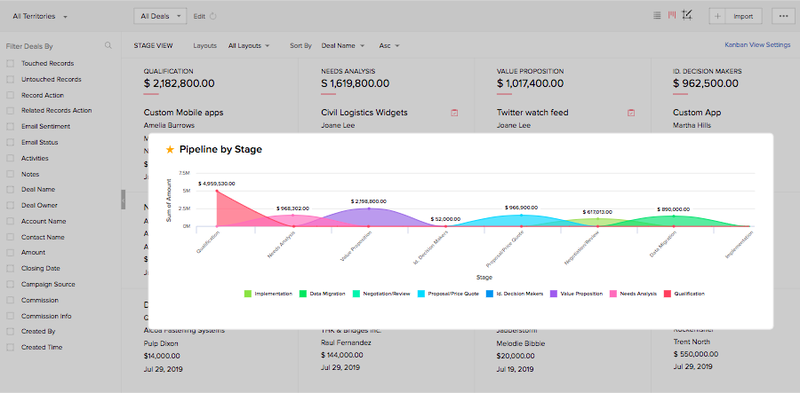 So much is available in Zoho that it can be overwhelming. At the same time, it means Zoho is capable of meeting the needs of many types of businesses.
In fact, if you already collect customer data through other sources, Zoho can integrate this data with theirs, assuming you have software engineers to perform the necessary coding.
Salesforce CRM
Salesforce is one of the leaders and most recognized brands in the CRM space. Its Einstein Analytics platform spearheads its offering around customer analytics. This platform leverages the power of AI to take a different approach than simply providing elegant dashboards and reports.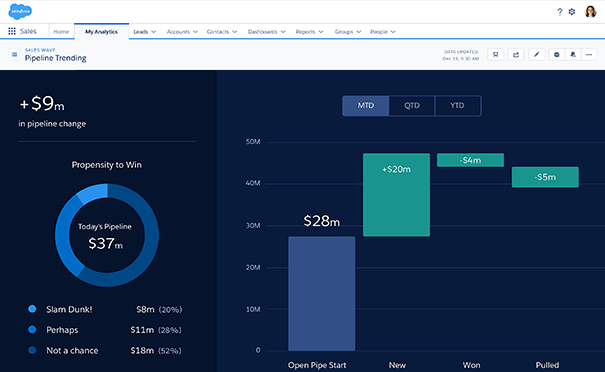 While Einstein certainly delivers the types of reporting and dashboards available with other CRMs, it goes a step further.
The system analyzes your data and provides proactive recommendations and predicts outcomes, such as what a service rep can do to improve customer service or how your marketing team can boost conversion rates.
It's one of the more unique options available among CRM software, but it's also one of the more expensive.
Pipedrive
Pipedrive possesses analytics that are particularly well-suited for sales teams.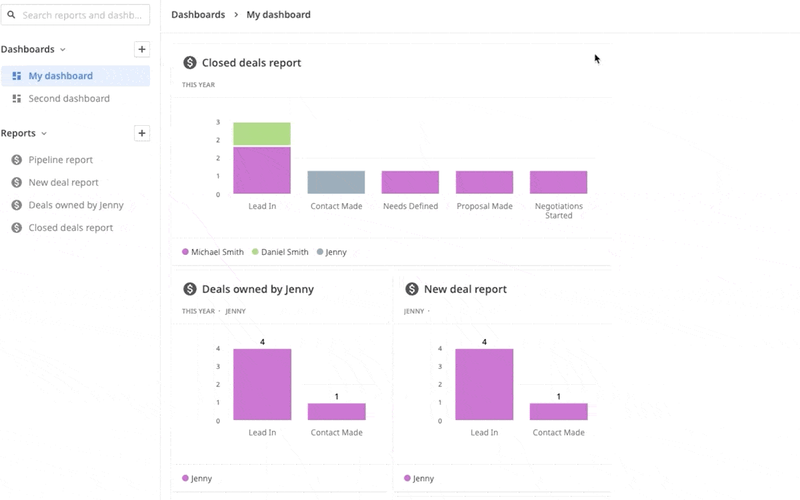 The software delivers an easily decipherable dashboard outlining key sales metrics, such as the number of closed deals, and it offers capabilities unique to sales management needs like sales forecasting and deals that are at risk of being lost.
While it doesn't sport the vast capabilities of a CRM like Zoho, it's one of the more affordable platforms.
---
Final advice on customer analytics
Before purchasing a CRM to help with customer analytics, your business should define the kinds of metrics that you want to track. This ensures you can match your business needs with the capabilities of the software.
Also, when using customer data to inform business decisions, it's important to ask the right questions to validate that the data you acquire can objectively answer your questions. Otherwise, you could be collecting data that skews the results.
For example, if you want to know why your sales team is struggling to hit a revenue target, it's not enough to look at which products are being sold. This data alone won't give you the right insights.
You also have to dig into factors like the average price per sale to see if sales reps are heavily discounting the price (which some do to close the sale), and if reps have the requisite number of customers in their sales pipeline to hit the appropriate close ratio.
If embracing a data-driven approach is unfamiliar for your organization, it will take time to adapt but it's a necessity in today's technology-powered environment.
By leveraging a customer analytics approach, you gain insights into what's going on across your entire client base, not anecdotal feedback from a handful of customers.
Armed with that level of understanding, you'll be in a powerful position to build a thriving business.