You lay waste to your customer satisfaction ratings when you keep your customers waiting. It ruins their customer service experience, which reflects poorly on your company's reputation. Left unchecked, its adverse effects can even hurt your bottom line.
Self-service options allow your customers to find the answers to their issues quickly, without having to speak to a customer service representative. They can do this through dedicated online self-service portals.
Integrate customer self-service (CSS) in your business process to address your customers' inquiries, improve your team's productivity, and reduce your manpower costs.
---
Overview: What is customer self-service?
Customer self-service is a type of support that lets users find solutions to their issues without a live agent's help. Customers usually resolve simple and routine queries about your products and services through a knowledge base, self-service portal, and other places.
This gives customers access to the support and information they need 24/7, making it a convenient and efficient method for delivering customer service.
---
Benefits of providing customer self-service
Upgrade your company's customer support capabilities by including customer self-service in your process. Learn the benefits of customer self-service below.
1. Reduce costs
When your customers can address their issues with the help of self-service portals, you won't need to hire as many customer service agents. Based on CommBox data, an individual self-service customer interaction costs less than $0.25 per customer-driven resolution.
This lowers your expenses and other customer service-related costs, such as your training costs, new staff acquisition, etc.
2. Improve your customer service team's productivity
Reduce the number of calls and inquiries your agents handle with CSS. It gives your customer service representatives more time to help customers with unique, more complex problems. This helps your team give better customer care, providing solutions more efficiently.
3. Boost your website traffic
Provide consumer self-help options, such as a customized knowledge base, in your self-service portal. This can make your business an authority in your field while giving your customers useful information. CSS drives traffic to your website and increases your brand visibility and credibility.
4. Provide customers multiple service channel options
Give your customers more options to access your customer support by providing self-service portals throughout multiple platforms, such as an FAQ page, a YouTube channel with tutorials, or community forums.
This allows your customers to choose the most convenient self-service channels for them, improving your consumer satisfaction and brand loyalty.
---
6 ways to add customer self-service to your business
Take inspiration from these consumer self-help options to come up with a process that fits the dynamics of your business.
1. Include a knowledge base on your website
Help your customers solve simple issues and get answers to common questions by providing a knowledge base.

Include product documentation and descriptions to give your customers comprehensive references. Provide how-to guides to make it easy for your customers to troubleshoot basic issues.
Asana excels here by offering customers step-by-step instructions in its knowledge base.
For instance, Asana's guide for creating projects, setting permissions, using templates, and more, is clear and concise. Each section includes specific steps and screenshots showing where you'll find each element on the Asana interface.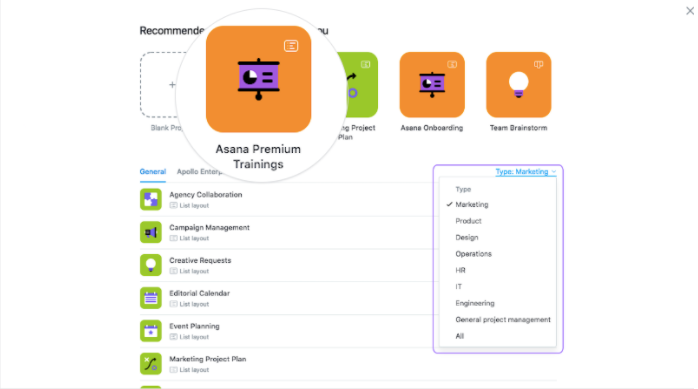 Include a search bar and links or a table of contents to specific sections to help your customers find the answers they need in your knowledge base effortlessly. Doing so makes the customer self-service experience seamless and efficient.
2. Leverage mobile help apps
Giving your customers access to information anywhere and at any time is a classic example of good customer service. This helps your customers solve their problems quickly and painlessly.
One of the best ways is to provide mobile help apps to assist them with actions like setting appointments and checking their outstanding balance, among others, anywhere, anytime. This also allows them to work with you without the need to connect with your customer service representatives.
Consider these factors when developing your self-service app:
Easy-to-use user interface: Use an interface design that helps simplify the process for your customers and offers intuitive navigation. This makes your customers' mobile self-service experience easier and faster.
Cater to wider audiences: An annual survey showed that

73% of U.S consumers

prefer mobile self-service technologies for a more convenient shopping experience. This highlights how providing mobile help apps lets you cater to larger audiences, which helps increase their satisfaction with your brand.
3. Offer automation features
Automation saves time for both your customers and representatives. Set up chatbots on your website so your customers can find basic information about your products and services quickly. It's a great way to address your customers most quickly, saving them from the time and hassle of waiting for a live agent to address their concerns.
Use customer service software to provide customer self-service automation features.
Automation also allows your reps to develop workflows that automatically send customer service emails, such as follow-ups and reminders. Ensure your customer-facing automation technologies are intuitive and flexible so they don't overwhelm your customers.
For instance, your chatbots should provide consistent answers to the same customer inquiries, regardless of how they're phrased.
4. Provide product training for your customers
Give your customers a version of the training your staff and customer service reps receive to learn about your products and services. Doing so gives them a detailed explanation of how your products work and their common issues and fixes.
Improve the business self-service experience by offering interactive ways of educating customers and addressing their queries. The HubSpot Academy, for instance, offers free online video training courses. Users can complete specific assessments and tasks after watching the videos, which helps them learn more about HubSpot's products and marketing outlook.
If you're in e-commerce, create product demos and tutorials to help customers learn how to use your products properly and get the maximum benefits.
5. Highlight common frequently asked questions
Turn your customer service portal into a valuable resource by covering the top reasons your customers are calling you. Do your customers often ask how to reset their account passwords, how to manage admin settings, or other common questions?
Highlight these questions and the corresponding answers on your FAQ page. Place your FAQ on your website's main menu or other prominent places to make it easy to access.
6. On-demand webinars for onboarding customers
Streamline your customer onboarding process by publishing on-demand webinars. Schedule a webinar, create a registration, and automatically record your webinars (in the cloud), so customers who register can access it at any time.
Webinars are perfect customer self-care tools since they allow your customers to access the information they need by watching a pre-recorded webinar. ClickMeeting is a robust software app for creating webinars.
The platform is full of features ideal for creating webinars, such as screen sharing, whiteboards, presentations, etc. — all of which are perfect for onboarding new customers.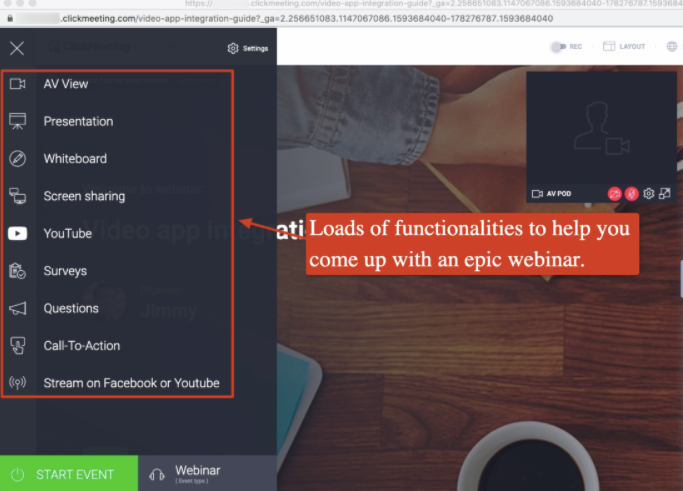 By creating and recording a webinar, you're giving your customers easy access to content that answers their questions.
Additional Tip: Use on-demand webinars for onboarding new staff, to supplement their training, and to improve your representatives' customer service skills.
---
Improve the consumer experience through customer self-service
Customer self-service allows businesses to help customers address their inquiries quicker, which improves the overall consumer experience. Use the tips in this guide to implement quality customer self-service channels to improve your brand's reputation, increase customer loyalty, and drive sales.