We are increasingly living in a service economy. In fact, the customer experience is quickly becoming a greater differentiator than product or even price. Excellent customer service can separate you from your competitors and help turn patrons into proselytizing brand evangelists. As a marketer, I've seen firsthand how these happy customers lead to more business.
Outstanding customer service doesn't happen by accident, though. You build a culture around it with preparation and clear expectations since customer service standards are essential for success.
Although there are tons of possible customer service models and customer service standards for all business sizes and industries, some best practices apply to almost any company. These eight customer service standards will help you sustain and grow a business by consistently delivering a top-notch experience.
---
1. The standard customer journey
The best way to give your customers an incredible experience is by taking the time to plan what that experience should be. Whether your customer buys a product in a store, purchases the product from your website, or goes through a full corporate procurement process, you should map their ideal experience.
Understanding the customer journey should be at the core of your customer service training. Your team should know exactly what they need to provide at every stage of the journey. This way, they will be able to identify when those standards of service aren't met and know how to rectify it.
You should also think through what an ideal customer support experience looks like. From the moment your customer asks for help or complains, you should be guiding them on a journey to resolution.
That includes ensuring that your team has foundational customer service skills, such as restating the problem and acknowledging customers' feelings. Set clear expectations about how a support issue should be resolved, documented, and learned from (more on that later).
---
2. Response and resolution time standards
Speed has always been an important part of customer service, and present-day businesses such as Amazon prove that it still matters. Customers want to get what they need when they want it and, if they need help, they don't want to wait.
What's more, this is an important example of a measurable customer service standard. Even for small businesses, time standards are a must. They can help your team prioritize inquiries and can even be used as a marketing tool (as long as you deliver what you promise).
In most cases, the two most important time standards will be initial response time (also called "first reply time") and problem resolution time. Your response time standard will depend on the channels through which you communicate. Obviously, you can't respond to live chats hours later.
For each customer communication channel, designate a maximum response time and stick to it. Fortunately, many customer service software automatically track the timing for a first response. These solutions also document overall problem resolution time.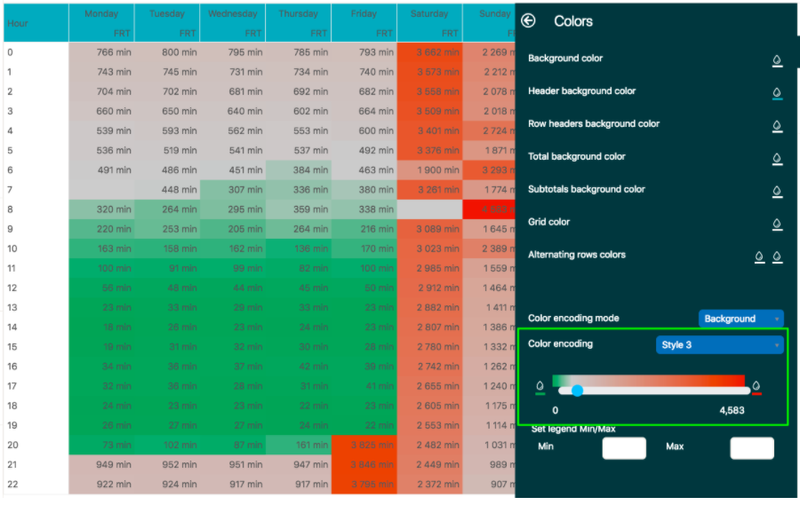 ---
3. Accuracy and transparency standards
While it's important to respond quickly to customers, how you respond is just as important. Accuracy and transparency are absolutely essential to delivering elite customer service. The first element, accuracy, is one customer service standard example that seems simple enough, but the desire to satisfy a customer can sometimes threaten it.
When a customer asks a question to which you don't know the answer, guessing is never a good idea. Train your team to respond with, "I'm not sure, but I'll find out for you." This kind of transparency will save you a lot of backtracking and embarrassment.
Another important aspect of transparency is communicating wait times or estimated resolution time.
"Estimated wait times … help to defuse the anxiety, stress and uncertainty that people experience," explains The Washington Post.
Time transparency also helps set realistic expectations for the customer. Whether the customer is using a chat tool, corresponding by email, or calling on the phone, it's better to tell them how long the wait is going to be than to let their imagination run wild.
---
4. When and how to bend the rules
Your ideal customer experience gives your team the basic rules about how to interact with customers, but sometimes pleasing the customer means bending the rules. When it comes to a high-priority customer or one who is very dissatisfied, fast-tracking an issue or offering a discount may be necessary, even if it's not standard procedure.
That being said, you don't want your team tossing discounts out like candy or straining other departments with special favors. This is why you need to arm your team with standards about when and how they can adapt the customer experience.
To add some guardrails, you can allot your team a certain number of "rule bends" per week or require that these special measures be approved by a manager. The end result is that your team should be able to go above and beyond when needed without throwing out the standard procedures that make business sustainable.
Employees should also understand when an issue needs to be escalated to a superior, whether that's due to a customer request or an unprecedented issue.
---
5. Update and refer to your CRM
While a customer support ticket can seem like an individual event, it's actually part of a larger story: your company's relationship with this customer. That's why many businesses need customer relationship management software.
A CRM is a solution that allows you to record and track details about your customer base, such as your point of contact, past interactions, and renewal dates. By referring to your CRM, customer service teams can provide better service because they understand the context of the inquiry.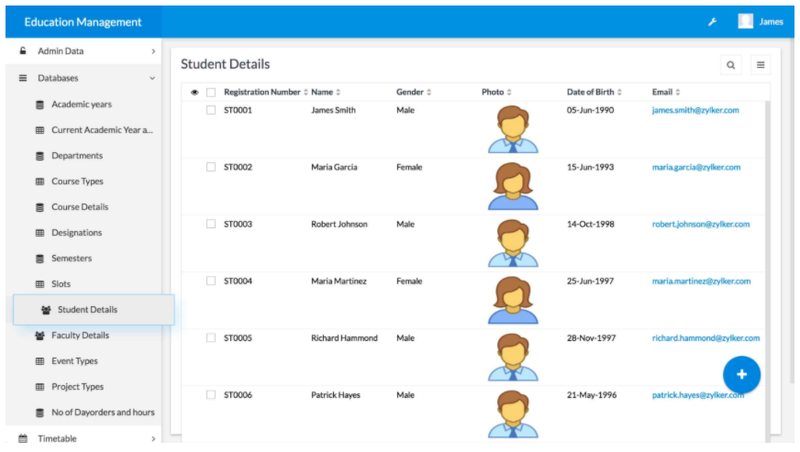 The type of business you have will determine what kind of CRM you need, but it's important to remember that a CRM is only as good as how you use it. For technology or service-based businesses, documenting customer interactions should be a standard part of each customer experience, and retrieving these records should be one of your first steps.
Taking detailed notes on who contacts them, what the issue is, and how it's resolved is a smart goal for any customer service rep. This can both save time in the future and raise the alarm if this specific relationship needs some extra attention.
---
6. Communicate and act on customer feedback
Customer questions and feedback should inform the development of your product and services. When someone takes the time to tell you about their problem, they're giving you the gift of insight. In my experience at software companies, repeated customer questions are a signal to create new help resources or improve the experience.
Support conversations can also reveal customer needs and concerns you weren't even aware of. Customer feedback can also illustrate what you're doing right and provide examples of good customer service to share with new team members.
Leveraging customer feedback to improve your business ultimately depends on how well you document customer interactions. When properly tagged, many customer service software allow you to search for related tickets and track recurring issues. If 40% of your customer support tickets are related to one feature, that's a clear sign you need to make improvements.
One way to make sure these patterns are recognized and acted upon is to schedule regular check-ins between your customer service team and your product team. Collecting, measuring, and communicating customer feedback should be an ongoing part of your business strategy.
---
7. Have a knowledge center so people can help themselves
The majority of consumers would rather use self-service resources than speak to a company representative. This is great news for you because a single help article or FAQ can save a massive amount of support resources.
Depending on your business, your knowledge center can be as simple as an FAQ page or as extensive as a library of user documentation and how-to guides. However large or small your knowledge center, it should be kept up to date with accurate tips and screenshots when relevant.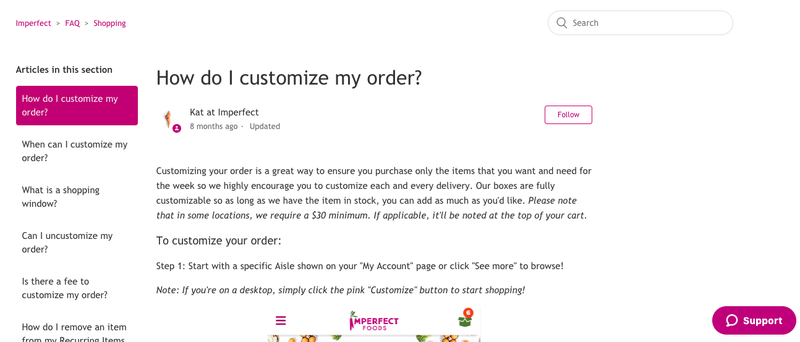 Just like your product or service, customer questions and feedback should inform your knowledge center. If your team is constantly dealing with the same question, and a product fix isn't possible, creating clear and easy-to-find content is the next best option.
---
8. Customer satisfaction standards
Your customer service standards are all after the same end goal: customer satisfaction. And since that which gets measured can be improved, it's important that you measure customer satisfaction. Time standards and general customer feedback play a part, but it pays to invest in a more holistic understanding of customer satisfaction.
That's where industry-leading metrics and scores come into play. They essentially function as a single measure of how happy your customers are.
There are many choices when it comes to how you measure customer satisfaction, such as Net Promoter Score (NPS), which classifies customers based on their level of enthusiasm and loyalty to your brand, or Customer Satisfaction Score (CSAT), which uses surveys throughout the customer journey to measure overall satisfaction.
Whatever method you use, monitoring and improving your customer satisfaction is central to growing your business.
---
Set your own standards for success
Customer service is the product behind your product. It may often revolve around individual experiences, but creating overarching customer service standards allows you to operate more efficiently and consistently. This means more customers having better experiences with your brand.
Customer service guidelines and standards will evolve as your company grows and changes, but making the customer feel heard and solving their problem with speed and kindness will always be important.