Your name is the first impression customers get of your company. Often, it's how they find you, too.
Running your business as a sole proprietor under your own name is easy. In most states, you won't have to file any state paperwork to begin working as a solopreneur or qualified joint venture. You can simply offer services as Jane Dough, CPA, Accounting and Taxes.
But naming your business, even if it's a side gig, offers surprising benefits. And it's easier than you might think.
Learn when it makes sense to register a "doing business as" name, factors to consider when choosing your name, and how to register when the time is right.
---
Overview: What does "doing business as" (DBA) mean?
When you register an official business name, you are telling the state and the public that you, the owner, are "doing business as" this named business. Some states require you to publish a notice in newspapers to alert the community of this new connection.
States require name registration to ensure that people have a way to trace business deals back to the people making them. Nobody wants to deal with a company that has no owner or address on record.
And so "doing business as," or "DBA," indicates a name other than your legal name under which you're authorized to do business. Business DBAs are also called fictitious business names, assumed names, or trade names.
On official documents, business owners may need to provide both names, as in John Doolittle DBA The Pet Whisperer.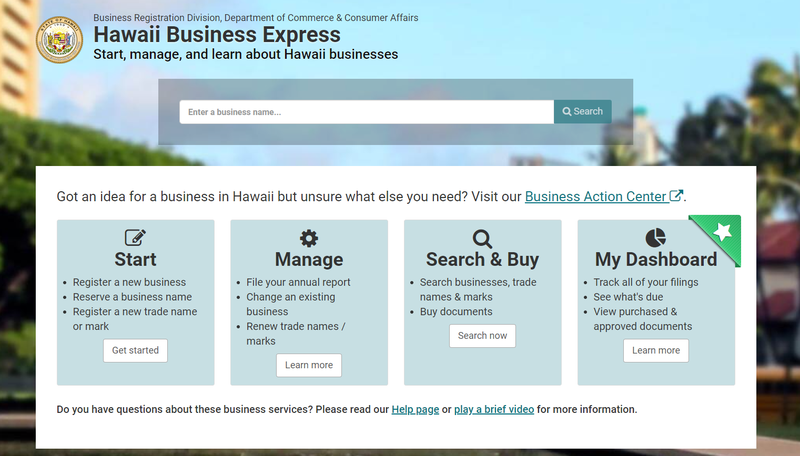 ---
4 benefits of having a DBA for your business
Having a registered business can help your business in these ways.
1. Helps ensure a unique name in your market
In most states, you can conduct a business name search to determine whether your chosen name is already being used by another company. Most states also check to ensure that your name is distinguishable from others on record.
This generally doesn't provide legal protection, but it gives you some assurance that your business won't be confused with another in your market.
2. Protects your identity
Doing business under your own name means you are connecting your name and address to every transaction, record, and document you complete for your business. Having a DBA for business lends you a bit of privacy.
However, by registering, your name and address may be posted on the state's business portal, which is a whole new level of exposure. Check your state's business entity search tool to see what kind of information it includes for your business entity type.
Appointing a professional registered agent may give you some of that anonymity back. A registered agent is someone you designate as your point of contact for legal papers and official state correspondence. The registered agent must be physically present during business hours to sign for documents.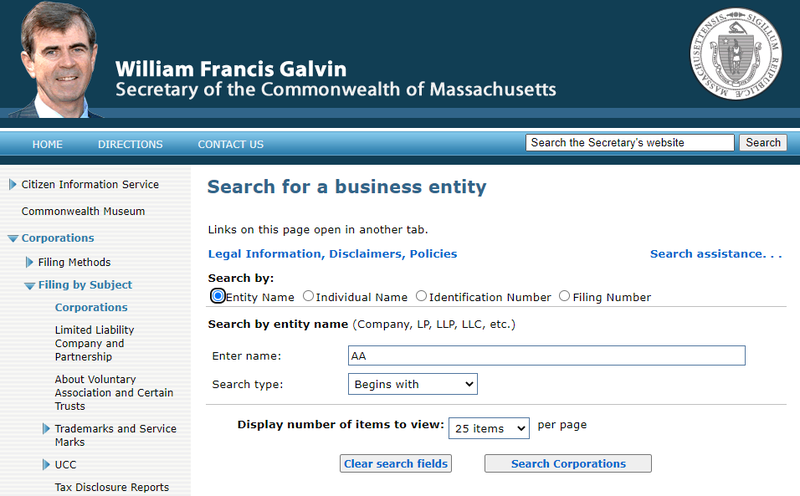 3. Provides gravitas
Having an official name for your business reassures customers that you're a real, established business. It can also make it easier to attract investors and business partners.
4. Drives branding
A business name is critical to branding and marketing your business. It's your chance to exercise your creative chops and convey your vision and values to the public.
5. May be required for certain transactions
You may need a fictitious name to get a business bank account or other privileges. Having a registered name on file ensures you won't run into any last-minute roadblocks when seeking business perks.
6. Is user friendly
If you choose carefully, you can give your business a name that's easy to spell and remember. Which is more likely to bring customers to your door, Vlad Voskoboynikov Construction or Prestige Custom Homes?
You can also take advantage of the fact that most people search alphabetically, which is why there are so many business names starting with AAA and A+. (Another knock against poor Vlad).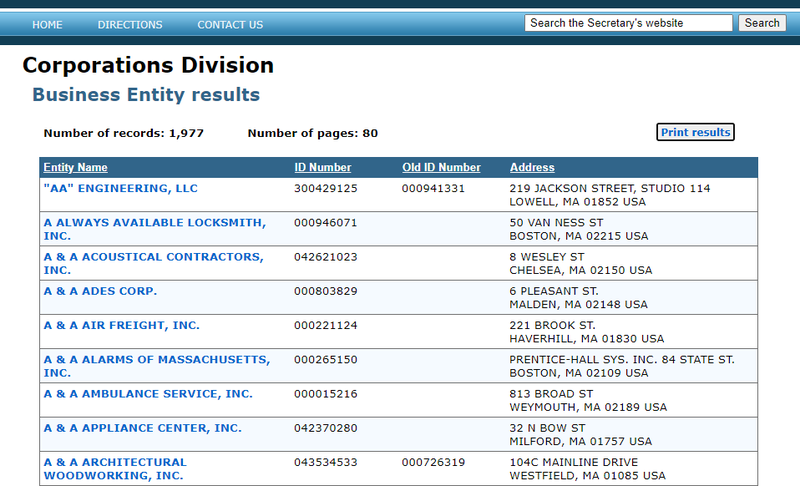 Side note: There are 21 words that begin with "aa," and the only one I've heard of is "aardvark." So there's plenty of room to get in at the top, although I think you can cross "aasvogel" off the list. (It's a South African vulture.)
---
3 things having a DBA won't do for your business
While there are benefits to filing a DBA, don't overestimate it. Here are a few things a DBA won't do for your business.
1. Trademark your business name
A DBA is not a registered trademark. It's just a name reservation within your state or county. It doesn't guarantee that other businesses registered in other states won't be competing in your market, and with rare exceptions, it doesn't provide legal protections, even within your state of registration.
To legally protect your name, you need to conduct a formal trademark search and file a trademark application. This guarantees your name is unique and protected from imitators.
2. Create a legal business entity
A DBA is not a legal business entity. If you are a sole proprietor, you and your business are still inseparable legally, regardless of your name.
3. Protect your assets
Because it is not a legal entity, a DBA doesn't provide the limited liability protections of formal structures such as limited liability companies (LLCs), S corporations, and traditional corporations. That means your personal assets can still be seized to satisfy debts or legal judgments against the business.
---
How to register your business name: 7 steps
Most states require you to register a business name if you are working under anything other than your personal given name.
Registration is optional in Alabama, Alaska, Arizona, Hawaii, Maryland, Nebraska, Ohio, Wisconsin, and Wyoming. Kansas and Mississippi don't register fictitious names, while California and Delaware handle registration at the county level.
Sole proprietors are often required to file at the county level rather than the state level.
In Delaware, businesses must register and pay the $25 fee in each county where they operate. Fortunately, Delaware only has three counties, so it's not as bad as it sounds.
To register your business name, follow these steps.
1. Check state and county filing requirements
Visit your state's business portal and check the fictitious name filing requirements for your business type. Sole proprietorships often have different DBA forms and processes from LLCs and corporations.
2. Read your state's name rules
States and counties, if applicable, usually publish name requirements in their business portal on the web. You will usually find detailed rules including lists of permitted and prohibited words and symbols.
States also set their own rules regarding how different a name needs to be to qualify as distinguishable from other business names. Read through all of the rules to ensure that the name you've chosen is allowed before you submit any applications.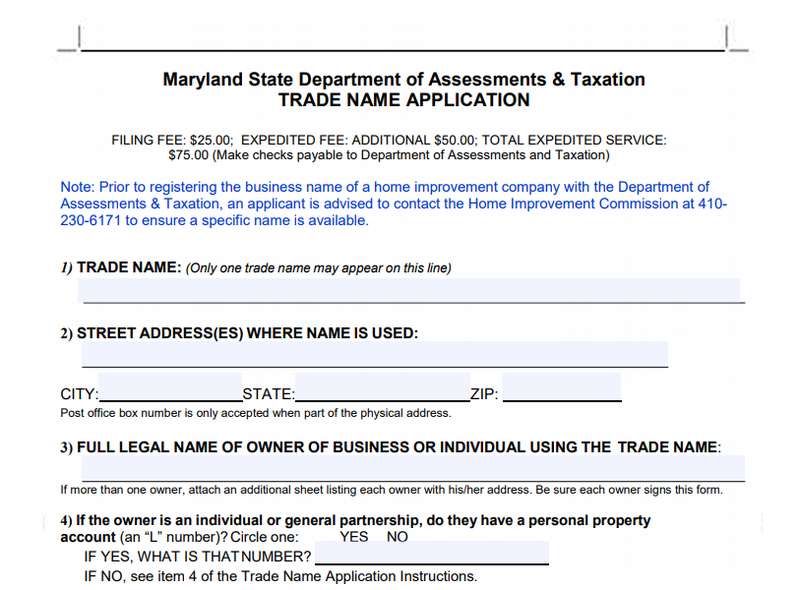 3. Search name availability
The next step is to see whether your name is taken. Most states have an online name availability search you can run immediately. If your first idea doesn't work, try variations based on the naming rules until you find a viable name.
4. File a name reservation if desired
It's exciting to land on a viable name that fits your business. In some states, you can reserve it for a small fee. This ensures no one else takes your carefully vetted name before you have a chance to register it, but it's not required.
5. Submit the application and fee
All that's left is to submit the application, usually a quick online form, along with any required fees to the state or county. Officials will review your application and get back to you, usually in a few weeks.
Don't begin using the name until you hear back from the state. The rules are precise, and applications are often rejected over seemingly small details.
6. Publish notices if required
Businesses in California, Florida, Georgia, Illinois, Minnesota, Nebraska, and Pennsylvania must publish a notice of their fictitious names in local newspapers or business journals.
If you do business in one of these states, be sure to read the requirements early in your application process. In some states, you publish a notice before applying, while in others, it comes afterward.
These documents must be retained as part of your official company records.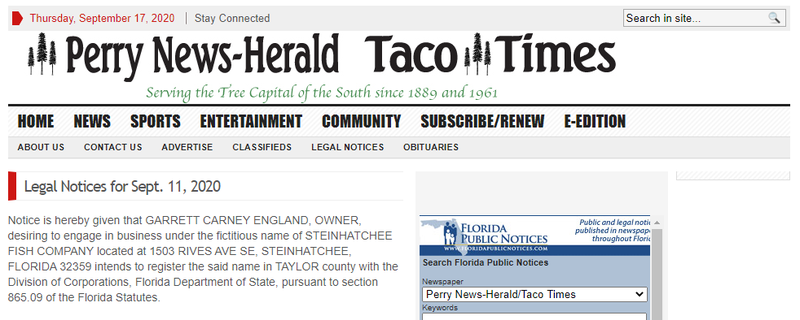 7. Renew your registration
Once you have a registered name, renew it when required. If you allow your name to lapse, you could lose it to another company.
It's important to track your name renewal along with all other state filings such as annual reports, business licenses, and registered agent appointments on a dedicated compliance calendar with automated notifications. Document management software can help you stay on top of these critical filings.
---
DBA frequently asked questions
Yes, you can. In fact, if your business changes significantly, you may be required to update your name accordingly.
To change names, you'll typically need to search and register the new name and terminate or abandon the old one. Even if you aren't required to file a termination, it's wise to release the business name if you're no longer using it. You may also be able to allow the name to expire.
Check your state's specific requirements for name amendments.
How much does a DBA cost?
Filing fees average around $30. Terminating a name is usually less, and sometimes free.
Can I keep my name if I form a new business entity?
Legal business entities such as LLCs, limited liability partnerships (LLPs), and corporations have specific name requirements. States usually require names to include a suffix or corporate designator such as LLC to indicate the entity type.
S corporations should follow the rules for their legal business entity, which may be an LLC, LLP, or corporation.
In most states, when you form a legal business entity, you register your name as part of the formation process. It may be possible to terminate your existing name registration and apply to use a new version adapted for your entity type, but it will depend on your state's rules.
For example, you may be able to go from Pat Baker DBA Patty Cakes to Patty Cakes, LLC, but you'll have to research the rules of your state to be sure.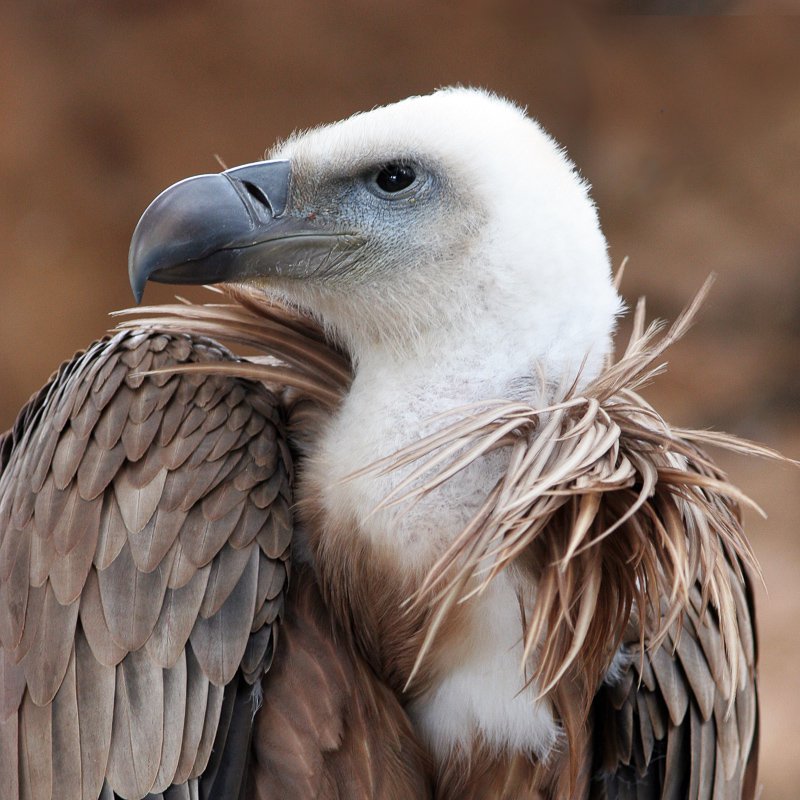 ---
Launch your brand
Filing a DBA is a smart move no matter how small your business is right now. For the price of a dinner out, you can brand your company, gain credibility, and bring more customers to your door. And you can give your business an identity of its own, which may even give you a whole new perspective on your company.