Most people are nervous when they start a new job. They wonder what the office will be like, whether their coworkers will be nice, where they will eat lunch, and whether the work will be interesting or stressful. If you're like me, you also worry about what to wear.
You want to make a good impression, but you don't want to stand out or look inappropriate. You don't want to wear a suit when everyone else is in jeans.
A dress code policy can ease one worry ahead of a new hire's first day and help existing employees dress appropriately for the office.
---
Overview: What is a dress code policy?
A dress code policy outlines the way a company expects an employee to dress when they are representing the company and engaging in activities within their job role. It's normally created by the HR department in conjunction with other managers, with the input of a selection of employees.
The policy should be accessible to employees at all times and made available to new hires during onboarding and before their first day.
---
The 5 things to include in a dress code policy
It's important to document the following points in your HR policies document, employee handbook, or code of ethics to ensure everyone knows where to look to find the relevant information.
1. The purpose of the dress code policy
To some people, creating a dress code policy might seem like a restriction of their rights at work, or they might worry that they will have to buy new clothes to fit in with the rules. That's why you need to communicate clearly why you are creating the policy and how it will benefit your business.
Then make sure everyone knows where they can find your policy (ideally stored in your intranet or HR software), so they can check it if they have any questions.
Human capital management software SentricHR can serve as a useful tool to keep everyone up to speed. It has a Facebook-style news feed, which shows the latest documents that have been uploaded to the intranet.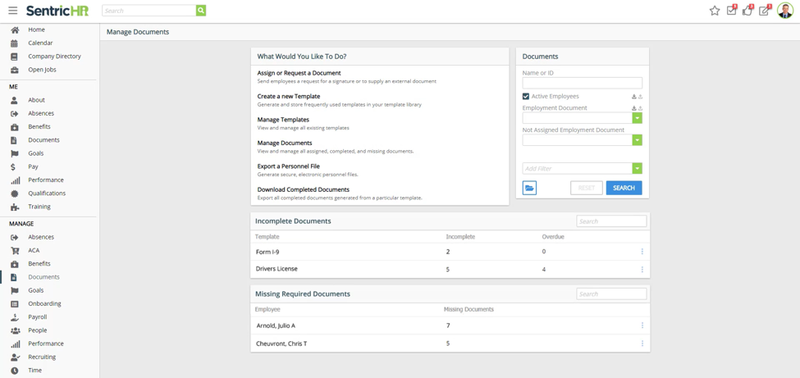 2. What the dress code consists of
Consider here the purpose of the business, its beliefs and values, and your company and employees' specific needs. The dress code can vary by industry, by company size, by the personality of the CEO and C-suite, by product type, or by organizational culture.
Clearly explain here what you expect from your employees, and what they can and can't wear.
3. Who the policy applies to
While you may write an office dress code that is aimed at all your employees as it's quicker and easier, there may be times when you need certain workers to dress differently.
For example, your back-office staff — think business functions like HR and accounting — can wear more casual work attire as they don't come into contact with customers or suppliers, whereas your marketing team has to dress more smartly because they have visitors, shoot marketing videos, or represent the company externally.
4. When the policy applies
Consider creating different policies for working from the office and working outside the office, for example for attending events or meeting with customers.
When your salespeople are in the office, you can say they are allowed to dress casually, but when they make sales calls outside the office, they must adhere to a more professional dress code. Or, you might have a casual dress code in the office normally, but need people to adopt business professional attire when you have visitors.
5. Exceptions
In this section, you should state when people are exempt from the policy — for example if they have a medical condition — and why they are exempt. It's also important to note how employees should ask for exceptions to be made, and when these will be added to the dress code policy, as well as who they should contact if they have an issue or question.
---
Example of a dress code policy
Below is an example of how to structure your dress code policy and what details to include.
1. Introduction
This dress code policy is designed to help the company express its values and beliefs, both internally to our coworkers and to customers and suppliers. The policy aims to reflect the professionalism and good conduct of our employees.
2. Dress code policy details
We require all employees to dress in a business casual nature that is appropriate to their job role. Below is an example of clothing allowed under the business casual dress code.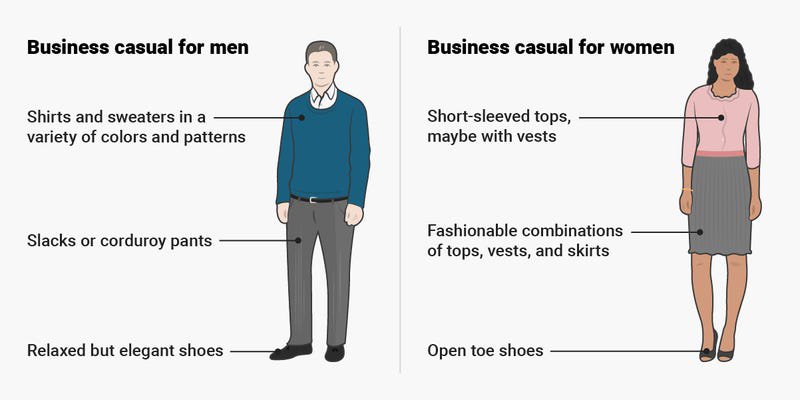 Employees must wear clean clothing that is free of signs of wear and tear, such as holes and rips, and they must be well-groomed.
We do not permit clothing with offensive or inappropriate designs.
3. Who the policy applies to
The policy applies to all employees in all departments with no exceptions other than the ones listed below in section five.
4. When the policy applies
The policy applies when employees are working from the office unless they have been specifically requested to wear business attire, such as when there are external visitors.
When employees are representing the company outside the office, whether that is during a client visit or at an event, they must wear business attire. This refers to suits, ties, and smart shoes.
5. Exceptions
There are exceptions to the dress code policy if it contravenes the proscriptions of your faith, or if you suffer from any medical conditions that might be affected by the nature of the clothing you must wear. Contact the HR department for more information and to ask for exceptions to be added to the policy.
---
Frequently asked questions about dress code policies
Why do I need to create and implement a dress code?
The simple answer is because it can avoid a lot of problems later on down the line. If disputes arise over what someone is wearing, you can refer them to the dress code. If they still don't comply, you can explain that they are going against company policy and could face disciplinary action.
It also makes it easier for employees to know what they can and can't wear in the office and when visiting clients, so they can ensure they are always dressed appropriately.
Your dress code can also form part of your organizational culture. For example, wearing business attire can be uncomfortable. One of the perks of working at your company is that everyone wears casual clothes, even C-level executives.
Are there limits to what an employer can put in a dress code?
In theory, no. But you must be aware of any cultural sensitivities, medical conditions, or any ways you might be discriminating against employees. For example, would you expect a pregnant woman to have to wear smart shoes all day long, or would you specify that the situation is an exception?
There are also legal implications. As an employer, you must reasonably accommodate bona fide religious needs unless doing so would cause undue hardship. Employees can ask to wear religious clothing or jewelry even though they aren't included in the dress code.
How should companies and managers consistently enforce the dress code?
First and foremost, your dress code needs to be crystal clear, so that all managers and employees can understand what it means. Ask a sample of employees in your office to review the dress code before you finalize it, so they can raise any issues.
It's important to train managers to enforce the code consistently. You must decide what kind of actions they can take when an employee violates the code, and what happens when they do it multiple times.
Ask managers to keep a log of cases, ideally in your HR software, including details on:
The issue and relevant violation
The employee's details
The action they took
Whether the issue was resolved
---
Review regularly
Like with all your other HR best practices and policies, you need to review your dress code regularly and alter it to reflect changing circumstances. If you have daily visitors, you might want to move to a smarter dress code, or if employees regularly complain about having to wear formal attire, you could implement a casual policy.