If flexibility, customization, and near-unlimited bandwidth are your priorities, then Drupal may just be the CMS software for you.
To start where it matters: Drupal is not an out-of-the-box solution, ready to go the second you download it. If you want something that comes fully prepared, like Hubspot CMS, you may find the initial hurdle of getting Drupal set up somewhat daunting.
If you plan on going it alone, it is definitely recommended that you have a strong working knowledge of coding. Otherwise, you'll need to work with a developer.
But with that comes a lot of possibilities. You can set Drupal up exactly as you need it. Thanks to the open-source structure, you can add on features and scale Drupal to grow as your needs grow. You don't need to install anything you don't genuinely need, making for a clean, straightforward user experience.
---
Who is Drupal for?
Drupal requires some backend legwork and has the potential to deliver a lot. All that makes Drupal best for large sites: if you need a lot of customization, high bandwidth, extensive guaranteed uptime, etc., then Drupal is an excellent choice. Large organizations such as The Economist and the White House use Drupal as their CMS.
---
Drupal's features
Drupal is built on the basics, and those basics work very well. A lot of its features may not be flashy, but its standard features are robust, and offer up some surprising functionalities you may not even have thought you needed.
Ease of editing and authoring
The backend may need a web builder's technical know-how, but editing pages in Drupal is a breeze. It's designed to be intuitive once installed, so the sections are clearly spelled out, and typing right in them is a no-brainer.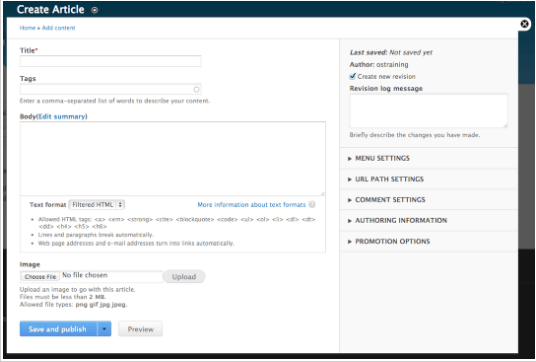 And it's not just your own pages that are easier to edit and manage, Drupal has advanced options for commenting built right in. With customizable fields, you can specify, delete, or add multiple areas for commenters to fill out, which can be especially helpful when tracking leads or engagement.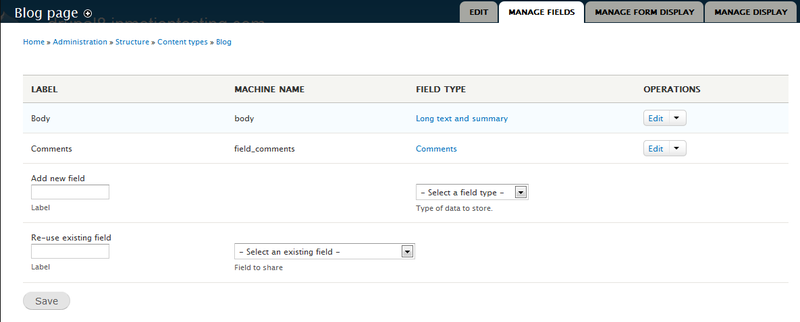 Security
Drupal CMS takes security very seriously. Its sites are tightly controlled, and the latest updates are regularly installed. Coders have legendary rapid-response times, to address any patches as problems pop up.
Drupal websites are less prone to hacking than many others, for example, WordPress, which is why this CMS is such a popular choice for larger businesses or government organizations that need to be especially concerned about security.
Reliability and uptime
Drupal is one of the best CMS software products and the top choice for most popular content management systems internationally. Because of its long history and robust community, Drupal has a reputation for being reliable: no crashing, few errors, and bugs fixed very quickly.
Drag and drop builds
Once Drupal is set up, it gets easier to use. When it's time to build your content, it's similar to stacking blocks to create a page.
I appreciate a visual-based editor because I can see exactly what I'm doing and not just hope I'm doing things correctly. Once you get past the actual development phase, the simple editing is intuitive enough to be smooth sailing.
Device optimization
There's a big difference between how a site is viewed on desktop and on mobile. If you aren't optimized for mobile, Google will rank you lower.
That's why it's such a great thing that Drupal auto-optimizes for mobile as well as desktop. You can get in front of most people and maintain your rankings automatically.
Heightened flexibility
Designed to function for all kinds of site builds, it doesn't have a specific niche.
As you start creating your site, you'll notice that Drupal is pretty sparse by design. And, while that is where its high-level coding and development comes in, that also means Drupal can be set up exactly as you need it.
Think of it as the perfect blank canvas: you can build what you want, and not be distracted by clutter.
Additional modules
A system that prides itself on customization has to have add-on options. With over 16,000 modules you can install, Drupal lets you build the type of content management you actually need. For example, you can access modules for SEO, to integrate social media, or even to upgrade to maximum security.
---
Drupal's ease of use
The elephant in the room is Drupal's complexity and need for customization. Out of the box, it is very bare-bones. To get it set up and ready to use as you need, you will need extensive coding knowledge, or you will need to work with a developer.
With Drupal, this isn't a one-time thing, either, as coding and developing will be required for maintenance and updates.
For me, that is my CMS nightmare. However, if you're more experienced in the world of coding or web development, you may see Drupal's "needs to be assembled" aesthetic a fun chance to customize your software just as you like. For the rest of us, though, it's time-consuming and daunting.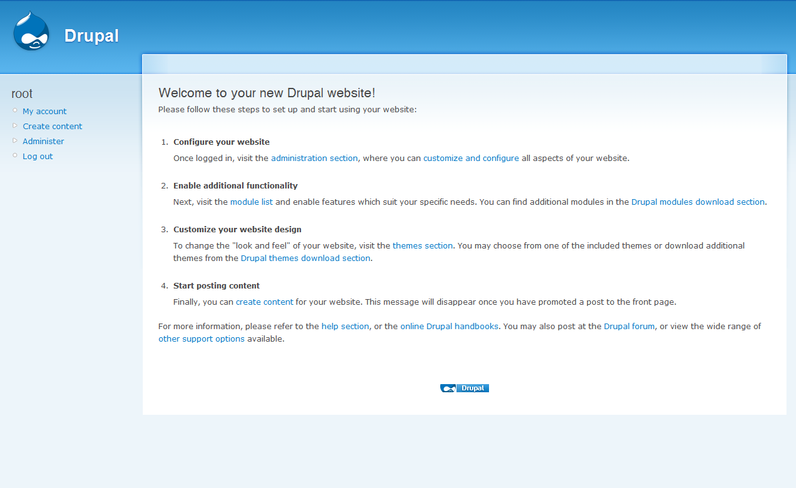 Once Drupal is set up just the way you like, it's fairly easy to navigate after some time spent researching and reading in the Drupal community resources. Even the dashboard interface is designed to be user friendly.
The areas that you need to access are well defined. And, like everything else, you can customize your dashboard to display what you need to use most.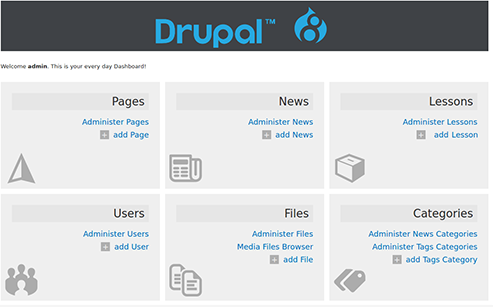 What Drupal sacrifices in ease of use, it does make up for in being highly scalable and customizable, to do just about anything you need, and to grow with your business.
---
Drupal's pricing
Drupal is free of charge and continuously updated like other open-source software. The $0 you spend gets you access to some sophisticated software.
That said, though, Drupal is pretty sparse 'as is,' meaning you will need to add on extra modules and plugins.
You will find most of them outside of Drupal's environment itself, and they generally come with a cost. While you won't be spending anything upfront, you may find the need to pay for any number of needed add-ons such as Drupal themes, Drupal functions, hosting, and web development down the road.
---
Drupal's support
You may not find dedicated account managers or a 24/7 hotline, but the community of developers, designers, editors, etc. have built an impressive support network around Drupal. Drupal's coders also are responsive and work quickly to address any system-wide issues.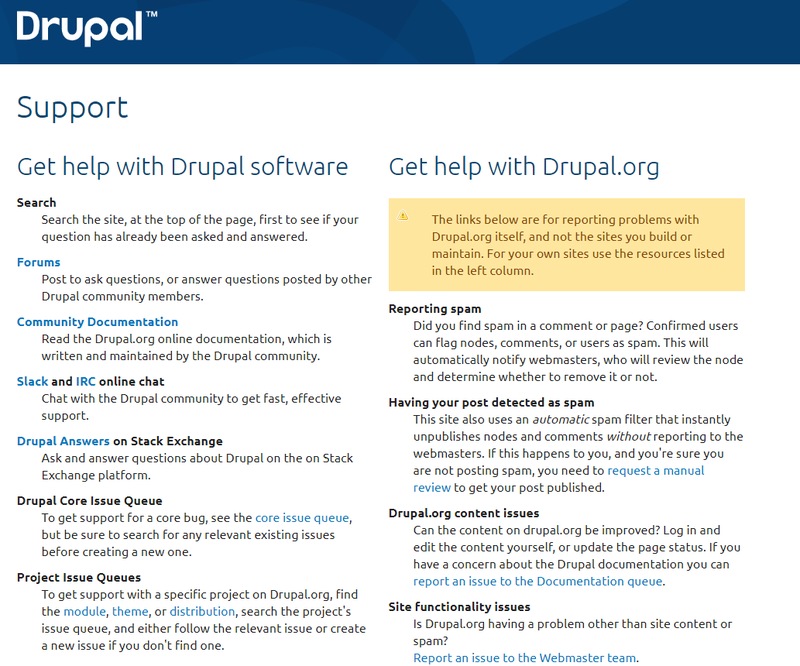 Though Drupal doesn't have dedicated account support, they do have an active support community that is available through chat and Slack. So even if you are stuck and can't find an answer in the resources, you have access to live, very knowledgeable people to chat with.
---
Benefits of Drupal
Drupal gives you the CMS version of almost unlimited power. With high bandwidth and an extensive community of builders, Drupal is often the rational choice.
While small businesses or freelancers might find Drupal unnecessarily overwhelming, brands that experience high volumes of traffic or have a need to customize down to a detailed level will significantly benefit.
It ensures high levels of security and a near-unprecedented ability to scale. So long as the backend side doesn't scare you away, Drupal has a lot of flexibility, growth, protection, and functionality to offer.
---
Drupal is a technically inclined champion
The open-source building blocks of Drupal supports a lot of cooks in the kitchen in the best way possible: there's a lot of knowledge and a lot of options. You can use Drupal to grow your business and brand and never feel stifled.
There's also the surprise benefit that comes with complete customization: no distractions. To create your site and keep it updated, you will need a strong working knowledge of coding, or the budget to hire a developer.
Aside from the coding necessities, Drupal is relatively user friendly. Once the CMS is set up, you can easily build pages, create content, add features, and set up forms. Anything you can think, you can pretty much do. Aside from regular blogs, you can create videos, polls, podcasts, and even statistics reports.
If flexibility, growth, and optimization are important to you, Drupal is an excellent choice for any large organization.
---
Frequently Asked Questions
How safe and secure is Drupal?
Pretty secure. There are routine detailed security reports posted on their website, and the Drupal developers have an excellent response time for any issues and patch the system quickly.
Once it's set up and ready to use, Drupal can be navigated by just about anyone. However, there is a learning curve. And getting it set up requires a lot of backend coding, so you will most likely need to contract a developer to get it started for you.
Can more than one person in an organization use it?
Drupal allows multiple users, with varying levels of personalized permissions for each. You can have any number of people authoring posts, or only give them commenting permissions if needed. You can also have a bunch of people with full site permissions, so you don't need to feel like you have to keep everything running on your own.