In a world full of game players, be a game-changer by adding a touch of personalization to your email format. With approximately 293.6 billion emails sent and received in 2019, the challenge for email marketers to create memorable content is enormous. When competing for the attention of your email list, there's a bag full of tricks at your disposal. One of the most effective is dynamic email content.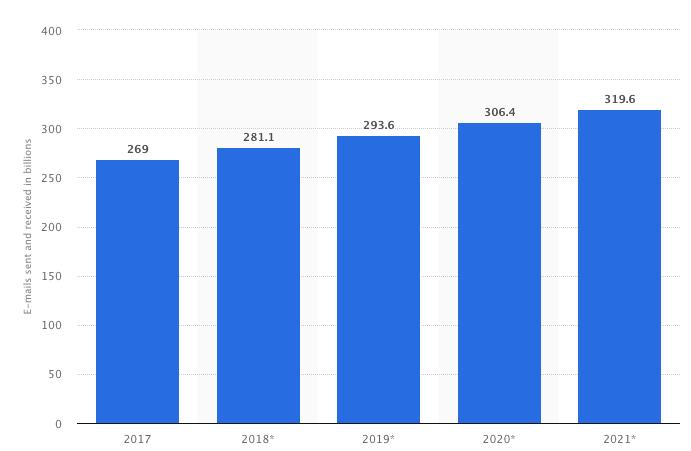 ---
Overview: What is dynamic email content?
Your email list subscribers power dynamic email content. This personalized content will amaze your recipients, "Ooh! How'd they know I needed to see this?" It's powered by the subscribers because it uses information about the recipient (e.g., name, birthday, etc.) and their previous email behavior to deliver relevant content.
Neat, right?
If you're familiar with email marketing funnels, list segmentation, and merge tags, think of dynamic email marketing as the person who shows up to the party, meets everyone for the first time, and somehow remembers each person's name and one interesting fact about them.
This person knows how to make people feel important because they've taken the time to remember something about each person. That's what dynamic content is all about.
---
Benefits of sending dynamic email content
Now that you're intrigued by the capabilities of dynamic email content, let's take a look at some benefits.
1. Fewer unsubscribes
Maybe you started your small business email marketing without knowing how to make a newsletter, and that's okay! Now that you've had a newsletter for a while, you have the bandwidth to put some thought into an email marketing strategy. You want to improve your email marketing ROI (return on investment), and you want to make sure your subscribers don't leave in droves.
Sound like you?
Because email marketing dynamic content is based on the data and behavior of your newsletter subscribers, you'll have a better idea about the kind of email marketing content that will resonate with them. When sending one-size-fits-all email campaigns, you risk sending irrelevant information to some of your subscribers. When they no longer find relevance in your email campaigns, they unsubscribe — that's not what you want.
2. Timesaver
Why create separate emails for each segment of your list when you can create one?
Whether you're using something as basic as a merge tag to address email recipients by their first name or something more involved such as a geo-targeted email, when you make your content dynamic, you can designate which sections of your content change based on your information about the recipient.
For example, if you use geo-targeting, you could use state-specific dynamic content. Can you imagine making separate email campaigns for each individual state? Yikes!
3. Better experience
When you receive an email personalized for your interests, it means much more. Imagine that same feeling for your email list. When you take the time to use targeted information, you're giving your audience a richer experience.
---
How to include dynamic content in your email strategy
Sold on the benefits of using dynamic content in your next email campaign? Follow this outline to think through your next steps.
1. Learn about your audience
At a minimum, you have the name and email address of everyone on your email list, which is a great start. But what do you do when you don't have the information needed for a new campaign?
Ask!
It's as simple as sending an email to your entire list and asking them to update their profile. Your email marketing strategy and general knowledge about your audience will help as you develop questions.
Thinking about sending birthday emails? You'll want to ask for their birth month and date.
Do you own a pet shop with a variety of products for all animals? Ask your list which pets they care for, so the aquarium owners aren't receiving emails about the new shipment of doggie squeaky toys.
Remember, relevancy is key.
2. Plan the placement of your dynamic content
Email marketing software offers a variety of ways to insert dynamic content. Whether it's merge tags or blocks for dynamic content, you'll need to decide how much personalization you want for your campaigns.
Dynamic content placement has the potential to make or break your campaigns. With this in mind, consider testing variations by a/b testing emails to see which configuration is the most engaging for your audience. Whether it's the subject line, body, or footer, you have options for incorporating dynamic content in your email campaigns.
3. Make sure it makes sense
Now that you know where you'd like to use your new content, decide what you want it to do. Here are some options.
Countdown: Create a sense of urgency by adding a dynamic countdown clock that auto-magically updates each time the email is opened.
Survey: Let's say no one within your company is sure which color of the new product should be launched first. Instead of guessing and potentially getting it wrong, add a short survey that recipients can answer in the email. They'll feel like their opinion matters, and you'll get a better idea about which color should be launched first. It's a win-win all around.
Convenience: If you focus on customer service/customer experience, include a quick way to connect to a customer service agent through your preferred communication method (e.g., chat, email, etc.). You can also think about adding a link to an upcoming conference that will allow email recipients to add the dates to their calendar. Whatever you choose, this is a great way to improve the overall experience for your customers.
4. Measure
So, you've successfully added dynamic content to your email campaign. Congratulations!
After all that hard work learning about your audience, figuring out the placement of your dynamic content, and executing the campaign, be sure to track its success.
You're already familiar with open and click rates, but did you know you can also measure how variations of your dynamic content are performing? With this new information, you can decide where to make adjustments and replicate whatever makes the most sense for your audience segment.
5. Preview and test
Emailing can be scary, but have you ever hit send on a mass email with hundreds of thousands of recipients? If you're like me, you can read and reread an email and never be comfortable it's error-free. As with all emails, don't forget to preview and test that your dynamic content is functioning properly. Having an extra set of eyes or several can help ensure your dynamic content looks good and works properly.
---
Dynamic email content examples
Need ideas for your next dynamic email campaign? The examples below should be a great place to start.
1. Target
Asking your email list to click a link, go to a website, and give a review about a recently purchased product can be cumbersome. In this example email, Target made it easy by using a dynamic content block that allows customers to easily rate the product from the email. Have you been sending your email list elsewhere with a link? Make it easier for them by doing this.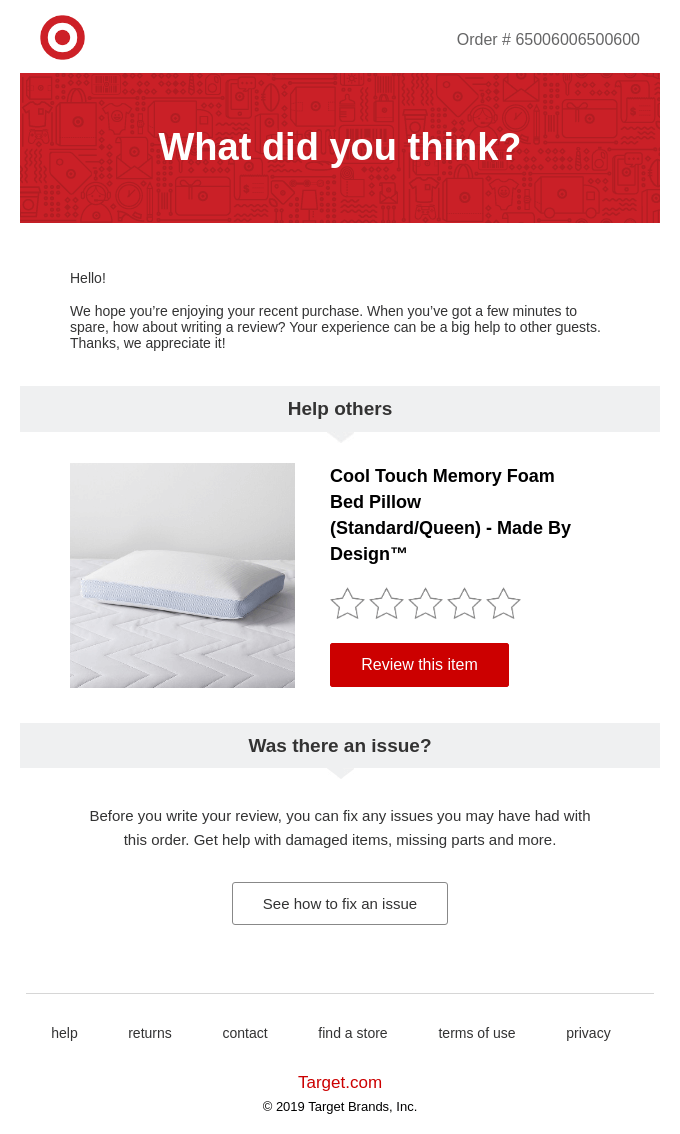 2. ThinkGeek
Abandoned cart emails are another example of dynamic content. Their purpose is simple — convince you to buy all the things you pretended to buy when you were online shopping at 3 a.m.
Abandoned cart emails can be especially helpful for holiday email marketing campaigns. Because the holidays can be a busy time, it's not uncommon for people to get distracted while shopping. Remind them with an abandoned cart email.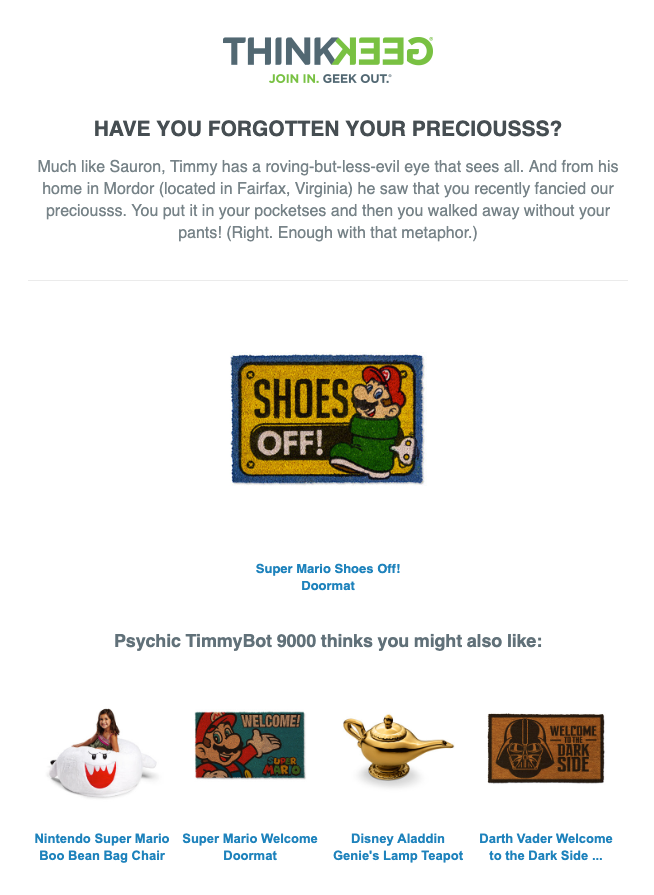 3. Google Store
This is another example of an abandoned cart email that also creates a sense of urgency because no one wants to be the last one to buy a super cool item that will allegedly sell out in 3 seconds.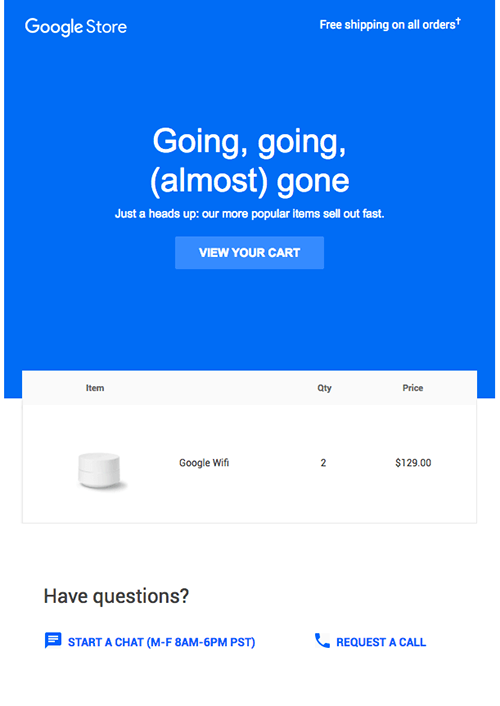 ---
Go forth and email
Your customers are unique; send them emails that reflect that. As a business, you might be up against a lot of competition, so it's important your email content zeroes in on the different segments of your list. Using the right dynamic content can help your emails stand out, delight your customers, and make a lasting impression.