Easy Time Clock is, as you might have guessed, a time clock software that aims to make tracking employee time easy.
---
Who is Easy Time Clock for?
Easy Time Clock is for organizations that need to keep track of employee time cards and PTO. It can also be used for scheduling if your teams work regular shifts.
---
Easy Time Clock's features
Easy Time Clock offers a wide array of standard features, such as schedule building and a mobile app, along with more advanced features, such as biometric clock-in tools.
While it's admittedly not the most intuitive tool on the market — more about that later — it does offer just about everything a company needs to organize and keep track of time cards.
Scheduling
Easy Time Clock's scheduling feature is built for organizations whose employees work regular shifts. Once you build and customize each shift, you can assign your employees to them.

You can also customize clock-in and clock-out rules for each shift, allowing you to stay on top of issues such as tardiness or early clock-outs.
Once employees have logged time, you can view their time cards in one place. You can also customize rules for PTO by individual employee, or create a system that applies to everyone in your organization.

The ability to customize Easy Time Clock on such a granular level comes in handy if your business includes multiple offices or sites.
Especially if you have offices in different states or countries, you can configure your system to adhere to different rules for each office.
Accountability
With Easy Time Clock, you can allow employees to clock in via traditional employee time clocks (such as a badge reader) or desktop and mobile apps.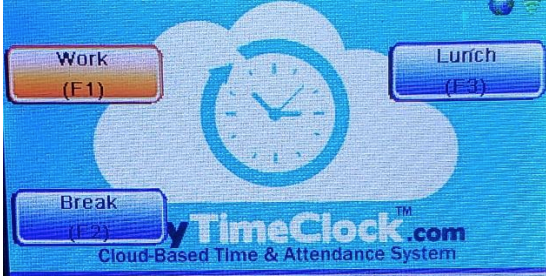 If you don't plan on using a traditional time clock, you can also allow employees to track time by projects or client. They can log time spent on various projects manually or start and stop timers throughout the day as they work on various tasks.
However your employees are logging hours, you can always see their total time worked by pulling up Easy Time Clock's attendance report.
This report shows you how much people have worked in a given pay period, and it red-flags any late clock-ins or overtime.

Budgeting
Once your employees' time cards are approved, you can export all payroll data to a number of popular payroll solutions, including ADP, Paychex, and QuickBooks. Easy Time Clock also has its own full-featured payroll system that integrates with its time clock tool. However, this payroll solution comes at an extra cost (detailed in our FAQ section).
Mobile capabilities
Based on its user interface alone, Easy Time Clock's mobile app seems more updated and streamlined than its desktop solution. Therefore, it might be easier for employees to use than the desktop version.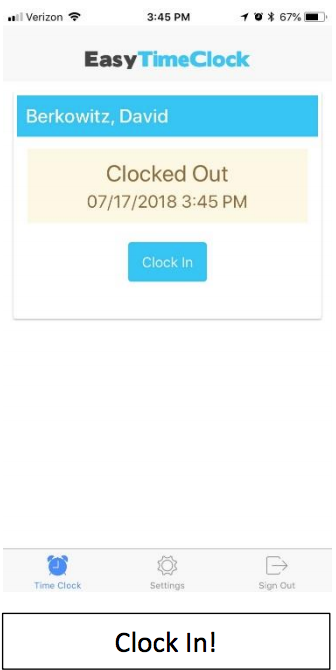 In addition to a traditional time clock, Easy Time Clock's mobile app also offers GPS-based clock-ins and the ability to clock in via text (for a small extra fee) for employees who don't have smartphones or internet access.
---
Easy Time Clock's ease of use
Easy Time Clock is not particularly easy to use. Its outdated interface makes it feel unnecessarily clunky, and setting up the system requires navigating through several different menus.
While there is a guided setup option available, it's difficult to find, as it's located under the Favorites tab and not, intuitively, under the Setup tab. While the guided setup option breaks down system setup into multiple steps, it's also relatively outdated.
Instead of offering a checklist or automated setup wizard, Easy Time Clock offers more segmented menus with little direction as to where one should start.
Furthermore, once you complete one section of setup by saving your changes, the system doesn't redirect you to the setup menu. This is one more clunky attribute of using Easy Time Clock you encounter before you or your employees can even start using the system effectively.
To make the setup process easier, I highly recommend trying Easy Time Clock's interactive demo — which offers dummy data with which you can practice — or perusing Easy Time Clock's extensive knowledge base.
---
Easy Time Clock's pricing
Easy Time Clock has a very simple pricing model that's based on the number of employees using the system. The tool starts at $1 per employee per month for up to 99 employees. You can also opt for clock in and out via text for $0.05 per clock punch.

Especially for small teams, Easy Time Clock's pricing model makes the tool highly affordable. However, I think this might be a case of "getting what you pay for" in terms of user experience.
While Easy Time Clock scored big points for price, it didn't score well for ease of use. If your team just needs something cheap to keep track of time cards, Easy Time Clock might be worth looking into.
However, you'll probably find that you need to invest in technical assistance — or invest a lot of your own time — to set the tool up properly.
---
Easy Time Clock's support
Easy Time Clock offers a multitude of videos and knowledge base articles that will help you set up and navigate its system. It also provides unlimited tech support via phone or email.
---
Benefits of using Easy Time Clock
Once you figure out how to navigate Easy Time Clock, it offers a wide range of features. Especially if you use its payroll solution, you could streamline a lot of your organization's time- and wage-tracking needs.
---
Try Easy Time Clock yourself
If Easy Time Clock seems like it would be a good fit for your organization, you can sign up for its 30-day free trial to test its capabilities. I'd also recommend checking out its interactive demo, which allows you to play with dummy data in a system that's already set up.
---
Frequently Asked Questions
How much does Easy Time Clock's payroll solution cost?
Easy Time Clock's payroll tool starts with a base fee of $54 per month, then it charges $2 per employee, per payroll run.
Can I purchase time clock hardware from Easy Time Clock?
Easy Time Clock sells a variety of time clock readers, including biometric and badge readers. The vendor also sells badges and key fobs so employees can clock in with their readers.
Can I resell Easy Time Clock to clients?
Easy Time Clock offers a reseller program for accountants or payroll providers who want to combine their client accounts into one main billing account.
---
How Easy Time Clock Compares
The Motley Fool has a Disclosure Policy. The Author and/or The Motley Fool may have an interest in companies mentioned.